Planning a trip for a small or large group and looking for a fun destination with a lot of diversity. Come to Cincinnati for great restaurants, world-class arts and culture, top-tier professional sports and amazing shopping. But don't try to handle the travel there and back on your own. Book a charter bus rental from US Coachways. Let us handle all the details while you relax with friends and family.
Answers to Your Questions about a Charter Bus Rental to Cincinnati
You have options with charter bus travel. Here's why you want to use US Coachways for a trip to Cincinnati:
Who is US Coachways?
For more than three decades, US Coachways has been an innovator and leader in the charter bus rental industry, working with groups, group leaders and businesses nationwide to find effective ground transportation solutions for all types of outings, including business, family, school and special events.
What is the process for booking a US Coachways charter bus trip to Cincinnati?
The best place to start is our convenient online cost calculator, where you can explore your options, get a free quote or even make a reservation. We also have courteous and experienced customer service professionals ready to take your call and help you get everything in place. Call us at 1-855-287-2427.
How far ahead of our trip do we need to book a US Coachways charter bus to Cincinnati?
The sooner you initiate the reservation process, the more options we'll typically have to meet your goals. We've been doing this for more than 30 years, though—we have the experience, knowledge and relationships with charter bus vendors to book just about any trip with short notice.
How much do you charge for a US Coachways charter bus rental to Cincinnati?
One of the most attractive features of a charter bus is the flexibility it offers. Because of that, the total cost of your trip can vary significantly, based such factors as when you travel, how many people go with you, how long you'll be gone, how many stops you'll make, and whether you'll need any special amenities. Our online cost calculator can give you a pretty close estimate.
What buses are available for our trip to Cincinnati?
At US Coachways, we understand the importance the right bus can have on the success of your outing and will take the time to help you find the perfect coach for your group. If you are visiting Cincinnati with a smaller group, the minibus is ideal, seating 24 to 35 passengers, with plenty of room for your personal items. For larger groups, we recommend the full-sized charter bus, with accommodations for as many as 57 passengers. Multiple bus rentals are always an option.
What amenities can we expect on a charter bus rental to Cincinnati?
All of the charter coaches available through US Coachways (other than some of our school buses) come with plush high-back bucket seats, climate control, a great stereo and ample storage space. Additional amenities are available for a separate fee, such as Wifi, charging ports for your devices, DVD players and monitors, leather seats, hardwood floors and P.A. systems. ADA compliant coaches are also available upon request.
Where will I trip start and end?
Because we have strong relationships with thousands of charter bus service providers in large and small communities across the United States, we can typically arrange to pick you up and drop you off at a location that's convenient for you and your group.
Are alcoholic beverages allowed on a charter bus rental trip to Cincinnati?
Yes, permit the consumption of alcohol on a US Coachways charter bus, provided we have approved your request before your trip starts. You must comply with all applicable laws as you travel and your driver will always have the right, at his or her discretion, to suspend or terminate alcohol consumption at any time for any reason.
How old do I have to be to rent a charter bus to Cincinnati?
We will only enter into charter bus rental contracts with persons who are 21 years of age or older. We can book a trip for your high school and college group, but you must have an adult sign the charter bus agreement.
Make the Right Choice—Choose US Coachways
You have options with charter bus travel. Here's why you want to use US Coachways for a trip to Cincinnati:
Special Offers
We offer discounts to special travelers—We reward healthcare workers, military personnel, non-profit organizations and seniors with additional discounts on charter bus rentals. To learn more, check out our specials page
Your safety is our top priority
We don't work with vendors who have current major safety violations. We require that all of our vendors strictly comply with "time on the road" requirements and perform all required vehicle maintenance
You'll have virtually unlimited options
You tell us where you want to go, when you want to be there and how long you want to stay. Because of our experience and contacts in the business, we can usually make last minute or real-time changes without difficulty
You won't get better customer service
We offer full-service dispatch anytime, 24/7; world class logistical support; your own project management team; and access to our online Trip Management Portal. Is it any surprise that we have more than 2,000 positive reviews online?
See the Sights in Cincy in the Comfort of a Charter Bus
Cincinnati offers almost unlimited fun and entertain. With a charter bus, you can enjoy these great attractions:
The Cincinnati Art Museum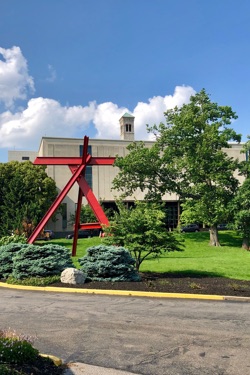 One of the oldest in the United States, the Cincinnati Art Museum has more than 67,000 works of art from the last 6,000 years, including paintings by Rubens, Cranach the Elder, Renoir, Pissarro, Monet, Van Gogh and Picasso
The Newport Aquarium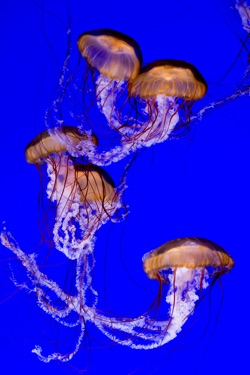 With 14 galleries and more than 70 exhibits, this facility features unusual marine animals, including albino alligators and some of the few shark rays in captivity. It's located across the Ohio River on the northern banks in Kentucky
Nat'l Underground Railroad Freedom Center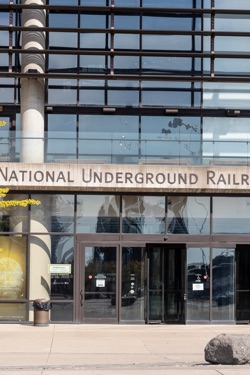 This museum pays tribute to the efforts of thousands of people who worked tirelessly to help people escape slavery in the American South. Cincinnati was a pivotal location, as slaves crossed the Ohio River to freedom in the North
Contemporary Arts Center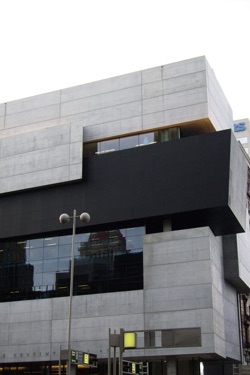 The CAC is a "non-collecting" museum, featuring temporary and traveling exhibits covering all genres of contemporary American art, including painting, sculpture, photography, performance art, architecture and experimental media
The Cincinnati Museum Center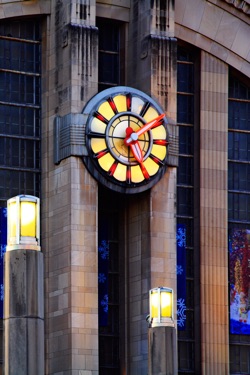 Check out a scale model of the downtown Cincinnati area from the days of the Second World War or learn more about the origins and history of this great city, including its rich ethnic and Native-American heritage
The American Sign Museum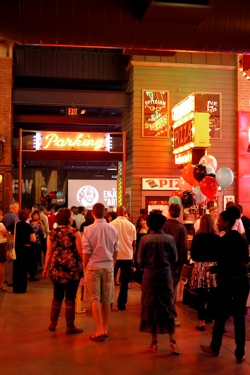 This quirky museum documents the history of signage in the United States, with nearly 4,000 objects, some of which date back to the days just after the Civil War. You'll also see exhibits on the tools used in sign making
The William Howard Taft National Historic Site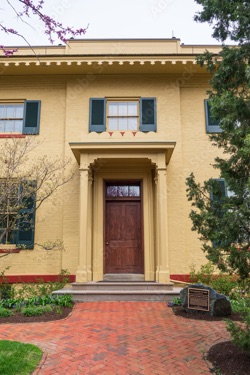 Built in the 1890s, this Victorian masterpiece includes two 9-story buildings connected by a 5-story arcade with a glass skylight. One of the first malls in the United States, it's now home to hundreds of boutiques and retail outlets
Vent Haven Museum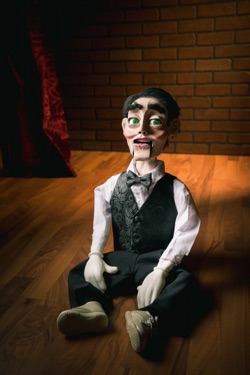 For a truly one-of-a-kind experience, visit this museum devoted to ventriloquism, the only known one of its kind in the world. See exhibits highlighting the talents of Edgar Bergen, Shari Lewis, Paul Winchell and others
Take a Charter Bus on Any Outing to Cincinnati
A charter bus offers all you need for a trip—comfort, safety, dependability, convenience—all at a great price:
Why take a charter bus on a business trip?
In business, you're always looking to be more efficient. On a charter bus, you can multitask, holding team meetings or breakouts as you travel. You can also schedule events better, as you'll all arrive and depart together.
How about taking a charter bus to a special event?
There's no better way to enjoy a concert, Broadway show or sporting event than by charter bus. You'll join fellow fans, and the party will start the minute you board the bus. You'll also have your own designated driver!
Should I consider a charter bus for a school event?
Absolutely. A charter bus offers exactly what you want most when traveling with young people—maximum safety and accountability. You'll keep young drivers off the roads, and you'll always know where everyone is.
Why is a charter bus a good choice for a public event?
With large public events, it can often be a hassle to find parking. You may end up walking blocks or even miles to get to the heart of the action. With a charter bus, you'll be dropped off right in the middle of it all.
A Charter Bus—The Best Way to See Cincy's Neighborhoods
With a charter bus, you'll have easy access to some of Cincinnati's unique communities:
Over-the-Rhine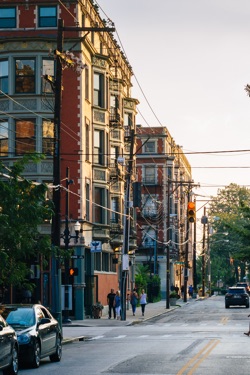 Long-time home to the city's robust German community, this area features the Brewery District, home many of Cincy's historic beer-makers. The Venetian Gothic Music Hall is a popular entertainment venue and there are many cool restaurants
Riverfront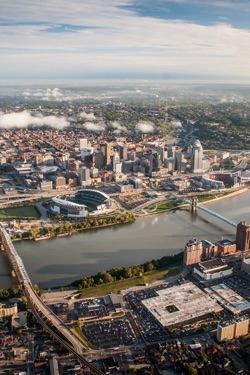 This area along the Ohio is relatively new, springing up over the past 30+ years. The Great American Ball Park (Cincinnati Reds) and Paul Brown Stadium (Bengals) are both here. It's also home to a vast assortment of great places to eat and shop
West End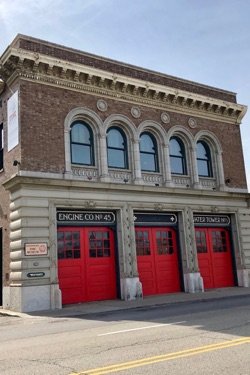 Another part of Cincinnati steeped in history; the West End showcases some of the city's stunning residential architecture from the 19th century. It's also a great place to learn more about the city, at the Museum Centre or the Cincinnati Fire Museum
Eden Park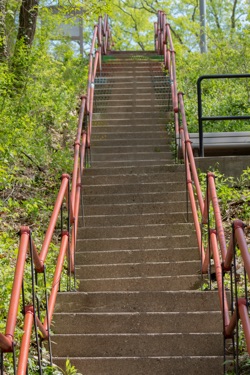 Spanning two smaller neighborhoods (Mount Adams and Walnut Hills), this 200-acre city park, originally known as the "Garden of Eden," is home to the Cincinnati Art Museum, and is surrounded by many fun cafes and restaurants
Book Your Trip to Cincy to Enjoy These Amazing Events
There's always something fun happening here—why not schedule your trip to enjoy one of these events?
Goettafest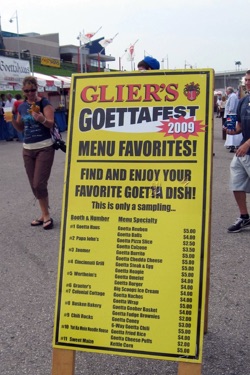 Celebrate all things German at this festival, where you'll find an array of foods make with goetta, a German dish made of pork, beef, oats and spices. Many local German restaurants also feature goetta on their menus during the festival
Riverfest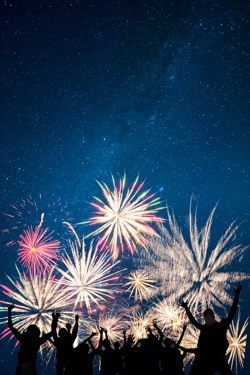 This is the place to be over the Labor Day weekend, where you'll have live entertainment, seemingly endless food booths, beer tents and one of the nation's best fireworks displays
Oktoberfest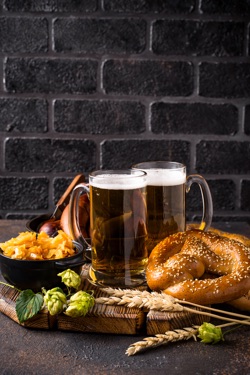 With a rich German heritage, Cincinnati has long had one of the largest and most popular Oktoberfests in the nation. In addition to oompah bands, you'll have booths serving bratwurst, schnitzel, strudel and, of course, beer
The Western and Southern Open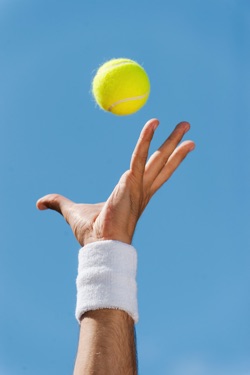 Come to the Cuyahoga County Fairgrounds in Berea, just 10 miles south of downtown, for this Memorial Day weekend competition. You can't have ribs, though, without some great local craft beer to wash them down.
Taste of Cincinnati
It's foodie heaven downtown when the nation's longest running culinary arts festival hits the streets over the Memorial Day weekend. There's plenty of live music and a number of beer tents to help with gustation
The Cincinnati Chocolate Festival
Indulge in amazing creations made with chocolate as local vendors offer tastings of unique dishes, celebrity chefs show you how to make delicious confections, and bakers and cooks vie for chocolate trophies
Bockfest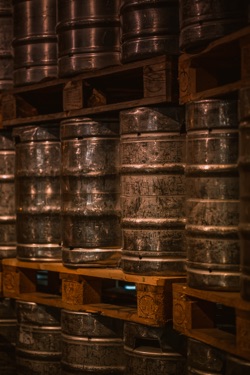 The city's German community hosts the world's largest and oldest festival celebrating this unique German brew, released every year to mark the end of the Winter brewing season and the being of Spring. The parade is one-of-a-kind
The Cincinnati Music Festival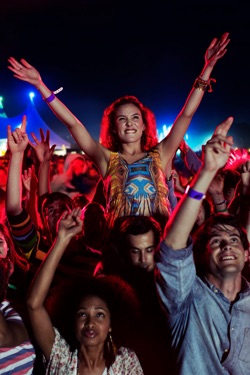 This three-day extravaganza draws about 100,000 every year for many of the top stars in soul, jazz, hip hop and R&B. It's held at Paul Brown Stadium
Make Your Charter Bus Reservation for Cincinnati Today
There's a rich cultural experience to be enjoyed in Cincinnati, from the great foods and brews in the German section of town to the Underground Railroad Freedom Center. Cincy offers something for everyone, but it's a sprawling urban center. If you try to organize your own transportation around the city, you'll spend most of your time buried in your GPS, looking for parking or battling traffic. Book a charter bus from US Coachways and make life easy.
To get a complimentary quote on a charter bus rental to Cincinnati, go to our easy-to-use online cost calculator. For more information about the full range of services we provide, or to ask any questions about charter bus rentals, call 1-855-287-2427 to speak with one of our travel consultants.
We Book More than 20,000 Charter Bus Trips Every Year!