When it comes to fun-loving towns, Cincinnati's right at the top. You have to love a city that proudly calls itself "Porkopolis" (a tribute to its rise as a pork packing center back in the 1800s). With a strong Eastern European heritage, it's also long been a major producer of great beers. It's where Major League Baseball started and is renowned throughout the Midwest for its vibrant arts and cultural scene.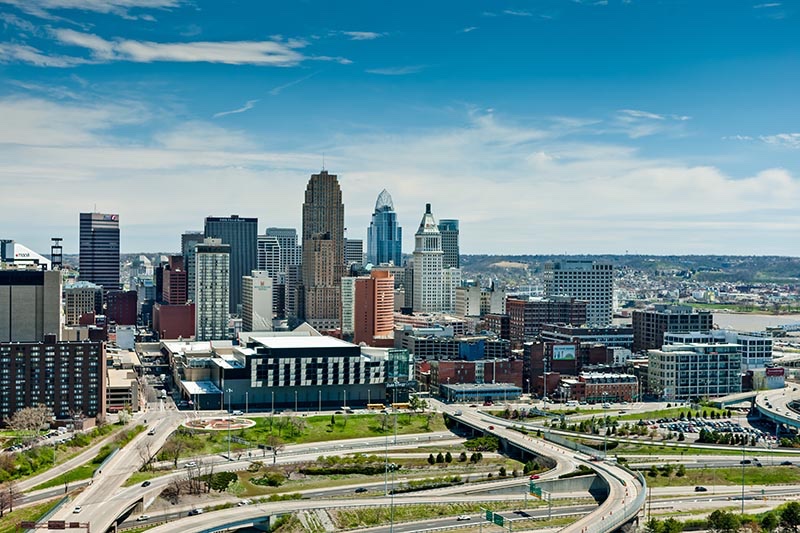 But Cincy is still a big city. You don't want to spend your time here buried in a map, battling traffic or trying to find a place to park. With a charter bus rental from US Coachways, you can truly enjoy yourself while someone else handles all the details.
The Easy Decision — Take a Charter Bus to Cincinnati
When you're planning a group outing, there are many factors to consider. None of them, though, may be as important as your choice of ground transportation. Any difficulty with getting there and back can leave a bad taste in the mouths of many of your participants. That's why charter is such an excellent option:
You'll have unmatched flexibility

— There's no other way to travel that gives you the freedom and control of a charter bus. You determine when you'll travel, where you'll go, how long you'll stay and what you'll see. In many instances, you can even make last minute or real-time changes to your schedule. You won't find that with any other mode of transportation.

You can depend on a charter bus

— With other types of travel, delays and cancellations are relatively common. In the airline industry, for example, about 40% of travelers arrive late at a destination every day! With a charter bus, your driver will have the ability to anticipate potential traffic problems, and the tools to find alternate routes to get you to your destination on time. Furthermore, because of our access to a vast fleet of coaches nationwide, we can usually find a replacement vehicle with short notice.

It's the most stress-free way to travel

— With other methods of travel, there's a fair amount of work involved. Someone has to check the map or keep an eye on the clock. Someone has to navigate traffic and find a place to park. On a charter bus, everyone can relax while your driver takes care of those matters. You won't need to sprint to make a connection or have any worries about your bags, either. You'll be on the same coach from start to finish, and your luggage will accompany you. There's no TSA line with a charter bus, so you won't have to remove your shoes or submit to a body search. Your phone won't affect the navigational system on the bus, so you can stay online at all times.

You'll ride in comfort and style

— The seats are wide and there's no middle one! Charter buses also have more leg room than any other type of transportation. You can also move through the aisles with ease and at your leisure.

You'll be safe and secure

— Your driver is a trained professional, with the skill to safely negotiate any traffic situation. Access to your coach is limited, too, so you won't have to worry about uninvited guests. You and your personal items will be secure.

You can take advantage of the high occupancy vehicle (HOV) lanes

— That's very helpful when you're making your way to and around Cincinnati.

You won't spend an arm and a leg to get there

— When you ride on a charter bus, you share many of the costs of travel with fellow passengers. That makes charter bus travel consistently more affordable than other modes of travel.

You'll help the environment on a charter bus

— When you fill a full-sized charter bus, that can take up to 20 private vehicles off the roads, lowering emissions significantly.
At US Coachways, we have been standard bearers in the charter bus rental business for more than 30 years. Use our convenient online Cost Calculator to find out the cost of a charter bus excursion to Cincinnati. Call us at 1-855-287-2427 to learn more about the services we offer.
The Sights, Sounds and Smells of Cincinnati
Cincinnati is a modern city with an old school vibe, a treat for the senses: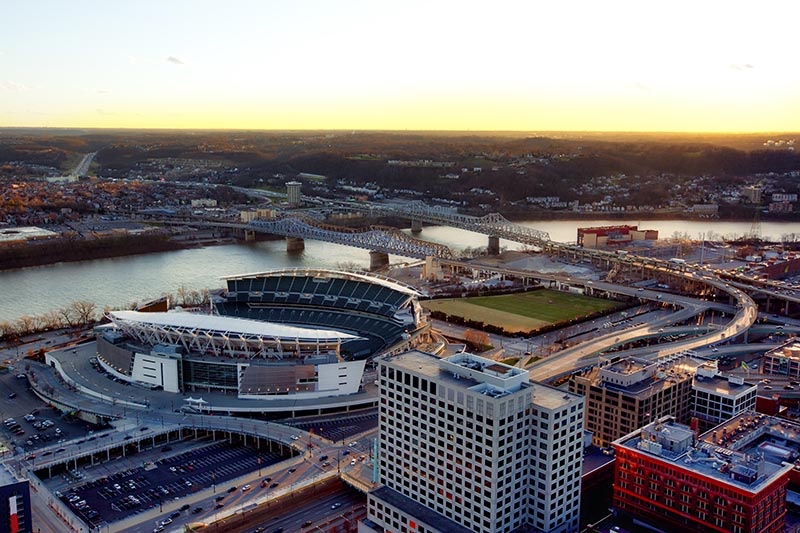 The things you'll see

— There's much to feast your eyes on in Cincinnati. Watch the beloved Reds (originally known as the "Red Stockings" at Great American Ball Park. Stop by the Cincinnati Art Museum, the Taft or the Contemporary Arts Center for paintings and other art from the past 6,000 years. In fact, just take a look at the skyline, where you'll see some of the most distinctive and unusual architecture anywhere, all against the backdrop of the mighty Ohio River.

The things you'll hear

— From classical to jazz, blues to classic rock, hip hop to Americana, there's a venue somewhere in Cincinnati to delight your ears. The renowned Cincinnati Symphony plays at historic Music Hall. The big national touring shows often play at Paul Brown Stadium or the U.S. Bank Arena. You'll also find music of all genres at pubs, taverns and small clubs in and around the city. Cincy also boasts a thriving live theater community, with both local productions and touring Broadway shows.

The things you'll taste

— You'll never think of chili the same way again. In the 'Nati, they ladle it over spaghetti (with a mountain of shredded cheese on top) or pile it on a hot dog with chocolate, cinnamon and other spices.You'll also find a Reuben that has a potato pancake, a pound of corned beef, a pile of sauerkraut and special dressing, all on a poppy seed bun. If you can eat the whole thing in 30 minutes, it's free! Cincinnati is also famous for its goetta, a type of German sausage made with meat and mush, usually served for breakfast.

The things you'll smell

— They've been brewing beer in Cincinnati for a couple hundred years, so you'll likely get a whiff of hops just about anywhere you go. After all, there are more than 50 breweries within a 25 mile radius of the city. Many of the historic breweries, such as Hudepohl and Moerlein, are still popular. You can tour the old underground tunnels used during Prohibition. But Cincy has embraced the craft beer movement, with many new and innovative brewers offering up tasty quaffs.
The Right Coach — Key to a Successful Trip
Choosing a charter bus is only the first step to a great group excursion. It's just as important to get a coach that's well-suited for your group, one that has plenty of room, but little unnecessary space.
At US Coachways, we have longstanding relationships with charter bus services providers across the country. We'll look at the details of your trip—how many people are attending, how long you'll be on the road, what you'll want to bring or take home. Then we'll go to our vast network of charter bus vendors to find the bus that best fits your needs.
If your visit to Cincinnati is with a mid-sized group, consider the mini-bus. There's room for 24 to 35 passengers and ample space for luggage and other personal items. If you're traveling with a larger group, book the full-sized bus, which seats up to 57. Multiple bus rentals are an option.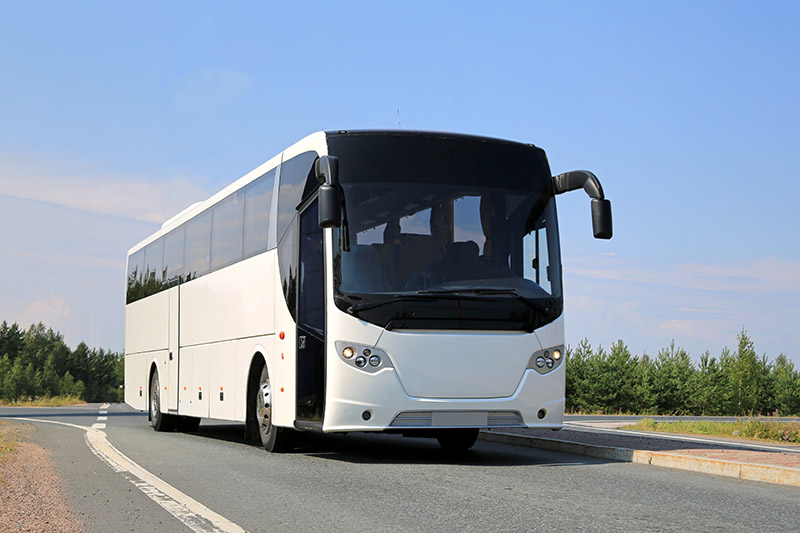 Most of the charter buses include a number of modern conveniences as standard features. That includes Wifi, charging stations for your devices, DVD players and stereo/PA systems. Additional amenities, such as on-board bathroom facilities, are optional on some coaches. The features vary from bus to bus, so ask your booking agent about availability.
The Preferred Mode of Travel for Any Group Trip — A Charter Bus
The comfort, convenience and confidence a charter bus offers makes it well-suited for any type of outing, including:
Book Your Charter Bus Excursion to Cincinnati
At US Coachways, we have more than three decades of experience helping groups and group leaders find effective solutions to their transportation needs. For a free estimate on the cost of a charter bus trip to Cincinnati, visit our online Cost Calculator. To learn more about the full scope of our services or to get answers to your questions about group transportation, call 1-855-287-2427 to speak to one of our experienced customer service representatives.