Looking for a fun and affordable destination for a group event? A city that offers a bit of everything, from fabulous museums, amazing restaurants, top craft breweries, a vibrant nightlife and endless arts and culture? Come to Cleveland, where you'll find the 4th largest art museum in the country, a mind-boggling selection of great places to eat and the Rock & Roll Hall of Fame. Cleveland's a pretty accessible city, but it is a big city. Don't make your trip there more work than fun. Book a charter bus rental from US Coachways. Let us handle all the details while you join in all the fun.
Questions about a Charter Bus Rental to Cleveland? We Have Answers
At US Coachways, there are many good reasons why we've been a preferred charter bus vendor for decades:
Who is US Coachways?
US Coachways brings more than 30 years of experience to groups, group leaders and businesses nationwide, helping you find effective ground transportation solutions for any event or excursion.
How do we book a US Coachways charter bus trip to Cleveland?
It's easy…just go to our convenient online cost calculator. You can look at the different options, get a free quote or even initiate your reservation. Of course, you can always work directly with one of our friendly and experienced customer service agents. Simply call us at 1-855-287-2427.
How much lead time do we need to schedule a US Coachways charter bus to Cleveland?
Because of our extensive network of charter bus vendors nationwide, as well as our experience and knowledge of local markets, we can typically book an entire outing with little notice. The earlier you start the process, though, the more options you'll have.
How much will it cost to take a US Coachways charter bus rental to Cleveland?
Because every charter bus outing is unique, the price will vary as well, based on a number of factors, including when you plan to travel, how many people will be in your group, what type of coach you choose, the length of your trip, and your need for any special amenities. You can get a fairly accurate estimate of the total costs by using our online cost calculator.
What bus options will we have for our trip to Cleveland?
Choosing the right bus will have a significant impact on the success of your outing. We'll work closely with you to help you find the ideal coach for your group. If you are traveling with a small-to-medium-sized group, the minibus is a great fit, with seating for 24 to 35 passengers and lots of room for everything you want to bring or take home. If you're taking a whole bunch of people, You'll want a full-sized charter bus, with room for up to 57 passengers. Multiple bus rentals are always an option.
What amenities will we have on a charter bus rental to Cleveland?
All of the charter coaches we provide (with the exception of some school buses) are equipped with plush high-back bucket seats, climate control, a great stereo and all the room you need for personal items. You can also purchase additional amenities, including Wifi, charging ports for your devices, DVD players and monitors, leather seats, hardwood floors and P.A. systems. We can also provide you with ADA compliant coaches, if necessary.
Where will you pick us up and drop us off ?
We work with thousands of charter bus service providers in rural and urban areas across the country. We will work with you to arrange pickup and drop-off at a location that's convenient for you and your group.
Can we bring alcohol on a charter bus rental trip to Cleveland?
Yes, provided you request and obtain permission from us before your trip begins. We require that you comply with all applicable laws anywhere you travel. Furthermore, your driver will always have the right, at his or her discretion, to suspend or terminate alcohol consumption at any time for any reason.
Are there minimum age requirements to rent a charter bus to Cleveland?
Yes. You must be at least 21 years of age to enter into a charter bus rental contract. We book trips for high school and college groups, but require that an adult be responsible for the charter bus agreement.
Choose US Coachways for Your Charter Bus Rental to Cleveland
At US Coachways, there are many good reasons why we've been a preferred charter bus vendor for decades:
Special Offers
We offer discounts to special travelers—We reward healthcare workers, military personnel, non-profit organizations and seniors with additional discounts on charter bus rentals. To learn more, check out our specials page.
We make your safety a priority
We only book with vendors who have no current major safety violations. We monitor our service providers to ensure that they follow all governmental regulations regarding vehicle maintenance, as well as driver time on the road.
We give you virtually unlimited options
Want to stay an extra day? We can usually make it happen, thanks to our experience, local market savvy and long-term relationships with premier charter bus rental companies across the country.
We offer the gold standard for customer service
There are good reasons why we have more than 2,000 positive reviews online. We offer full-service dispatch anytime, 24/7; world class logistical support; your own project management team; and access to our online Trip Management Portal.
Enjoy These Cleveland Attractions on a Charter Bus Rental
There are lots of great things to do in Cleveland. Make your trip easy in a luxurious charter bus rental:
The Cleveland Museum of Art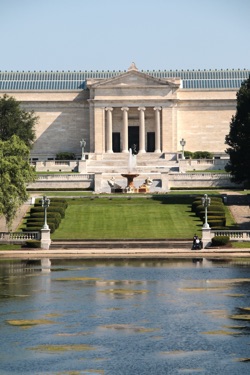 This museum, with free entry to the public, houses more than 60,000 works of art from over the past 6,000 years, including extensive holdings of Egyptian and Asian art, as well as Modern European painting and sculpture
The Rock & Roll Hall of Fame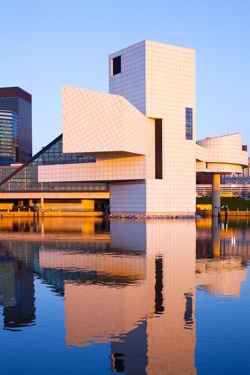 Be prepared to spend a day (or more) here. Designed by famed architect I. M. Pei, the Rock Hall offers permanent exhibits, such as the "500 Songs that Shaped Rock & Roll," as well as exhibits on instruments and clothing styles
The Museum of Natural History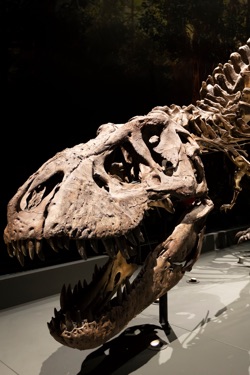 This museum houses more than 4 million artifacts, from fossil fish for the Cleveland Shale to hundreds of monkey and ape skeletons, as well as mastodon and mammoth specimens and a T Rex skeleton.
A Christmas Story House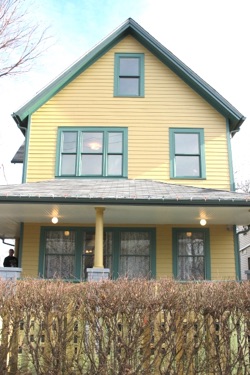 Shoot your eye out!! Visit the 19th century Victorian home used for the classic 1983 film A Christmas Story, now restored to look exactly as it did in the film. The house is part of a complex of four buildings devoted to the movie
Cleveland Botanical Gardens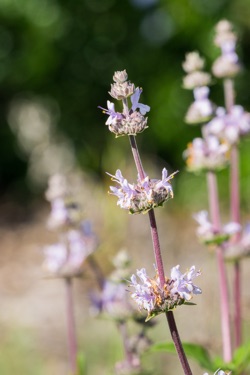 Founded in 1930, the Gardens include a biome with plant and animal life from Madagascar and another with flora and fauna from Costa Rica, as well as more than 10 acres of outdoor gardens.
The Great Lakes Science Center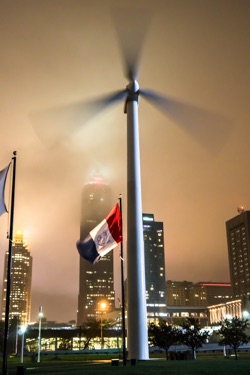 Home to the NASA Glenn Visitor Center, this downtown facility focuses on the environmental sciences within the Great Lakes, with extensive exhibits on the health and rejuvenation of Lake Erie.
The Arcade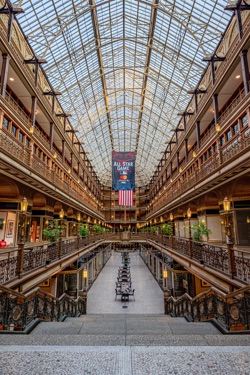 Built in the 1890s, this Victorian masterpiece includes two 9-story buildings connected by a 5-story arcade with a glass skylight. One of the first malls in the United States, it's now home to hundreds of boutiques and retail outlets
The USS COD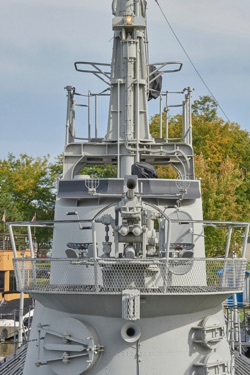 Step back in time to the turn of the 19th/20th century at this indoor/outdoor historical museum. With 32 historic buildings from San Jose's storied past, as well as other landmarks, it's a history buff's dream.
A Charter Bus—Ideal for Any Outing to Cleveland
The comfort, convenience, safety and affordability of a charter bus make it perfect for any excursion:
Should we book a charter bus for a company event?
Absolutely. You'll make more efficient use of your time on a charter bus. You can prep team members on the way or debrief on your return trip. Because you'll all travel together, you can also schedule events more reliably.
How about taking a charter bus to a game or concert?
When you're going to a big game, show or concert, you want to relax and have fun. You don't want to battle traffic, try to find the venue or look for parking. With a charter bus rental, you can have as much fun as everyone else.
Is a charter bus a good choice for a public event?
Yes. When you travel on a charter bus, you won't have to park a mile away and walk to where the action is. We'll drop you off where you want to be. You'll also get to ride with people who share your interests—you might make a new friend.
Why take a charter bus for a school event?
With a charter bus, you can maximize safety and accountability, two of the most important priorities when traveling with young people. You'll keep young drivers off the road and you'll always know where they are.
Visit Cleveland's Unique Neighborhoods by Charter Bus
Cleveland offers many fun and unique communities, easily accessible on a charter bus rental:
Ohio City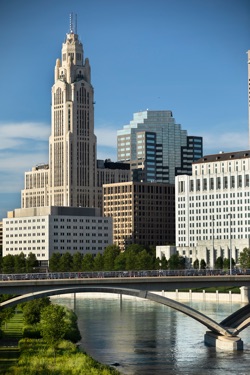 For food and beer, this is your destination! From the storied West Side Market, with more than 100 vendors to some of the city's top craft breweries (sign up for the Cleveland Brew Bus!), Ohio City is a popular hangout for locals and visitors
Tremont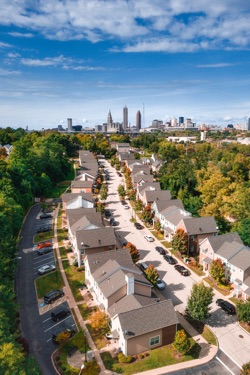 Home to many of Cleveland's Victorian mansions, Tremont is also known as a mecca for foodies. There's a food tour, with a wide range of ethnic restaurants, as well as fine dining. The neighborhood is also known for its many murals
Little Italy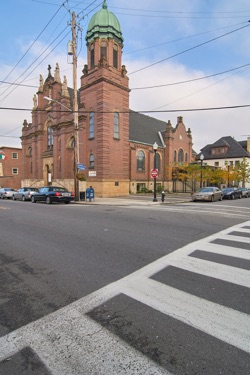 This quaint neighborhood just east of downtown has stunning architecture, bakeries, art galleries and shops, as well as some of the most authentic Italian cuisine this side of the Atlantic
The Flats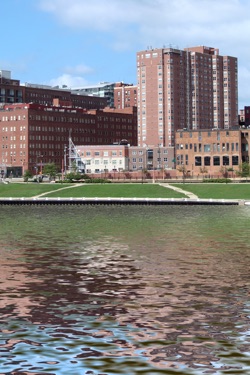 Spanning the banks of the Cuyahoga, the Flats offer an outdoor music venue, as well as bars, restaurants and shops in many renovated warehouses and other industrial buildings. The Greater Cleveland Aquarium is also here
There's Always Something Fun Happening in Cleveland
Why not book your charter bus rental trip to coincide with one of these great events!
Brite Winter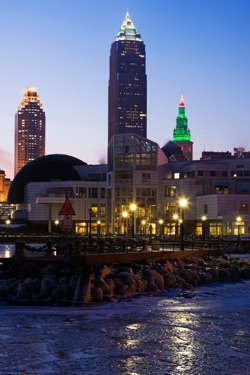 An outdoor music festival in Cleveland in February? Welcome to Brite Winter, one of the hottest and fastest growing festivals, with music from a range of genres, including punk, soul, hip-hop, and indie pop
St. Patrick's Day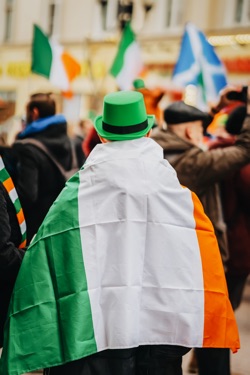 With one of the largest Irish communities in the nation, Cleveland knows how to celebrate the "wearin' o' the green." About a half a million people witness the city's annual St. Patrick's Day parade and green beer flows across the city
The International Film Festival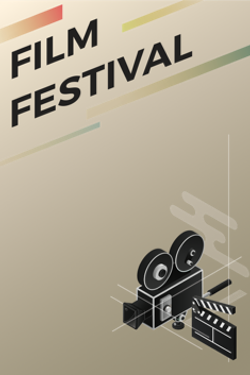 This two-week festival in the spring features movies you won't find at the local cineplex. Come to Tower City Cinemas for documentaries, short films and experimental cinema
The National Rib Cook-Off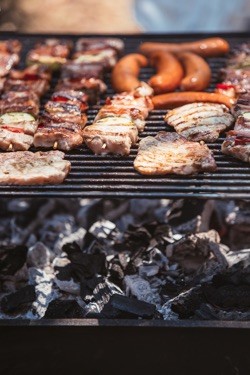 Come to the Cuyahoga County Fairgrounds in Berea, just 10 miles south of downtown, for this Memorial Day weekend competition. You can't have ribs, though, without some great local craft beer to wash them down.
The Cleveland Asian Festival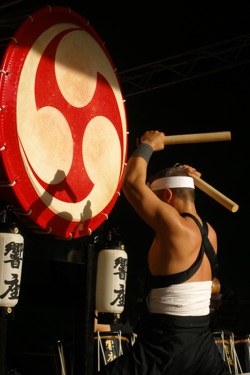 This May festival pays tribute to the vibrant Chinese, Thai, Korean and Vietnamese communities in the city. Held in Asiatown, it includes food, music, dancing, cultural demonstrations and sumo wrestling
Burning River Festival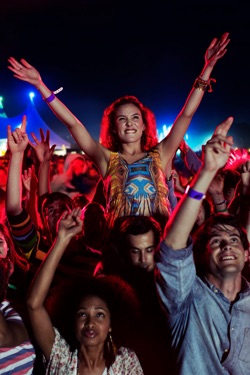 This summer music festival commemorates the time the Cuyahoga actually caught fire. It's now dedicated to keeping a focus on environmental awareness. You'll find beer tents, food booths and multiple music venues
The Cleveland National Air Show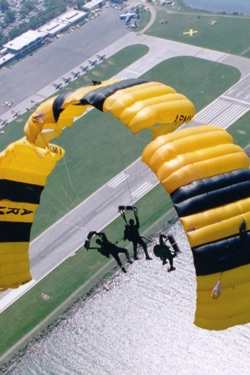 It's been described as watching Top Gun live. This 3-day extravaganza is held over the Labor Day weekend along the shores of Lake Erie, at the Burke Lakefront Airport. You can also check out unique aircraft or fly a drone
The "Duck Tape" Festival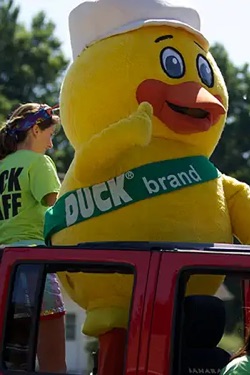 This festival, which pays homage to the handyman's secret weapon (duct tape), includes a fashion show, as well as duct tape creations, including life-sized animals and parade floats. There's also food, beverages, music and rides.
Book Your Charter Bus Rental Trip to Cleveland Today
Music…museums…a dizzying array of great restaurants…world class shopping…it's all here in Cleveland. You'll also find cutting edge craft breweries and a lot of history. Cleveland can be an affordable and accessible destination for your group, but you don't want to handle the travel there and back on your own. With a charter bus rental from US Coachways, you can relax with friends and family while we take care of every detail.
To get a complimentary quote on a charter bus rental to Cleveland, go to our easy-to-use online cost calculator. For more information about the full range of services we provide, or to ask any questions about charter bus rentals, call 1-855-287-2427 to speak with one of our travel consultants.
We Book More than 20,000 Charter Bus Trips Every Year!