How are Bus Prices Determined?
You're planning a group outing and you've done the research. You like the flexibility, dependability and safety of a charter bus rental. But what's it going to cost? What steps can you take to make sure you're getting the best price?
It probably won't surprise you to learn that charter bus travel is consistently considered to offer more for your travel dollars than any other mode of transportation. Most charter bus companies charge a fixed price for the coach, so the more people you have in your group, the less each person will typically pay. In addition, fixed expenses such as gas, parking and highway tolls are all shared.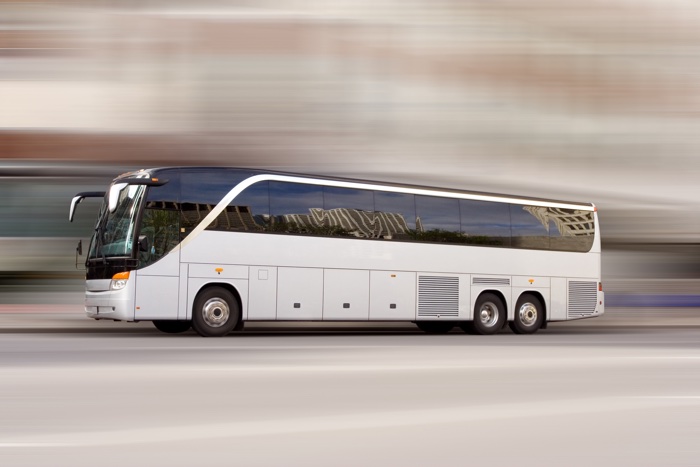 Okay, we have convinced you that charter bus travel will be easier on your pocketbook than other options, but just how much will it cost? Interestingly, one of the advantages of charter bus travel that makes it an attractive option for travelers, also makes it more difficult to nail down an exact cost. There are such a wide range of options available! Here are some of the variables that affect the cost of a charter bus trip.
What Factors Affect the Cost of a Charter Bus?
The actual cost of a charter bus trip will vary, based on:
When you want to travel — Like most industries, bus charters have peak seasons and off-seasons, and costs vary accordingly. In addition, the seasonal variations can differ based on geography—winters see a greater demand for a charter bus rental in Florida than New England, but during the summer, New York City is a more popular destination that Phoenix. There's greater interest in charter bus rentals in the spring and summer, when they are ideal for graduation parties, family reunions and weddings. Due to this you will likely pay more for a bus in summer than in winter.
The time of the week can also have an impact on charter bus costs. There's a greater demand for coaches on weekends than during the week, so you can expect to pay more if you rent Friday through Sunday than if you book a weekday trip.
Where you're going and how long you'll be there — As a general rule, charter bus rental fees are based on one of two methods—the amount of time you need the bus or by the total number of miles traveled. If you're planning to be gone only a few hours, you'll usually pay an hourly rate. There's typically a minimum number of hours billed—five is the standard. However, if you plan to be gone the entire day, you'll most likely be charged by the mile.
If your trip requires an overnight stay or involves being gone overnight, expect to be billed by the day. Furthermore, if you have overnight accommodations anywhere, you'll need to cover the costs of lodging for your driver(s).
Government regulations prohibit charter bus drivers from being on the road more than ten hours consecutively without a minimum of eight hours off. You can hire an additional driver if you don't want to stop for that long.
The number of people in your group — This will determine the type of coach you rent. Different buses have different seating capacities and different pricing. For example, an executive mini-coach will cost approximately $115 per hour, but a mini-bus can range from $75 to $105 per hour. Executive buses are usually between $175 to $250 per an hour, school buses range from around $55 to $70 per hour, and the standard charter buses usually run $100 to $150 per hour.
Any special needs you have — Most charter buses have certain basic features — Wifi, smartphone hookups and DVD players are standard with most coaches now. There are additional options, such as on-board restroom facilities, but they'll add to the total cost.
Where you depart — Some geographic locations are simply more conducive to charter bus travel than others. In some of the nation's older cities, for example, the streets can be narrow, making it difficult for larger charter buses to navigate. For that reason, there may be fewer charter bus operators and fewer options, potentially leading to higher costs. If there's no charter bus provider in your place of departure, you may have to pay extra to bring a charter bus from a distant location.
Whether you're traveling round-trip or one-way — When traveling a long distance round trip is more cost effective then a one-way trip.
Additional fees and costs incurred — It's common practice to include certain out-of-pocket expenses, such as parking and road tolls, in the total cost of renting a charter bus. In addition, though it's optional, it's customary to tip your driver(s) before or at the end of your trip. The standard tip is 10% of the total cost of your charter bus rental.
Determining the Cost of a Charter Bus Trip
To get a better idea of the approximate cost of a charter bus trip, you can use the cost calculator above. Remember that the cost calculator can only give you an estimate of the final cost. The most effective way to know exactly how much you'll spend is to work directly with one of our experienced agents, who will know about any specials or other ways you can cut some costs.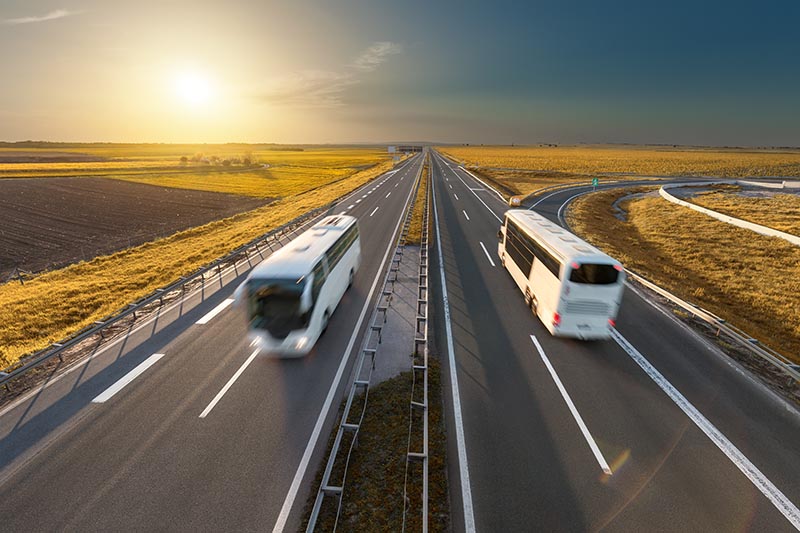 Here are a few examples to give you an idea of how the different factors affect charter bus pricing:
Time of the year — To understand the difference between traveling during periods of peak demand and the off-season, consider the cost of a charter bus trip from Dallas, Texas to the Houston zoo, a trip that takes about three and half hours. Because Houston is a more popular destination in February than in August, there's a greater demand for charter buses in February and an increased cost. The estimated cost in February for a day trip on a 28 passenger bus is $1,579 and the August trip would cost slightly less ($1,435).
The day of the week — Because of the greater demand for charter buses on weekends, there's an increased cost. A 24 passenger mini-bus from New York to Philly will cost approximately $1,270 on a Tuesday, but about $1,410 on a Saturday.
The size of your coach — Here's a snapshot of the different daily rates for charter buses running from New York to Philadelphia:
24 Passenger Mini-Bus: $950 per vehicle
28 Passenger Mini-Bus: $990 per vehicle
44 Passenger School Bus: $950 per vehicle
49 Passenger Motor Coach: $1,190 per vehicle
56 Passenger Motor Coach: $1,300 per vehicle
The impact of being gone overnight — If you take that same day trip from Dallas to Houston in a 49 passenger coach, it will cost you approximately $1,765. If you plan to stay overnight, the cost will be $3,562. The New York day trip to Philadelphia on a 49 passenger bus costs approximately $1,190, whereas an overnight trip will cost $2,300.
The distance you travel — Though the greater the distance, the greater the cost, the increase is not necessarily proportional to the distance. For example, a day trip from Birmingham, Alabama to Nashville, Tennessee, on a 49 passenger bus, will cost approximately $2,122 for a 390 mile trip. A day trip from Birmingham to Atlanta, Georgia, on the same sized bus, will cost $1,930 for a 295 mile excursion.
Ways to Manage the Cost of Your Charter Bus Rental
Though there are a wide range of variables that go into the pricing of a charter bus, there are steps you can take to help your group get the best pricing:
Make your reservation early — While the variables involved with determining the exact cost of a charter bus are many, one thing is almost always true—the earlier you book, the more options you'll have. With more options, you'll be able to get a better price. The longer you wait, the greater the likelihood that you'll have to book a coach that's bigger than you want.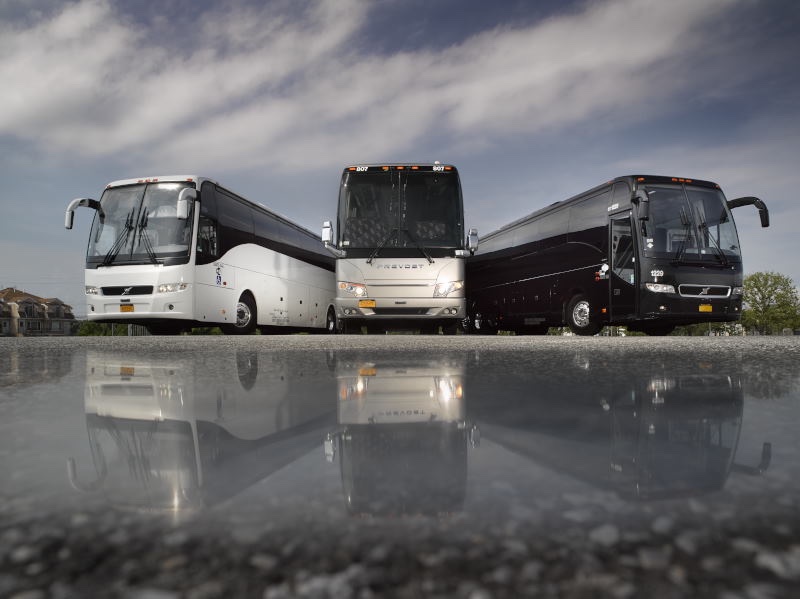 Make Off-peak Trips — Travel during offseason and during the week, rather than on weekends to lower costs.Make certain you know when the highest demand will be for charter buses from your point of departure to your destination. Take the time to find out if there are other major events where you are going when you plan to be there. Determine whether you need to be there on a weekend.
Book the right-sized coach — You want enough room for your travelers to be comfortable, but you don't want to pay for a lot of seats that don't get used.
Talk to an experienced agent before you book — Start with the cost calculator to get a ballpark estimate of the cost, but always talk to a live agent to find the bus that best fits your trip, along with helpful hints and the best pricing.
Overnight Trips — Check with your hotel/motel to see if they offer reduced rates for your driver. Contact any venues you'll visit to learn of parking alternatives for your bus.
Book Your Charter Bus from US Coachways Today
US Coachways, the largest charter bus network in the nation, has set the standard in the charter bus industry for more than three decades, providing quality coaches to more than 21,000 events each year. To learn more about the different coaches we have access to or for a free quote, call 1-855-287-2427to talk to one of our experienced agents.