Travel to "Where Florida Begins"
Nestled in the northeast corner of Florida, along the Atlantic Coast, Jacksonville offers Southern charm with a beach-town attitude. JAX has it all—great food and beverage, outstanding museums, lots of live music venues, and plenty of sun and sand. It's a great place to take a group, but it's a big city—nearly a million people and almost 900 square miles. Don't make your trip to Jacksonville harder than it needs to be. With a charter bus rental from US Coachways, you can join the fun while someone else handles all the details.
We'll Help You Find the Right Coach for Your Group
When you consider all the advantages of a charter bus, it's an easy decision for a group outing. It's also important, though, to make certain you have a bus that meets your specific needs.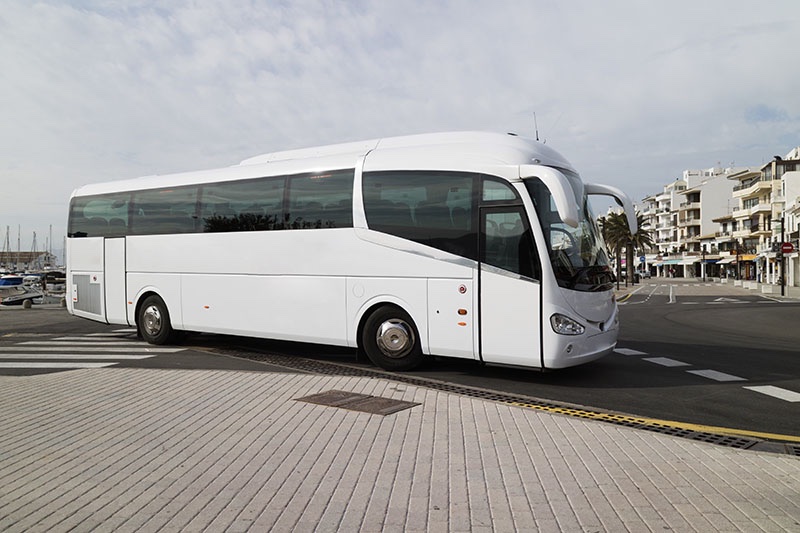 At US Coachways, we'll look at the details of your trip—how many people are going, how long you'll be on the road, and what you'll be bringing or taking home—and we'll work with our extensive network of charter bus service providers to find the coach that best meets your needs.
If you're visiting Jacksonville with a mid-sized group, the mini-bus will likely be the best option. It seats 24 to 35 comfortably and has plenty of space for your personal items or any souvenirs. If you're taking a larger group to the River City, consider the full-sized bus, with accommodations for up to 57 passengers. You can always rent multiple buses, too.
Most charter buses come with standard modern conveniences, such as stereo/PA systems, DVD players, Wifi and charging stations for your devices. Some also offer additional amenities, such as on-board bathrooms. The options vary from coach to coach, so check with your booking agent to determine what's available.
The Right Choice for Your Group Trip to Jacksonville
There are many factors that go into making a group outing successful, but the most important might be your choice of transportation. If your people have difficulties getting there and back, they can quickly forget the great events you planned in Jacksonville. A charter bus rental offers:
Safety and security

— With a charter bus, you'll have a highly trained and skilled professional behind the wheel at all times. In addition, because there's only one way on and off the bus, you won't have concerns about unauthorized entry. You and your personal items will be safe and secure.

A stress-free way to travel

— With other forms of group travel, someone has to take charge. Someone has to be the navigator, keeping an eye on the map or GPS. Someone has to watch the clock to make certain you get where you need to be on time. On a charter bus, you'll be able to relax with friends and family while someone else handles all those details. You won't need to worry about a missed connection or lost bags, either. You'll ride on the same coach at all times and your luggage will always be with you. There's no TSA security checkpoint with a charter bus, either. You won't have to take your shoes off, unless it's to kick up your feet and relax. Your phone won't interfere with the navigational systems on the bus, either, so you won't have to put it on "bus mode."

Unmatched flexibility

— There's no other way to travel that lets you decide when you want to go, where you want to go and how long you want to stay. You won't have to choose from a handful of prepackaged itineraries. You'll have a one-of-a-kind experience.

Reliability

— Did you know that more than 800,000 air travelers will arrive late somewhere today? That rarely happens with a charter bus. Your driver has the tools to anticipate traffic slowdowns and find alternate routes to get you there on time. If there are mechanical problems, our access to a vast nationwide fleet of charter buses makes it easy to find a replacement.

A high level of personal comfort

— The seats are wider than on any other mode of travel, with more leg room. Even better, there's no middle seat, so you won't be bumping elbows your entire trip. The aisles are spacious, and you are free to move about at your convenience.

Access to HOV (high occupancy vehicle) lanes

— That can reduce the time you spend sitting in traffic and find you more time to enjoy Jacksonville.

Affordability

— On a charter bus, you'll share many of the costs of travel with your fellow passengers. That leaves more dollars to make memories in Jacksonville.

A way to help the planet

— When you put a group of people together on a charter bus, you take a number of private vehicles off the road. That reduces carbon emissions and that's good for the environment.
US Coachways has been an industry leader in the charter bus rental business for more than three decades. For a free estimate of the cost of a charter bus trip to Jacksonville, see our convenient and user-friendly online Cost Calculator. For answers to your questions about group travel, call 1-855-287-2427 to speak with an experienced customer service agent.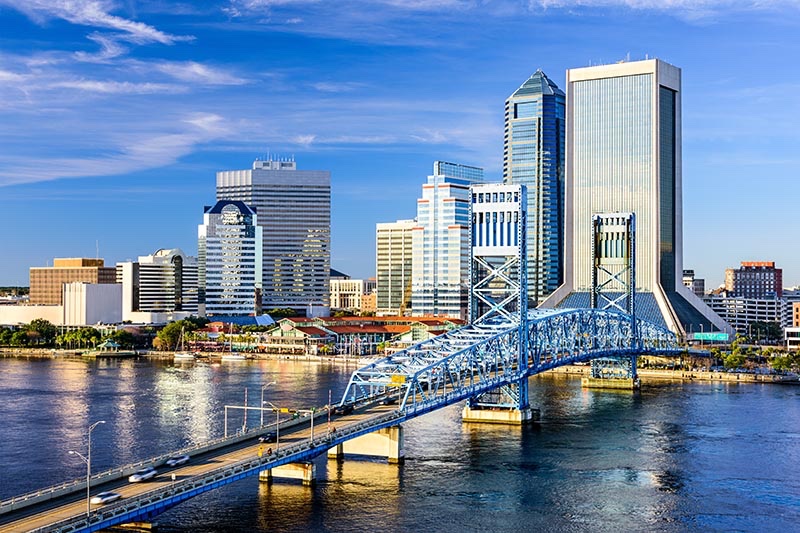 The Jax Ale Trail includes more than 15 local craft breweries. The city's Jaxtoberfest is one of the nation's largest Oktoberfest celebrations.
A Charter Bus—Ideal for Any Excursion to Jacksonville
The convenience, safety, affordability and luxury of charter bus travel make it an excellent choice for any type of outing:
Make Your Charter Bus Reservation for Jacksonville Today!
At US Coachways, we have been at the forefront of the charter bus rental industry for more than 30 years. To find out the cost of a charter bus trip to Jacksonville, use our convenient online Cost Calculator to obtain a free quote. For more information about all the ways we can help you with group travel, call 1-855-287-2427 and speak to an experienced customer service representative.