If there's any city in the world that knows how to have a good time, it's New Orleans. Jazz, blues and zydeco…gumbo, Etouffee and po' boys, with Louisiana hot sauce on every table…the night life along Bourbon Street and in the French Quarter…a Mardi Gras atmosphere all year long.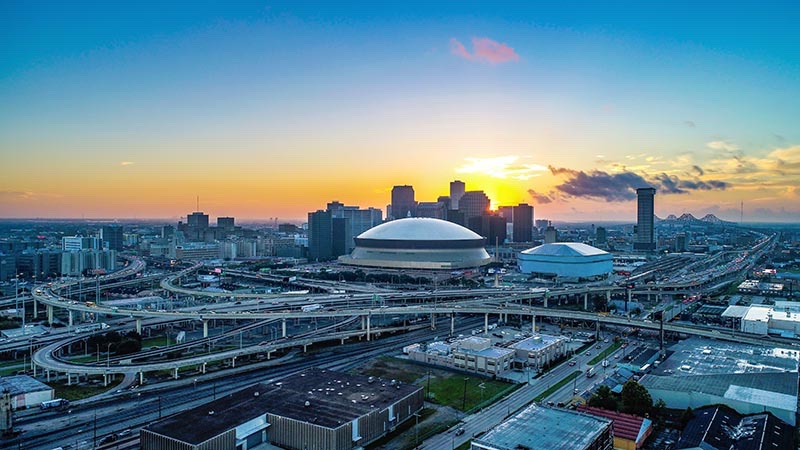 Your visit to NOLA can be the trip of a lifetime, but not if you have to handle all the details. New Orleans is a big city, stretching out over nearly 350 square miles. You don't want to fight traffic, keep your eyes buried in a map or GPS, or worry about getting to your destination on time. With a charter bus rental from US Coachways, you can let your hair down and revel in all the "Crescent City" has to offer.
The Many Reasons to Make Charter Bus Rental Your Mode of Travel
When you're headed to New Orleans with a group, one of the most important components of the ultimate success of the trip will be your choice of transportation—how will you get there and back. Unfortunately, if there's too much hassle with the travel, your participants may quickly forget how much fun they had in the Big Easy. Here are a few reasons to choose a charter bus rental:
You won't have to worry about a lot of the other inconveniences that come with travel. Because you'll be on the same coach at all times and your luggage will always travel with you, you won't have to sprint to make a connection, and there's never a concern about a lost bag. There are no TSA security checkpoints, so you won't have to empty your pockets or remove your shoes, and you can bring your favorite shampoo or your own beverages. Your phone won't interfere with the coach's navigational system, either, so you can leave it on and stay connected at all times.
Charter bus travel is highly reliable

— Did you know that about 40% of all air travelers will arrive late at a destination today? That's almost a million people every day. That simply doesn't happen with a charter bus. Even if you experience mechanical problems, you'll have access to an extensive network of service providers nationwide, so there's a good chance of getting a replacement pretty quickly. In addition, your driver will have the tools and resources to proactively identify potential delays and find alternative routes to get you to your destination in a timely manner.

A charter bus rental offers unparalleled flexibility

— There's no other mode of transportation that lets you decide where you'll go, when you'll go there and how long you'll stay. You'll always be able to customize your trip to the needs of your group.

Charter buses offer safety and security

— There's limited access to your bus. That makes it difficult for someone to come on board uninvited. In addition, you'll have a professional driver with extensive training and skill.

Charter buses are the most comfortable way to travel

— The seats are wide and plush, with more leg room than any other method of travel. There's also no middle seat, so you won't bump elbows for your entire ride. The aisles are roomy and you can walk about at your leisure.

Charter buses let you ride in the HOV (high occupancy vehicle) lane

— That's huge in a city like New Orleans.

Charter buses are more affordable than other modes of group travel

— You'll be sharing many of the expenses of travel with your fellow passengers. With the money you save, you can have more fun in N'awlins.

Charter buses are the environmentally conscious way to travel

— By sharing the ride with others, you take a number of vehicles off the road, lowering emissions. Take a look at how US Coachways had a positive impact on the environment.
At US Coachways, we have been industry leaders in the charter bus rental business for more than 30 years. For a free quote on a charter bus trip to New Orleans, use our convenient online Cost Calculator. To learn how we can help you with your group travel needs, call 1-855-287-2427 to speak to an experienced agent.
There's No Better Place to Have Fun than New Orleans
The spirit and culture that makes New Orleans Mardi Gras Central lives and breathes in this great city year-round. Some of the "can't miss" attractions in the Big Easy include: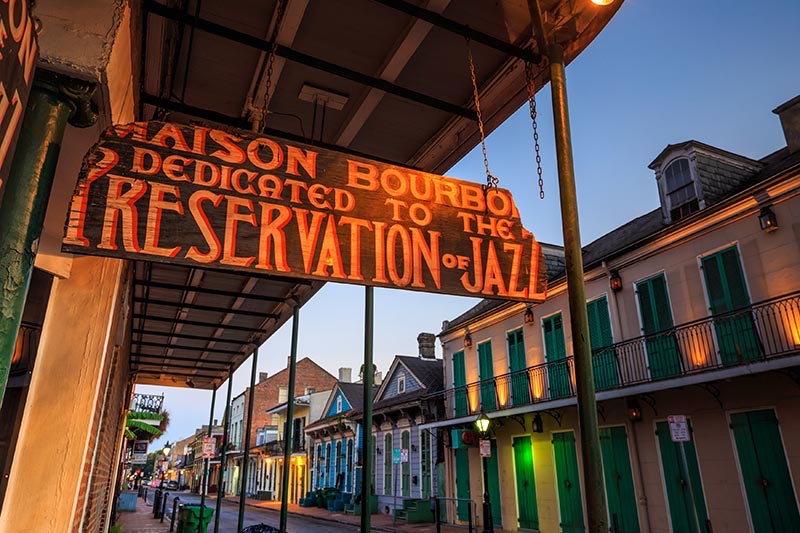 The music and the arts

— It's the birthplace of jazz, but it's really a bubbling cauldron for a diverse blend of musical genres. Head over to Frenchman Street, just a short stroll from Bourbon Street, to find a potpourri of clubs featuring live blues, reggae, zydeco, Cajun and other music. For stadium shows, check out the Mercedes-Benz Superdome or the Smoothie King Center. The Louisiana Philharmonic calls NOLA home and you can also enjoy productions from the New Orleans Opera.
New Orleans also boasts a number of theater companies, with productions ranging from small, local works to traveling Broadway shows. Enjoy a wide range of dance offerings, from ballet (three different companies) to burlesque. Patrons of the visual arts will find stunning works throughout the city, from the New Orleans Museum of Art to the many public pieces on display.
The food

— There may be no more distinct cuisine in the United States than what you'll find in N'awlins. How many signature dishes can one city have? From gumbo and jambalaya to red beans and rice to Etouffee and muffalettas, from King cakes to Bananas Foster. Don't forget the city's famous po' boys, the pralines and the remoulade. It's a mish-mash of African, Caribbean and European culinary traditions that makes New Orleans a truly unique food experience. There's great food everywhere, but you'll want to start in the French Quarter or the Garden District.

The food

— New Orleans is truly a city that never sleeps and it's not just music that runs the motor. The city's famous for its cocktails, too. There are numerous cocktail tours throughout the city, many combined with samplings of the city's cuisine. In the French Quarter (Le Vieux Carre), you can enjoy burlesque and cabaret shows on nearly every corner.

The French Quarter

— No journey to New Orleans is complete without a trip to the French Quarter. Take in the unique architecture, a tribute to the early Spanish influence in the city. It's home to countless clubs, bars and eateries. You can visit the antique shops on Canal Street or take a tour of the above-ground cemeteries.
A Charter Bus—An Excellent Choice for Any Excursion to New Orleans
Consider a charter bus as your mode of transportation for any outing to New Orleans:
The Right Coach — A Key to a Successful Trip
When you look at the features a charter bus offers, it's easy to see why it's the transportation mode of choice for many group leaders. It's just as important, though, to take your time and find the right bus. You want a coach that gives you plenty of room without empty seats. You also want to know that you'll have access to all the amenities your group needs.
At US Coachways, we have longstanding relationships with charter bus service providers nationwide. We'll carefully evaluate your needs, based on the size of your group, where you're going, how long you'll be on the road and what you need to bring. We'll also consider any other special needs of your group. We'll work with our vendors to find the ideal bus for your trip.
If you're traveling with a mid-sized group, you'll be comfortable in a mini-bus, with seating for 24 to 35 passengers and ample room for your personal items and souvenirs. For larger groups, there's the full-sized bus, which holds up to 57 people. Multiple bus rentals are usually an option.
The options vary from bus to bus, so you'll want to check with your booking agent to determine what's available. Most buses have Wifi, charging stations, DVD players and stereo/PA systems. We can also find coaches with additional features, including on-board bathrooms, if necessary.
Set Up Your Charter Bus Trip to NOLA Today
There's no need to wait another day—you're ready for the fun, food and festivities you can only find in New Orleans. With a charter bus rental from US Coachways, you'll have the benefit of more than 30 years in the business. Visit our online Cost Calculator to get a free estimate of the cost of a charter bus trip to New Orleans, or call us at 1-855-287-2427 to learn how we can help you plan a great group outing.
See what's cool in Louisiana