A Charter Bus Rental—The Convenient and Comfortable Way to Visit the Heart of the South
For year-round fun for groups of any size, there's no place like Atlanta—you'll find history, arts and culture, great food and spirits, world-class shopping and top-level sporting events. The best way to enjoy all that the ATL has to offer? In the safety, luxury and comfort of a charter bus rental from US Coachways. On a charter bus, you can relax with everyone else while your driver handles every little detail.
Answers to Your Questions about a US Coachways Charter Bus Rental
Here's everything you need to know about booking a charter bus trip to the ATL:
Who is US Coachways?
At US Coachways, we have provided comprehensive and effective ground transportation solutions to groups, group leaders, businesses and business owners throughout the country for more than 35 years.
How much will I pay for a charter bus excursion to Atlanta?
The specific costs of a charter bus rental vary, based on a variety of factors, from the dates of travel to the destination, from the number of participants to the amount of time you'll be on the road. We offer a free quote to every customer. To learn more, go to our state-of-the-art online cost calculator.
How do I book a charter bus rental to Atlanta with US Coachways?
The easiest way to initiate the process is to go to our online cost calculator or call 1-855-287-2427 and talk to one of our experienced travel consultants.
How early do I need to schedule a charter bus trip to Atlanta?
We recommend that you contact us as early as possible, so that we have more options to meet your needs. However, because of our extensive network of charter bus vendors, we can typically book an entire trip with relatively short notice.
Are there charter bus service providers located close to me?
At US Coachways, we have relationships with charter bus rental vendors throughout the United States, in large urban areas and small towns. We can always arrange to bring a charter bus to your preferred location.
Do you have different types of charter buses available?
At US Coachways, we know that choosing the right charter bus can have a big impact on the success of your outing. If you're traveling with a small-to-medium-sized group, we can set you up with a mini-bus, with accommodations for 24 to 35 passengers and ample storage space. We also offer full-sized charter buses, which can seat up to vide a full-sized charter bus, with accommodations for up to 57 people. With the exception of school bus rentals, all charter coaches have high-back bucket seats, climate control, lots of storage space and a great stereo system. You can also get Wifi, DVD players and TV monitors, charging stations, P.A. systems, hardwood floors and leather seats, as well as ADA-compliant buses.
Is alcohol permitted on a US Coachways charter bus to Atlanta?
You are allowed to bring and consume alcoholic beverages on a US Coachways charter bus rental, as long as you have secured permission from US Coachways in advance. Nonetheless, the driver will retain the right, in his or her sole discretion, to terminate or suspend alcohol consumption. Furthermore, the use of alcohol must in compliance with local laws.
Are there age limits for renting a US Coachways charter bus?
We will only enter into a charter bus rental agreement with individuals who are 21 years of age or older. We provide coaches for high school and college events, but require that a parent or guardian sign the rental contract.
Travel to Atlanta in Confidence and Safety with US Coachways
Long an industry leader in charter bus rentals, US Coachways offers
Special Offers for Groups
We offer discounts to special travelers—We reward healthcare workers, military personnel, non-profit organizations and seniors with additional discounts on charter bus rentals. To learn more, check out our specials page.
The flexibility to adapt to your changing needs
We have the skill, experience, knowledge and vendor relationships to make last-minute or real-time changes to your itinerary or book an entire trip with little notice.
The gold standard for charter bus customer service
We'll ensure that you have your own dedicated project management team, 24/7 dispatch services, unmatched logistical support, highly competitive pricing, and full access to our state-of-the-art online Trip Management Portal.
A rigorous commitment to your personal safety
We monitor safety records and ratings for all our vendors and won't use those who have current major violations. We require that vendors have adequate insurance coverage, and ensure that all drivers correctly report all time on the road.
Take in the Many Attractions in Atlanta on a Charter Bus Rental
On a charter bus, you won't have to worry about finding your way to the many fascinating places in Atlanta:
The High Museum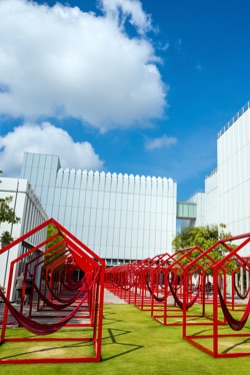 Housing a number of world-class exhibits, from Renaissance masters to the storied French impressionist painters of the late 19th century, the "High" is nationally and internationally known.
The Atlanta Botanical Gardens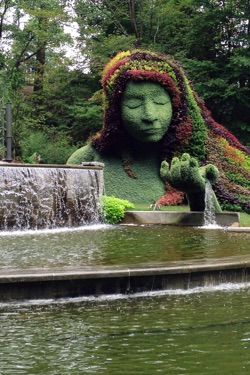 There's always something blooming here! With the largest array of hydrangeas and roses in the Southeast, the Botanical Gardens spans 30 acres next to Piedmont Park. The Gardens boasts over 20 flesh-eating plants, so watch your fingers!
The National Center for Civil and Human Rights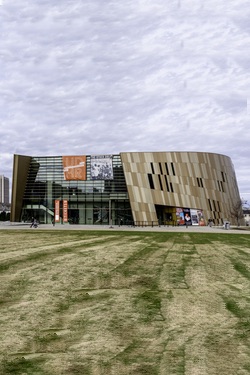 With exhibits that chronicle the history of civil rights around the globe, the National Center includes the Morehouse College Martin Luther King, Jr. collection, with personal effects from the slain civil rights leader.
The Martin Luther King, Jr. National Historical Park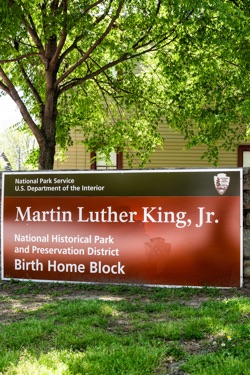 This 35-acre National Park includes the home where King was born, as well as the famed Ebenezer Baptist Church, where he and his father both served in the pulpit. The visitor center offers multimedia exhibits showing King's life and work.
The Fox Theatre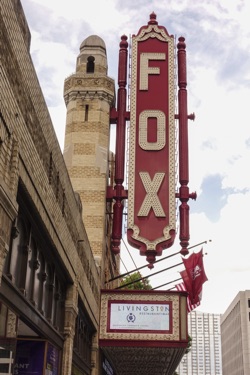 Conceived and initially constructed in 1929 as a Shrine Temple of Moorish Design, the Fox has been described as "a picturesque and almost disturbing grandeur beyond imagination." It now hosts a wide array of entertainment events.
The Georgia Aquarium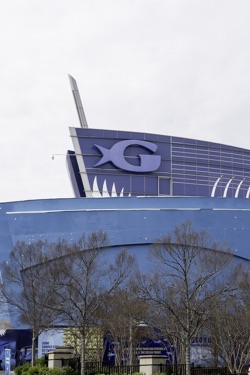 The largest aquarium on the planet when it opened in 2005 (and still third largest in the world), this aquatic museum houses beluga whales, manta rays, whale sharks, piranha, fire eels and hundreds of other species.
The World of Coca-Cola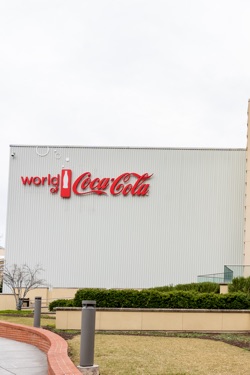 This 20-acre site houses all things Coke, with thousands of artifacts from the last 130 years, including a replica soda fountain from the 1930s. You can also sample soft drinks from around the world at Tastes of the World.
The Atlanta History Center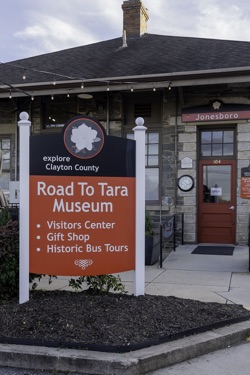 Nearly 100 years old, the Atlanta History Center, located in the Buckhead neighborhood, includes the Margaret Mitchell House and Museum, as well as one of the largest collections of Civil War memorabilia in the world.
The Added Benefits of Using a Charter Bus for Any Trip to Atlanta
There's no other mode of travel that offers the same benefits you'll get with a charter bus from US Coachways.
Is a charter bus a good option for corporate travel?
Yes! You can build teamwork as you travel to and from your destination together. The coach makes a great meeting space to prep employees for a conference or sales meeting, or share learnings after a training session or workshop.
Should I use a charter bus to take a group to a game?
On a charter bus, the excitement begins when you get on the bus and lasts until you return. You'll get to share the excitement with fellow fans and can even enjoy a cold beverage or two without having to get behind the wheel.
Why book a charter bus for a school outing to Atlanta?
When you are taking students on any kind of a trip, your primary concerns are safety and accountability. On a charter bus, you'll have complete control over who comes and goes, and you'll know where all your students are at all times.
Should I take a charter bus rental to a special event?
When you travel to any public event in Atlanta on a charter bus rental, you won't have to worry about delays or cancellations. You'll also share most of the expense of travel, ensuring that the trip is affordable for everyone.
Atlanta—A City of Neighborhoods
Though its growth has exploded, Atlanta has never lost the diversity and charm of its many unique communities:
Castleberry Hill
Listed on the National Register of Historic Site, this district includes art galleries, upscale bars and restaurants, historic homes and trendy boutiques. Come every second Friday for the Art Stroll.
Midtown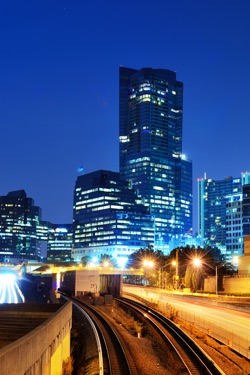 Visit the iconic Fox Theatre or the world-famous High Museum, or just take a walk through Piedmont Park. There's plenty of outdoor shopping and great restaurants, too.
Buckhead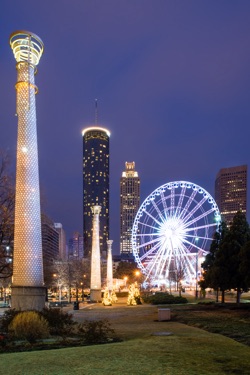 If you're looking for high-end shopping, world-class eateries and a great nightlife, come to this lavish uptown neighborhood.
Poncey-Highland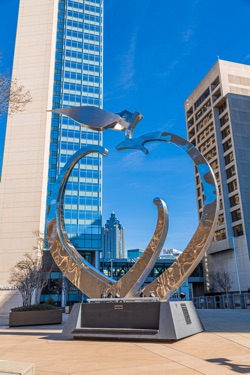 Visit the Jimmy Carter Presidential Library or stop for a cold one at Manuel's Tavern, one of the city's oldest bars. It's also home to "Neon Row," sporting some of the most famous noble gas signs in a city known for neon.
Annual Events in Atlanta that You Won't Want to Miss
There's always something exciting happening in the ATL. Here are some of the most popular yearly events:
The Peachtree Road Race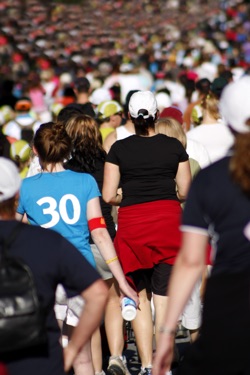 Spend your 4th of July with 70,000 other runners and 150,000 spectators at the largest 10K road race in the world. There's a wheelchair division and a special category for soldiers serving on active duty in the Middle East.
Dragon-Con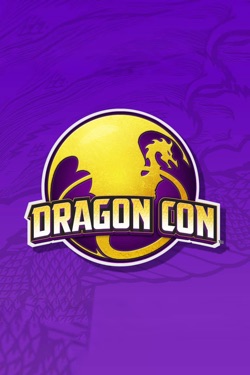 Channel your inner superhero and come to Atlanta over Labor Day. This event draws more than 80,000 fantasy, science fiction and gaming fans, and includes workshops and a parade.
The Little 5 Points Halloween Parade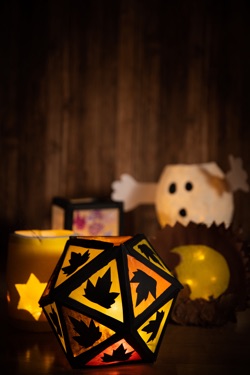 One of the top 10 Halloween parades in the nation, with mor than 35,000 people lining the streets of Little 5 Points, this event includes goblins, ghosts and ghouls of all ages, as well as great food booths and lots of live music.
The Atlanta Dogwood Festival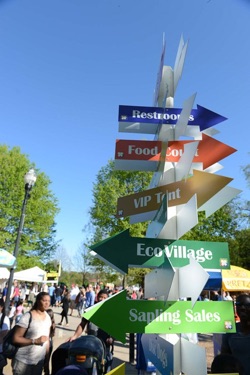 This arts and crafts festival celebrates the annual blooming of Georgia's native flowering dogwood trees. The juried Fine Artist Market has work from sculptors, painters, potters, jewelers, photographers and other creative individuals.
Music Midtown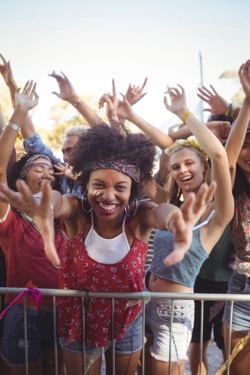 Bob Dylan, Maroon 5, Eminem, the Zac Brown Band and homegrown star Ludacris have all graced the stage at this popular music festival, spanning a full weekend every September.
The Peach Drop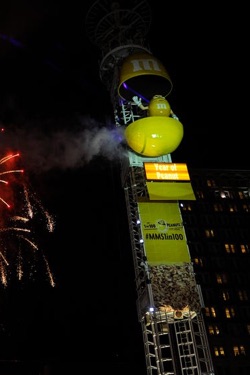 Atlanta is the place to be on New Years Eve, where a giant peach drops down a tower in Underground Atlanta, ringing out the old and ringing in the new year. The festivities typically coincide with ATL Burger Week, where you can sample some of the city's best beef on a bun.
Taste of Atlanta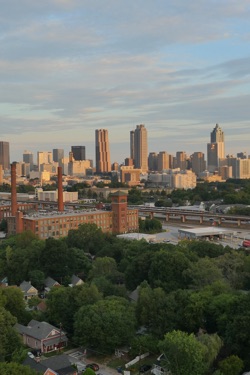 Bring your appetite and your culinary courage to the Old Fourth Ward in October, when a diverse collection of the city's eateries offer samples of their cuisine. This 3-day festival features fare from more than 100 restaurants, as well as live bands and street performers.
The Atlanta Pride Parade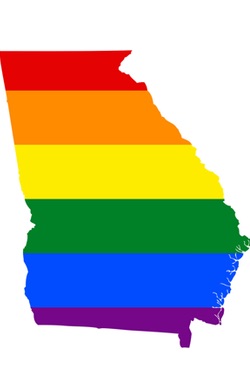 One of the oldest events of its kind in the world, the Pride Parade was first held in 1970. Peachtree Street becomes party central every October, with celebrity appearances and some of the most lavish attire you'll ever see.
Book Your Charter Bus Rental to Atlanta with US Coachways Today!
There's a great experience just waiting for you in Atlanta. Travel to the Heart of the American South in comfort, convenience, safety and luxury, on a charter bus from US Coachways.
At US Coachways, we have consistently provided effective ground transportation solutions to customers across the country for more than 30 years. Visit our convenient online Cost Calculator to get a free estimate on the cost of an adventure in Atlanta. To learn more about the range of services we provide, or to get answers to any questions about charter bus rentals, call 1-855-287-2427 and speak with one of our travel consultants.
We Book More than 20,000 Charter Bus Trips Every Year!