Take a Charter Bus Rental to the "Land of Pleasant Living"
It's an homage to the good life on the Chesapeake Bay, first emblazoned on bottles of the city's signature beer—National Bohemian. But it remains an apt description of Baltimore, a vibrant community less than an hour north of the nation's capital. But Baltimore is its own city, with much to offer visitors. The National Aquarium is here, or you can visit the Fort McHenry National Monument and Historic Shrine, where Francis Scott Key observed the flag that inspired him to write our national anthem. Visit the Inner Harbor, home to the Maryland Science Center, with its famous planetarium and observatory. Catch baseball old-style in the retro atmosphere at Camden Yards or view artifacts from more than five millennia at the Walters Art Museum.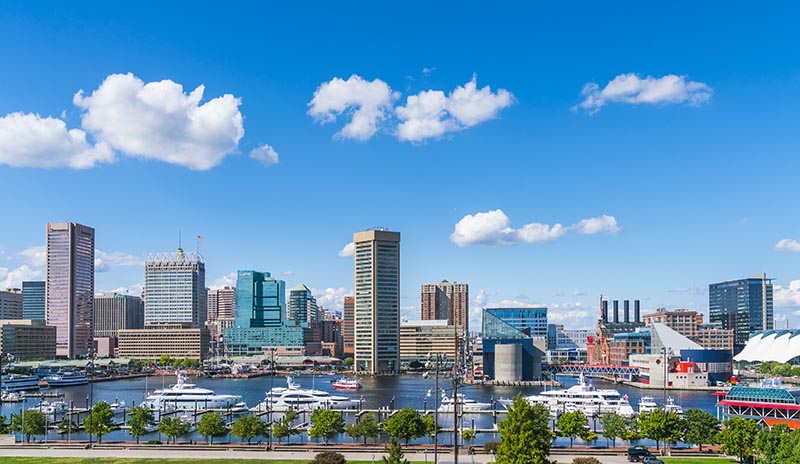 You can have lots of fun in Baltimore, but it's a lot harder if you travel there on your own. You'll spend most of your time checking your GPS or looking at a map. There's a better way to enjoy B'more—in the luxury, comfort and convenience of a charter bus rental from US Coachways. Relax with friends and family while we handle all your transportation needs.
A Charter Bus Rental—See the Monumental City in Style
Back in 1827, President John Quincy Adams paid a visit to the East Coast's "city by the bay," dubbing it "the Monumental City." There's no better way to enjoy all Baltimore has to offer than on a charter bus:
You'll feel safe and secure

— Charter bus travel has long been considered one of the safest modes of travel. There's a highly trained and skilled professional at the wheel at all times. Furthermore, as there's limited access to the bus, it's easy to monitor comings and goings, so you and your belongings will be safe and secure.

It's one of the most affordable ways for a group to travel

— On a charter bus, you'll share many of the costs to getting there and back. With the money you don't spend on transportation, you can have more fun in Baltimore.

Charter buses take all the stress out of travel

— How many times have you returned from a trip feeling like you need a vacation? With most forms of travel, you have to work almost as much as you play. On a charter bus, you won't have to check your watch or a map, and you won't have to fight traffic or jockey for a parking space. You'll ride on the same bus your entire trip and your luggage will always be with you—no worries about missed connections or lost bags. You won't have to go through a TSA security scan, either, and you'll never have to put your phone on "bus mode."

Charter buses offer flexibility you won't find in any other mode of travel

— With a charter bus rental, you won't have to choose from a handful of prepackaged itineraries. In most situations, you simply tell us where you want to go, when you want to be there and how long you want to stay. We'll make it happen.

Charter buses give you room to move

— There's more legroom than on any other type of transportation. The aisles are spacious, as well, and you won't have to stay buckled in your seat for the entire trip.

Charter buses let you take advantage of the HOV (high occupancy vehicle) lanes

— That can make a difference in a city like Baltimore.

Charter buses are good for the planet

— One of our large passenger buses replaces more than 20 personal vehicles on the roads. That's a significant reduction in carbon emissions. For more information, see the positive impact US Coachways had on the environment in 2018.
At US Coachways, we have been industry leaders in the charter bus rental business for over 30 years. To obtain a free quote for a charter bus trip to Baltimore, or to learn more about the ways we can assist you, visit our online Cost Calculator or call us at 1-855-287-2427.
Baltimore's History—Boats, Trains and the Babe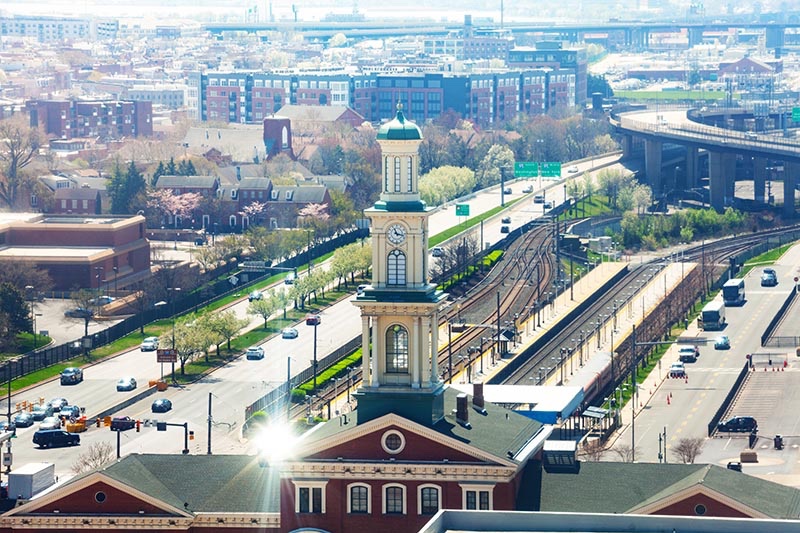 First settled in 1661 and officially established in 1729, Baltimore has long been a hub for all things maritime, from the clipper ships or the early 19th century to the USCGC Taney, a World War II cutter that now operates as a museum ship. Visit the Annapolis Maritime Museum or the Baltimore Maritime Museum to see first-hand the impact of watercraft over the 300 year history of Baltimore. You can also visit the Baltimore & Chesapeake Steamboat Company or the C&D Canal Museum, where you can observe a working model of a water wheel and lock.
Baltimore built one of the first commercial railroad lines in the world—the Baltimore and Ohio Railroad (known and the "B&O"). You can visit the B&O Railroad Museum, where you can see the oldest and most comprehensive American railroad collection in the world, with locomotives, historic buildings and small objects, such as fine art, signals, dining car china, communication devices and shop equipment.
Baltimore is also the home of the Babe—George Herman "Babe" Ruth, still the most storied name in major league baseball. Visit the Babe's birthplace at Camden Yards. The Babe Ruth Birthplace and Museum sits just three blocks from the home of Baltimore's Orioles.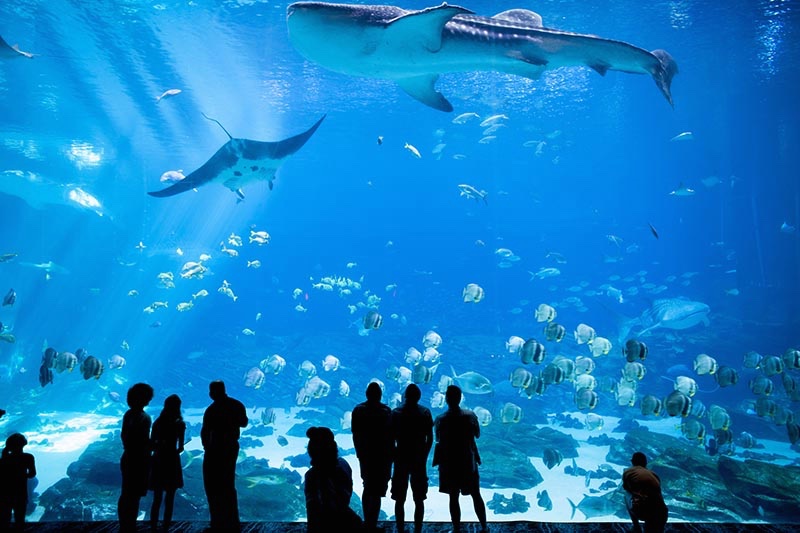 Arts and culture

— Enjoy one of the many museums in the Inner Harbor, from the American Visionary Art Museum to the Reginald F. Lewis Museum of African-American History and Culture or the Civil War Museum at President Street Station. For an unusual experience, check out Ripley's Believe It or Not! Odditorium.

Live music and theatre

— Take in an arena show or get your groove on at one of the many bars and clubs in the Inner Harbor

Professional sports

— Catch Major League Baseball at Camden Yards, home of the Orioles, or take in a Ravens at nearby M&T Bank Stadium

Great food

— Grab some steamed crabs or crab cakes, enjoy some of the city's renowned "pit beef" or get Baltimore's signature food, the Berger cookie, a tasty treat made from a German recipe that features a thick layer of chocolate fudge.
A Charter Bus Is a Great Choice for Any Trip
The many features and benefits of a charter bus rental make it an ideal option for any type of outing:
Come to the Clipper City in the Right Coach
When you're traveling with a group, there's no better option than a charter bus rental. But it's critical to book the right bus for your group, one that's the ideal size and has all the amenities you need. You want plenty of room for everyone to comfortably move about the coach, but you don't want lot of empty seats. You also want to be certain you can accommodate the needs of your participants.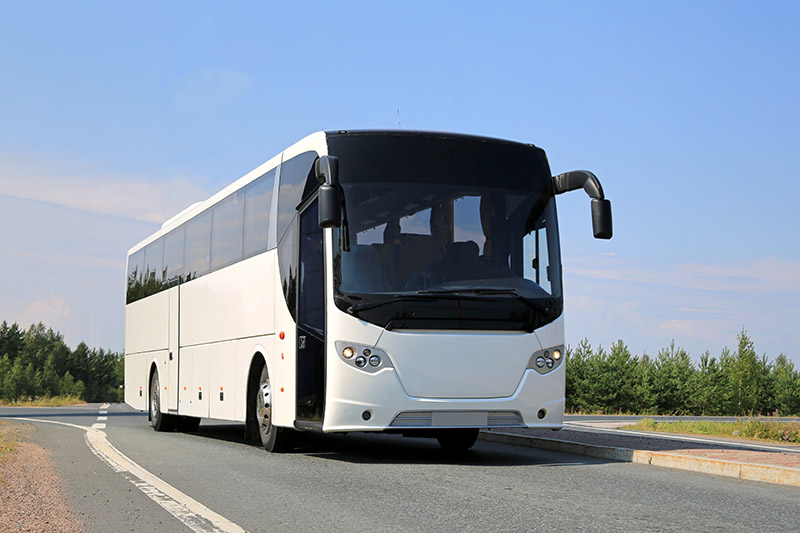 At US Coachways, we'll work closely with you as you consider your options, so that we can help you select and book the perfect vehicle for your group and your trip. We'll determine how much time you'll spend traveling, any unique items you'll be taking or bringing back, and any special needs of your passengers. With our access to one of the largest networks of charter bus service providers in the world, we are confident we can help you find the bus that meets your requirements.
The mini-bus — With seating for 24 to 35 passengers, this coach is ideal for mid-sized groups. There's also plenty of space for your personal items.
The full-sized bus — This coach seats up to 57 people comfortably. Multiple bus rentals are always an option for larger groups.
We understand that the amenities available to you can also have an impact on your comfort. Most of the coaches have standard modern conveniences, from Wifi and charging ports to DVD players and PA systems. Some have state-of-the-art sound systems and others have on-board restroom facilities. The features will vary from bus to bus, so check with your booking agent to determine what's available.
Baltimore on a Charter Bus—Make Your Reservation Today
At US Coachways, we have set the standard in the charter bus rental business for more than three decades, booking over 20,000 trips a year. For a free quote on a charter bus trip to Baltimore, or to learn more about the many ways we can be of service, go to our online Cost Calculator or call 1-855-287-2427 to speak to an experienced agent.