Experience Southern Hospitality in Comfort, Luxury and Safety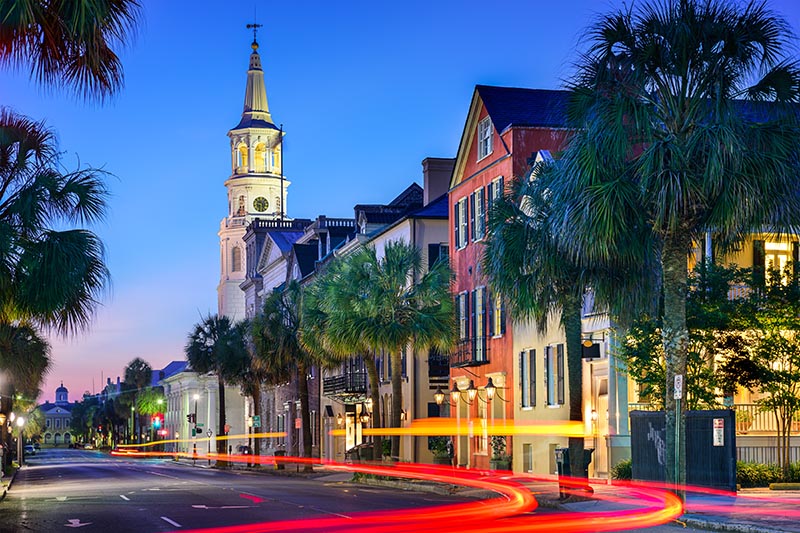 Charleston, South Carolina
Looking for a charming and friendly place to take a group, somewhere with a rich history, vibrant culture and amazing food? How about Charleston, South Carolina? This genteel Southern city, named America's favorite city four years in a row by Conde Nast Traveler, offers a wide array of attractions, from historic Civil War sites to breathtaking beaches, from tantalizing Low Country cuisine to museums, gardens and plantations.
It's an old city, though, with many narrow streets and lots of twists and turns. Don't turn your trip into work by trying to navigate Charleston on your own. With a charter bus rental from US Coachways, you can share the experience with everyone else while we handle the details.
Choose US Coachways for Your Charter Bus Needs
At US Coachways, we have brought people and events together for more than 35 years, always working hard to provide our customers with safe and dependable ground transportation. We are the largest charter bus rental company in the United States, handling more than 25,000 trips every year. We've built a nationwide network of hand-selected charter bus vendors, offering you on-demand access to a wide array of vehicles in hundreds of cities across the country. Our fast-connect, highly intuitive online reservation system makes it easy to get a quote, book a trip, request a change or track a reservation.
For a free estimate of the cost of a charter bus trip to the heart of the Old South, visit our convenient online Cost Calculator. To get answers to questions about charter bus rentals, or to find out more about the range of services we offer, live chat us or call 1-855-287-2427 to speak with one of our experienced luxury travel consultants.
The US Coachways Pledge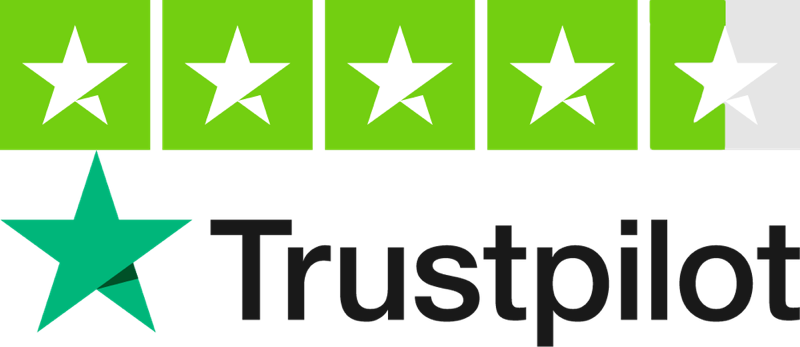 At US Coachways, we are always looking for new and better ways to serve our customers. When you set up a trip with us, you can expect:
The best logistical support in the business

, from the selection of the ideal coach for your trip to the determination of optimal sites for picking up and dropping off participants. We will also actively monitor roadway conditions, so that we can take necessary measures to avoid or minimize delays.

Comprehensive dispatch services at all times

, 24 hours a day, seven days a week—We have the experience and resources to manage multiple locations simultaneously

Your own dedicated project management team

, with a single point of contact, on call at all times to address your needs and concerns

The use of the US Coachways online Trip Management Portal

, where you can get a quote, book an outing, change an itinerary, make a payment or track a reservation

The flexibility to make real

- time or last-minute changes to your itinerary without difficulty, or to book an entire trip with short notice

The benefits of our purchasing power

— Because we book, on average, more than $55 million in charter bus trips every year, we have strong relationships with vendors nationwide and can consistently get highly competitive pricing
We are also certified by the General Services Administration (GSA) to provide charter bus services to the United States government and its agencies, including the armed forces.
Enjoy All Charleston Has to Offer
Founded in 1670 and named in honor of King Charles II, Charleston offers much to pique the interests of history buffs. Among the city's many historic treasures are:
Historic Fort Sumter

— Take a boat tour out in Charleston Harbor to the historic site where the first shots of the American Civil War were fired. Located just over a mile from the heart of the city, Fort Sumter is now part of Fort Sumter and Fort Moultrie National Historic Park, which includes a visitor education center.

Rainbow Row

— So named because of the bright pastel colors on the various facades, this collection of 13 houses is the longest side-by-side array of Georgian-style row houses in America. Built during the American Colonial period, the houses on Rainbow Row are among the most photographed locations in the world.

The historic homes

— Charleston is a veritable museum of classical architectural styles, as found in many of the city's oldest homes. The Nathaniel Russell House is considered by many to be one of the best examples of neoclassical architecture in the country and the Aiken-Rhett House, built in 1820, blends Adam, Revival and Victorian architectural influences in the same structure. Both are available for tours.

The historic plantations

— Charleston was in the heart of the deep South, home to many storied plantations. You can tour Boone Hall Plantation and Gardens, where they've produced crops for more than 300 years. The Magnolia Plantation and Gardens, one of the oldest in the country, spans more than 450 acres, and is listed on the National Register of Historic Places.
There's more to Charleston, though, than the history. It's an exciting and diverse city, offering world-class cuisine, unique shopping experiences and a wide array of visual and performing arts:
Committed to Ensuring You Have a Great Trip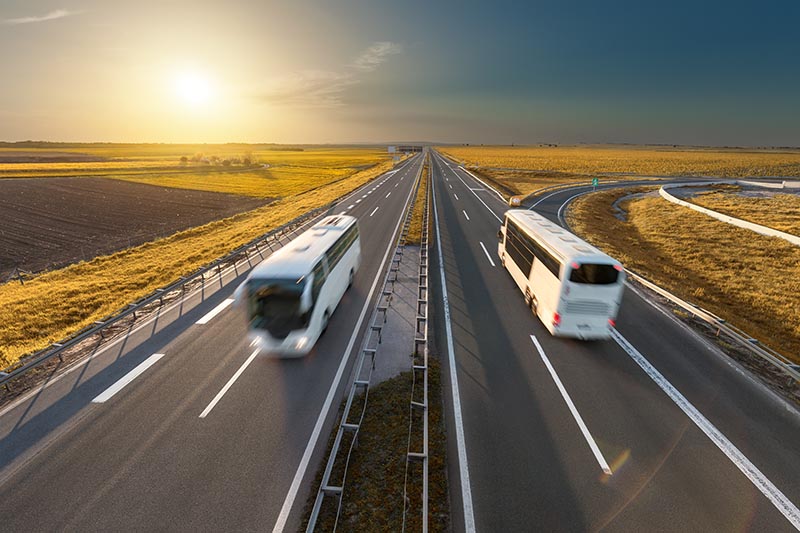 At US Coachways, we
Place a premium on your safety

All our employees are required to stay current with Department of Transportation (DOT) rules and regulations, and to complete all relevant DOT training
All coaches we use must undergo a comprehensive maintenance inspection, with checks and balances to ensure compliance with our Gold Seal of Approval
Any mechanic or automotive tech who works on your bus must have earned the Blue Seal of Excellence from the National Institute for Automobile Safety
All coaches we use must have Carrier411 on board to ensure compliance with safety requirements

Offer an unmatched selection of charter buses nationwide

We have access to the largest fleet of on-demand charter buses in the country
Our access to an unparalleled inventory of charter buses ensures that we consistently offer competitive pricing
Our relationships with vendors in more than 100 cities, with more than 5,000 coaches, makes it easier for us to book trips with short notice

Use technology to enhance your trip and your experience

Our state-of-the-art online Trip Management Portal lets you view invoices and itineraries from all your trips, make reservations, request quotes, modify travel schedules, submit payments and track reservations, all from the same website
We use the Bus Route Analysis system to monitor traffic patterns in real-time, so that we can anticipate delays caused by accidents, construction or roadblocks and proactively identify alternate routes to get you to your destination in a timely manner
We offer SmartDrive, Wifi, USB ports, flat screen TV, modern two-way radios and on-board video monitoring for your convenience
Choose Charter for Any Outing to Charleston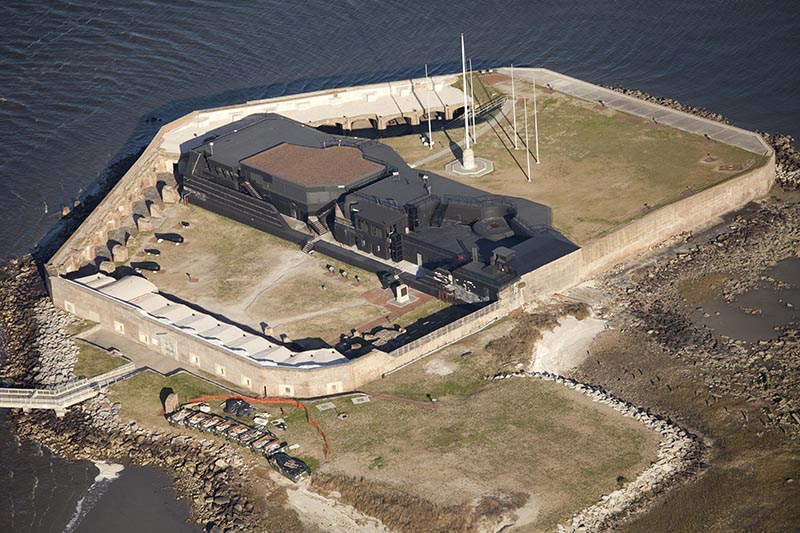 Fort Sumter in Charleston, South Carolina
The wide range of benefits available with a charter bus make it a great fit for any type of travel, including:
Business and corporate events

— Workshops, seminars, conventions, conferences, sales meetings, training sessions, team-building exercises, annual meetings, employee volunteer projects, golf outings, picnics and company celebrations

Family gatherings

— Reunions, graduations, bar and bat mitzvahs, weddings, rehearsal dinners, engagement parties, family vacations, birthday and anniversary celebrations, retirement parties

School travel

— Fan and athlete transportation, prom and graduation after-parties, band and orchestra festivals and concerts, cultural offerings, club and class trips, sorority and fraternity events, student volunteerism

Church ministries

— Mission trips, local volunteer efforts, choir tours, faith-based conventions and conferences, adult and youth fellowship opportunities, church camp sessions, retreats, and praise meetings or gatherings

Senior citizen and elder travel

— Shopping excursions, plays and concerts, museums and historical sites, casino trips and fall foliage tours

Special events

— Food and cultural festivals, touring theatrical productions, once-in-a-lifetime concerts, bowl games and championships, college and professional sports, NASCAR and other motor car races, parades and marches, public rallies
We'll Find the Right Bus for You
You'll appreciate the many features of a charter bus, but you want to take the time to be certain you have the ideal coach for your group and your trip. At US Coachways, we'll learn as much as we can about your event—how many attendees you expect, where you're coming from and where you're going, where you want to stop, what you need to bring or take home, and any other special needs of your participants. Then we'll reach out to our huge national network of charter bus service providers to find the bus that best meets your needs.
If you are visiting Charleston with a small-to-medium-sized entourage, we recommend the mini-bus, with seating for anywhere from 24 to 35 passengers. If you're traveling with a larger group, you'll want the full-sized charter bus, which accommodates as many as 57 people, and has an onboard restroom. Multiple bus rentals are always an option and ADA-compliant coaches can be rented.
Most charter buses come with high-back bucket seats, climate control, a great stereo system and plenty of storage space. You can also get a number of modern amenities as additional features, for an extra charge, including Wifi, DVD players and monitors, electrical outlets and USB ports, P.A. systems, hardwood floors and leather seats. Check with your booking agent.
Book Your Charter Bus Excursion to Charleston Today!
At US Coachways, we have been industry leaders in the charter bus rental business for nearly four decades, providing effective ground transportation solutions to businesses, groups and group leaders nationwide. For a free quote on the cost of a charter bus outing to Charleston, go to our user-friendly online Cost Calculator. To learn more about the services we provide, or to ask any questions about charter bus travel, live chat us or call 1-855-287-2427 and ask for an experienced luxury travel consultant.