Look to US Coachways for All Your Ground Transportation Fulfillment Needs
When you're working hard to run a successful business, you're going to have ground transportation needs. You may have potential customers coming in for a presentation. You may need to send some of your team members for training or team-building. You may be hosting a conference or workshop for leaders in your industry. Whether you need to move a small group of employees a couple hundred miles or shuttle a couple hundred conference attendees to and from various venues, your choice of transportation is critical. With a charter bus rental from US Coachways, you can relax, knowing everything is well in hand.
The Benefits of a Charter Bus Rental for Industrial or Corporate Travel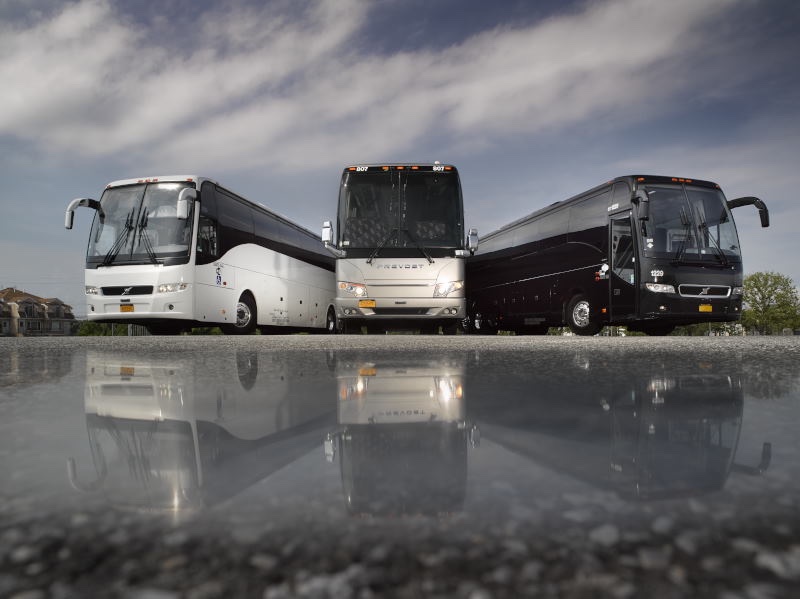 When your business requires that you move groups of people around, there's no mode of transportation that offers the advantages of a charter bus rental. When you book a charter coach, you'll get:
Unmatched dependability

—With other types of travel, delays and cancellations are almost standard operating procedure—they are virtually nonexistent with a charter bus!

Flexibility you won't get anywhere else

—You decide when, where, how often and how long. You'll also have the ability to choose from a broad selection of luxury coaches.

Unparalleled comfort

—Your travelers will ride in style, with high-back bucket seats, climate control and more leg room than any other mode of travel. There's no middle seat, either. The aisles are wide and you can move about when you choose. Depending on how long you'll be on the road, you can add a wide array of amenities, including Wifi, charging stations, DVD players and monitors, public address systems, leather seats and hardwood floors.

Safe and secure transportation

—You'll have a highly-trained professional at the wheel. You'll also have limited access to the coach, so no worries about uninvited guests.

A cost-effective solution

—Because most of the costs of travel are shared, charter buses are consistently one of the most affordable ways to move groups of people.

More than just a mode of travel

—The coach can be a great place for a meeting, whether you're prepping team members for a presentation, giving last-minute instructions or debriefing after a conference, convention, seminar or workshop.

At US Coachways, we bring more than three decades of experience in the charter bus rental business to corporate and industrial clients nationwide. To find out the estimated cost of using charter bus rentals to meet business ground transportation needs, go to our online Cost Calculator for a free estimate. To get answers to any questions about charter bus rentals, or to find out more about the ways we can help with your business ground transportation concerns, call 1-855-287-2427 to speak with an experienced travel consultant.
Meeting the Needs of Corporate and Industrial Clients
We work extensively with business, corporate and industrial executives, officers and planners, providing consulting, planning and logistical support for all types of ground transportation. We offer solutions for all types of business travel needs, including:
Group travel to conferences, conventions, workshops, seminars, training sessions, sales and business meetings, team-building exercises, company social events, golf outings, picnics and parties.
Meet and greet services at airports, train stations and other locations where employees, customers or other visitors will arrive.
VIP ground transportation services to and from all necessary venues, including airports, hotels, offices, restaurants and meeting and convention centers.
Shuttle services, when necessary, to transport meeting and conference attendees to and from all necessary locations. We'll work hard to create efficient pickup and drop-off schedules, so that your attendees have minimal wait times, and the buses carry more passengers per trip.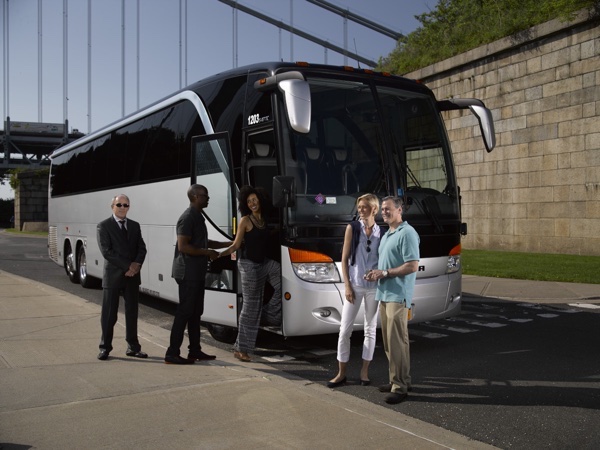 When you book your charter bus with us, we'll look at all the details of your travel—how many people will need to be transported, how often you'll need pickup and drop-off, how far you'll be traveling, what you'll need to bring or take back, and other special needs of your travelers. We'll work with our vast national network of charter bus vendors to find the coaches that meet your needs.
Why US Coachways Is the Smart Choice for Your Corporate or Industrial Travel
At US Coachways, we have always placed a premium on personal service and attention, seeking to provide a customer experience that's second to none. When you book your industrial or corporate travel with us, you'll get:
A dedicated project management team, with a single point of contact, ready and able to promptly and effectively respond to all your needs and concerns.
A wide selection of travel options, from mini-buses to full-sized coaches. The mini-buses seat anywhere from 24 to 35, with ample space for personal items, and the full-sized bus accommodates up to 57, with an on-board bathroom. Multiple bus rentals are always an option, and ADA-accessible coaches can be available.
Effective and thorough dispatch services, 24 hours a day, seven days a week—We have the capability to manage multiple pickup and drop-off sites simultaneously and in real-time.
The use of the US Coachways online Trip Management Portal, so that you can refer to invoices, itineraries and other data from all your bookings in a single location.
Comprehensive transportation logistical support, from an analysis and determination of optimal pickup and drop-off locations to consideration of potential road closings, road construction and other contingencies.
Consulting with respect to accommodations or lodging for out-of-town visitors.
Contact US Coachways Today for Ground Transportation Solutions
At US Coachways, we have been leaders in the charter bus rental business for more than 30 years, helping businesses and individuals effectively address a wide range of travel needs. We offer a free estimate on the cost of a charter bus rental for your corporate or industrial concerns. To get a quote, visit our easy-to-use online Cost Calculator. For more information about the ways we can help you, or to ask any questions about charter bus rentals, call 1-855-287-2427 and speak with an experienced travel consultant.