Our Positive Impact on the Planet
If you're like most people, you're aware of the concerns about climate change and you want to do your part to ensure a healthy planet, for yourself and for future generations. When you're taking a group of people anywhere, there's a great way to get where you need to go in comfort, affordability, safety and convenience while still helping the planet—on a charter bus rental from US Coachways.
Planting a Tree with One Tree Planted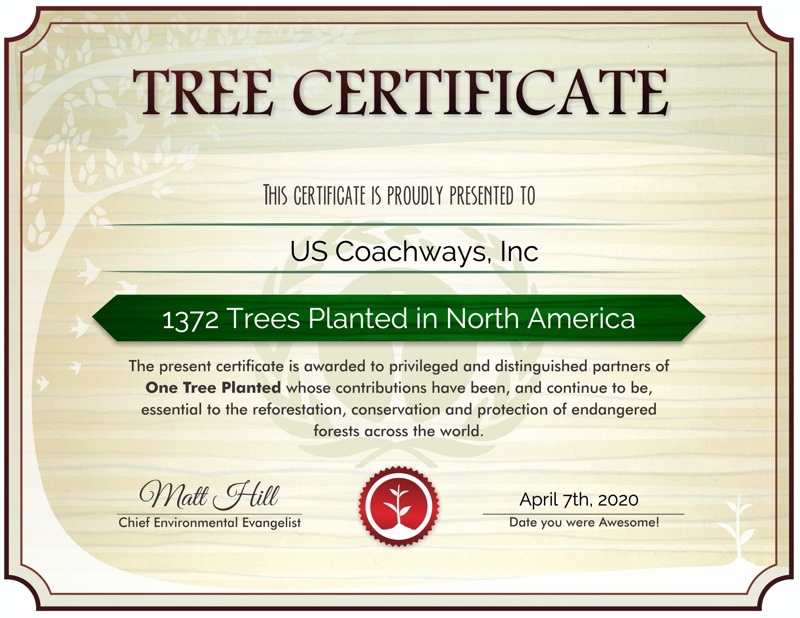 To learn more about our partnership with One Tree Planted or to donate click here.
Go Green--Rent a Charter Bus!
At US Coachways, we're proud of the fact that charter bus rentals have a positive impact on the environment. When you travel together on a single coach, you can take as many as 20 private vehicles off the roads, significantly lowering carbon emissions. Though we've helped the planet for decades, here's an overview of how we contributed to a healthier ecosystem in 2018:
We handled more than 20,000 charter bus trips in 2018, with an average of 55 passengers traveling approximately 350 miles. Assuming four passengers to a car, that's 14 passenger vehicles for every charter bus, or 260,000 fewer vehicles on the roads, and 91,000,000 fewer miles traveled.
By traveling on a charter bus, rather than their own cars, our clients reduced CO2 emissions by more than 800,000 pounds, or 40 tons. Imagine 10 18-wheelers carrying the maximum weight allowed by law—that's how much carbon we kept out of the air!
At an average of 30 miles per gallon, that's more than 3,000,000 gallons of gasoline, or about 200,000 full tanks of gas for a standard passenger vehicle.
To absorb all the extra CO2 that the private vehicles would have added to the air, you'd need more than 17,000 full-sized trees—an area spanning more than 280 acres in a mature forest.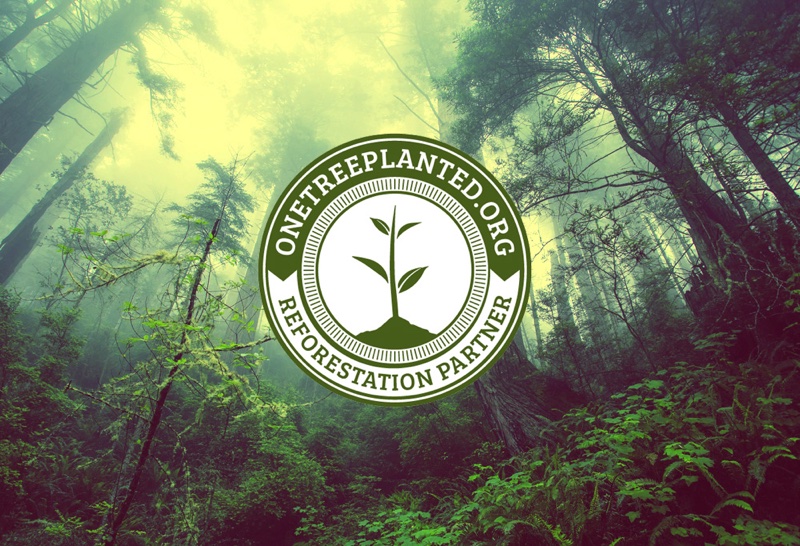 A Charter Bus Rental—The Smart Choice for Your Group Outing
With any group travel, there are endless details. Perhaps the most important decision you'll have to make, though, is about your mode of travel—how will you get there and back, and how will you get around while you're there. You don't want to drive, and getting a cab or taking public transportation can be a real hassle. With a charter bus, you'll be essentially worry-free:
Charter buses are dependable

—Your driver can anticipate traffic jams and find alternate ways to get you where you need to go.

You'll have flexibility

—With a charter bus, you tell us where and when you want to be picked up, where you want to go, when you want to stop, and when you're ready to come home. Last-minute and real-time adjustments to your schedule are usually not a problem. You may even be able to book an entire excursion with short notice.

It's the most stress-free way to travel

—On a charter bus, you don't have to check your GPS, battle traffic, worry about the time or try to find a place to park. Your driver handles all those details. There's no TSA security checkpoint, so you won't wait in a long line, and you can keep your shoes on and bring your favorite shampoo. You'll ride on the same bus for the whole trip and your luggage will travel with you—no worries about missed connections or lost bags. You won't have to put your phone on "bus mode" either—stay connected with friends and family.

You'll be safe and secure

—You'll have a skilled and highly trained driver. In addition, there's limited access to the bus, so comings and goings are easily monitored. You and your personal items will be safe and secure.

A charter bus lets you ride in comfort

—You can expect high-back bucket seats and climate control. You'll have more leg room than any other mode of travel and you won't bump elbows with fellow passengers—there are no middle seats. The aisles are wide and you can move about at your convenience.
For Unparalleled Service, Choose US Coachways
We built our business and our reputation by constantly striving to provide a customer experience unmatched in the industry. When you arrange an outing with US Coachways, you'll have:
Comprehensive logistical support throughout your trip—We'll help you determine the most efficient and effective pickup and drop-off points, will proactively monitor road conditions for closings or construction, and offer 24 hour, seven day a week dispatch, with the capability of managing multiple locations simultaneously.
An experienced project management team dedicated to your group, with a single point of contact, so that your concerns can be immediately and effectively addressed.
A number of vehicle options—We have access to mini-buses, as well as full-sized coaches. The mini-buses seat 24 to 35 comfortably and offer plenty of room for luggage and other items. The full-sized buses have capacity for up to 57 passengers, as well as an on-board bathroom. All buses, except for some school buses, have high-back bucket seats, climate control and a great sound system. Additional amenities are available for an extra charge, including Wifi, DVD players and monitors, electrical outlets, PA systems, leather seats and wooden floors. Multiple bus rentals are always an option. We can also get you an ADA-accessible coach.
Access to the US Coachways Trip Management Portal, an online tool that lets you view itineraries, invoices and other information about all your US Coachways bookings in the same location.
We are also certified by the General Services Administration (GSA) to provide charter bus rental services to federal government agencies and organizations, including the armed forces.
Book Your Environmentally Friendly Charter Bus Trip Today!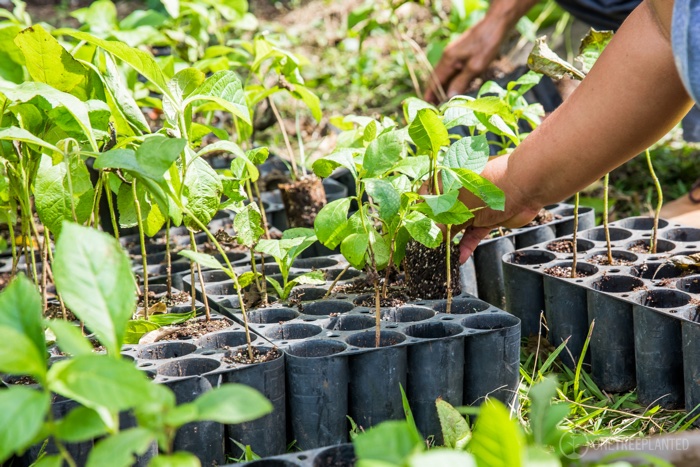 At US Coachways, we've been helping the planet for more than 30 years, providing effective ground transportation solutions to individuals, groups and businesses across the country. To get a free estimate on the cost of a charter bus rental, use our convenient online Cost Calculator. You'll get a quote within minutes, as well as a follow-up e-mail. To learn more about the ways US Coachways can help meet your travel needs, or to ask any questions about charter bus rentals, call 1-855-287-2427 to speak with an experienced travel consultant.