Enjoy the Desert in the Comfort, Luxury and Convenience of a Charter Bus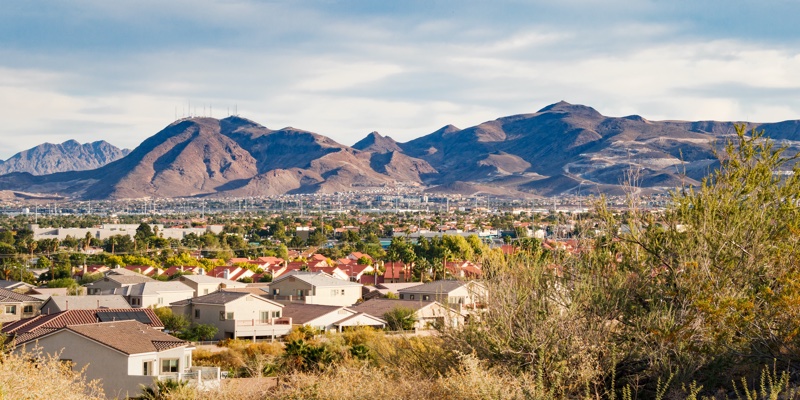 Henderson, Nevada
When you're taking a group somewhere, and you just want to relax in the lap of luxury, head to Henderson, Nevada. From world class golf to high-end spas, from top-tier casinos with great entertainment to amazing restaurants and unparalleled shopping experiences, there's not much that compares with this desert paradise just down the road from Las Vegas. But let your trip here be a total vacation—with a charter bus rental from US Coachways, you can relax with everyone else while we handle all the details.
Travel with Confidence When You Ride with US Coachways
We are the nation's largest charter bus rental company, setting up more than 25,000 trips every year. For nearly four decades, we've paired people with places and events, building an industry-wide reputation for our expertise with short notice bookings and trips requiring complicated logistical support. We've built and maintained a vast national network of hand-selected charter bus vendors, so that our customers have unmatched on-demand access to a wide range of vehicles. We place a premium on safety and reliability, using our innovative, fast-connect reservation system to make the process easy.
To find out the estimated cost of a trip to Henderson, Nevada, use our convenient online Cost Calculator. We'll follow up with a quote in minutes. For more information about the services we provide, or to ask us any questions about charter buses, live chat us or call 1-855-287-2427 to talk to an experienced luxury travel consultant.
Have a Great Time in Henderson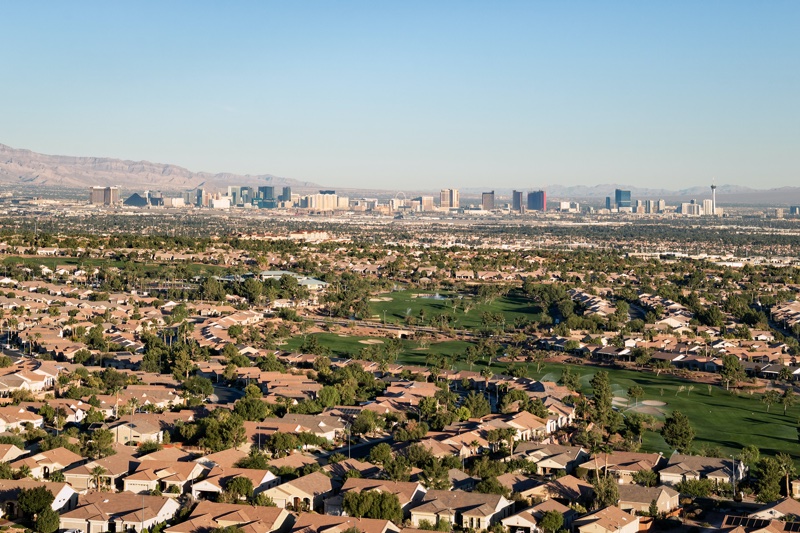 Overlooking Henderson and Las Vegas
Get ready to enjoy yourself in the desert! Here are just a few of the reasons to visit this city just down the road from Las Vegas:
Some of the best golf in the desert and in the country

— Henderson has long been a popular destination for golf enthusiasts, and offers a wide array of stunning layouts. There's a course for every skill level, from the Anthem Country Club and DragonRidge Country Club to Desert Willow, Chimera Golf and Reflection Bay, all public courses…and with the weather here, you can play year round.

A diverse restaurant scene

— It's the American West, so you can expect steaks, chops and a lot of Southwestern flavor, but you'll be surprised at the wide range of ethnic options available in and around Henderson. Enjoy Afghani, Moroccan, Persian, Polynesian, Filipino, Cuban and Hong Kong, among the more than 75 different food options here. There are more than 300 Thai restaurants in the state of Nevada and many are in the Henderson area. Basque food is extremely popular here, including Basque-style Chateaubriand and many different versions of paella.

Live music in a variety of venues

— Whether you're looking for an arena show or an intimate venue, you'll find options in Henderson. The Henderson Pavilion, with a seating capacity of nearly 7,000, brings in most of the national and international touring acts. The Sunset Station Outdoor Amphitheater, at the Sunset Station Casino, has accommodations for 5,000 fans. You'll also find a number of bars, saloons and clubs featuring local and regional acts, as well as plenty of world class entertainment at the city's casinos.

Casinos without the craziness of Las Vegas

— If you love to roll the dice or play games of chance, but Vegas tends to overwhelm you, come to Henderson. You'll find nearly 40 casinos, large and small, in the greater Henderson area. Sunset Station Hotel and Casino has more than 2,400 gaming machines and 35 tables, and the hotel boasts nearly 500 rooms. Other popular gaming destinations here include Green Valley Ranch Resort and Spa, the Fiesta Henderson Hotel and Casino, and the Jokers Wild Casino.

Pamper yourself at one of Henderson's many spas

— There are dozens of places in Henderson to get a wide range of spa treatments, from exfoliation, moisturizers, manicures, pedicures, massages, masks, peels and even hair removal. Most of the hotels and many of the casinos offer spa services.

Shop until you drop!

—Get your retail fix here, whether it's at one of the area's many outlet malls, in the swank Galleria at Sunset Station, in the boutiques at the District at Green Valley Ranch or at the Stephanie Street Shopping Center.
Your US Coachways Customer Bill of Rights
At US Coachways, our focus is always on you, the customer. To help ensure that you have the best possible experience when you book a trip with us, we have developed a "Customer Bill of Rights." When you work with us, you have the right to:
Know all potential costs in advance

— We will fully disclose all known or anticipated costs in writing at the time of sale, incorporating those terms into your contract. If your price increases, for any reason other than changes you've made to your itinerary, we will notify you immediately and give you the opportunity to cancel without incurring any fees.

Protection in the event of cancellation

— We will provide you with a copy of our cancellation policy before you enter into your agreement. We will also offer you the opportunity to obtain "cancellation protection," so that you can minimize the potential impact of such an occurrence.

The services of a professional driver

— Your driver shall comply with all state and federal regulations regarding driving and safety, and shall have a thorough knowledge of your itinerary and timetable. Your driver will also be expected to act with professional courtesy at all times. If your driver does not meet any of these requirements, we ask that you notify us, so that we can fully investigate. If our investigation corroborates your allegations, we will refund 5% of the total cost of your charter, up to a maximum of $500.

Protection for cancellations due to "state of emergency" or adverse weather conditions

— If a venue on your trip closes or if any portion of your trip is cancelled because of a declared "state of emergency," we will cap any potential cancellation fees at $500, provided the cancellation was not a result of anything you did. For weather-related cancellations, you may use the cancellation fee as a discount on any future travel with US Coachways.

Fully functioning amenities

— If any standard feature or paid-for amenity fails to work properly, we will either fix the problem on your bus or provide you with a new bus, if possible. You will also be entitled to a 5% refund for each day that an amenity does not work, up to a maximum refund of 20% of the total cost of your charter.

To be picked up on time

— We allow a 30 minute window for your initial pickup. If we are more than 30 minutes late for your initial pickup, we will refund 5% of the total cost of the charter. For each additional 30 minute late arrival, we will refund an additional 5%, up to a maximum of 20% of the total cost of your charter.
The US Coachways Commitment

We constantly look for new and better ways to serve you. When you ride with us, you'll appreciate:
The priority we place on your safety

We require all US Coachways employees to stay current on Department of Transportation (DOT) guidelines governing safety, and to complete all related training in a timely manner
All mechanics and automotive techs who work on the buses we use must have received the Blue Seal of Excellence from the National Institute for Automotive Safety
All buses we use for our charters must undergo an extensive inspection, including a series of checks and balances to earn our Gold Seal of Approval
All buses we use must be equipped with Carrier411, the leading carrier monitoring service ensuring safety and compliance

The choices we offer

We have the nation's largest on-demand fleet of hand-picked charter bus vendors
Our unmatched fleet of vehicles ensures that you consistently get competitive pricing
Our access to more than 5,000 vehicle in over 100 hubs nationwide makes it easier for us to accommodate last-minute changes and short notice bookings

The technology we offer to enhance your experience

Our state-of-the-art online Trip Management Portal lets you view invoices, itineraries and other data from all your US Coachways bookings in the same location. You can also request a quote, book a trip, modify an itinerary, submit payment or track a reservation.
Your driver has access to the Bus Route Analysis system, which provides real-time information about traffic patterns, including roadblock, construction and accidents, so that alternative routes can be identified to get you there on time
We offer buses with SmartDrive technology, USB ports and electrical outlets, flat screen television, Wifi, two-way radios and on-board monitoring
We'll Help You Find the Ideal Ride
At US Coachways, we know the benefits of traveling by charter bus, but we also understand the importance of selecting the right coach. When you book a trip with us, we'll take the time to learn the details of your outing—how many attendees you expect, where you'll be coming from, what you'll need to bring with you or take home, and any other special needs of your participants. Then we'll reach out to our vast network of charter bus service providers to find the best bus for your group and your trip.
If you're going to Henderson with a big group, book a full-sized charter bus. They seat up to 57 and have a bathroom on board. Multiple bus rentals are always an option, so bring as many people as you want.
If you're traveling with a smaller group, we suggest the mini-bus. There are a number of different models, seating anywhere from 24 to 35 passengers. ADA-compliant buses are usually available.
With the exception of some school buses, all charter buses come with high-back bucket seats, climate control, a great sound system and plenty of room for your stuff. Other modern conveniences, such as Wifi, USB ports and electrical outlets, DVD players and monitors, public address systems, leather seats and hardwood floors, may be available for an additional charge. Check with your booking agent.
Take a Charter Bus for Any Outing
The many great features of a charter bus make it a smart choice for any event, including:
Family celebrations

— Weddings, engagement parties, rehearsal dinners, graduations, reunions, bar and bat mitzvahs, birthday parties, anniversary and retirement galas, and even family vacations

Business and company travel

— Training sessions, team-building exercises, seminars, workshops, conventions, conferences, employee volunteer projects, annual meetings, golf outings, picnics and company parties

School trips

— Team travel to athletic competition, band and orchestra festivals, club and class trips, student volunteer work, fraternity and sorority events, prom and graduation after-parties, cultural offerings

Church events

— Mission trips, retreats, church camp travel, choir tours, youth and adult fellowship opportunities, local ministries, praise meetings and gatherings, faith-based conferences and conventions

Senior citizen and retiree excursions

— Shopping trips, casino outings, plays and concerts, museums and historical attractions, fall color tours

Once-in-a-lifetime events

— Bowl games and championships, motor car races, professional and amateur sports, touring Broadway shows, stadium and arena concerts, food and cultural festivals, marches and parades, public rallies
Make Your Charter Bus Plans for Henderson Today!
Book a charter bus trip to Henderson with US Coachways and take advantage of our 35+ years in the business. We provide effective solutions to businesses, groups and group leaders nationwide, specializing in short notice bookings and outings with complex logistics. For a free quote on the cost of a charter bus excursion to Henderson, go to our easy-to-use online Cost Calculator. For answers to any questions about charter bus travel or to find out the many ways we can assist you, live chat us or call 1-855-287-2427 to speak with an experienced luxury travel consultant.