Experience L.A. in the Comfort, Luxury and Safety of a Charter Bus Rental
The City of Angels—Los Angeles. If you can dream it, you can find it here, from Hollywood to Rodeo Drive, from Disneyland to the Getty Museum, from Beverly Hills to the Santa Monica Pier. Getting around L.A. can be a challenge, though, if you're trying to navigate the traffic, monitor the GPS or find a place to park. On a charter bus, you'll get to relax and enjoy all the city has to offer. A charter bus rental offers luxury, safety, convenience and dependability, too.
You'll find endless arts and culture, entertainment options, shopping, historical sites, culinary adventures and sporting events in L.A. It's the second largest city in the country, though, home to more than 20 million people spread out over more than 500 square miles. Rent a bus from US Coachways and let someone else handle all the details.
Frequently Asked Questions about Charter Bus Rentals
US Coachways can handle all the details of your charter bus trip to Los Angeles
Who is US Coachways?
US Coachways has been one of the leading charter bus companies nationwide for decades, providing effective ground transportation solutions to businesses, groups and group leaders across the country.
How do I book a charter bus rental to Los Angeles through US Coachways?
You can initiate the process through our online cost calculator or call 1-855-287-2427 to ask any questions about charter bus travel or get a free quote.
How far in advance do I need to book my charter bus trip to Los Angeles?
The earlier you book, the more options you'll typically have. However, because of our extensive network of charter bus vendors nationwide, we can usually book an entire trip with little notice.
Do you have charter buses near where I live?
US Coachways works with charter bus vendors across the nation, in large urban areas, as well as rural locations. We will almost always be able to find a luxury charter bus vendor near you.
How much does it cost to rent a bus to Los Angeles?
Many factors go into determining charter bus rental prices—when you travel, where you're going and how long you'll be there, how many people are traveling with you, when you'll depart and return, and any special needs you have. See our online cost calculator to learn more.
What are my options when renting a charter bus to Los Angeles?
At US Coachways, we know that booking the right coach is a key component of a successful trip. We offer mini charter bus rentals for small-to-medium-sized groups, with seating for anywhere from 24 to 35 passengers and plenty of space for personal items. For larger groups, we provide a full-sized charter bus, with accommodations for up to 57 people. Most buses come with high-back bucket seats, climate control, ample storage space and a high-end stereo system. Additional options include Wifi, DVD players and TV monitors, charging stations, P.A. systems, hardwood floors and leather seats. ADA-compliant coaches are also available.
Can I bring alcohol on to a charter bus to Los Angeles?
Alcoholic beverages may be consumed on board a US Coachways charter bus, provided you have requested permission before your trip begins. Your driver will always have the right to suspend or discontinue the use of alcohol. Furthermore, all consumption must comply with local laws.
How old do I have to be to book a charter bus rental to Los Angeles?
You must be 21 years of age or older to rent a charter bus from US Coachways. We provide coaches for high school and college events, but require that a parent or guardian sign the rental contract.
Will US Coachways provide a School Pupil Activity Bus (SPAB)-compliant driver for K-12 charter bus trips?
Absolutely! We understand the requirements of California Vehicle Code 546 and will ensure that all school bus rentals are operated according to California laws and regulations.
Book Your Charter Bus to Los Angeles with US Coachways
A longtime leader in the luxury bus rental industry, US Coachways offers
Special Offers for Groups
We offer discounts to special travelers—We reward healthcare workers, military personnel, non-profit organizations and seniors with additional discounts on charter bus rentals. To learn more, check out our specials page.
The flexibility to make last minute changes or even set up an entire charter bus outing with short notice
With an extensive network of charter bus service providers nationwide, we have access to an unmatched fleet and can make real-time or last-minute modifications to your itinerary or book a complete trip with virtually no notice.
An unparalleled commitment to your personal safety
We take a rigorous approach to ensuring the safety of every passenger who rides on a charter bus with US Coachways. We regularly evaluate our vendors' safety records and ratings and don't use those who have any current major violations. We always confirm that a vendor's insurance is current, and require all drivers to accurately report all time spent on the road. We also strive to match drivers to trip types and locations.
Customer service that sets the standard in the charter bus rental industry
Our strong commitment to customer service has earned us more than 2,000 positive customer reviews. We'll provide a dedicated project management team, 24/7 dispatch services, unmatched logistical support, highly competitive pricing, and access to our state-of-the-art online Trip Management Portal.
Things You Can Do on a Charter Bus Trip to L.A.
When you take a charter bus rental to the City of Angels, you can let someone else handle all the stressful details—checking the GPS, monitoring the time, battling the traffic. That lets you enjoy all the city has to offer:
The Hollywood Sign and Walk of Fame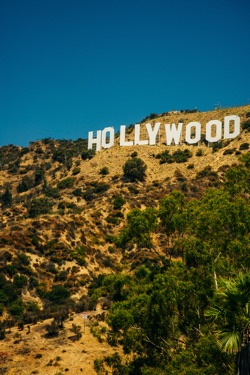 Take a selfie at an American landmark, the 45-foot-tall sign on Mount Lee or check out the nearly 3,000 brass stars in the sidewalk along Hollywood Boulevard
The Griffith Observatory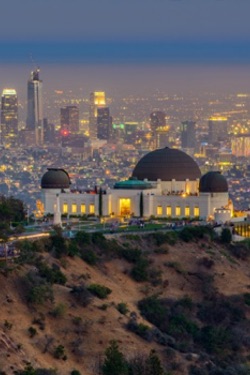 The world's most used telescope, it's been used by millions of people since the Observatory's opening in 1935. Admission is free.
Disneyland Park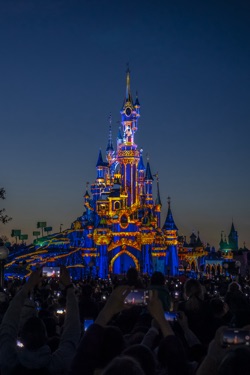 Opened in 1955, it's the original theme park, now home to 8 different themed attractions.
Universal Studios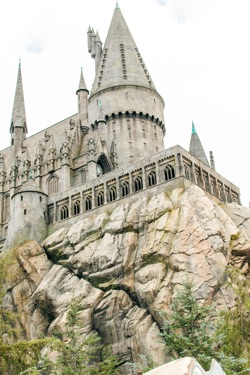 A combined theme park and operating film studio, Universal Studios is an integral part of why L.A. is the "entertainment capital of the world."
The Sports Venues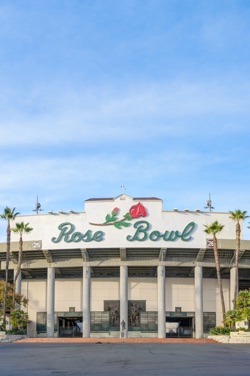 Catch the Lakers at the Crypto.com Arena, take in a game at Dodger Stadium or see what's happening at the Rose Bowl
The Santa Monica Pier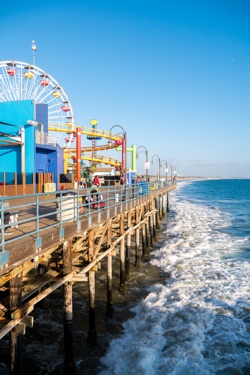 The Pier is a great place for shopping, eating, fishing or just people watching. There's even a small amusement park there.
Rodeo Drive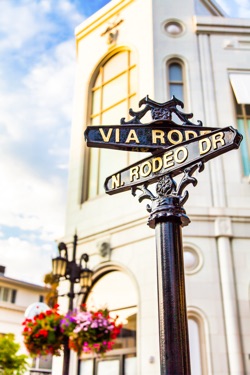 Certainly the most famous shopping destination in the country, this two-mile stretch in Beverly Hills is lined with high-end boutiques, specialty stores and world-renowned retailers.
The Getty Center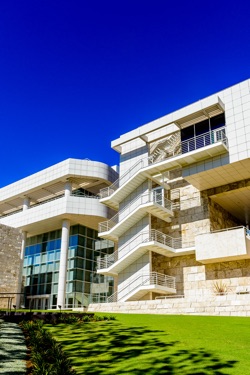 Housing the Getty Museum, the Center is also known for its gardens, architectural displays and panoramic views of the city.
Why a Charter Bus Rental is Ideal for Any Trip to Los Angeles
The convenience, dependability, safety, flexibility, comfort and affordability of a charter bus from US Coachways make it a great choice for any type of outing:
Why should you  book a charter bus rental for a corporate event in Los Angeles?
A charter bus rental offers a great opportunity to build company morale and team spirit by keeping your people together throughout a corporate event. It's a convenient space for brainstorming or debriefing before or after a conference, convention, training session, seminar or workshop. Furthermore, with a charter bus rental, you'll also have more control of when people come and go, and can more reliably schedule conference events.
Why take a charter bus to an athletic event?
Bowl games and championships, car races and other athletic events are meant to be shared. A charter bus rental lets everyone build team spirit as you travel to the game. In addition, your participants can let their hair down and enjoy a cold beverage or two with a built-in designated driver.
What are the benefits of renting a charter bus for a school trip to L.A.?
With a charter bus rental, you won't have to worry about your students getting behind the wheel of a car. Because you'll travel together, you'll be better able to ensure their safety, and you'll know where they are most of the time.
How can a charter bus rental help you get the most out of a conference, convention or public event?
When you take a charter bus to a business conference, a food or cultural festival or a praise/religious gathering, you'll rarely have to worry about delays or cancellations. It's a great way to take a group anywhere, as you'll share in most of the costs of travel, making it more affordable for everyone. Your bus driver will know exactly where you're going, and can take you right to where you need to be.
Your L.A. Bucket List
There are some things that happen every year in Los Angeles. Plan your charter bus rental so you don't miss them:
The Tournament of Roses Parade
Be there early on January 1, as the parade starts at 8 am and winds its way over 5 ½ miles, starting in Pasadena. It's been held almost every year since 1890 to kick off the Rose Bowl.
The Los Angeles Marathon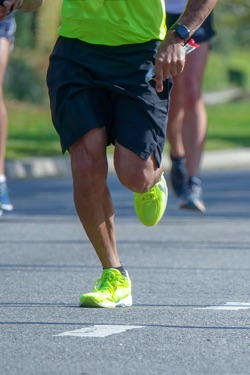 Held in March, the L.A. Marathon takes runners past virtually every famous landmark in the city.
The L.A. Anime Expo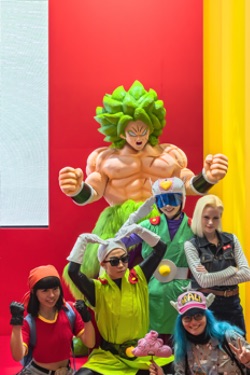 Held at the Los Angeles Convention Center over the 4th of July, this event regularly brings in more than 100,000 fans of Japanese animation
The Los Angeles Film Festival
Los Angeles is the movie capital of the world, so it only makes sense that the city's film festival is one of the premiere events every year. It's staged every June at the Regal Cinemas in downtown L.A.
Coachella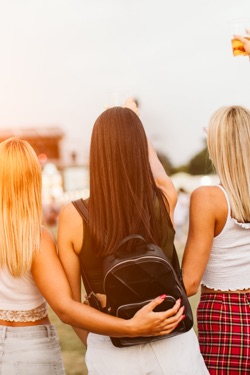 The Coachella Valley Music and Arts Festival, held on consecutive weekends in April, offers an eclectic blend of rock, indie, hip hop, electronic and pop music
The Los Angeles County Fair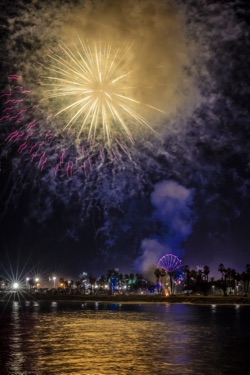 Honoring the rich agricultural legacy in Southern California, the L.A. County fair, held throughout the month of May, offers visitors an operating farm, petting zoos, a midway and all kinds of great fair food and snacks.
The L.A. Times Festival of Books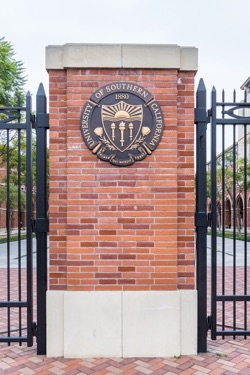 Meet famous and up and coming literary stars at the nation's largest book festival, held every April on the campus of the University of Southern California.
The Abbot Kinney Festival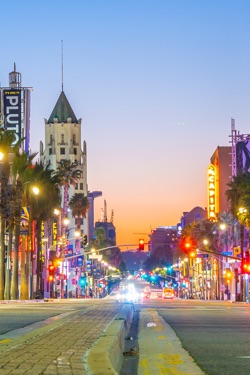 It's the largest free community festival in the state and one of the largest in the country, capturing the essence of SoCal, with beer gardens, food trucks, art booths and much more. It's in September along Abbot Kinney Boulevard.
Enjoy Some of the Great L.A. Neighborhoods with a Charter Bus Rental
The metropolitan Los Angeles area boasts nearly 100 different municipalities, with many more iconic neighborhoods. Among the most fascinating are:
Venice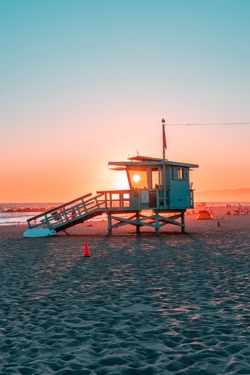 The iconic L.A. Beach community, Venice offers great shopping, sunbathing and some of the best opportunities to walk alongside the stars. Stroll its famous boardwalk, but keep an eye out for roller-bladers.
K-town (Koreatown)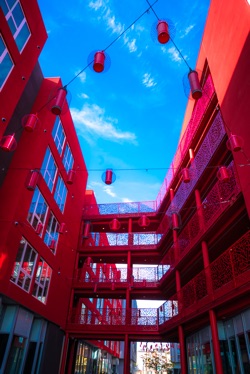 Home to many relaxing spas, as well as the famed MacArthur Park, K-town also offers authentic Korean cuisine, from japchae (stir-fried noodles) and hoeddeok (amazing pancakes) to bulgogi, the signature Korean barbeque. Many of the spas are open 24/7.
Santa Monica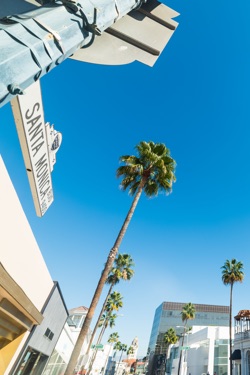 Another neighborhood along the Pacific Ocean, Santa Monica offers an unusual array of eateries, emporiums and tourist attractions. Get your workout going up and down the Santa Monica Stairs or find a patch of sand along the water and work on your tan.
Bel Air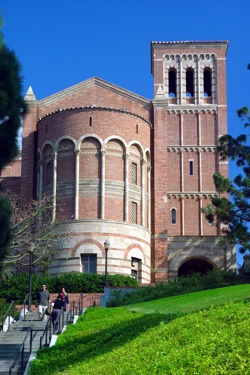 Home to the UCLA campus, Bel Air is home to movie moguls and millionaires. The Getty Center is a short distance from the city center and you'll find endless entertainment and dining opportunities in connection with the university.
Make Your L.A. Charter Bus Reservation Today!
It's all there waiting for you in Los Angeles—entertainment, sports, arts and culture, great shopping, amazing food, historical landmarks. With a charter bus rental from US Coachways, you can take in the entire L.A. experience in safety, comfort, convenience and luxury.
At US Coachways, we bring more than three decades of ground transportation experience to individuals, groups and businesses throughout the United States. For a free estimate on the cost of a charter bus rental to Los Angeles, go to our easy-to-use Cost Calculator. We'll send you a charter bus quote within minutes. To learn more about the scope of our services, or to ask any questions about charter bus rentals, call 1-855-287-2427 and speak with one of our travel consultants.
We Book More than 20,000 Charter Bus Trips Every Year!