Visit the City of Angels in Style, Comfort and Luxury
L.A. It's the entertainment capital of the world. There's simply nowhere like it, no place that offers the music, theatre, sports, shopping and dining experiences you find there.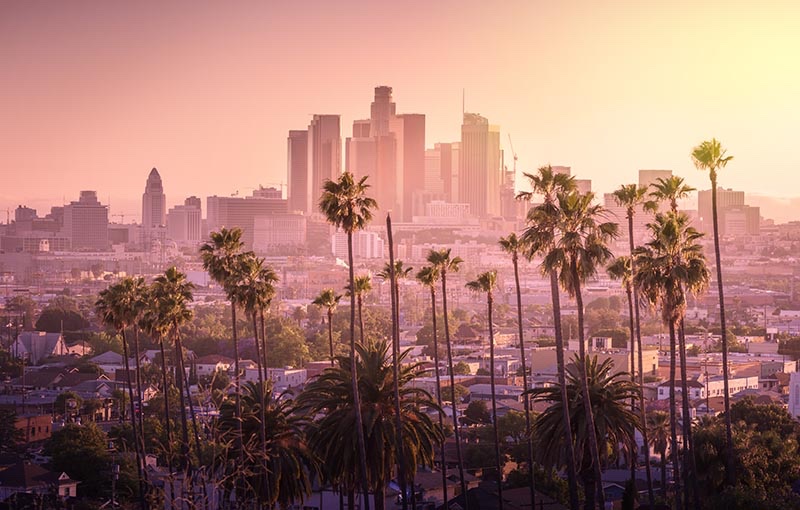 But Los Angeles is more than a metropolis. The 2nd largest city in the United States, with more with more than 13 million residents in the greater L.A. area, it's not a place where you want to get behind the wheel. You can have the time of your life here, but it's best to leave the driving to someone else. With a charter bus rental from US Coachways, you can enjoy all the city of angels has to offer without any of the hassle.
Choose a Charter Bus for Any Occasion
The many benefits of a charter bus make it an ideal option for any type of travel:
Los Angeles—The Entertainment Capital of the World
If you can't find entertainment in L.A., you won't find it anywhere. Here are some of the 'must see' things you can only see and do in Tinseltown: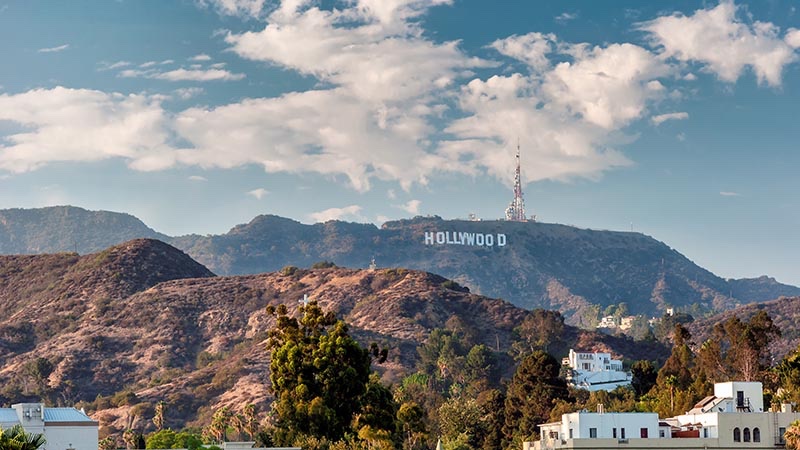 Tour the homes, neighborhoods and landmarks of the stars

: Los Angeles is the movie capital of the universe and the heart of the American recording industry. Visit Grauman's Chinese Theater, stroll along the Hollywood Walk of Fame or take a tour past the homes of many well-known celebrities. Visit famed recording studios where the Wrecking Crew created the "LA sound." Take the Warner Brothers Studio tour and see where magic was made.

Enjoy visual and performing arts

— If the visual arts interest you, visit the Getty Center, the Los Angeles County Museum of Art or one of the many art galleries in the Los Angeles metropolitan area. For classical music fans, there's the LA Philharmonic, the Los Angeles Chamber Orchestra, LA Opera and the Los Angeles Chamber Choir. The city's Broadway Theater District has a dozen venues offering live productions year-round.

Historic landmarks

: Though Los Angeles was founded in 1781, it's still a relatively young city, historically speaking. Of the more than 220 sites on the National Register of Historic Places, many are from the late 19th and 20th century. The city's three dozen historic districts include Hollywood Boulevard, Little Tokyo, the Wilton Historic District (with Frank Lloyd Wright and Craftsman style architecture), and the Russian Village District.

Professional sports

: Los Angeles claims right to some of the most storied sports franchises in history, from the Lakers to the Dodgers to the Rams. Major League Baseball's California Angels call the city home, as do the Clippers in the NBA, and the LA Kings in the National Hockey League.

Shopping and dining experiences

: For shoppers, two words say it all—Rodeo Drive in Beverly Hills. But LA offers unparalleled shopping experiences in neighborhoods across the city, from Hollywood and downtown L.A. to Silver Lake and Los Feliz or J-Town in West L.A. It's also the land of endless dining options, from Koreatown to the pricy eateries in Santa Monica or Beverly Hills to the amazing food trucks along the beach near Santa Monica or in the heart of the city.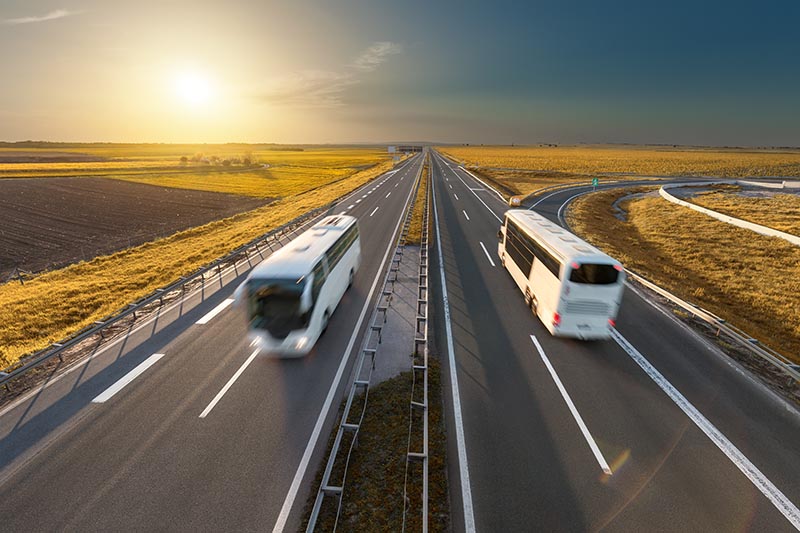 A charter bus rental lets everyone enjoy the ride

— With other forms of group travel, someone has to take charge. Someone has to navigate, continually checking the map and fighting traffic. Someone has to be the timekeeper, ensuring that you get to your destination on time. With a charter bus, that's all taken care of for you. Everyone can join in all the fun.

In addition, you don't have to deal with all those little hassles that come with other forms of travel. You'll be on the same bus for your entire trip and your bags will travel with you. No worries about missed connections or lost luggage. There's no TSA checkpoint, so you won't have to leave your favorite shampoo at home, and you'll only need to take your shoes off if you want to kick back and relax. Oh, and there's no "bus" mode for your phone. You can stay connected at all times.

You get to take the trip that you want to take

— With a charter bus, you don't have to select from a handful of fixed itineraries. Instead, you decide where you want to go, when you want to be there and how long you want to stay. We'll take care of the details.

Charter buses offer reliability

— Did you know that about 40% of air travelers will arrive late to a destination every day? That's nearly a million people. With a charter bus, because of the vast network of service providers, it's easier to respond in a timely manner to any mechanical problems. In addition, drivers are well-equipped to find alternative routes when there are traffic challenges.

You'll feel safe and secure

— On a charter bus, you'll have a seasoned and highly trained professional at the wheel at all times. In addition, the controlled entry to the bus ensures that you won't have unwanted guests, so you'll have the confidence that you and your personal items are secure.

Charter buses are the most comfortable way to travel

—You won't ever feel crammed into your seat on a charter bus. There are no middle seats, and there's more leg room than on any other mode of transportation. The aisles are spacious as well, and you can get up and move about at your leisure.

You can often take advantage of the HOV (high occupancy vehicle) lanes on a charter bus

— In a city like Los Angeles, that can make a big difference.

Charter buses are a cost-effective way to travel in luxury and convenience

— On a charter bus, you'll share many of the expenses of travel with your fellow passengers. With the money you save, you can bring back some great souvenirs of your trip to L.A.

Charter buses are good for the planet

— Think about it—if your group fills a 57 passenger bus, that's could be 20 or more private vehicles that aren't on the roads. That means fewer emissions, which has a positive impact on the environment.
At US Coachways, we bring more than 30 years of experience in the charter bus rental industry to groups and group leaders across the country. Use our online Cost Calculator to get a free quote for a charter bus trip to Los Angeles or call us at 1-855-287-2427 to learn more about the full scope of our services.
The Right Coach Makes All The Difference
Choosing a charter bus rental is only the first step toward a successful group outing. Just as important—making certain you have the right coach.
At US Coachways, because of our long-term relationships with charter bus service providers throughout the nation, we have access to vast fleet of coaches. That makes it easier for us to find the bus that's perfect for your group. We'll take the time to learn about your group and your trip, so that we secure a bus that has plenty of room without too many empty seats. We'll also help you find the coach that has all the amenities you require.
For most groups, here are the best options:
The mini-bus — With accommodations for 24 to 35 passengers, this vehicle is ideal for mid-sized groups. The mini-bus also offers ample storage space for luggage or souvenirs.
The full-sized coach bus — This coach has seating for up to 57 passengers, with comfortable seats and wide aisles. Multiple bus rentals are always an option, so bring as many people as you want.
Most charter buses come with standard features, including Wifi, charging stations, PA and stereo systems, and DVD players. Other amenities, such as on-board bathrooms, are available on select coaches. Check with your booking agent to see what's available.
Make Your Charter Bus Reservation for Los Angeles Today
At US Coachways, we are industry leaders in the charter bus rental business, handling more than 20,000 trips every year. To get a free quote for a charter bus trip to L.A. or to learn more about our services, visit our online Cost Calculator or call 1-855-287-2427 to speak to an experienced agent.