Visit the Winter-Water Wonderland in Comfort, Luxury and Convenience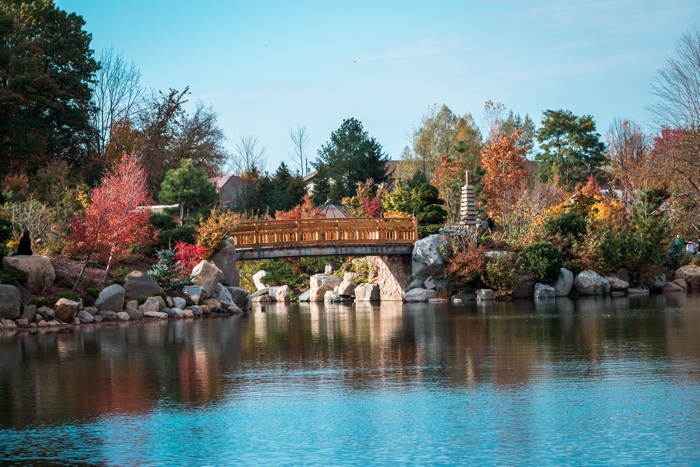 Japanese gardens in Grand Rapids Michigan
For pure variety in landscape and entertainment, you won't find another place like Michigan. From the clear, fresh water lakes and white sand beaches, to the white pine forests, to the vibrant downtown areas in Grand Rapids, you'll be captivated by the scenic vistas, the welcoming neighborhoods and the friendly people. It's a big state, though. You don't want to spend a lot of your time here behind the wheel. With a charter bus rental from US Coachways, you can enjoy everything Michigan has to offer while someone else handles all the details.
US Coachways—Your Premier Charter Bus Provider
At US Coachways, we book more charter buses every year than any other vendor in the United States, always placing a premium on safety and reliability. For nearly four decades, we've consistently brought people and special occasions together, developing a strong reputation for our ability to handle short-notice bookings or travel that entails complex logistics. Over the last 35 years, we've put together a vast, hand-picked network of the best charter bus service providers in the country. That means you'll have access to a wide array of luxury coaches in hundreds of cities nationwide. With our highly intuitive, fast-connect reservation system, we set up more than 25,000 charter bus excursions every year. To get a free quote on the cost of a trip to Michigan, go to our user-friendly online Cost Calculator. For more information about the services we provide, or to ask any questions about charter bus rentals, call 1-855-287-2427 or live chat to talk with an experienced luxury travel consultant.
What You Can Expect When You Rent a Charter Bus
There's no other mode of travel that offers as many attractive features as a charter bus:
Dependability

— With most other modes of travel, delays and cancellations are often an inescapable part of doing business. Not with a charter bus! Your driver has the tools and resources to anticipate traffic issues and find alternate routes to get you there on time. We also have access to an extensive network of coaches across the country, so we can usually find a replacement, if necessary.

Cost-effectiveness

— On a charter bus, most of the costs of travel are shared with other passengers. That makes it consistently one of the most affordable ways to travel with a group.

Flexibility

— With a charter bus, you can create your own customized travel plans. Tell us when you want to leave, when you want to stop, how long you want to stay and when you want to leave. We'll take care of all the details.

Comfort

— You can spread out on the large seats, and you'll have lots of leg room. There's no middle seat, either. Move about the wide aisles at your convenience.

Convenience

— On a charter bus, you can turn over most of the undesirable tasks to someone else—let your driver battle the traffic, monitor the time, check the GPS or look for a place to park. You'll be on the same vehicle throughout your trip and your luggage will accompany you—no missed connections or lost bags. There's no TSA security checkpoint and your phone won't interfere with navigational systems.

Safety

— You'll have a skilled and trained professional driving the bus. You'll also find it easy to keep an eye on who comes and goes, as there's only one way on and off the bus.

Less risk of getting caught in a traffic jam

— You can take advantage of the high occupancy vehicle lanes

You can use the bus for many things

— It's a great place for a group meeting—brief employees before a business meeting, warm up the choir, or talk pre-game strategy with the team. You can also duck into the bus for a little quiet time when everyone else is out and about.

You can go green

— When you ride with others on a charter bus, you can take as many as 20 private vehicles off the roads, lowering overall carbon emissions
Make Memories in Michigan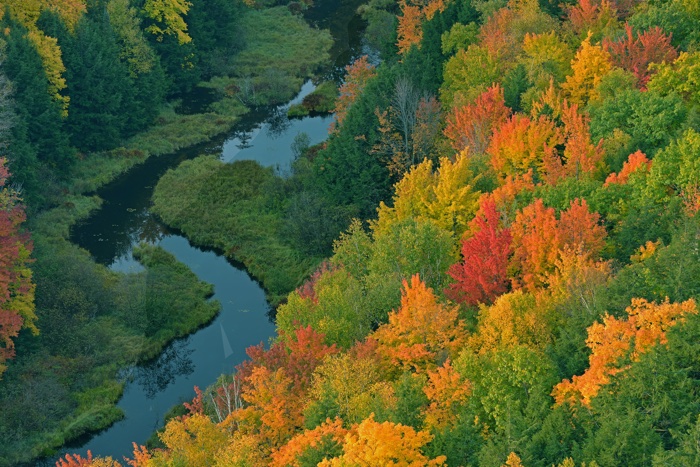 Porcupine Mountains Wilderness State Park, Michigan's Upper Peninsula
There's plenty to see and do in the Wolverine State:
The Great Lakes

— Four of the five great lakes border the Wolverine State—Superior, Michigan, Huron and Erie…and it's all fresh water. There's a saying in Michigan—no salt, no sharks, no problem!! The beaches along the eastern shore of Lake Michigan are pure sugar sand—no shoes required. In fact, your feet will squeak as you move through the ultra-fine sand. But there's more than swimming and sun-bathing along the lakes. Coho salmon, lake trout and perch abound, and you can take a charter out to the deep or throw a line in off the pier—most towns of any size along Lake Michigan have one. You'll find quaint little towns all along the coast, with friendly people, great restaurants and watering holes, and unique regional art and craft shops.

The natural beauty

— Michigan can be one breathtaking vista after another. Catch a sunset along the Grand Traverse Bay or take the boat cruise along the Pictured Rocks near Manistique, in the U.P. There are also endless trails through the woods along the lakeshore, and some of the most stunning sand dunes you'll ever see. See if you can make it to the top of Sleeping Bear, a vertical climb of some 400 feet! Or catch a dune buggy ride in Silver Lake, Pentwater or Saugatuck.

Great food and beverages

— If you love freshwater fish—perch, walleye, bass, trout and smelt—Michigan is a paradise. With the Great Lakes encircling the state and more than 13,000 inland lakes, Michigan can seem like a non-stop fish fry. For a really unique taste sensation, cross the Mighty Mac (the Mackinac Bridge) into the Upper Peninsula (or as the locals call it "the U.P.") for a beef pasty, a vestige of the early English settlers to the region. The fudge from Mackinac Island is world famous, and can be found throughout the state. Michigan has long been at the forefront of the craft beer movement in America, with literally hundreds of small-to-medium sized breweries across the state. Grand Rapids, dubbed by many as "Beer City USA," boasts more than 80 breweries within an hour's drive, along the Beer City Ale Trail. If you're in Michigan in the summer, head to Traverse City for the National Cherry Festival or visit Shelby for the National Asparagus Festival.

The sports

— Whether you're a fan or an athlete, you'll find much to pique your interest in Michigan, any time of the year. There's waterskiing, sailing and even surfing in the summer and Michigan has some of the most accessible ski resorts and slopes, primarily in the northern part of the lower peninsula. Detroit has long been a city of champions, with the Lions, Tigers, Pistons and Red Wings. Grand Rapids also boasts a number of professional sports franchises. The Michigan International Speedway, about an hour west of Detroit, hosts the Firekeepers Casino 400, a NASCAR Cup Series event, every August.

The festivals

— There's a festival for every season in Michigan. When it's cold, take your sled and head to Grand Haven WinterFest or the Plymouth Ice Festival. In the spring, it's Tulip Time in Holland and the surrounding communities, with parades down tulip-lined streets, traditional Dutch klompen dancing, concerts, fireworks and an event called "street scrubbing." There's also the Bluebird Festival in Traverse City or the Festival of the Angry Bear, in Marquette. Ann Arbor Summer Festival runs for the entire month of June and neighboring Ypsilanti hosts the Summer Beer Festival in July. The Annual Wheatland Music Festival starts the fall out in mid-September, followed by the Michigan Irish Festival in Muskegon and the Highland Celtic Festival in Brighton.
The US Coachways Approach
There are reasons why we've been industry leaders in the charter bus rental business for close to 40 years:
We are committed, first and foremost, to your safety

We ensure compliance with safety requirements with Carrier411, the nation's leading carrier monitoring service
Every bus provided to us by one of our vendors must undergo an extensive inspection, with a system of checks and balances that ensure compliance with our Gold Seal of Approval
All our employees must stay current with all Department of Transportation (DOT) regulations and must participate regularly in DOT training
All mechanics and automotive technicians who work on any vehicle used in our charters must have received the Blue Seal of Excellence from the National Institute for Automobile Safety.

We give you unparalleled options

You'll have the largest network of on-demand charter buses in the country, all hand-picked for quality, comfort and service
Because of the extensive fleet of buses available, you can expect competitive pricing at all times
Our access to charter bus vendors with over 5,000 coaches in more than 100 hubs across America makes it easy for us to book last-minute or short-notice trips

We use technology to make your trip better

With our high-speed online Trip Management Portal , you can review invoices, itineraries, and other information, and make reservations, pay for your trip, request changes or track a reservation
Our drivers have access to the Bus Route Analysis system, which offers real-time data on accidents, roadblocks, construction and other factors that might impede your travel
We offer SmartDrive technology, USB ports, flat-screen televisions, Wifi, high-tech two-way radios and on-board video monitoring to improve your customer experience.
Make Your Trip Easier with the Right Coach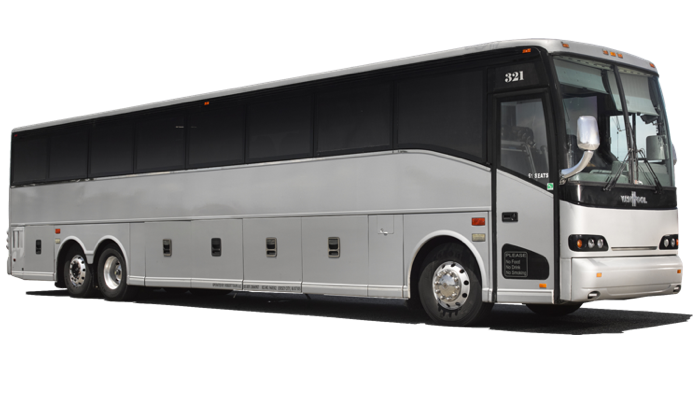 To get the most out of your charter bus trip, you want to take the time to find the ideal bus for your group and your trip. At US Coachways, we'll take the time to learn as much as we can about your outing—how many people will be going, how far you'll be traveling, what you'll want to bring with you or take home, and any other special needs of your participants. Then we'll go to our vast nationwide network of top-notch charter bus vendors to find the coach that best meets your needs.
If you're headed to the Wolverine State with a small-to-mid-sized group, book a mini-bus, with seating for anywhere from 24 to 35 passengers. For larger events, you'll want the full-sized charter bus, which offers accommodations for up to 57 and an on-board bathroom. Taking a big group! No problem—multiple bus rentals are usually an option. We can also get you an ADA-compliant coach, if necessary.
With the exception of a few school buses, all charter coaches have high-back bucket seats, climate control, a great sound system and lots of storage space. Wifi, DVD players and monitors, public address systems, USB ports and electrical outlets, hardwood floors and leather seats are also usually available for an additional charge. Check with your booking agent.
A Charter Bus Makes Any Outing Better
All those benefits that make a charter bus attractive—the unmatched reliability, comfort, flexibility, safety, affordability and convenience—make it the right choice for any group event to Michigan:
Family celebrations

— Weddings, birthdays, anniversaries, engagement parties, rehearsal dinners, reunions, bar and bat mitzvahs, retirement parties and even family vacations

Business and corporate functions

— Conventions, conferences, annual meetings, sales and business meetings, training sessions, workshops, seminars, team-building exercises, employee volunteer projects, golf outings, picnics and company celebrations

Senior citizen and elder excursions

— Shopping trips, concerts and live theatre, casino outings, museums and historical attractions, fall color tours

School travel

— Fan and athlete transportation, band and orchestra festivals and concerts, club and class trips, fraternity and sorority events, student volunteer work, cultural offerings, prom and graduation after-parties

Church events

— Youth and adult fellowship, choir tours, mission trips, local ministries, faith-based conventions and conferences, retreats, praise gatherings, church camp sessions

Special occasions

— Touring theatrical productions, stadium and arena concerts, motor car races, bowl games and championships, college and professional sports, food and cultural festivals, winery tours, public rallies
Make Your Reservations for a Michigan Charter Bus Excursion Today!
When you book your group transportation with US Coachways, you'll have access to the experience and relationships we've built over more than 35 years in the charter bus industry. To learn the cost of a charter bus trip to the Great Lakes, go to our convenient and easy-to-use online Cost Calculator. We'll send you a quote within minutes. For answers to any questions about charter bus rentals, or to learn about the full range of services we offer, call 1-855-287-2427 or live chat us and speak with an experienced luxury travel consultant.