Enjoy the City of Festivals in the Comfort and Luxury of a Charter Bus
Milwaukee Skyline
Named the "Coolest City in the Midwest" in 2018 by Vogue Magazine, Milwaukee offers an astonishing array of great museums, concert venues and culinary treasures. It's also home to a seemingly endless calendar of great festivals, as evidenced by its recognition as the "City of Festivals." It's a great place to bring a group of any size, but it's a big city, so you don't want to navigate its neighborhoods on your own. There's a fun and easy way to see all Milwaukee has to offer—with a charter bus rental from US Coachways.
Choose US Coachways for Your Ground Transportation Needs
At US Coachways, we have safely and reliably transported people to and from events for more than 35 years, building an industry-wide reputation for our skill at handling short notice bookings and trips involving complex logistics. We are the largest charter bus provider in the nation, booking more than 25,000 excursions annually. Over the past four decades, we've built and nurtured the most comprehensive network of hand-selected premium charter bus vendors nationwide, so that our customers always have unparalleled on-demand access to a wide selection of vehicles.
To get a free quote on the cost of a charter bus trip to Milwaukee, use our convenient online Cost Calculator. To ask any questions about charter bus travel, or to find out the many ways we can assist you, live chat us or call 1-855-287-2427 to speak with a professional luxury travel consultant.
There's No Better Way to Take a Group Anywhere!
There are many details to attend to when you're traveling with a group. Here's a simple solution to your ground transportation, one that will make your life much easier and will earn rave reviews from all your participants—travel there and back in the convenience, safety and flexibility of a charter bus from US Coachways. Consider the many benefits of a charter bus rental:
It's a dependable mode of transportation

— Did you know that more than 40% of air travelers arrive late somewhere every day? That doesn't happen with a charter bus. Your driver has the tools and resources to identify potential challenges in advance and find alternate routes to get you there on time.

It's cost-effective

— You'll be sharing many of the costs of travel with fellow passengers. That consistently makes charter bus travel one of the most affordable options for group outings.

You'll ride in comfort

—The seats are spacious and there's more leg room than on any other mode of travel. There's no middle seat, either. The aisles are wide and you don't have to stay strapped in your seat all the time.

It's mostly hassle free

—You don't have to negotiate traffic, check the GPS or your watch or try to find a parking space. Your driver will handle all those details. There's no TSA security checkpoint, so you won't have to stand in line, take off your shoes or toss your toiletries. You'll be on the same vehicle throughout your trip and your luggage will travel with you—no lost bags or missed connections. You won't have to put your phone on "bus mode," either. You can stay connected throughout the trip.

You'll have more control

— With a charter bus, you don't have to choose from a handful of predetermined itineraries. You tell us where and when you want us to pick you up, where you want to stop, how long you want to stay and when you want to return. We'll handle all the details. That typically means that you can make last-minute or real-time changes to your schedule without a problem.

You'll be safe and secure

— You'll have a highly experienced and well-trained driver behind the wheel at all times. Furthermore, there's only one way on and off your bus, so it'll be easy to monitor who comes and goes. You and your personal items will be secure.

You'll have options

— You can use your bus for other things, including group meetings or as a quiet place to escape the crowd for a while

You can avoid traffic jams

— On a charter bus, you can take advantage of the HOV (high occupancy vehicle) lanes

You'll be helping the environment

— When you ride with others on a charter bus, it takes a number of private vehicles off the roads. That's good for the planet.
You'll Have Lots of Fun in Milwaukee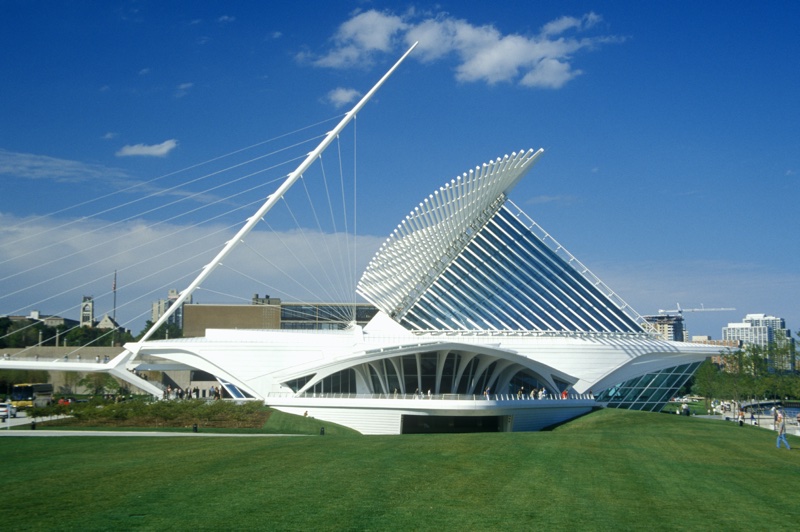 Milwaukee Art Museum on Lake Michigan, Milwaukee, WI
Founded by Eastern European immigrants nearly 175 years ago, Milwaukee has a long tradition as a city that knows how to have fun. It's long been a leader in the American brewing industry, and has been a musical mecca for its entire existence. There's plenty here to appeal to just about anyone:
The festivals

— The site of the world's largest music festival, Summerfest, Milwaukee also proudly demonstrates its broad cultural heritage with festivals running almost year round. Among the many ethnic festivals, you'll find celebrations of French, Irish, Mexican, Greek, Italian, Arabic, Native American and, of course, German food and cultural traditions. The Wisconsin State Fair, a 10-day affair every August, has been held in Milwaukee for more than 100 years. Come in November and see the largest model railroad show in the United States.

The food

— There's a lot more than cheese in Milwaukee, although cheese curds here come many different ways, including deep fried. It's the home of the original Butterburger, found at Solly's Grille. You can also find lake perch (fresh from Lake Michigan) on the menu just about anywhere in town. The preferred way to eat fish? Lightly battered and deep fried, served with coleslaw, rye bread and your choice of French fries or potato pancakes. Though American food tends to dominate the culinary landscape, you can also enjoy a wide assortment of ethnic creations, including Russian, Hmong, Indian, Korean, Belgian, Armenian, Basque, British, Puerto Rican, Polynesian and Pakistani cuisine.

The beer

— Milwaukee has long been a center for brewing German and traditional American beers—mostly lagers. But it's now one of the leading lights in the craft beer movement in the Midwest, with more than 50 craft breweries or brew pubs. The city hosts the national Craft Brewers Conference and BrewExpo America every year. There's also the Museum of Beer and Brewing at Old World Wisconsin, where you can see a demonstration of historic brewing techniques.

The music

— Milwaukee formed its first music society in 1843—three years before the city was founded! It's been a hotbed for musical talent and enjoyment ever since. At Summerfest, you'll get to choose from approximately 800 different shows over 11 days. The Summerfest grounds have multiple venues, including the 23,000 seat American Family Insurance Amphitheatre and the BMO Harris Pavilion, which accommodates up to 10,000 people. You'll find "Jazz in the Park" weekly at Cathedral Square Park from June through August. Other popular concert venues include the Marcus Amphitheater, the Rave, the Pabst and the Helene Zelazo Center for the Performing Arts.

The museums

— Milwaukee may have more museums per capita than any city in the nation. There are no less than five outstanding art museums—the Haggerty, the Villa Terrace, the Charles Allis Art Museum, the Grohmann and the Milwaukee Art Museum. The Milwaukee Public Museum has featured artifacts of natural and human history for more than a century. Beer aficionados should check out the Pabst Museum. Other unique offerings include the Harley-Davidson Museum and the Mitchell Gallery of Flight.
The US Coachways Advantage
We have stayed at the forefront of the charter bus rental industry by continuously looking for new and better ways to improve your charter bus experience. When you set up a trip with US Coachways, you'll get:
The best logistical support in the business—From the selection of the best bus for your group to the determination of optimal times and places for pick-up and drop-off, we'll pay attention to every detail. We also monitor traffic patterns with the Bus Route Analysis system, looking for traffic jams, accidents, construction and other potential roadblocks, so that we can find alternate routes to get you there on time.
Comprehensive dispatch services throughout your trip—We are available 24/7 and have the resources and experience to manage multiple sites simultaneously
Access to our user-friendly online Trip Management Portal, where you can view invoices, itineraries and other information from all your bookings in one convenient location. You'll also be able to request a quote, book a trip, make a modification, submit payment or track a reservation.
Your own, dedicated project management team, with a single point of contact, accessible when you need help of any kind
The flexibility to make last-minute or real-time changes to your travel schedule, or to book an entire trip with relatively little notice
The benefit of our purchasing power—We book, on average, over $55 million in charter bus trips every year. That gives us the vendor allegiances and the local market understanding to get highly competitive pricing.
We are also GSA (General Services Administration) approved to provide charter bus services to the United States government and its agencies, including the military.
The Right Bus Makes a Huge Difference

Choosing a charter bus is just the first step toward having a great trip. It's also important to take the time to make certain you have a coach that's well-suited for your group and your outing.
At US Coachways, we'll work closely with you to learn the specific details of your trip—how many people you expect, how long you'll be on the road, what you'll want to bring or take home with you, and any other special needs of your participants. Then we'll consult with our vast network of charter bus service providers to locate the bus that best fits your needs.
If you're taking a small-to-mid-sized group to Milwaukee, we recommend the mini-bus, with a number of models that accommodate anywhere from 24 to 35 passengers. For larger groups, the full-sized charter bus is a great fit, with room for up to 57 passengers and a bathroom on the bus. Multiple bus rentals are always an option and ADA-accessible coaches are available.
With most charter buses, you'll have high-back bucket seats, climate control, a great sound system and lots of storage capacity. Other modern conveniences, such as Wifi, USB ports, electrical outlets, DVD players and monitors, public address systems, leather seats and hardwood floors, may also be available for an extra charge. Check with your booking agent.
A Charter Bus—Ideal for Any Occasion
All the things you want with ground transportation—reliability, safety, affordability, comfort, flexibility and convenience—you'll find them when you book a charter bus. There's no better mode of travel for:
Business and corporate events

— Conferences and conventions, seminars and workshops, annual meetings, training sessions, team-building exercises, sales meetings, employee volunteer efforts, golf outings, picnics and company parties

Family celebrations

— Graduations, reunions, weddings, engagement parties, rehearsal dinners, birthday parties, anniversary and retirement gatherings, bar and bat mitzvahs, and even family vacations

Senior citizen and elder excursions

— Shopping trips, casino outings, plays and concerts, historical sites, museums and fall color tours

Church travel

— Retreats, church camp sessions, faith-based conventions and conferences, adult and youth fellowship outings, mission trips, choir tours, local ministries, praise gatherings or meetings

School trips

— Band and orchestra festivals and performances, athlete and fan travel, club and class trips, cultural offerings, prom and graduation after-parties, fraternity and sorority events, student volunteer projects

Special events

— Professional and college sports, championships and bowl games, motor car races, stadium and arena concerts, touring Broadway shows, food and cultural festivals, brewfests, marches and parades, public rallies
Make Your Charter Bus Reservation to Milwaukee Today!
At US Coachways, we have set the standard in the charter bus rental business for nearly four decades, consistently providing effective ground transportation solutions to businesses, groups and group leaders throughout the United States. For a free estimate of the cost of a charter bus outing to Milwaukee, go to our state-of-the-art online Cost Calculator. We will follow up with an e-mail within minutes. To learn more about the full scope of our business, or to get answers to any questions you may have about charter bus travel, live chat us or call 1-855-287-2427 to speak with an experienced luxury travel consultant.