Enjoy the Tar Heel State in the Comfort and Luxury of a Charter Bus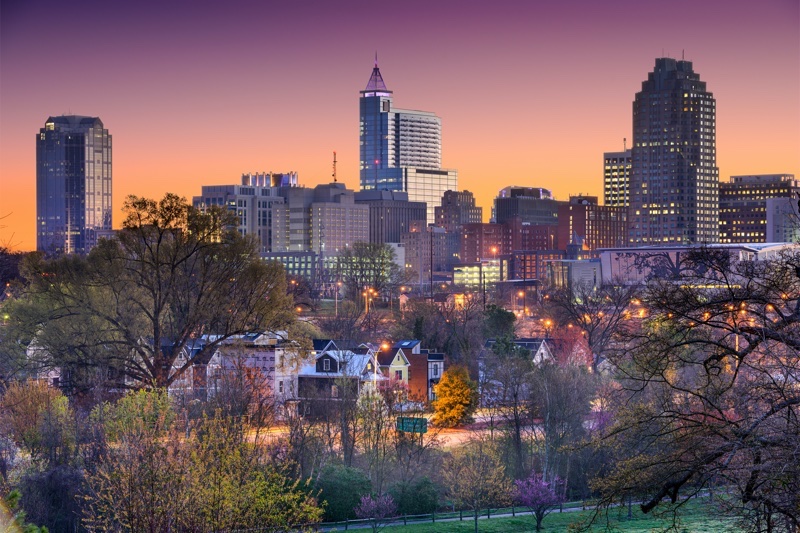 Raleigh, North Carolina
From famous historical sites such as Kitty Hawk, where the Wright brothers pioneered flight to the stunning vistas along the Blue Ridge Parkway, from the grandeur of the Biltmore to the epicenter of the American craft brewing movement, there's much to make North Carolina your destination when traveling with a group. It's a big state, with a diverse terrain, though. Don't make your trip there more work than it needs to be. With a charter bus rental from US Coachways, you can enjoy your time with everyone else while we handle all the details.
About US Coachways
At US Coachways, we are the largest provider of charter bus rentals in America. For nearly four decades, we have successfully brought people and events together, always making dependability and safety our priorities. We are known and respected by our customers for our unique ability to handle short-notice bookings and travel requiring complex logistics. With our powerful, lightning fast and intuitive reservation system, we book more than 25,000 charter bus trips every year. We have longstanding relationships with premier charter bus service providers nationwide, so that you'll have a wide array of options and can find the bus that's just right for your group and your outing.
The Benefits of a Charter Bus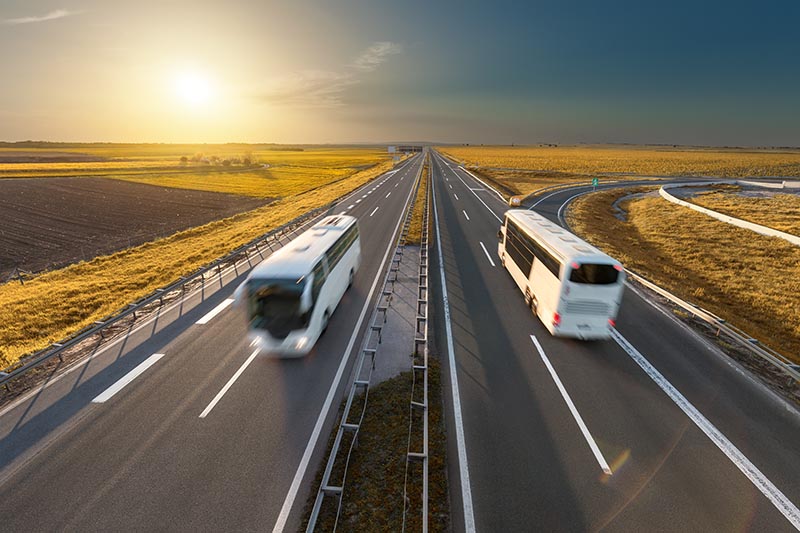 There's simply no other mode of travel that gives you all the features of a charter bus:
Reliability

— Cancellations and delays are virtually non-existent with a charter bus. Your driver has the tools and resources to respond to roadway challenges and find alternate routes to get you there on time. With our vast national network of vendors, we are also able to find replacement coaches, if necessary.

Safety

— Your driver is a highly skilled and trained professional, so you'll ride with confidence. In addition, there's limited access to the bus, so you won't have any uninvited guests.

Flexibility

— There's no other mode of travel that lets you decide when you'll leave, where you'll be picked up, when and how often you'll stop, how long you'll stay and when you'll go home. Want to stay an extra day in North Carolina? We can usually accommodate last-minute or real-time changes, or even book an entire trip with short notice.

Convenience

— All those things that make travel less than enjoyable—fighting traffic, checking the GPS, keeping an eye on the time, looking for parking—you won't have to worry about them, as your driver will take care of the details. You won't have any missed connections or lost luggage. There's no TSA security checkpoint and your devices won't interfere with navigation.

Affordability

— Because you'll share many of the costs of travel, you'll find charter bus rentals to be one of the most cost-effective ways to take a group to North Carolina.

Comfort

— Large seats and more leg room than any other mode of travel! Even better, there's no middle seat. The aisles give you a wide berth and you can move about at your leisure.
When you take a group on a charter bus, you'll qualify to ride in the HOV (high occupancy vehicle) lanes, so there will be less risk of getting stuck in traffic. You can also use your bus as more than a means of transportation—many of our customers use it as a mobile meeting space, or a quiet refuge in the midst of a busy trip. Of course, there's also the potential environmental benefit a charter bus affords—you'll take a number of private vehicles off the roads, significantly lowering carbon emissions.
Have a Great Time in North Carolina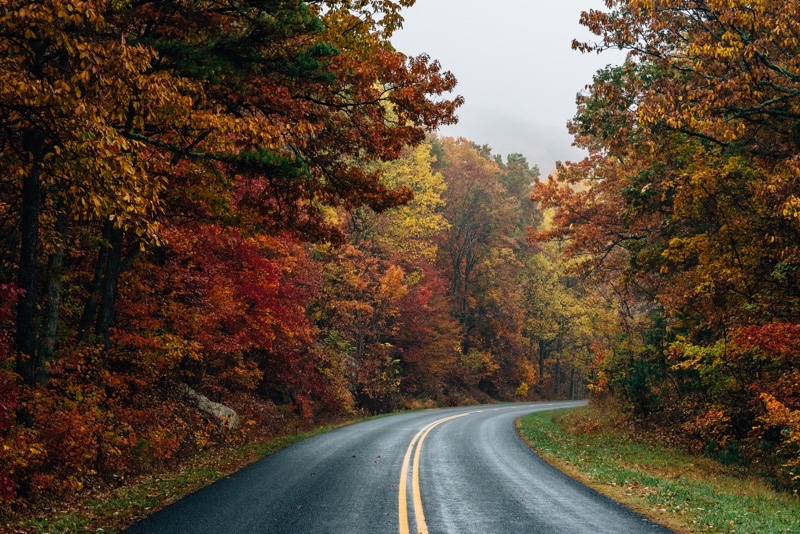 Blue Ridge Parkway
There's something for every interest in the Tar Heel state:
North Carolina has played an integral role in American history

— One of the original 13 colonies, and home to some of the earliest English settlers on the North American continent, North Carolina has played a pivotal role in our nation's history. Visit one of the many Civil War landmarks, from Fort Raleigh to the Benton Battlefield. The state is also home to a number of famous sites from the American Revolutionary War, including Tryon Place and the House in the Horseshoe. Visit the Wright Brothers National Memorial in Kill Devil Hills or the International Civil Rights Center and Museum, in Greensboro, where some of the first lunch counter sit-ins took place in 1960.

The arts are celebrated across the state

— From works of world masters to remarkable folk-art offerings, patrons of the visual arts will find ample offerings. The North Carolina Museum of Art (Raleigh), the Bechtler Museum of Modern Art (Charlotte) and the Asheville Art Museum are among more than a dozen world-class art museums. Visit the John C. Campbell Folk School, in Brasstown or American Folk Art or the Folk Art Center in Asheville for local works. The music scene in North Carolina is vibrant and diverse, as evidenced by the many annual festivals here, from Merlefest and the North Carolina Folk Festival to Pickin' In The Pines. There's also an abundance of classical music offerings, with symphonic, orchestral and operatic offerings in Charlotte, Winston-Salem, Greensboro, Raleigh, Asheville and other cities.
It's the starting point of the Blue Ridge Parkway — This national treasure (and National Park) starts in rural Swaim County, about an hour west of Asheville, and runs through the state and into Virginia. There are plenty of trails along the Parkway, and breathtaking scenery mile after mile. Daniel Boone's Trace, the path the famed frontiersman took West, crosses the Parkway at Mile 285.1. At Mile 361.2, you can get a glimpse of an 800 foot waterfall from an overlook alongside the Parkway. There are vineyards, great restaurants, farmers' markets, inns and a wide array of local craft merchants along the Parkway.

It's the craft beer center of the universe!!

— North Carolina has long been a leader in the craft beer movement. Asheville alone has more than 25 craft breweries and Raleigh has been listed among the top five craft beer cities in the United States. In fact, the Tar Heel State has more than 300 craft breweries, the most of any Southern state. Most of the breweries have their own tours or you can book a multi-day excursion to sample some of the best beers in the world.

There are things you can only see or do in North Carolina

— In Asheville, you can visit the Biltmore, the largest private residence ever built. The 178,000 plus square foot structure, with 250 rooms as well as active stables, is now a museum with daily admission and tours. Visit the site where legendary pirate Blackbeard was killed in 1718. Stop by Seagrove, the self-proclaimed "pottery capital of the world." Visit the "Lost Colony of Roanoke," where a colony of more than 40 settlers disappeared between 1585 and 1590. Walk the fields at Kitty Hawk, where the Wright brothers had their first controlled flight in 1903.
Our Commitment at US Coachways
At US Coachways, our focus is always on our customers. To help ensure that you have the best possible experience, we place a premium on:
Your safety—To maximize your security and minimize the risk of injury, we

Require all our employees to stay current with all U.S. Department of Transportation rules and regulations, and to regularly participate in DOT training
Mandate that all our automotive techs earn the Blue Seal of Excellence from the National Institute for Automobile Safety
Require all charter bus vendors to conduct a thorough maintenance inspection of every bus we book, with checks and balances to ensure compliance with our Gold Star of Approval
Employ Carrier411, the state-of-the-art carrier monitoring platform, to guarantee compliance with DOT rules and regulations and maximize the safety of your passengers

Your customer experience—We use cutting-edge technology

to meet or exceed your expectations

Use our Trip Management Portal, a fast-connect online tool that gives you access to invoices, itineraries, and other data, allowing you to get a quote, change your travel plans, make a new reservation, make payments or track a reservation from your mobile or desktop device.
We use the Bus Route Analysis platform to monitor traffic patterns, including potential roadblocks or slowdowns, so that we can look for alternate routes to get you to your destination in a timely manner.
We have access to modern technology, such as SmartDrive, Wifi, high-tech two-way radios, DVD players and flat screen monitors, and video monitoring, to enhance your comfort and convenience.

Making certain you have charter bus options

— With service providers in 100 hub cities, and access to more than 5,000 charter buses nationwide, you'll have:

An unmatched fleet of charter coaches available to you on-demand
The ability to successfully book an entire outing with little notice
A Charter Bus—The Right Choice for Any Outing to North Carolina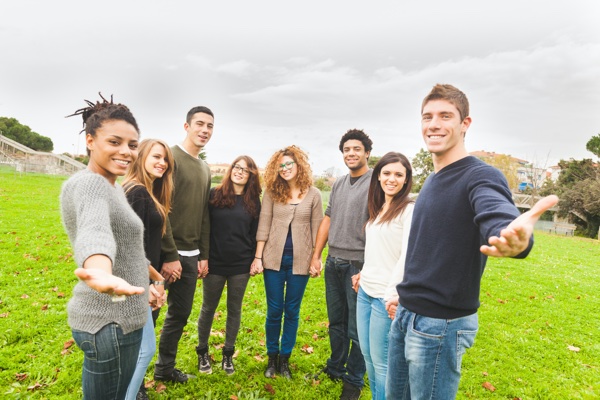 The many benefits described above make a charter bus a smart decision for any trip:
Family celebrations

— Weddings, rehearsal dinners, engagement parties, bar and bat mitzvahs, reunions, birthday, anniversary and retirement parties

Company events

— Seminars, workshops, conventions, conferences, training, team-building, company volunteer projects, golf outings, picnics and company parties

School travel

— Athletic completion, band and orchestra festivals, sorority and fraternity events, club and class trips, cultural offerings, prom and graduation after-parties, student volunteer work

Senior citizen trips

— Shopping excursions, casino visits, plays and concerts, museums and historical attractions, fall color tours

Church outreach

— Mission trips, faith-based conferences or conventions, retreats, church camp sessions, adult and youth fellowship opportunities, choir tours

Special events

— Bowl games and championships, stadium and arena concerts, touring Broadway shows, motor car races, food and cultural festivals, public rallies
We'll Help You Find the Right Coach
A charter bus will make your outing to North Carolina better, but you want to take the time to find the right bus. At US Coachways, we'll listen closely to learn the details of your outing—the number of people going, how long you'll be traveling, what you'll need to bring or take home, and any other special needs. Then we'll reach out to our extensive network of premier charter bus vendors to find the coach that's ideal for you.
If you're visiting North Carolina with a big group, you'll want to book the full-sized bus, with room for up to 57 people and an on-board bathroom. If your group is smaller, consider the mini-bus, with a number of choices that seat anywhere from 24 to 35. Multiple bus rentals are always an option and ADA-compliant buses are available.
Most charter buses come with certain modern amenities as standard features, including high-back bucket seats, climate control, lots of storage space and a great sound system. Other conveniences are available, including Wifi, charging ports and electrical outlets, a public address system, DVD players and monitors, hardwood floors and leather seats. Check with your booking agent.
Book Your Charter Bus Excursion to North Carolina Today!
Take advantage of the 35+ years of experience that US Coachways brings to charter bus rentals. For a free quote on the cost of an outing to North Carolina, go to our online Cost Calculator. We'll send you an estimate within minutes. To learn more about the ways we can assist you with group travel or to ask any questions about charter bus rentals, call 1-855-287-2427 and speak with a dedicated luxury travel consultant.