Visit the Buckeye State in the Luxury, Comfort and Safety of a Charter Bus

Columbus, Ohio
There's much to see and do in Ohio, from the shores of Lake Erie to the stunning views of the Ohio River near Cincinnati. From Cedar Point to the Rock n' Roll Hall of Fame, from the Flats in Cleveland to the Amish Country in central Ohio, there's much to take in. You don't want to spend most of your time behind the wheel, checking your GPS or worrying about when you'll get there. With a charter bus rental from US Coachways, you can relax while someone else does all the work!
The Many Advantages to Charter Bus Travel
When you're in charge of setting up a group outing, there are lots of details that need your attention. Here's an easy decision that will make you a hero with your fellow attendees—travel to and from Ohio in the comfort, convenience and luxury of a charter bus from US Coachways. With a charter bus, you'll get:
More flexibility than you'll find anywhere else

—There's no other mode of travel that lets you decide when and where you'll depart, when and how often you'll stop, how long you'll stay, and when you'll return. In most instances, you can make last-minute or real-time changes to your itinerary without a problem.

Transportation you can rely on

—Did you know that more than 850,000 air travelers arrive late somewhere every day? That doesn't happen with a charter bus. Your driver has the tools and resources to anticipate slowdowns and find alternate routes to get you there on time. Our access to charter bus vendors nationwide also makes it easier for us to find a replacement coach, if necessary.

Unmatched comfort

—The sits are big and comfy, with more leg room than any other mode of travel. There's no middle seat, either. The aisles are wide and you can walk about at your convenience.

A cost

-effective mode of travel—On a charter bus, you'll share many of the expenses of travel with fellow passengers, making it consistently one of the most affordable ways to take a group anywhere.

Safety and security

—There's a highly trained and skilled driver on your bus, so accidents are rare. In addition, the limited access to your coach makes it easy to monitor who comes and goes, so you and your belongings will be safe and secure.

A low-stress way to travel

—Think about it—you won't have to deal with traffic, check the GPS, look at your watch or try to find a place to park—your driver will handle all those details. There's no TSA checkpoint, so you can keep your shoes on and bring your favorite shampoo. You'll be on the same bus for the entire trip and your luggage will be stowed below—no missed connections or lost bags. Your phone and other devices won't interfere with navigational systems, so you can stay connected at all times.

More than just a way to get there and back

—Your bus is a great space for a group meeting, and can also offer a quiet corner in the midst of a hectic trip to Ohio.

A chance to avoid traffic jams

—On a charter bus, you'll be able to travel in the HOV (high occupancy vehicle) lanes.

An opportunity to help the environment

—When you join others on a charter bus, you take a number of private vehicles off the roads, lowering carbon emissions.
Choose US Coachways

At US Coachways, we book more charter bus trips every year than any other company in America. For more than 35 years, we have been committed to bringing people and events together, with an emphasis on safety and reliability. We offer special expertise in short notice bookings and trips involving complex logistics.
Our powerful, fast-connect reservation system makes it easy for us to book more than 25,000 charter bus excursions every year. In addition, our longstanding relationships with charter bus vendors nationwide means that you'll always have options, and will be able to find the ideal bus for your group and your trip.
To get a free quote on the cost of a charter bus trip to Ohio, go to our user-friendly online Cost Calculator. For answers to your questions about charter bus travel, or to learn about the many ways we can assist you, call 1-855-287-2427 and speak with an experienced luxury travel consultant.
Have the Time of Your Life in Ohio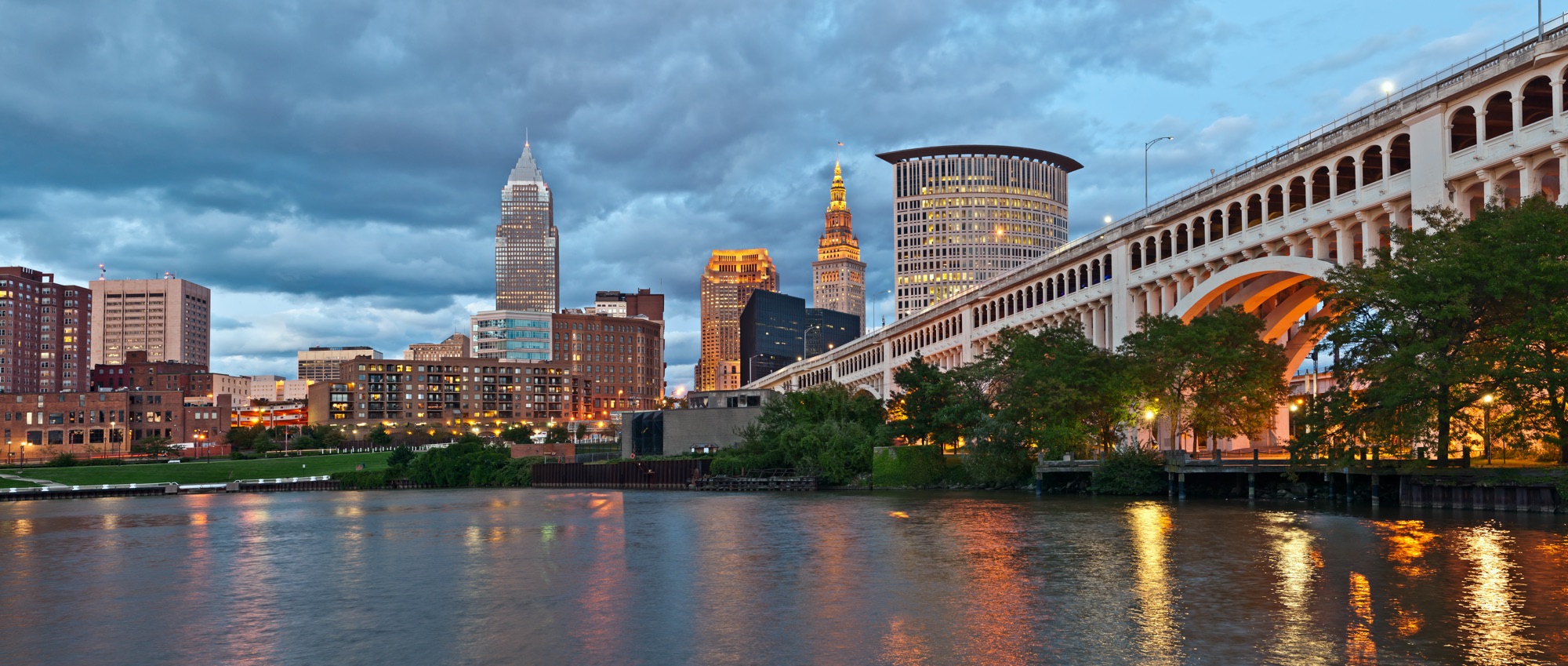 Cleveland, Ohio
Ohio is a big state, with a diverse topography and diverse cultures. There's something for just about everyone here:
Our Commitment at US Coachways
At US Coachways, we are always looking for ways to improve your charter bus experience. We are committed to maximizing:
Your safety—Your personal safety is always our top priority

All US Coachways employees are required to maintain compliance with all DOT rules and regulations and to complete all regularly scheduled DOT training
All automotive techs who work on the buses we charter must earn the Blue Seal of Excellence from the National Institute for Automobile Safety
All charter bus vendors who provide coaches to US Coachways must conduct a thorough inspection of any vehicle we book, with specific checks and balances, to ensure compliance with our Gold Star of Approval
We use Carrier411, the leading carrier monitoring program, to maintain compliance with DOT rules and regulations and to ensure the safety of your passengers

You options—We have relationships with charter bus vendors in more than 100 hubs across the country, giving us access to more than 5,000 coaches nationwide

That assures you access to an unparalleled fleet of charter coaches on demand
Our relationships with a vast network of charter bus service providers also makes it easier for us to book short notice trips

Your comfort and convenience—We employ state-of-the-art technology to make your trip more enjoyable

Our online Trip Management Portal lets you fast-connect to a system where you can view invoices, itineraries and other information from all your US Coachways outings in one place. The system also lets you get a quote, make changes to an upcoming trip, make payments or track a reservation.
We offer modern amenities, such as SmartDrive, Wifi, DVD players and flat screen monitors, high-tech two-way radios and video monitoring of your bus
Our drivers have access to the Bus Route Analysis program to monitor traffic patterns in real time, identifying potential roadblocks, slowdowns and other roadway issues in advance, so that alternate routes can be found
Let US Coachways Find Your Ideal Coach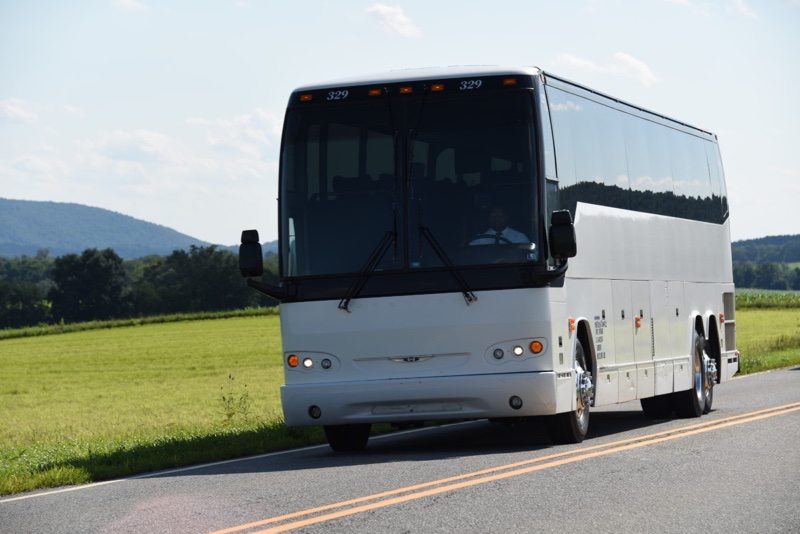 A charter bus rental is a sure-fire way to help make a group trip successful, but you want to take the time to make certain you have the right bus for your group and your trip, one with plenty of room for everyone to be comfortable, but not a lot of empty seats.
When you book with US Coachways, we'll carefully gather all the details about your event—how many people will be coming, what you'll need to bring or want to take home, how far you'll be traveling, and any other special needs of your participants. Then we'll work closely with our extensive network of charter bus service providers to find the coach that best-suited for your trip and your people.
If you're visiting Ohio with a large group, you'll definitely want a full-sized charter bus, with room for up to 57 passengers and an on-board bathroom. Multiple bus rentals are customarily an option, so invite as many people as you like. ADA-compliant coaches are usually available, too. If you're traveling with a smaller group, consider the mini-bus, with a number of different models that seat anywhere from 24 to 35.
All charter buses, except for a few school buses, come with climate control, high-back bucket seats, a great sound system, and plenty of storage space. Other modern conveniences, such as Wifi, DVD players and monitors, electrical outlets and charging ports, public address systems, hardwood floors and leather seats, may be available for an extra fee. Talk with your booking agent.
Take a Charter Bus for Any Trip to Ohio
You won't find another mode of travel that offers the reliability, safety, affordability, comfort, flexibility and convenience you'll get with a charter bus rental. That makes is a great decision for any excursion to Ohio:
Family events

— Reunions, birthdays, anniversaries, weddings, rehearsal dinners, engagement parties, bar and bat mitzvahs, graduations, retirement parties and even family vacations

Business and corporate travel

— Conventions, conferences, training sessions, sales and business meetings, seminars, workshops, team-building exercises, company volunteer projects, golf outings, picnics and holiday parties

Church outreach

— Mission trips, local ministries, small group outings, adult and youth fellowship opportunities, choir tours, retreats, church camp sessions, faith-based conferences and conventions

School outings

— Band and orchestra festivals, cultural events, athletic team travel, sorority and fraternity excursions, student volunteer work, prom and graduation after-parties

Senior citizen and retiree events

— Shopping trips, museums and historical attractions, plays and concerts, casino outings, fall foliage tours

Special happenings

— Touring Broadway shows, championships and bowl games, college and professional sports, motor car races, food and cultural festivals, winery tours, stadium and arena concerts, public rallies
Make Your Ohio Charter Bus Reservations Today!
At US Coachways, we've been leaders in the charter bus rental business for more than 35 years, consistently identifying and implementing effective ground transportation solutions for groups, group leaders and businesses nationwide. To get a free estimate on the cost of an outing to Ohio, go to our easy-to-use online Cost Calculator. We'll send a quote within minutes. To learn more about the full range of services we offer, or to ask any questions about charter bus rentals, call 1-855-287-2427 and talk with an experienced luxury travel consultant.