When you're planning a big bash, a night on the town or an event to commemorate any type of milestone, there are two priorities—you want everyone to have fun and you want everyone to be safe. You don't want your guests to endure the hassle of battling traffic or trying to find the party. You want everyone to enjoy all the party has to offer without worrying about getting behind the wheel when the festivities are over. That's why you want to book a charter bus for any party—you can all let your hair down while someone else gets you safely and comfortably there and back.
A Charter Bus—The Way the Pros Have a Great Time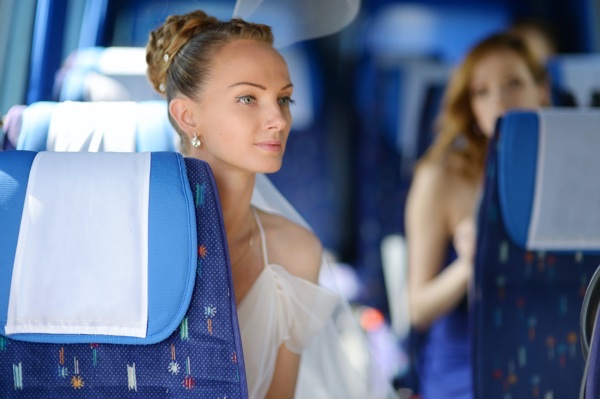 When you're planning a celebration with a group of people, one of your most important concerns is getting them to and from the festivities. There's no better option than a charter bus:
You'll have unmatched safety and security—

When you go to a celebration on a charter bus, you'll have a designated driver for your whole entourage. Everyone can join in the fun without worrying about joining in the revelry. You'll have a trained professional behind the wheel at all times. In addition, there's only one way on an off the bus. You won't have anyone crashing the party without an invitation, so you and your personal items will be safe and secure.

A charter bus lets everyone have a great time—

It's the most stress-free way to travel. Your people won't have to check the GPS or the time—your driver will get you where you want to go when you want to be there.

A charter bus removes all the hassle from travel—

With a charter bus, you won't have to worry about all those things that make other modes of travel challenging. There's no TSA line, so you won't have to take off your shoes, empty your pockets or submit to a full body search. You'll be on the same bus at all times and your personal items will be with you, so you won't have worry about missing a connection or lost luggage. Your phone won't interfere with navigational systems, so you can post pictures of the revelry at any time. Because we'll transport you "door to door," you won't have to worry about finding your way around an unfamiliar town.

You'll have virtually unlimited flexibility—

You won't have to pick from a handful of prepackaged itineraries. Tell us where you want to go, when you want to be there and how long you want to stay—we'll handle the details. In many instances, you can even make last-minute or real-time modifications to your schedule.

Charter buses offer reliability—

Delays and cancellations are virtually unheard of with a charter bus. Because of our access to an extensive fleet of vehicles nationwide, we can usually find a replacement vehicle with fairly short notice. In addition, your driver has the tools and technology to anticipate potential traffic problems and find alternate routes to get you to your destination in a timely manner.

You can use the bus for more than travel—

Think about it—there's no easier way to communicate with the entire guest list than on the bus. You can get everyone on the same page, give last-minute instructions or even kick off the party with a full-bus version of Happy Birthday. The bus can also be a great place for partygoers to get a little down time from the activities.

It's a really comfortable way to travel—

On a charter bus, there's no requirement that you stay strapped in your seat. The aisles are spacious and you can congregate with other guest at any time. If you want to sit, though, you'll enjoy the ample leg room and the wide, plush seats.

It's a cost-effective way to travel—

When you join others on a charter bus, you share many of the costs of transportation. Traveling by charter bus is often less expensive than taking your own vehicle, and certainly less stressful.

You can take advantage of the high occupancy vehicle (HOV) lanes—

You'll have less risk of getting stuck in traffic.

It's an environmentally friendly way to travel—

When you ride together on the same coach, that means fewer private vehicles on the roads, and reduced carbon emissions.
At US Coachways, we bring more than three decades of experience in the charter bus rental business to groups and group leaders nationwide. We work closely with party planners, wedding planners and event planners. To learn more about the services we provide, call 1-855-287-2427 to speak to a travel consultant. For a free quote on the cost of a charter bus, see our online Cost Calculator.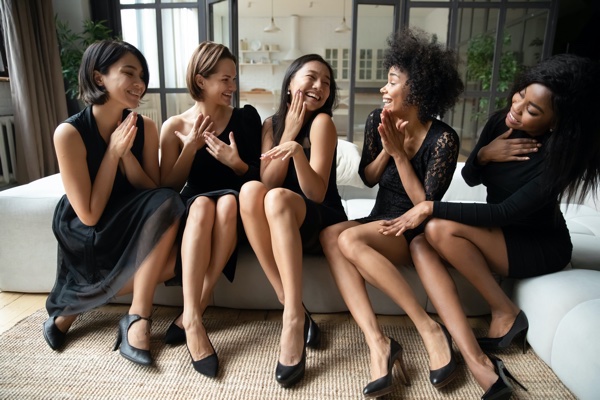 Frequently Asked Questions about Booking a Charter Bus for a Party
What's the best bus for traveling to and from a party?

With US Coachways, you'll have access to a wide range of coaches. To help you choose the right bus for your group, we'll consider a number of factors, including how many people are traveling, how long you'll be on the road, where you're going and what you'll be bringing. If you're with a mid-sized group, the mini-bus is ideal, with seating for 24 to 35 and plenty of space for personal items and party supplies. If you're with a larger group, the full-sized bus accommodates up to 57 comfortably. Multiple bus rentals are always an option. We also offer "party buses," with special features to enhance your fun—ask a customer service representative about the options.

We're having a party. Can we have alcohol on the bus?

Alcohol is permitted on your coach, provided that you request permission from US Coachways in advance. Furthermore, any alcohol use on your coach will be at the discretion of the driver. In addition, alcohol consumption will only be allowed if all passengers are of legal drinking age in the state where you are traveling.

Can we make multiple stops?

Yes. One of the attractive features of charter bus travel is the flexibility it offers. You'll need to plan carefully, so that you factor in both travel time and time spent at your various destinations.

We will have passengers who are minors. Will we need to provide a chaperone?

The need for a chaperone is based on local laws. If chaperones are needed, however, US Coachways can provide them for an additional fee.

How much does it cost to rent a charter bus for a party?

The total cost to reserve the coach will vary, based on a number of factors:

The number of people who are celebrating with you—that helps determine the size of the bus
The geographic location of your rental and the time of year—There's more demand for a charter bus in upstate New York in the summer than in the winter, so you'll typically pay more for a party in June, July or August.
The day of the week—Charter bus rentals customarily cost more if rented Friday, Saturday or Sunday than on other days.
How far you'll be traveling—For day trips, there are two ways you can be charged—by the mile or by the hour (though you can expect a minimum charge). For multi-day trips, you'll customarily be billed by the day.
For a free quote on the projected costs of a charter bus rental for a party, use our online Cost Calculator.

What amenities can we expect on the charter bus?

Many modern conveniences, such as Wifi, charging ports for your devices, DVD players and stereo/PA systems, are standard features on most coaches. You can also book a bus with an on-board restroom. Check with your booking agent for availability.
Book Your Party Travel with US Coachways
You've taken the first step toward having a great party—you've decided to get there and back on a charter bus. Your next move—reserve a bus with US Coachways. Here's why: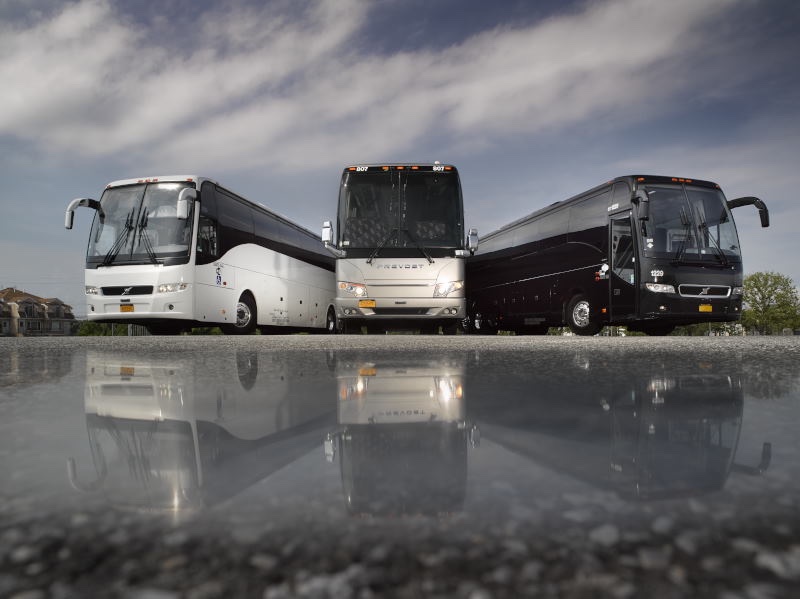 We have a dedicated service team, so you'll have a single point of contact at all times
We offer an online Trip Management Portal, where you can manage all your trips from a single website. You'll also have access to invoices and other data on all past bookings.
We provide dispatch 24 hours a day, seven days a week.
We have access to a charter bus fleet of more than 2,000 vehicles, giving us flexibility unmatched in the industry. Last minute and real-time changes to your can often be accommodated, and entire trips can be arranged with little notice.
With more than $55 million in average annual charter bus rentals, we have the local market understanding and the purchasing power to ensure that you get the best pricing.
We are General Services Administration (GSA) approved. We can help federal government agencies and entities with any type of ground transportation needs.
Let's Get This Party Started!! Book Your Charter Bus Today!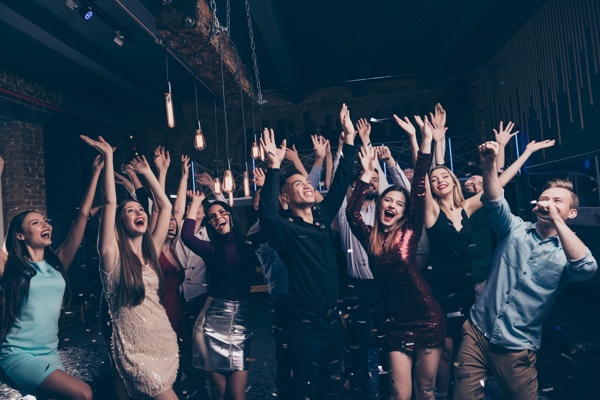 When you book a coach with US Coachways, you'll have the benefit of more than 30 years in the business. To get a free estimate of the cost of a charter bus for any type of celebration, visit our user-friendly online Cost Calculator. For answers to your questions or to learn more about the full range of services we offer, call 1-855-287-2427 to speak with one of our experienced travel consultants.