Your Guide to a Charter Bus Trip to the Alamo City
In San Antonio, you'll find more to remember than just the Alamo. It's the 7th-largest city in the nation, with a thriving arts community, world-recognized historic attractions, a culinary cornucopia and the famed Paseo del Rio. With more than 1.5 million residents spread out over nearly 500 square miles, it's not a place you want to navigate on your own, particularly if you're traveling with a group. There's a better way to enjoy all San Antonio has to offer—with the luxury and convenience of a charter bus rental from US Coachways.
The Best Way to Travel to San Antonio? On a Charter Bus!
You're planning a group trip to San Antonio. There's a lot to think about, any number of decisions that can make or break the trip. None, however, are more important than your transportation. If you have problems getting there and back, chances are good that most participants will forget what a great time they had in the Alamo City. That's why you will want to travel on a charter bus rental from US Coachways.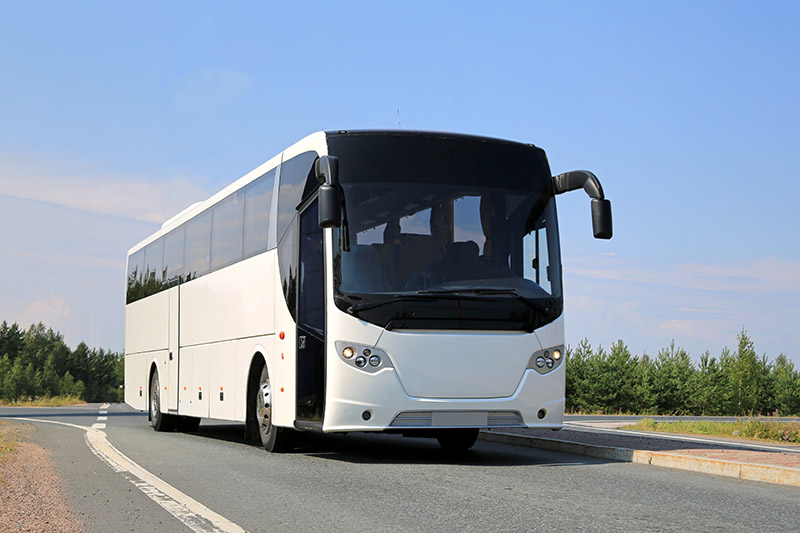 Charter buses offer safety and security

— You'll have a highly skilled driver getting you safely to and from your destination. In addition, because there's only one way on and off the bus, you won't have to worry about uninvited guests. You and your personal items will be safe and secure.

Charter buses offer more flexibility than any other mode of travel

— You get to travel when you want to travel and you get to go where you want to go. You can even choose how long you want to stay. Often, you can make real-time or last-minute changes to your itinerary. What other method of transportation lets you do that?

Charter buses are reliable

— Delays and cancellations are a fairly common occurrence with other forms of travel. In fact, about 40% of airline passengers arrive late at a destination every single day! With a charter bus, the broad network of service providers makes it simpler to find a replacement, should you experience mechanical difficulties. In addition, your driver will have the tools and resources to anticipate potential traffic problems and find alternate routes to get you to your destination on time.

Charter buses take the hassle out of travel

— On a charter bus, you won't have to check a map/GPS, look at your watch, battle traffic or try to find a place to park. You can relax with friends and family while your driver handles those details. You won't need to sprint through a terminal to make a connection or worry about losing your luggage. You'll ride on the same coach for your entire trip, and your bags will always be with you. There's no TSA line, either, so you won't need to empty your pockets or take off your belt. Your devices won't interfere with the bus's navigational system, so you can stay connected at all times.

Charter buses let you travel comfortably

— The seats are big, with more leg room than you'll find on any other type of transportation. There's no middle seat, either. The aisles are wide and you can move about at your leisure.

Charter buses are cost-effective

— Because you'll share many of the expenses of travel with your fellow passengers, you'll typically spend less on charter bus travel.

Charter buses let you benefit from the use of the HOV (high occupancy vehicle) lane

— That's important when you're traveling to a city like San Antonio.

Charter buses are good for the planet

— When you all travel together on the same bus, you reduce the number of private vehicles on the roads. That reduces carbon emissions.
At US Coachways, we have been industry leaders in the charter bus rental business for more than three decades. Visit our convenient and easy-to-use online Cost Calculator to get a free quote on a charter bus trip to San Antonio. Call us at 1-855-287-2427 to speak to one of our experienced agents.
A Charter Bus Rental—The Smart Choice for Any Excursion to San Antonio
The many benefits you'll find only with a charter bus rental make it ideal for any type of travel:
Visit Historic San Antonio
You can't make a trip to the Alamo City without visiting the Alamo. A mission founded by Roman Catholic missionaries in the 1700s, and the site of the famous Battle of the Alamo in 1836, the Alamo is now part of a nationally recognized historic district, as well at the San Antonio Missions World Heritage Site. With luck, you may catch one of the many living history encampments that take place in the gardens behind the mission.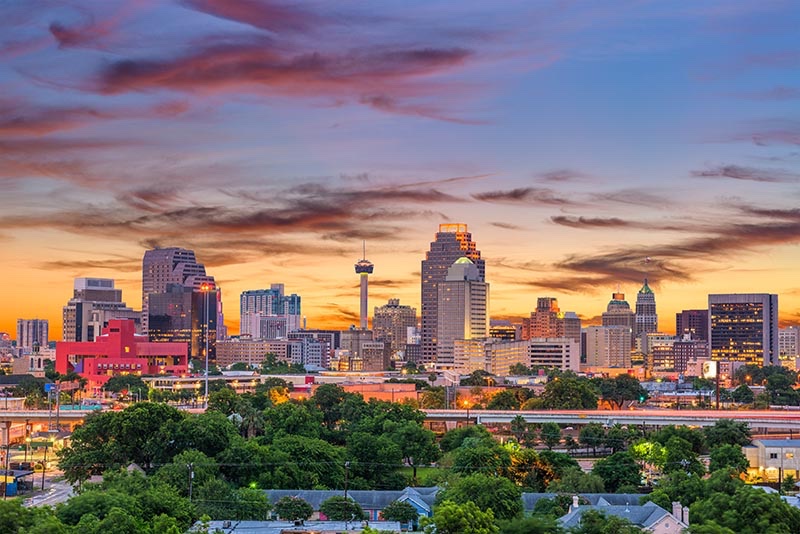 The World Heritage Site, a collection of five Spanish colonial missions, is one of only eight historic locations in the United States recognized by UNESCO for world historical value (others include the Statue of Liberty and Independence Hall).
Stroll Along the River Walk
A designated city park, comprised of an extensive network of paved walkways along the San Antonio River, the Paseo del Rio has been an integral component of the revitalization of San Antonio for more than half a century. You could spend your entire time in San Antonio there, as it connects the city's five historic missions, and is filled with places to eat or grab a cold beverage. There's virtually unlimited shopping along the River Walk, as well as art museums, public art and a number of venues for music and theatre. A recent eight mile extension to the Paseo del Rio now makes it nearly 15 miles long.
Enjoy World Class Art
San Antonio boasts the first and one of the most unusual art museums in the world. The McNay, established in 1950 as the premier art museum in Texas, includes paintings by Matisse, Picasso, O'Keeffe, Hopper and Miro in its collection, all housed in a 24 room Spanish Colonial Revival estate in the Alamo Heights neighborhood. The 23 acre site features vast gardens and outdoor statues, with plenty of places for quiet contemplation.
The Blue Star Arts Complex, offers mixed media to visitors, from the popular Blue Start Contemporary Arts Museum and the neighboring galleries and studios to ethnic grocery stores, as well as a number of authentic eateries featuring mostly Czech, German and Eastern European cuisine.
Revel in the Revitalization
It's not just the River Walk—revitalization and renewal can be found all across San Antonio. Check out the Pearl District, formerly a brewery complex, but now a bustling neighborhood featuring eclectic dining, entertainment and shopping experiences. Southtown, once a dilapidated industrial site, is now the heart of the city's arts revival, as well as many trendy restaurants and bars.
We'll Help You Find the Right Coach for Your Trip to San Antonio
You've taken the first, big step—you've decided to visit San Antonio the smart way, on a charter bus. But there's another critical decision you need to make. You need to make certain you get the right bus for your group, one that offers plenty of room without wasting space. You also want to know that you'll have all the modern conveniences you need.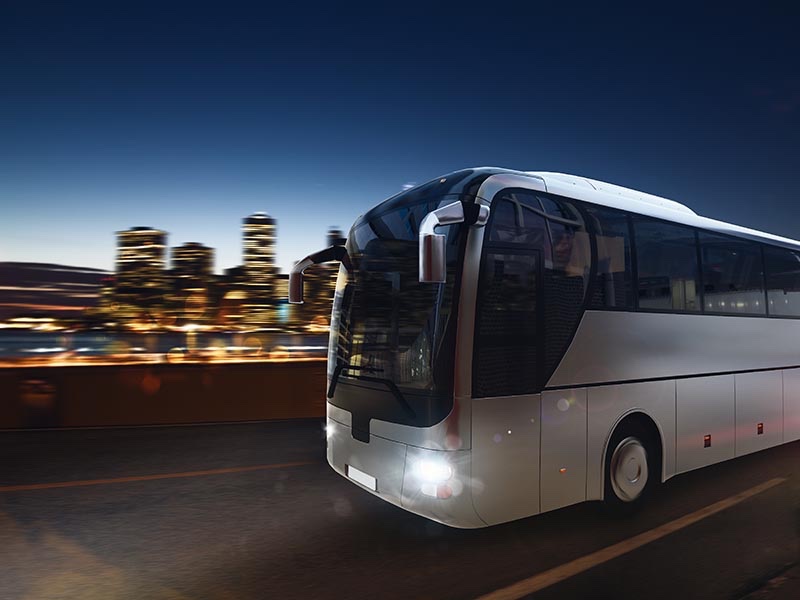 At US Coachways, because of our access to a vast fleet of vehicles nationwide, we have the capability to find the ideal coach for your group and your trip. We'll take a close look at the details, including how many people are coming, how long you'll be on the road and what you'll need to take or bring home. Then we'll work with our vendors to find a good match for your group.
If you're heading to San Antonio with a mid-sized group, you'll like the mini-bus. It seats 24 to 35 comfortably and has plenty of storage space. If you're going with a larger group, you'll want the full-sized bus, with accommodations for up to 57. Multiple bus rentals are an option.
Most of the charter buses are equipped with Wifi, DVD players, charging stations and PA/stereo systems. You can also book a coach with on-board bathroom facilities. The options vary from bus to bus, so check with your booking agent to see what's available.
Book Your Charter Bus Outing to San Antonio Today
At US Coachways, we've helped groups and group leaders find effective transportation solutions for more than 30 years. To get a free quote on the cost of a charter bus rental to San Antone, check out our user-friendly, online Cost Calculator. For more information about the ways we can assist you with your group ground transportation needs, call 1-855-287-2427 and talk with an experienced customer service agent.