Your Guide to "America's Finest City" on a Charter Bus
If you're taking a group on an outing, and you're looking for that perfect place, with a mild climate almost any time of the year, world-class arts and cultural opportunities, historic attractions, and great food and shopping, look no further than San Diego, the "birthplace of California." It's a hub for college and professional sports of all kinds, and has some of the best beaches on the planet.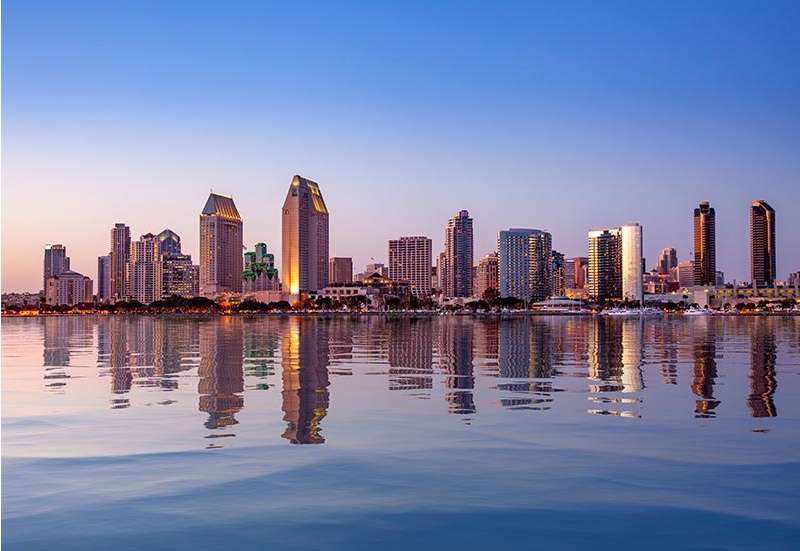 San Diego's a bustling city, though, with nearly 5 million residents in the metro area. Don't make your trip there more difficult than it needs to be. With a charter bus rental from US Coachways, you can relax with friends and family while someone else handles the details.
A Charter Bus Rental—The Right Decision for Group Travel
There are many factors that go into making a group trip a memorable one, but nothing may be more important than how you get there and back. If the travel is a hassle, it may not matter how well the rest of the trip goes. That's why you want to book a charter bus rental from US Coachways.
Charter bus travel is dependable

— When you're taking a group somewhere, you need to know that you'll get where you're going when you need to be there. With other modes of travel, one delay can push everything back. Look at air travel, for example. Did you know that, on average, about 40% of air travelers arrive late somewhere every day! That doesn't happen with a charter bus. Because of our access to a vast network of service providers, delays and cancellations are extremely rare.

Charter bus travel is comfortable

— You won't be crammed into a tiny seat and you won't have to be strapped in for most of the trip. You'll have more leg room than on any other mode of transportation and plenty of room to spread out a bit, as there are no middle seats. The aisles are spacious, too, and you can move about at your leisure.

Charter bus travel is the ultimate low stress option

— With other modes of travel, there are lots of details to consume your time and attention. Will you need to check the map? Will you get where you need to be on time? Will you need to change planes or trains? Will your luggage arrive when you do? With a charter bus, you won't have any of these worries. Your driver will know the way and will get you where you need to be when you need to be there. You'll stay on the same bus for your entire trip, and your bags will travel with you. No worries about missed connections or luggage that's gone AWOL.

In addition, there's no TSA checkpoint for a charter bus, so you won't have to take your shoes off, empty your pockets or submit to a full body scan. You can also keep your device on at all times—there's no "bus mode" setting on your phone.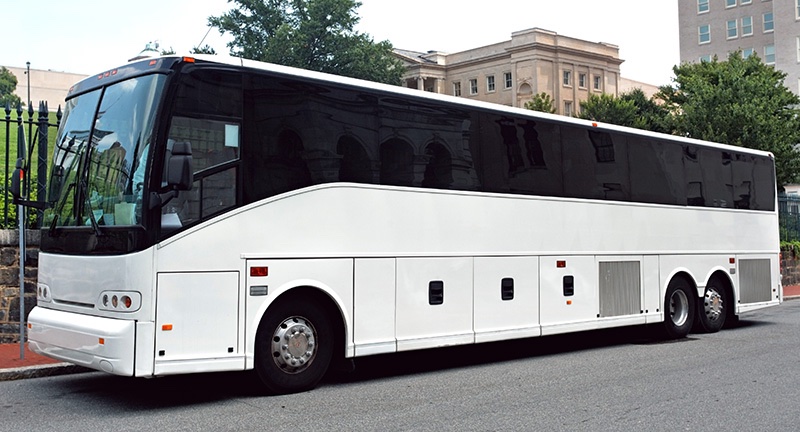 You'll be safe and secure on a charter bus

— There's a highly skilled professional behind the wheel at all times. Because there's only one way on and off the bus, you won't have to worry about unauthorized guests and you and your personal items will be secure.

You'll have a true "one of a kind" experience

— When you rent a charter bus, you don't have to choose from a few prepackaged itineraries. Instead, you'll start from scratch, building a trip customized to your needs and the needs of your group. You tell us when, where and how long and we'll make it happen.

You can use the HOV (high occupancy vehicle) lanes with a charter bus

— In the San Diego traffic, that can be a real bonus.

Charter bus travel is one of the most cost-effective ways to take a group somewhere

— Because of the shared costs, charter bus travel is almost always more affordable than other modes of transportation.

Charter buses have a positive impact on the planet

— When you all travel on the same coach, that's fewer vehicles on the road. That leads to fewer emissions and that's a win for the environment.
At US Coachways, we bring more than 30 years of experience to groups and group leaders across the country. Check out our online Cost Calculator for a free quote on a trip to San Diego, or call us at 1-855-287-2427 to learn more about our services.
There's Plenty to See and Do in San Diego
Ask yourself—what do you want to remember from your trip? Whatever it is, chances are really good you'll find it in San Diego: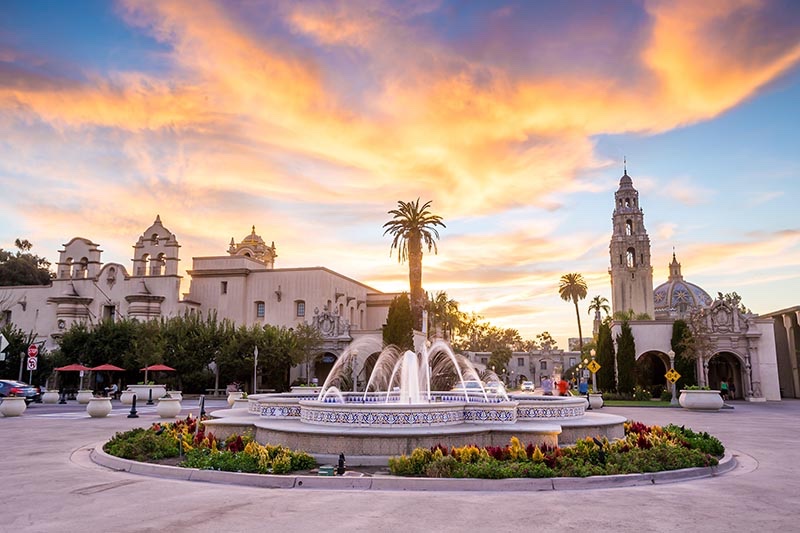 A great show or an exhibit

— Whether it's music, live theater, dance or visual arts, it's happening in San Diego.

The city's vibrant club scene has spawned a number of well-known Indie rock bands, including Stone Temple Pilots. There's also plenty for classical music fans, with the San Diego Symphony, the San Diego Opera and a wide range of classical offerings through San Diego State University.

Patrons of live theater can visit the historic Old Globe in Balboa Park for both original works and touring Broadway shows. Other venues include the Starlight Musical Theatre, as well as the Kroc Center's Performing Arts Center.

Visit Balboa Park, a 1,200 acre "urban cultural park" in the heart of the city, where you'll find dozens of museums, from the San Diego Art Institute and the San Diego Museum of Art to the Museum of Man and the Model Railroad Museum.

Historic attractions

— The home of one of the first Spanish missions in California, built 250 years ago, San Diego has a rich historical tradition. You can tour some of the historic missions in the area or visit some of the buildings used for the 1915 Panama California Exposition. There's also the Mormon Battalion Historic Site, where the only religion-based unit in American military history set up camp during the Mexican-American War.

A great meal or a cold quaff

— San Diego has a diverse population, reflected in its culinary offerings. Signature dishes of the city include wood-fired pizza, Mexican street food and seafood of just about any kind. But you can find samplings of delicacies from around the world, from German and Greek to Filipino or Vietnamese. There's a huge Asian community, so you can also get nearly any type of Southeast Asian cuisine. With the fertile farmlands and temperate climate around San Diego, it's also easy to find a wide range of fresh fruits and vegetables, often in farm-to-table style restaurants.

Named the "top beer town in the U.S." by Men's Journal, San Diego has more than 125 local microbreweries or brewpubs. A number of new beer styles have been introduced here, including the popular American Double IPA. There are local craft beer festivals throughout the year, culminating in San Diego Beer Week every November.

Fresh air

— San Diego's a great place to come if you want to get outside. It hasn't snowed here in more than 50 years and the temperatures tend to be moderate, in the 50s in the winters and the high 70s in the summer. Walk in the sugar sand beaches along the Pacific Ocean, visit the wide array of gardens in Balboa Park or take a hike in the Torrey Pines State Natural Reserve.
We'll Help You Find the Ideal Coach for Your Group
The first step toward a successful group trip? Choosing charter bus rental as your mode of travel. But there's one more important decision. You want to make certain you have the right bus for your group and your travel.
At US Coachways, because of our longstanding relationships with charter bus service providers throughout the nation, we can help you find the vehicle that meets your needs. We'll look at where you're going, how many people are coming and whether there are any special needs. If you're traveling with a mid-sized group, we'll likely recommend the mini-bus, with accommodations for 24 to 35 people, including plenty of luggage space. For larger groups, there's the full-sized bus, which holds up to 57 passengers. Multiple bus rentals are always an option.
Many of the charter buses include Wifi, charging stations, DVD players and stereo/PA systems as standard equipment. Some have additional features, including on-board bathrooms. The options will vary from bus to bus, so talk to your booking agent to find out what's available.
A Charter Bus—An Excellent Choice for Any Trip
The flexibility, reliability, convenience and affordability of charter bus travel make it an outstanding decision for any type of group outing, including: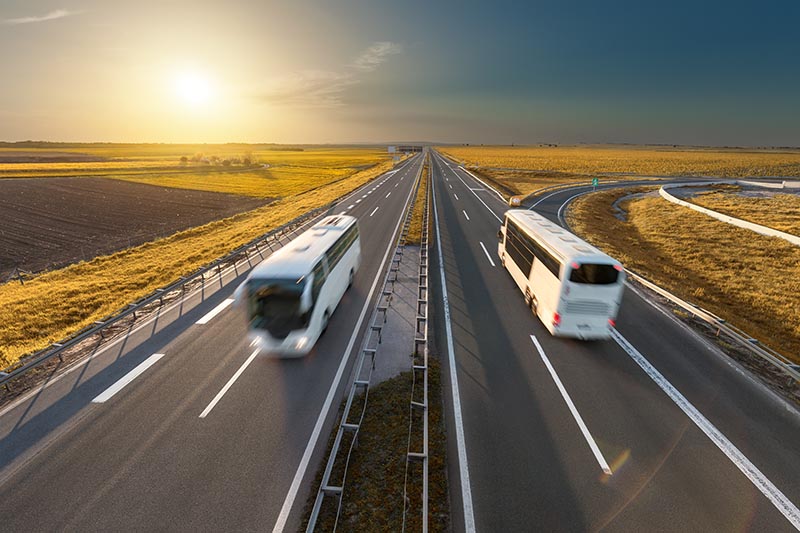 Schedule a Charter Bus Trip to San Diego Today
At US Coachways, we arrange more than 20,000 charter bus trips every year. To get a free quote on a trip to San Diego or for questions about how we can assist you with group travel, visit our online Cost Calculator or call 1-855-287-2427 to speak to one of our customer service representatives.