The Affordable and Safe Solution for Any School Trip
When you're taking students, faculty and staff on a trip, there's an added level of concern and responsibility—you want to get everyone there and back with the least amount of hassle, and without unnecessary concerns about safety or accountability. Whether it's an athletic team competition, a prom or graduation after-party, a club or class excursion, or an arts or cultural offering, a charter bus lets you travel with comfort, convenience, safety and affordability.
Why a Charter Bus Makes Sense for Your School Trip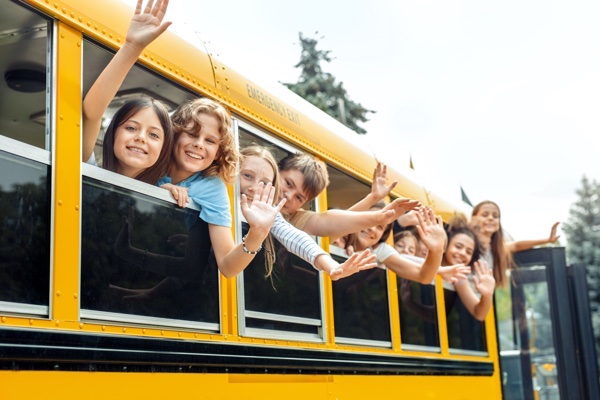 There's no better option for a school outing than a charter bus rental from US Coachways:
It's the safest mode of group travel—

With a charter bus, you'll have a highly trained professional at the wheel at all times. You won't have to worry about the driving skills of a number of parents or chaperones, and you won't have to worry about anyone getting lost. In addition, because of the limited access to the bus, you won't have unwanted guests—you and your students will be safe and secure.

You'll have unparalleled flexibility—

There's no other mode of transportation that lets you decide when you'll leave, where you'll go, how long you'll stay and when you'll come back. If a game goes into overtime, you're covered—last-minute and real-time changes to your itinerary can often be accommodated. You can even book an entire trip with little advance notice.

You can count on a charter bus—

You won't have to worry about getting there late and missing something. Delays and cancellations are virtually nonexistent with charter buses. Your driver has the resources to identify potential traffic problems and find alternate routes to get you there on time. Replacement vehicles are often quickly available, thanks to our extensive network of charter bus service providers nationwide.

You can relax—

With most group trips, someone has to watch the GPS or keep an eye on the clock. Someone has to battle traffic, look for a parking space or get behind the wheel when the game's over. On a charter bus, your driver will handle all those details. You won't have to worry about missed connections or lost luggage. You'll be on the same coach for the entire trip and your gear will travel with you. You won't have to stand in a TSA security line, take off your shoes or empty your pockets. You can leave your phone on all the time—it won't interfere with navigational systems.

You can ride in comfort—

If you travel on a mini-bus or full-sized charter bus, you'll have plush and spacious seats with plenty of leg room. You'll also enjoy wide aisles and the ability to move freely about the cabin.

You can use the bus for more than just travel—

Use your travel time to prepare students, talk strategy, give last minute instructions or break the ice.

You can take advantage of the HOV (high occupancy vehicle) lanes—

That helps you minimize time stuck in traffic.

Charter buses are a cost-effective way to travel—

When you ride together, you share many of the costs of transportation. That routinely makes charter bus travel one of the most affordable options.

You'll help the environment—

When you travel together on a charter bus, you reduce the number of private vehicles on the roads. That lowers emissions and helps the planet.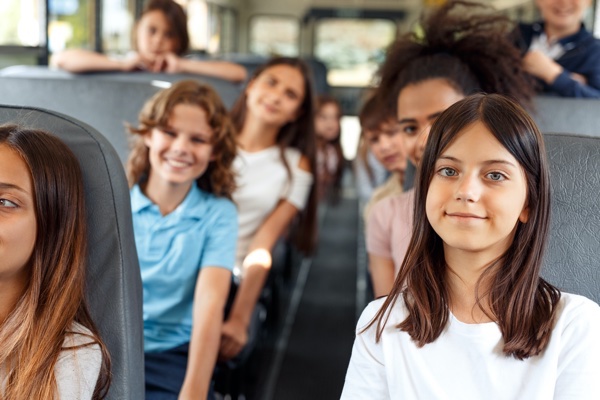 At US Coachways, we have provided effective group travel solutions for more than three decades. To get a free estimate of the cost of a charter bus rental, use our online Cost Calculator. For more information about our services, all 1-855-287-2427 and speak to an experienced customer service agent.
Frequently Asked Questions about Bus Rentals for School Trips
What is the best vehicle for our group?

That depends on a number of factors. At US Coachways, we'll look at the details of your trip—how many students and staff will be traveling, how long you'll be on the road, what you'll be bringing with you, and whether your participants have any special needs. Then we'll work with our nationwide network of vendors to find the ideal coach for your outing. If you're traveling with a small-to-mid-sized group, the mini-bus is a great option, with seating for 24 to 35. For larger groups, the full-sized bus accommodates up to 57 passengers. School buses are also available for rent, if you're looking for a more streamlined and affordable option. We'll also make certain there's ample room for anything you need to bring, from band instruments to sports equipment. Multiple bus rentals are always an option.

Will US Coachways provide SPAB or 19A-certified drivers?

Yes. US Coachways has relationships with vendors who carry School Pupil Activities Bus (SPAB) and Article 19-A certifications and will always ensure that the driver has all appropriate state driving qualifications.

Are seat belts required for school buses or travel?

The National Highway Traffic Safety Administration (NHTSA) requires three point seat belts on all school buses weighing less than 10,000 pounds. Seat belt use for larger buses is regulated on a state-by-state basis. US Coachways will always follow all relevant laws governing the use of seat belts.

Who handles payment? Will US Coachways accept a purchase order?

Work directly with your booking agent to confirm who will take your payment and how it will be made. As a general rule, US Coachways takes purchase orders. Cash, checks and credit cards are also accepted.

How much will it cost to rent a charter bus for our school trip?

The total cost of a charter bus rental varies, based on a number of criteria:

How many people will be traveling—This dictates the size of your bus. As a general rule, the larger the bus, the greater the cost.
The amenities you'll need—Most charter buses come with certain standard features, including Wifi, DVD players, stereo and PA systems and charging stations for your devices. The school buses, however, typically don't have these options and are less expensive. For additional amenities, such as an on-board bathroom, you'll typically pay a bit more.
When and where you are traveling—The cost of a charter bus is typically more in the winter months in Florida than the summer months (there's greater demand). The opposite generally holds true in Northern climates. You will also typically pay more for a charter bus on Friday, Saturday and Sunday than other days of the week.
How long you will be gone—For day trips, you'll either pay by the mile or by the hour (expect a minimum charge—usually five hours). For day trips, the most common way to bill is by the day. If you stay anywhere overnight, you can expect to pay the cost of lodging for your driver.
Whether there are any tolls, parking fees, permit charges or other expenses—You will be responsible for all such costs.

To get a better idea of the potential cost, use our online Cost Calculator.
Get the US Coachways Advantage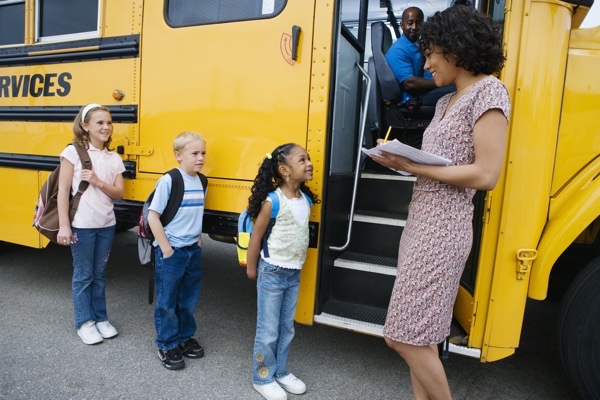 When you book a charter bus rental with US Coachways, you'll have the benefits of:
A dedicated service team, committed to meeting your specific needs—You'll have a single point of contact throughout your trip.
The US Coachways online Trip Management Portal—This cutting edge tool lets you view information about all prior trips on a single website, including invoices, contracts and other data.
Access to more than 2,000 charter buses across the country—We have the long-term vendor relationships to help you find the ideal vehicle for your group.
Our experience and flexibility—We have been industry leaders in the charter bus rental business for more than 30 years. Because of our strong relationships with a large network of charter bus service providers, we offer unmatched flexibility to our clients. Last-minute and real-time changes to your itinerary can often be accommodated, and entire trips can be booked with relatively little notice.
Full dispatch services 24/7
Our purchasing power—We book an average of more than $55 million in charter bus rentals every year. We have local market exposure and strong vendor loyalty that helps us get excellent pricing for our clients.
A GSA (General Services Administration) approved company—We are authorized to provide charter bus rental services to federal government agencies and entities, from FEMA and the FBI to the U.S. Marines and the Navy.
Book a Charter Bus for Your School Travel Today!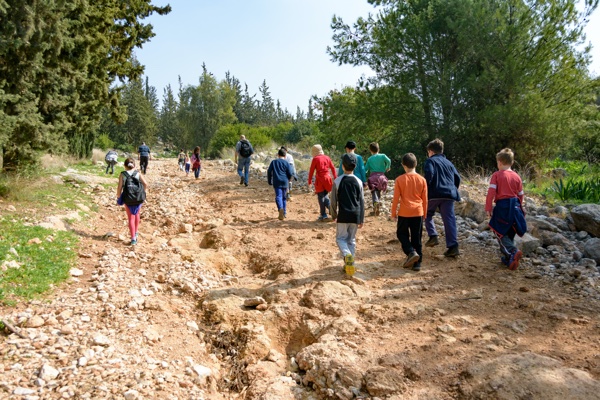 At US Coachways, we have decades of experience providing effective group travel solutions to school administrators and officials across the nation. To get a free quote on the cost of a charter bus rental for any school outing, go to our user-friendly online Cost Calculator. For answers to any questions you may have, or to learn more about the full scope of our services, call 1-855-287-2427 to speak with an experienced group travel consultant.