Visit the Gateway City in Safety and Comfort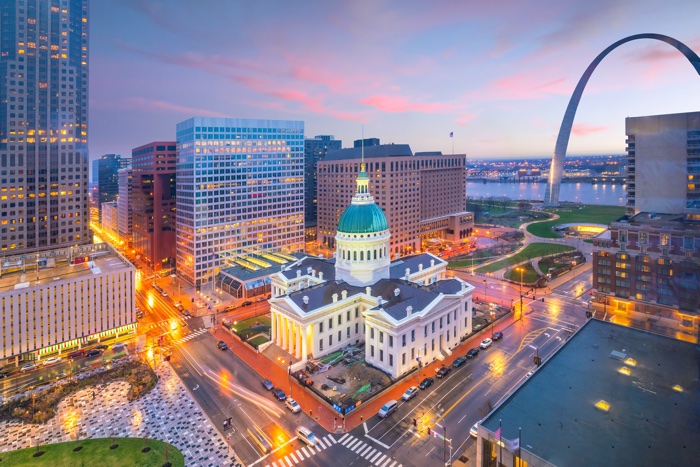 Downtown St. Louis
Looking for a fun and affordable place to take a group? Look no further than St. Louis, where you'll find a wide range of attractions, many of them free or relatively low cost. Visit the zoo, the city's art museum, the St. Louis Science Center and even the world-famous Gateway Arch and you can leave your money in your pocket—they're all free of charge! Those are just a few of the interesting and exciting things you can do in "St. Louie." It's a big city, though—the largest metro area in the state of Missouri. Don't spend your time there battling traffic or looking for a place to park. With a charter bus rental from US Coachways, you can have fun with everyone else while we handle the details.
Travel with Confidence with US Coachways
At US Coachways, we are the leading provider of charter bus rentals in the United States, booking more than 25,000 trips every year. For nearly four decades, we've consistently found effective ground transportation solutions for customers nationwide, specializing in short-notice bookings and trips involving complex logistics. We place a premium on reliability and safety, offering an unparalleled network of on-demand charter buses in hundreds of cities nationwide. With our highly intuitive, fast-connect online reservation system, you'll have access to an unmatched pool of hand-selected charter bus service providers.
For a free quote on the cost of a charter bus outing to St. Louis, go to our online Cost Calculator. Live chat us or call us at 1-855-287-2427 to speak with an experienced luxury travel consultant.
Make Your St. Louis Trip Memorable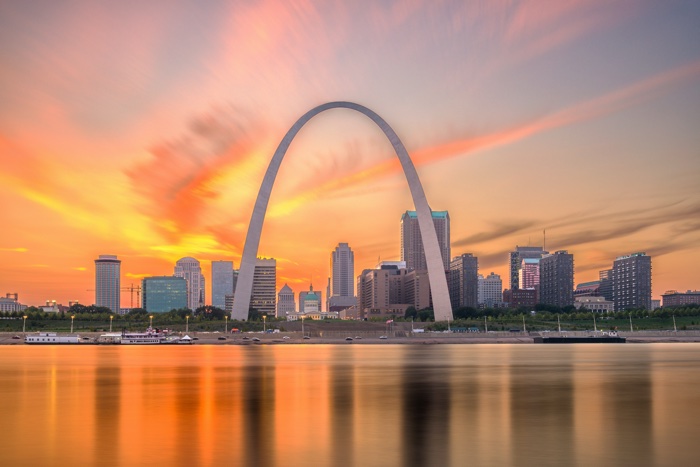 St. Louis, Missouri
Let your hair down and get ready to have a good time in STL:
Arts and culture

— Built in 1904 for the World's Fair in St. Louis, the city's art museum has a wide range of works from the great masters, from Renaissance paintings to Impressionist works, as well as an internationally revered collection of pre-Columbian art. It also boasts a large number of modern canvasses…and admission is free! The Grand Center arts and entertainment district offers the Contemporary Art Museum St. Louis, as well as the Pulitzer Arts Foundation, where you'll find paintings by Monet, Picasso and Warhol. St. Lou is also famous for its outdoor art—there are more than 80 sculptures in Laumeier Park alone, and 24 pieces in Citygarden, in the heart of the city.

There's almost always music somewhere in St. Louis…legend has it the devil made a deal with the city, granting it more artists, talent and tunes, on the condition that the city never let people know where the music came from! On any given week, you'll find literally hundreds of opportunities to enjoy live music spanning almost any conceivable musical genre. The National Blues Museum is here, offering more than 50 performances every week. There are also great jazz clubs, piano bars, folk clubs, hip hop and more, including music at many of the city's breweries and brew pubs. Symphony and opera buffs will also find world class music in St. Louis.

Amazing night life

— St. Louis really starts to come alive when the sun goes down. If you love sports, head over to Ballpark Village St. Louis, a huge sports-themed neighborhood near Busch Stadium. Washington Avenue, in the heart of downtown, was named one of the "10 Best Streets in America" a few years ago, with many of its clubs and eateries in restored buildings erected a hundred years ago. If you're looking for the young and hip crowd, and the music that comes with it, head over to Clayton, where you'll find a lot of recent college graduates, some great watering holes and trendy restaurants. There's a similar vibe in the Central West End, near Washington University.

World class beer

— Though many of the stalwarts of American brewing, including Budweiser, Busch and Natural Light, are among the more than 25 national brands of beer made in St. Louis, it's also one of the key players in the American craft beer movement. There are more than two dozen craft breweries in St. Louis, as well as a number of brew pubs. Many of the breweries offer guided tours, often with the opportunity to sample rare and experimental beers.

Fabulous food

— You've heard of St. Louis style ribs—flatter than baby back ribs, with a little more fat (enhancing the flavor). Get the real thing here. The locals also like to take a pork steak, put some barbeque sauce on it and grill it. There's St. Louis style pizza, a cracker-thin crust cut into squares, made with Provel cheese instead of mozzarella. Look for another St. Louis creation—gooey butter cake. Local lore says the confection came about in the 30s when a local baker accidentally mixed up ingredients for a traditional coffee cake. Gooey cake takes a standard coffee cake and puts a sweet, custard-like top layer on it. Another tasty treat you won't find anywhere else—the St. Paul Sandwich, found on nearly every Chinese menu in St. Louis. It's an egg foo young patty on two slices of white bread with lettuce, mayo, pickles and tomato. You can usually get it with chicken, shrimp, pork, beef or as a vegetarian entrée.

Superb shopping

— Retail aficionados will have plenty of places to feed their passion. In the downtown and midtown areas, you'll find a lot of boutiques, with one-of-a-kind items. The Colonial Marketplace in Clayton is the classic one-stop shopping center. The Central West End, University City and the North City area also offer a wide array of shopping experiences.
Enjoy the Benefits of a Charter Bus for Any Type of Travel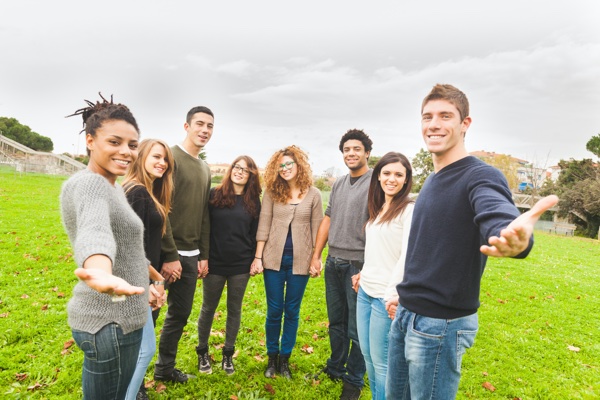 The features that make charter bus rentals so attractive—affordability, safety, flexibility, dependability, comfort and convenience—make it the smart choice for any excursion to St. Louis:
Family gatherings

— Reunions, weddings, rehearsal dinners, engagement parties, bar and bat mitzvahs, graduations, birthdays, anniversaries, retirement parties and even family vacations

Business and corporate travel

—Conventions, conferences, training sessions, team-building exercises, annual meetings, seminars, workshops, golf outings, employee volunteer projects, picnics and company celebrations

Senior citizen and retiree events

— Shopping trips, casino visits, museums, historical sites, plays and concerts, fall foliage tours

School outings

— Fan and athlete travel, band and orchestra festivals and concerts, club and class trips, cultural offerings, prom and graduation after-parties, sorority and fraternity events, student volunteer efforts

Church outreach

— Mission trips, faith-based conventions and conferences, choir tours, adult and youth fellowship opportunities, retreats, praise meetings and gatherings, local ministries, church camp travel

Special events

— Bowl games and championships, motor car races, professional and college sports, food and cultural festivals, marches and parades, public rallies, touring Broadway productions, stadium and pavilion concerts
The Right Bus Makes a Big Difference
Choosing a charter bus is just the first step toward a great outing. It's just as important to take the time to make sure you have the ideal bus for your group and your trip.
At US Coachways, we'll take the time to identify all the critical details of your trip—how many people you expect to attend, how long you'll be on the road, what you'll bring with you or take home, and any other special needs of your passengers. Then we'll consult with our huge nationwide system of charter bus vendors to find the coach that's just right for you.
If you're visiting St. Louis with a small-to-midsized group, you'll like the mini-bus, with a number of options seating anywhere from 24 to 35 passengers. For larger groups, there's the full-sized charter bus, with room for up to 57 passengers and a bathroom on the bus. Multiple coach rentals are always an option and ADA-compliant buses are customarily available.
With most charter buses (other than some school buses), you'll have high-back bucket seats, climate control, a great sound system and ample storage space as standard features. Other amenities, from Wifi and USB ports to public address systems, DVD players and monitors, hardwood floors and leather seats, may be available for an additional charge. Check with your booking agent.
Why You Want to Travel to St. Louis by Charter Bus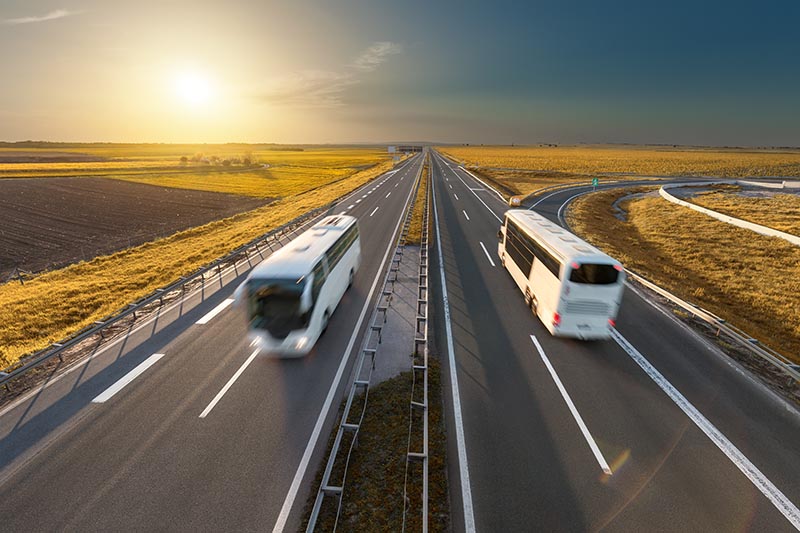 When you're taking a group somewhere, there are seemingly infinite details. Make it easier on yourself and make your participants happy with a charter bus rental from US Coachways. You'll have:
Dependable transportation

— Did you know that, on average, more than 850,000 air travelers arrive late somewhere every day? That doesn't happen with a charter bus. Your driver has the tools and resources to identify potential problems in advance and make alternate arrangements. In addition, it's usually not difficult to get a replacement bus, if necessary.

A cost-effective means of travel

— On a charter bus, you'll share most of the costs of travel with other passengers. That consistently makes charter bus travel one of the most affordable ways to take a group anywhere.

A safe and secure ride

— You'll have a skilled and trained professional behind the wheel at all times. In addition, you won't have to worry about uninvited guests on the bus—there's only one way on and off, so it's easy to monitor comings and goings.

More comfort than with any other mode of travel

— The seats are wide and you have more leg room than on any other type of transportation. There's no middle seat, either. You can get up and move about at any time, and you'll enjoy the spacious aisles.

Flexibility and control

— You decide when and where you want us to pick you up, where you want to stop, how often you want to stop, how long you want to stay and when you want to return.

A hassle-free trip

— You'll have someone else to handle the driving, check the GPS, look at the clock or try to find a place to park. You won't have to worry about a TSA security checkpoint—keep your shoes on and bring all your toiletries. You'll ride on the same bus throughout your trip and your bags will ride with you—no missed connections or lost luggage. There's no such thing as "bus mode" for your devices, either. You can stay online throughout your trip.

Less risk of sitting in traffic

— Take advantage of the HOV (high occupancy vehicle) lanes

More than just a means of transportation

— Many groups use the bus as a meeting space, and it's the ideal spot for a little quiet time during a busy trip

A way to help the planet

— When you share a ride with others on a charter bus, you'll take a number of private motor vehicles off the roads, helping lower carbon emissions
Book Your Charter Bus Outing to St. Louis Today!
When you set up a charter bus trip with US Coachways, you'll have the benefit of our 35+ years as leaders in the charter bus industry. To get a free quote on the cost of an excursion to the Gateway City, go to our convenient and easy-to-use online Cost Calculator. We will follow up with an estimate within minutes. To learn more about the full range of services we offer, or to ask any questions about charter bus rentals, live chat us or call 1-855-287-2427 to speak with an experienced luxury travel consultant.