Travel Like a Pro on a Charter Bus from US Coachways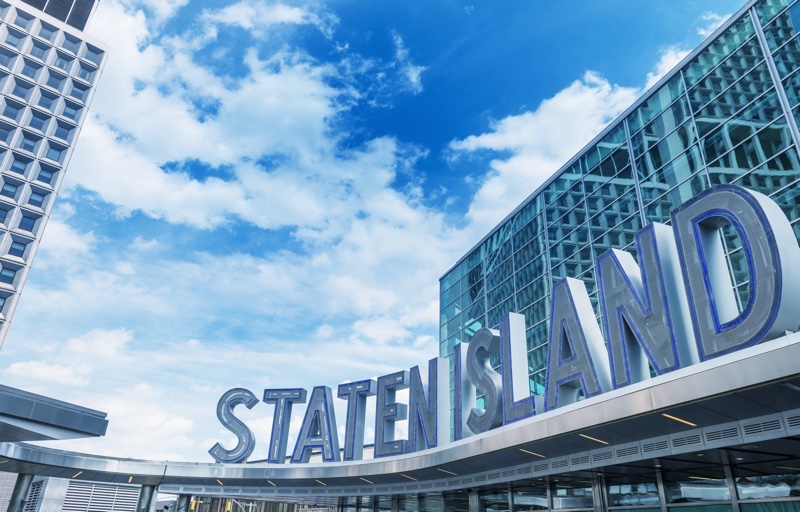 Staten Island ferry entrance in Lower Manhattan - NYC
Board a Charter Bus in Staten Island, New York, and Explore NYC
The Statue of Liberty…Ellis Island…Frank Lloyd Wright…Tibetan Art…some of the best seafood in the New York City metropolitan area. It's easy to have a great time in Staten Island. But you don't want the headaches that come with trying to go there on your own. There's an easy way to enjoy all Staten Island has to offer—in the comfort, luxury and convenience of a charter bus.
The Many Reasons to Choose Charter for Your Staten Island Outing
When you're putting together a group event, there are seemingly endless details that need to be addressed. None may be as important, though, as your choice of ground transportation. If there are challenges getting people there and back, people may forget all the other hard work you did. Here's why you want to make the smart decision and travel on a charter bus from US Coachways:
You'll be safe and secure

— With a skilled and professional driver behind the wheel, you won't have to worry about your safety on the road. In addition, because of the limited access to the bus, you can easily monitor who comes and goes, so you won't have any strangers on the bus.

You can tailor your trip to needs of your group

— With a charter bus, you decide when you'll leave, where you'll stop, how long you'll stay and when you'll return. In most instances, you can choose to stay a bit longer or leave a little early, or even book an entire trip with little advance notice.

You'll get to relax

— You won't have to jockey through traffic, check your GPS, keep your eyes on the time or try to find a place to park. Your driver will handle all those details. There's no TSA security checkpoint, so you won't have to stand in line, take off your shoes or leave your favorite shampoo at home. No worries about missed connections or lost luggage—you'll be on the same coach throughout your trip and your bags will travel with you. Your devices won't affect navigational systems, either. Stay connected with friends and family throughout your trip.

You'll be comfortable

— The seats are wide, with lots of leg room, and there's no middle seat! The aisles are spacious, too, and you can walk about at any time.

You'll get where you're going when you want to be there

— W ith most other forms of travel, you can usually expect delays or even cancellations…not with a charter bus. Your driver has the resources to anticipate road problems and find alternate routes to get you there on time. In addition, because of our long-term relationships with charter bus vendors nationwide, we can usually find a replacement coach, in the event of mechanical problems.

You'll get more travel for your money

— Because you share many of the costs of
travel with fellow passengers, you'll find charter bus travel to be extremely affordable

You can take advantage of the high occupancy vehicle (HOV) lanes

, always a benefit when you're traveling to Staten Island

You'll have more than just a way to get there

— Your bus is a great place for a group meeting, whether you're prepping employees for a conference, talking strategy before a game or warming up before a concert. It's also an ideal spot for a little peace and quiet in the middle of a hectic trip to Staten Island.

You'll be able to make a positive impact on the environment

— When you ride together on a charter bus, you take a number of private vehicles off the roads, lowering carbon emissions
At US Coachways, we have been leaders in the charter bus rental business for more than three decades. To get a free quote on the cost of an excursion to Staten Island, go to our online Cost Calculator. For more information about our services, or to get answers to any questions about charter bus rentals, call 1-855-287-2427 and speak with a travel consultant.
Have a Great Time in Staten Island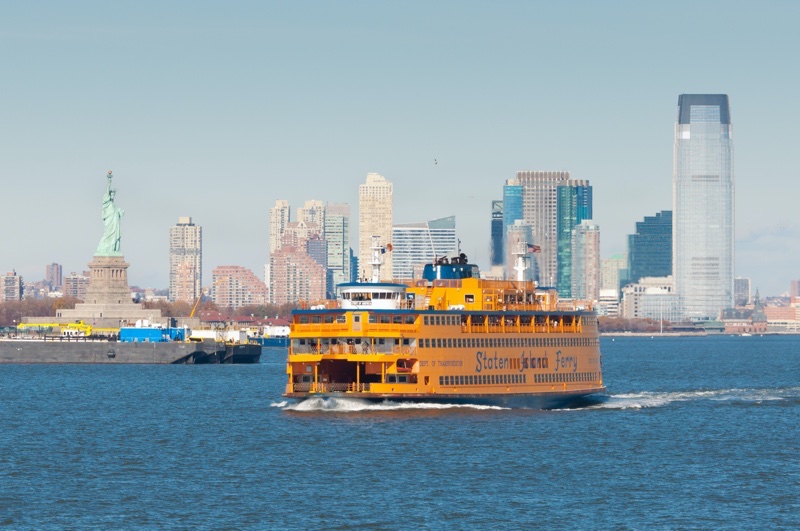 Staten Island Ferry
There's much to pique any interest in Staten Island:
Take the Staten Island Ferry

— This free ferry offers the best way to get a glimpse of the Statue of Liberty, as well as the NYC skyline. To get a good view on your way out, head upstairs and to the starboard (right) side of the ferry. For the best view of Lower Manhattan, go to the front of the ferry as you leave Staten Island.

Take in the history

—Visit Ellis Island, where an estimated 12 million immigrants passed through on their way to a new life in America. Learn about life in the 17th century at historic Richmond Town (Staten Island was in the Borough of Richmond until 1975). Step inside the Crimson Beech, also known as Cass House, designed by legendary architect Frank Lloyd Wright.

Have a great meal and a refreshing beverage

— Edible Manhattan has tabbed Staten Island as one of the next hot food and drink destinations in the New York City metropolitan area. You'll find some of the best seafood restaurants, with locally sourced oysters and other delicacies, as well as stunning views of the waterfront. The cultural diversity on Staten Island is evident in the culinary offerings, as well. You'll find more than 80 different types of cuisine, including Basque, Japanese fusion, Egyptian, Albanian, Sri Lankan, Ukrainian, Pakistani, Peruvian, Georgian and Nepali restaurants, just to name a few. Staten Island has been a beer-making center since its early days, when European settlers brought their brewing traditions to the new world. Today, you'll find nearly a dozen local brewers.

Enjoy world-class visual and performing arts

— Staten Island boasts the largest collection of Tibetan art in the Western Hemisphere. Visit the Jacques Marchais Museum of Tibetan Art to see the only structure in the United States built in the Himalayan Temple style. Staten Island also hosts Second Saturday, a year-round series that includes dance, music, theater and visual arts, with performances and exhibits in art schools, stores and even private homes. The Staten Island Museum, the borough's oldest cultural institution, has an extensive collection of art, from 19th Century paintings by local artists to ancient Egyptian sculpture and works by Renaissance masters. No need to head to Broadway—you'll find plenty of world-class live theater here. Check out the playbill at the historic St. George Theatre (built in 1929) on the North Shore. You'll also find live music at many of Staten Island's restaurants, bars and taverns.

Get some fresh air at the Staten Island Greenbelt

— With more than 2,500 acres of green space, including more than 30 miles of trails, the Staten Island Greenbelt is twice the size of Central Park.
Make Certain You Get the Right Coach
At US Coachways, we understand that there's more to a successful trip than just choosing a charter bus rental for your transportation. You need to take the extra step of ensuring that you have the right coach for your group and your trip.
When you book a trip to Staten Island with US Coachways, we'll take the time to learn the details of your event—how many participants you'll expect, where you'll be coming from, what you need to bring or want to take home, and any special needs of your passengers. Then we'll work closely with our national network of vendors to find the coach that best meets all your needs.
If you're on your way to Staten Island with a small-to-medium-sized group, the mini-bus is a great fit, with a number of choices, seating anywhere from 24 to 35 people. For larger groups, the full-sized bus is ideal, with accommodations for up to 57 and an on-board bathroom. You can always rent more than one bus, and ADA-accessible coaches are usually available
With most charter buses (except some of the school buses), certain amenities are standard, including high-back bucket seats, climate control, a high-quality sound system and plenty of storage. Other modern conveniences, such as Wifi, public address systems, DVD players and monitors, electrical outlets, leather seats and hardwood floors, may be available for an extra charge. Check with your booking agent.
The US Coachways Commitment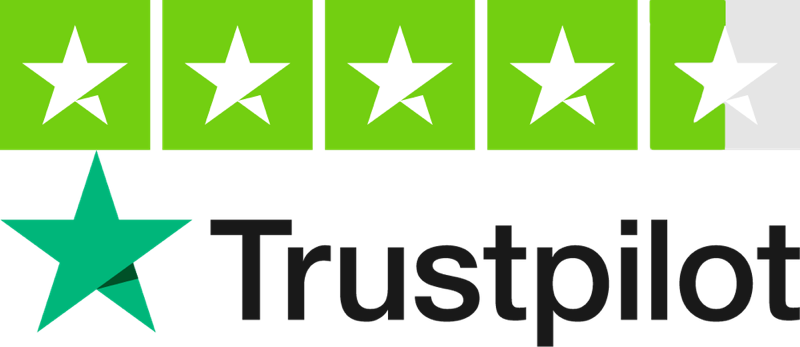 At US Coachways, we are constantly seeking new ways to improve our service and your satisfaction. When you book an outing with us, you can expect:
The best logistical support in the business

— From the selection of the ideal bus for your group to the determination of optimal sites and times for pickups and drop-offs, we pay close attention to all the details. We'll also keep an eye on road conditions, such as construction projects, that may impact your travel.

The use of our online Trip Management Portal

– This powerful tool lets you view invoices, itineraries and other information from all your US Coachways bookings in a single location

Comprehensive dispatch services, 24 hours a day, seven days a week,

with the capability to monitor and manage multiple locations simultaneously

Your own dedicated project management team,

with a single point of contact, available throughout your trip to respond to your needs and concerns

The flexibility

to make last-minute or real-time modifications to your itinerary, or to book an entire trip with short notice

The benefits of our purchasing power

— We set up, on average, more than $55 million in annual charter bus rentals. That gives us the vendor loyalty and local market knowledge to consistently get highly competitive pricing for our customers
US Coachways is also certified by the General Services Administration (GSA) to provide charter bus rentals to the United States government and its agencies, including the armed forces.
A Charter Bus—Ideal for Any Trip to Staten Island
The features that make charter bus travel so attractive—the dependability, comfort, affordability, safety, convenience and flexibility—make it a smart choice for any outing to Staten Island:
Business and corporate travel

— Conventions, seminars, workshops, conferences, sales and business meetings, training sessions, team-building exercises, employee volunteerism, golf outings, company picnics and holiday parties

Family outings

— Reunions, birthday parties, weddings, anniversary celebrations, rehearsal dinners, engagement parties, bar and bat mitzvahs, graduation open houses, retirement parties and family vacations

School travel

— Athlete and fan transportation, prom and graduation after-parties, club and class trips, cultural events, sorority and fraternity outings, band and orchestra festivals and concerts, student volunteer projects

Senior citizen and retiree trips

— Shopping sprees, casino nights, historical attractions and museums, Broadway shows and plays, concerts, fall color tours

Church travel

— Mission trips, faith-based conferences and conventions, retreats, church camp sessions, local volunteer projects, choir tours, adult and youth fellowship opportunities

Special events

— Bowl games and championships, professional and college sports, touring theatrical productions, motor car races, cultural and food festivals, public rallies, stadium and arena concerts
Make Your Charter Bus Reservation for Staten Island Today!
At US Coachways, we bring more than 30 years of experience in the charter bus rental business to groups and group leaders throughout the country. To get a free estimate on the cost of a trip to Staten Island, go to our easy-to-use online Cost Calculator. We send a quote within minutes. To get answers to any questions about charter bus travel, or to learn more about the many ways we can serve you, call 1-855-287-2427 and ask to speak with an experienced travel consultant.