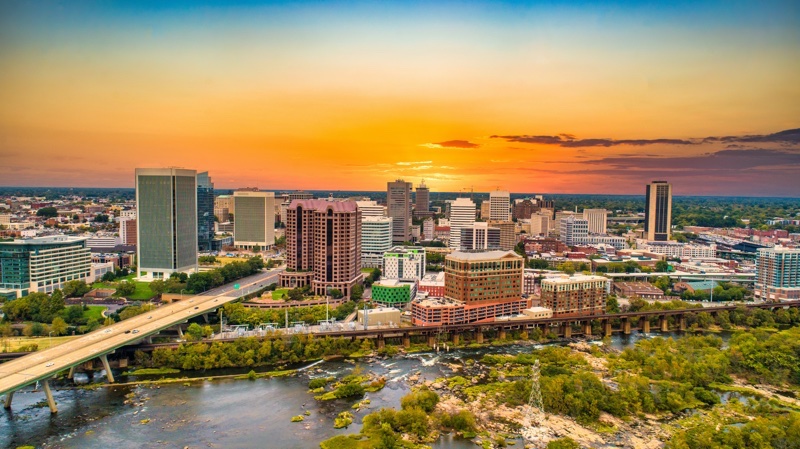 Come to the Old Dominion on a Charter Bus
A rich historical tradition…iconic foods…craft breweries and nationally renowned wineries…storied visual and performing arts venues…and the Virginia Shoreline. There's no end to the interesting and fun things to do and see in Virginia. Make it easy on everyone with a charter bus from US Coachways. Let us handle all the details.
When you book a charter bus for your travel to and from Virginia, you'll put a smile on everyone's face. Here's why:
You'll get where you want to go when you want to be there

– There's no more dependable mode of travel. Delays and cancellations are virtually nonexistent.

Your trip will be one of a kind

– With a charter bus, you decide when you'll leave, how long you'll be on the road, where you'll stop, how long you'll stay and when you'll return. There's no other mode of travel that offers that much flexibility.

You'll get more travel for your money

– Because you're sharing most of the costs of travel, charter buses are consistently one of the most affordable group travel options.

You'll be safe and secure

– You'll have a highly skilled and trained driver behind the wheel. There's also limited access to your coach, so you and your personal items will be secure.

You'll ride in comfort

– The seats are big, with more leg room than any other mode of travel. There's also no middle seat. The aisles are wide and you can move about at any time.

You'll have minimal stress

– You won't have to battle traffic, consult the GPS, look at your watch or try to find a place to park. Your driver will handle all those details.

You'll have less hassle

– There's no TSA security checkpoint, so you can keep your shoes on and bring all your toiletries. You'll be on the same bus at all times and your bags will travel with you—no missed connections or lost luggage. Your devices won't interfere with navigational systems, so you can stay connected at all times.

You can avoid many traffic problems

– You'll get to ride in the HOV (high occupancy vehicle) lanes.

You can help the environment

– When you ride with others on a charter bus, you reduce the number of private vehicles on the roads, lowering carbon emissions.
US Coachways—The Nationwide Leader in Charter Bus Rentals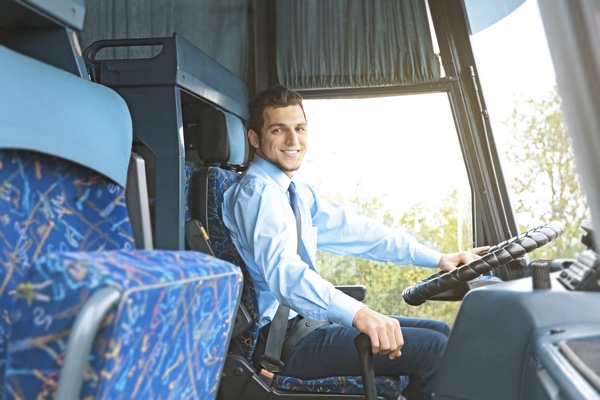 At US Coachways, we are the leading provider of charter bus rentals in the United States, booking more than 25,000 trips every year. For more than 35 years, we've successfully brought people to and from events, offering special expertise in short-notice bookings and trips involving complex logistics. We have built an extensive nationwide network of hand-picked charter bus vendors, so that our customers have a wide range of mini-bus and charter bus options in hundreds of American cities. We place a premium on safety and dependability, working hard to ensure that you get where you want to go when you want to be there.
To learn the potential cost of a charter bus trip to Virginia, go to our convenient online Cost Calculator. To speak with a dedicated luxury travel consultant, call us at 1-855-287-2427 or live chat with us.
Virginia Is for Everyone (Lovers Included!)
As much as any state in the country, Virginia offers a wide array of attractions to pique the interests of any visitor:
Historical sites

— One of the original 13 colonies, Virginia has preserved much of its colonial heritage. Visit colonial Williamsburg or take a tour of Monticello (Thomas Jefferson's home) or George Washington's residence at Mount Vernon. Step back even further in time to Historic Jamestown(e), the first permanent English settlement on the North American continent, established in 1607. Take in the artifacts at the American Revolution Museum at Yorktown, or visit the Hanover Courthouse, built in 1735. Virginia was also one of the primary battlegrounds of the American Civil War—there are more than 270 monuments from the War Between the States here. Many of the conflict's most famous battles—Manassas, Fredericksburg, Spotsylvania—were fought here and can be toured. Visit the courthouse in Appomattox, where General Robert E. Lee signed the official surrender documents. The White House of the Confederacy was also here, in Richmond—daily guided tours are available.

Virginia Beach and the Shore

— You won't find a more beautiful and welcoming shoreline along the Atlantic Ocean. Stroll along the boardwalk in Virginia Beach, where you can check out the Oceanside bars and restaurants, as well as a number of one-of-a-kind shopping venues. You'll also find a number of quiet beaches where you can relax, as well as wildlife refuges. Visit the Virginia Aquarium and Marine Science Center or see the wonders at the Military Aviation Museum.

Iconic foods

— Though there's a large dollop of Southern tradition in the cuisine in Virginia, there are also a number of unique offerings that originated and are still best enjoyed here. The Virginia ham (also known as the "Smithfield ham"), is cut from razorback hogs who are fed only peanuts and peaches, producing a characteristically sweet meat. Virginia has its own version of barbeque, with a vinegar-based sauce along the Atlantic coast and a little more tomato as you head inland. The Mennonites in Rockingham County invented marble cake and it's still available there. Shoofly pie, with a dark molasses base, is another local confection and Brunswick Stew is native to Virginia as well. The seafood found in the Atlantic is typically flavored with Old Bay, which comes from spices historically grown and used in the Chesapeake area.

Fermented beverages

— Virginia ranks in the top ten American states for wine grape production and the state is known for a wide assortment of varietals, including Merlot, Cabernet, Chardonnay and Riesling wines. The Old Dominion state is also home to more than 200 breweries.

Music and the arts

— Virginia has a long history of producing world-renowned musicians, particularly in the bluegrass, country and old-time genres—think Patsy Cline, the Stanley Brothers, Mother Maybelle Carter and the Carter Family and the Statlers. You'll find a wide array of famous live music venues, from Wolf Trap (in Vienna) to the Virginia Beach Amphitheater and the Birchmere, in Alexandria. There are also many cozy clubs and similar venues, where you can find just about any kind of music. Many small towns still have bluegrass jam sessions at the local drugstore or diner on Saturday night.

Patrons of live theater will find top-notch productions throughout the state, from the American Shakespeare Center in Staunton to the Barter (Abingdon), the Ferguson (Newport News) and Theatre IV (Richmond). The nation's first dinner theater, the Barksdale, is here and still going strong.

The Virginia Museum of Fine Arts boasts the largest collection of Faberge eggs outside of Russia. Other highly-regarded art museums include the Chrysler (Norfolk), the Piedmont Arts Association (Martinsville) and the Taubman Museum of Art (Roanoke).

The Old Dominion state also hosts a staggering number of festivals every year, from local county fairs to the Virginia State Fair, held at the Richmond International Speedway. The Shenandoah Apple Blossom Festival features food, parades and lots of bluegrass music. The National Folk Festival has been here on many occasions, and the Old Time Fiddlers' Convention is held in Galax every year.
We'll Help You Find the Best Coach for Your Group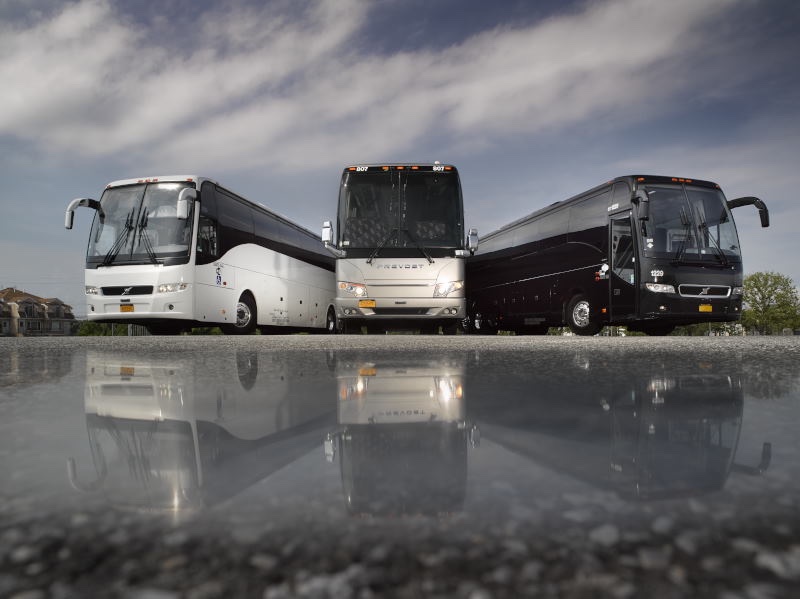 Simply choosing to travel by charter bus brings benefits you won't find with many other modes of travel. But it's important to take the time to make certain you have the ideal bus for your group and your trip. We'll take care of that for you.
At US Coachways, we'll learn as much as we can about your event—how many people plan to attend, what you'll need to bring or want to take home, how long you'll be on the road, and any other special needs of your participants. Then we'll reach out to our vast network of charter bus service providers across the country, looking for the best fit for you and your group.
If you're planning to visit Virginia with a smaller group, the mini-bus is a great fit, with accommodations for 24 to 35 passengers. For larger groups, you'll want the full-sized charter bus, which seats up to 57 and offers an on-board bathroom. You can always rent multiple buses and ADA-compliant coaches are typically available.
You'll find climate control, high-back bucket seats, a great sound system and plenty of storage space on every charter bus (except for some school buses). Other modern conveniences, such as Wifi, DVD players and monitors, electrical outlets and USB ports, public address systems, leather seats and hardwood floors, may also be available for an additional charge. Check with your booking agent.
A Charter Bus—Ideal for Any Trip to Virginia
Regardless of the reason you're going to Virginia, a charter bus will make your trip better. The dependability, comfort, flexibility, safety, affordability and convenience it affords make it a great choice for:
Business and corporate events

— Annual meetings, conventions, conferences, seminars, workshops, training sessions, team-building exercises, sales and business meetings, employee volunteer outings, golf tournaments, picnics and company celebrations.

School travel

— Band and orchestra festivals and concerts, athletic competition and team travel, club and class trips, cultural offerings, prom and graduation after-parties, student volunteer projects, sorority and fraternity outings.

Family gatherings

— Reunions, weddings, engagement parties, rehearsal dinners, birthday and anniversary parties, graduations, bar and bat mitzvahs, retirement parties and even family vacations.

Church ministries

— Mission trips, retreats, faith-based conferences and conventions, choir tours, youth and adult fellowship events, local outreach, praise gatherings, and church camp sessions.

Senior citizen and elder travel

— Concerts and plays, museums, historical attractions, shopping trips, casino visits and fall foliage tours.

Once-in-a-lifetime events

— Touring Broadway shows, stadium and arena concerts, bowl games and championships, professional and college sports, food and cultural festivals, motor car races, winery tours and public rallies.
The US Coachways Edge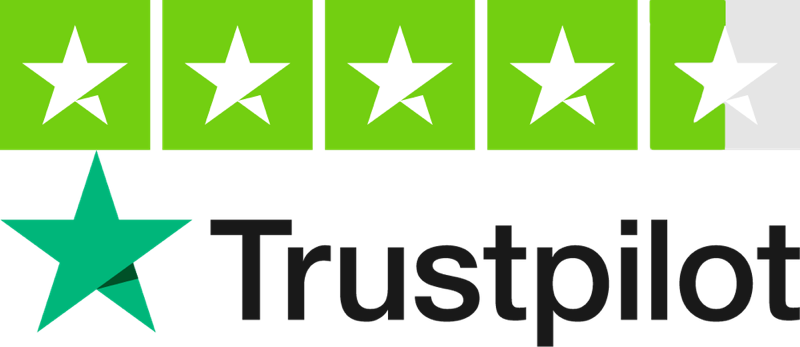 We've stayed at the forefront of the charter bus industry for more than three decades, always looking for new and better ways to serve our customers. When you rent a charter bus from US Coachways, you'll get:
Your own dedicated project management team, with a single contact person, ready and able to address your concerns at any time.
Unrivaled logistical support, from the selection of the right bus for your group and your trip, to the determination of optimal locations and times for picking up and dropping off your attendees. We'll also use our Bus Route Analysis system to monitor the roads, so that we can proactively respond to accidents, construction and other road conditions.
Full dispatch services, 24 hours a day, seven days a week, with the resources and tools to handle multiple pick-up and drop-off locations simultaneously.
Highly competitive pricing—We set up, on average, more than $55 million in charter bus rentals every year, working with charter bus service providers across the country. That gives us the vendor allegiances and the local market knowledge to help you consistently get more for your travel dollar.
Flexibility—Because we have access to charter bus vendors in hundreds of cities nationwide, we can usually accommodate last-minute or real-time changes to your travel schedule, or even book an entire trip with short notice.
We are certified by the General Services Administration (GSA) to provide charter bus rentals to the United States government and its agencies, including the military.
Book Your Charter Bus Excursion to Virginia Today!
At US Coachways, we bring more than 35 years of charter bus rental experience to individuals, businesses, groups and group leaders throughout the nation. To get a free estimate of the cost of a trip to the Old Dominion, go to our intuitive, fast-connect online Cost Calculator. We'll send a quote within minutes. To learn more about the ways we can help you with group travel, or to ask any questions about charter bus rentals, call 1-855-287-2427 and ask to speak with an experienced luxury travel consultant.