Travel to Westchester County in Comfort, Luxury and Convenience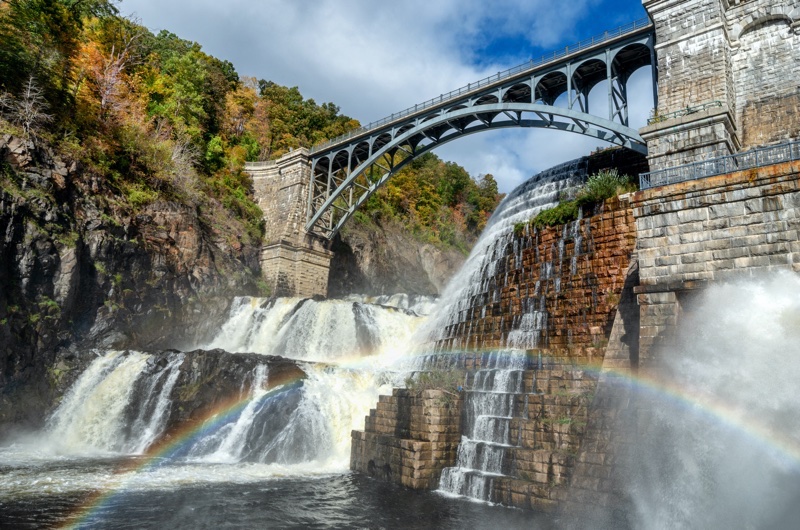 New Croton Dam, Westchester NY
Located on the shore of Long Island Sound, north of the New York City metropolitan area, Westchester (the name commonly given to Westchester County) is one of America's oldest inhabited areas, with Europeans first visiting the area just a decade after the death of William Shakespeare and with the first settlers landing here in the 1620s. Much of that rich history has been preserved here, but there's plenty here to appeal to a broad array of interests—arts and culture, amazing food, world-class shopping and plenty of outdoor options.
Westchester's a large area—you don't want to spend most of your time there behind the wheel of a car. There's a better way to go—in the safety, affordability and style of a charter bus from US Coachways.
The Many Reasons to See Westchester on a Charter Bus
If you're in charge of organizing a group trip to Westchester, you know there are endless details to be addressed. None, however, may be as important as your choice of ground transportation. When your attendees have difficulties on the road, they can quickly forget about the great time they had in Westchester. With a charter bus rental from US Coachways, you'll have:
Dependability

— With other forms of travel, delays and cancellations are fairly common. For example, an average of 40% of all air travelers arrive late somewhere every day! Not with a charter bus…your driver has the tools and resources to anticipate traffic problems and find alternate routes. In addition, because of our vast network of charter bus vendors across the country, it's usually easy for us to find a replacement coach.

Flexibility

— There's no other mode of travel that lets you decide when you'll leave, where you'll depart, when you'll stop, how long you'll stay and when you'll come back. In most situations, you can even make changes midstream.

Affordability

— On a charter bus, you share most of the costs of travel with your fellow passengers. That consistently makes it one of the most cost-effective ways to travel.

Convenience

— All those things that make travel a hassle? You won't have to worry about them with a charter bus. You won't have to consult your GPS, check the time, look for a place to park or battle traffic. There's no TSA security checkpoint, so you won't be waiting in line, taking off your shoes or tossing your shampoo. You'll ride on the same coach throughout your trip and your luggage will always be with you—no missed connections or lost bags. Your devices won't affect navigational systems, so you won't have to put your phone on "bus mode."

Safety and security

— With highly skilled and trained professionals at the wheel, charter buses are one of the most accident-free ways to travel. In addition, because of the limited access to your bus, it's easy to monitor who comes and goes. You and your personal items will be safe and secure.

Comfort

— The seats are bigger than on any other mode of travel and there's more leg room. In addition, there's no middle seat! The aisles are wide and you can walk about at your leisure.

Access to the HOV lanes

— On a charter bus, you can travel in the high occupancy vehicle lanes, minimizing the risk of getting stuck in traffic.

More than just a way to get there and back

— Your coach is a great place for a group meeting or to get some alone time in the middle of a busy trip to Westchester.

A positive impact on the environment

— A charter bus helps you help the planet, taking a number of private vehicles off the roads, lowering carbon emissions.
At US Coachways, we have been leaders in the charter bus rental industry for more than 30 years. Go to our online Cost Calculator to get a free quote on the cost of a trip to Westchester. Call us at 1-855-287-2427 to get answers to any questions about charter bus rentals or to learn more about the ways we can help you.
Some of the Many Ways to Have a Great Time in Westchester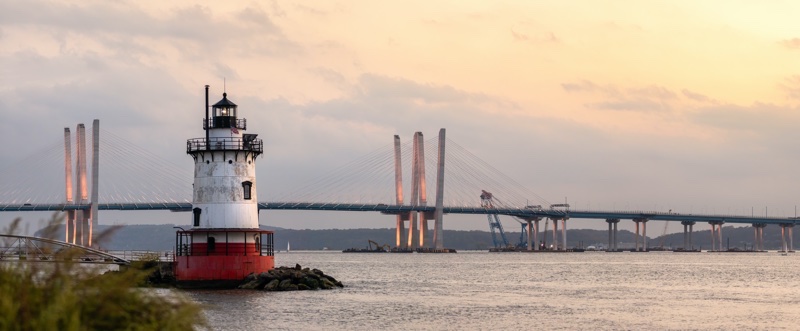 Tarrytown Lighthouse on the Hudson River in Westchester
The residents of Westchester are proud of the area's historical legacy and have dozens of sites on the National Historic Register:
Tour some of Westchester's historic homes, from the Timothy Knapp House, built in the latter part of the 17th century (the oldest standing building in the county) to the Leland Castle, in New Rochelle and Lyndhurst, in Tarrytown.
Visit the site of the Battle of White Plains, where General George Washington commanded troops in a key skirmish in late October, 1776.
Check out the dozens of historical sites and monuments, including storied Sing Sing Prison, as well as the Old Dutch Church of Sleepy Hollow (featured in the Washington Irving story).
Stop by the Thomas Paine Memorial Museum, dedicated to preserving the legacy of the founding father who authored Common Sense, or visit the Hudson River Museum, in Yonkers, where you'll find artifacts documenting the early days of Westchester.
Westchester offers plenty for patrons of the performing and visual arts.
Concert-goers have many choices, from the Westchester Philharmonic and the Westchester Jazz Orchestra to the Caramoor Center for Music and the Arts. Opera fans have multiple options, as well, including the Westchester Hudson Opera Company and New Camarata Opera. The Tarrytown Music Hall and the Capitol Theatre bring in renowned popular musical arts from a wide range of genres.
The Westchester Premier Theater, in Elmsford, offers Broadway shows and the Emelin, a more intimate venue, sponsors a wide range of theatrical productions. Other popular theater groups include the Hudson Stage Company and Play Group Theatre.
Patrons of the visual arts will want to visit the Katonah Museum of Art, which offers continually changing exhibitions in a range of mediums, or the Neuberger, which includes a number of 20th century masters among its more than 6,000 works of art.
Bring your appetite and your thirst to Westchester, as it's home to great food and outstanding craft beverages:
Not surprisingly, with the proximity of Long Island Sound and the Atlantic Ocean, there's seafood galore throughout Westchester. For a local legend, go to Gus's, in Franklin Park, where they've satisfied diners for more than 80 years.
With the proximity of the fertile Hudson River Valley, Westchester is also at the forefront of the farm-to-table eating experience.
Like most of the surrounding communities, Westchester is a true melting pot. Look for a wide range of ethnic cuisine, including Armenian, Persian, Nepali, Columbian, Turkish and Tibetan, as well as a healthy dose of Italian.
Craft beer fans will find dozens of places to slake their thirst, from Sing Sing Kill Brewery to the Croton Tapsmith, Captain Lawrence Brewing and Wolf and Warrior Brewing Company
There's also ample opportunity for retail therapy in Westchester
Mall fans will find plenty at the Galleria White Plains, the Westchester and Cross County Shopping
For boutique and specialty shopping, head to one of Westchester's many downtowns, from Bronxville to Katonah, from Mount Kisco to Pleasantville, Rye, Port Chester, Scarsdale or Larchmont
The Right Bus Can Make All the Difference!

Choosing to travel by charter bus is just the first step toward a successful outing. It's also important to take the time to make certain you have a coach that's well-suited for your group and your trip.
At US Coachways, we'll take the time to learn the specific details of your excursion—the size of your group, how long you'll be on the road, any special items you'll want to bring or take home, or any other unique needs of your participants. Then we'll go to our extensive network of charter bus vendors nationwide to find the coach that best meets your needs.
For a trip to Westchester with a small-to-medium-sized group, we recommend the mini-bus. It comes in a number of different sizes, seating anywhere from 24 to 35 comfortably. For larger groups, the full-sized bus is a great fit, with accommodations for up to 57 passengers and an on-board restroom. Multiple bus rentals are always an option and ADA-accessible coaches can be booked.
Most charter buses (other than some school buses) come with certain basic amenities, including spacious high-back bucket seats, climate control, a great sound system and ample storage space. Other conveniences may be available as well, for an additional premium, including Wifi, electrical outlets, public address systems, DVD players and monitors, leather seats and hardwood floors. Check with your booking agent.
A Charter Bus—Ideal for Any Excursion to Westchester
The reliability, comfort, affordability, convenience, safety and flexibility of a charter bus make it a great decision for any type of outing:
Business and corporate events

— Conventions, conferences, workshops, seminars, trainings, team-building exercises, sales and business meetings, employee volunteer efforts, golf outings, company picnics and holiday parties

School travel

— Club and class trips, cultural events, fan and athlete transportation, band and orchestra festivals, student volunteer projects, prom and graduation after-parties, sorority and fraternity outings

Family affairs

— Reunions, holiday celebrations, graduations, weddings, rehearsal dinners, engagement parties, bar and bat mitzvahs, birthdays, anniversaries and retirement celebrations

Church outreach

— Mission trips, retreats, church camp meetings and sessions, local ministries, adult and youth fellowship opportunities, faith-based conferences and conventions, choir tours

Senior citizen and retiree travel

— Shopping trips, museums and historical sites, touring theatrical productions, symphony and pop concerts, fall foliage and holiday light tours

Once-in-a-lifetime events

— Bowl games and championships, college and professional sports, food and cultural festivals, motor car races, public rallies, brewery and winery tours, stadium and arena concerts
The US Coachways Advantage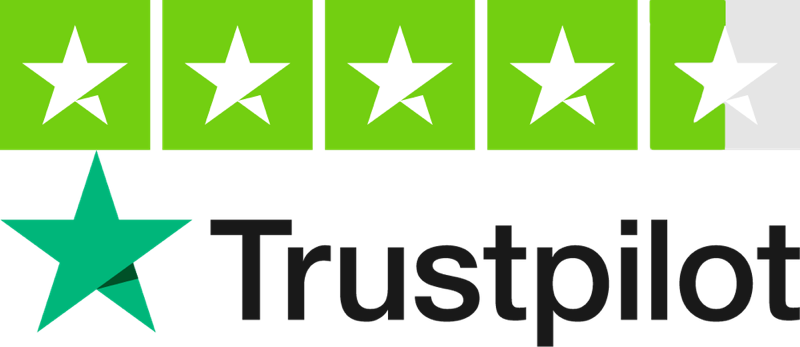 We take a simple approach at US Coachways—to provide customer service and satisfaction unmatched in the industry. For that reason, we are always working to find new and better ways to meet your needs. When you book a trip with us, you'll get:
Comprehensive dispatch services around the clock, seven days a week—We have the capability to manage multiple locations simultaneously.
The best logistical support in the business—From the careful selection of the ideal bus to the determination of optimal pickup and drop-off times and locations, we'll pay close attention to the details. We'll also monitor road conditions for accidents, construction and other factors that might affect your travel.
Your own, dedicated project management team, with one person designated as your contact point, ready and able to respond to your needs 24/7.
The use of our powerful online Trip Management Portal, where you can look at invoices, itineraries and other information from all your US Coachways trips on a single website.
The flexibility to modify your travel plans—Because of our longstanding relationships with charter bus service providers nationwide, we can typically make last-minute or real-time changes to your itinerary without difficulty. In many situations, we can book an entire trip with short notice.
Highly competitive pricing—At US Coachways, we set up, on average, more than $55 million in charter bus trips every year. That means we have the vendor loyalty and knowledge of local markets to consistently get more for your travel dollar.
We are also certified by the General Services Administration (GSA) to provide charter bus rentals to the United States government and its agencies, including the military.
Book Your Charter Bus Trip to Westchester Today!
At US Coachways, we bring more than three decades of experience in the charter bus rental business to individuals, businesses, groups and group leaders nationwide. For a free estimate on the cost of an outing to Westchester, go to our user-friendly online Cost Calculator. We'll send you a quote within minutes. To learn more about the full range of services we offer or to ask any questions about charter bus rentals, call 1-855-287-2427 and speak with an experienced travel consultant.