Travel to this Charming Twin City in Comfort, Luxury and Style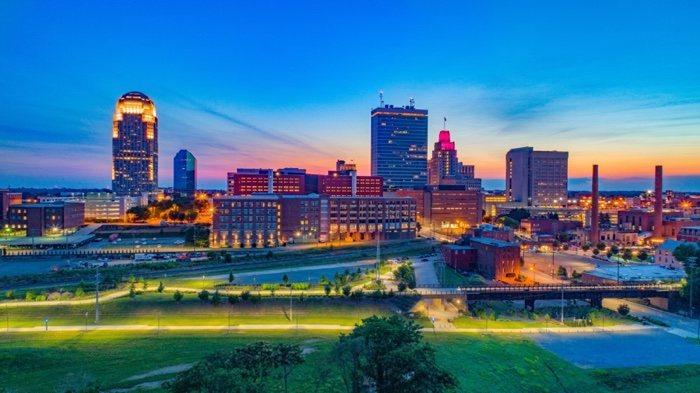 Downtown Winston-Salem North Carolina
If you're looking for old world charm in a bustling modern town, come to Winston-Salem. There's an energetic vibe here—the city has long been at the cutting edge of bluegrass, Appalachian and Americana music, and it's now one of the leaders in the North Carolina craft beer movement. But there's a rich history here as well, as evidenced by the Moravian Culinary Trail and many showcases for black art and culture. A city steeped in art and innovation, Winston-Salem will captivate you.
But don't turn a pleasurable trip into a lot of work—come to Winston-Salem the easy way—in the safety, affordability and convenience of a charter bus from US Coachways.
At US Coachways, we have been bringing people and events together for nearly four decades. We're the largest charter bus provider in the United States, booking more than 25,000 trips every year. Over the past 35+ years, we've built and cultivated an extensive network of premier charter bus and minibus ground transportation service providers in hundreds of cities across the country, ensuring our customers a wide range of charter bus options. We place a premium on safety and reliability, and offer special expertise in short-notice bookings and charter bus excursions requiring complex logistics. For a free quote on the cost of a charter bus trip to Winston-Salem or to fast-connect with a dedicated luxury travel consultant, go to our user-friendly online Cost Calculator. To get answers to any questions about charter bus travel or to find out the many ways we can assist you with group travel, live chat or call us at 1-855-287-2427.
The US Coachways Difference
At US Coachways, we are constantly looking for new and better ways to make your charter bus trip better. When you book an outing with us, you can expect:
Professional dispatch services 24 hours a day, seven days a week, with the ability to manage numerous pick up and drop off sites at the same time
The most comprehensive logistical support in the business, from the selection of the ideal bus for your group to the determination of optimal times and locations for picking up and dropping off participants. We'll also use our Bus Route Analysis system to monitor traffic patterns in real-time, so that we are aware of construction, roadblocks and accidents that interfere with your travel.
Your own dedicated project management team, with a single point of contact at all times, ready and able to promptly address your needs and concerns
The flexibility to make last-minute and real-time modifications to your travel plans. In most instances, we can book an entire event with little notice.
The benefit of our purchasing power—Because we book, on average, more than $55 million in charter bus trips every year, our vendors are extremely loyal and consistently offer us highly competitive pricing.
US Coachways is also certified by the General Services Administration (GSA) to provide charter bus rental services to the federal government and its entities, including the U.S. military.
There's a Lot to Do and See in Winston-Salem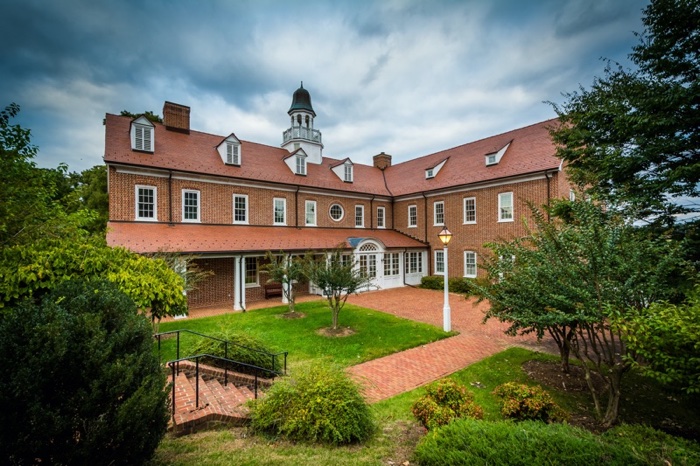 Salem College, in Winston-Salem, North Carolina
Enjoy tasty food and beverages along the Historic Moravian Culinary Trail

— Moravians first settled in what is now Winston-Salem in 1753 and the Moravian traditions have been carefully preserved. On the Moravian Culinary Trail, you can choose the sweet path, where you'll get to sample the famous whisper-thin Moravian cookies and the rich, buttery sugar cake. There's also a savory path, where you have plenty of chances to try a Moravian chicken pie. Can't make up your mind? Take both paths. You can even wash it down with Foothills Brewing's People's Moravian Porter. But the culinary landscape in Winston-Salem offers more than Moravian—you'll find a wide array of great eateries, offering everything from barbeque to Belgian, soul food to sushi, Spanish and Szechuan.

Visit the wineries of the Yadkin Valley

— Nestled along the front range of the Blue Ridge Mountains, the Yadkin Valley, just west of Winston-Salem, boasts more than 45 vineyards and wineries. The soil and climate here are considered ideal for the vinifera grape, the preferred wine grape. Many of the wineries have regularly scheduled events, which can include live music, food trucks and, of course, tastings.

Steep yourself in Winston-Salem's rich black heritage

— The city is nationally recognized as a center of black culture. Winston-Salem State University, the nation's first African-American institution to offer degrees in elementary education, opened here in 1892. The Diggs Gallery, on the campus of WSSU, is considered by many to be among the top 10 African-American art institutes in the country. The Delta Fine Arts Center and the Reynolda House Museum of American Art also have powerful collections. Take in a production by the North Carolina Black Repertory Company, visit the Old Salem Museum and Gardens, or walk the African American Heritage Group Tour. The National Black Theatre Festival, started in 1989, returns to the city in the summer of every odd-numbered calendar year.

Quaff a cold craft brew

— Home to the first microbrewery ever opened in North Carolina, Winston-Salem hasn't looked back. There's even a monthly "beer school," where you can go to learn about malts, hops, yeast and all things beer-related. To pass your "final exam," you'll have to blind taste a number of local brews. Many of the breweries welcome food trucks and there's often music on weekend nights. You can even queue up for some yoga at Foothills Brewing, from 11 am until noon every Saturday morning.

Listen to a wide range of musical offerings

— There's no shortage of classical music in Winston-Salem, from the Piedmont Opera to the Winston-Salem Symphony. You'll also find a wide range of musical performances available at the University of North Carolina School of the Arts. Head downtown to the RamKat (formerly Ziggy's), where Dave Matthews and Hootie and the Blowfish got their starts. On any given night, though, you'll find almost any musical genre emanating from one of the clubs and venues in Winston-Salem—jazz, hip-hop, bluegrass, pop and rock.

Experience a diverse retail environment

— Visit Reynolda Village, one of the most unique shopping venues you'll ever find. It occupies the dairy barn and cottages of the working Reynolds family estate. For artisanal shops, antique emporiums and one-of-a-kind craftspeople, check out the downtown arts district. If the mall experience is more to your taste, head over to Hanes Mall, with more than 200 stores, or the Thruway Center, one of the oldest malls in North Carolina.
Choose Charter for Any Travel to Winston-Salem
The many attractive features of a charter bus make it a smart choice for any outing:
Business and company events

— Conventions, conferences, training sessions, workshops, seminars, sales and business meetings, team-building exercises, employee volunteer efforts, golf outings, picnics and holiday parties

School trips

— Fan and athlete travel, band and orchestra festivals, student volunteer projects, graduation and prom after-parties, club and class trips, fraternity and sorority events, cultural offerings

Family celebrations

— Reunions, birthdays, anniversaries, weddings, rehearsal dinners, engagement parties, retirement events, graduations, bar and bat mitzvahs, and even family vacations

Senior citizen and retiree outings

— Shopping trips, casino visits, museums and historical sites, plays and concerts, fall foliage tours

Church travel

— Mission trips, retreats, church camp sessions, local volunteer work, choir tours, faith-based conferences and conventions, adult and youth fellowship, praise gatherings

Special events

— Stadium and arena concerts, touring Broadway shows, food and cultural festivals, bowl games and championships, professional and college sports, motor car races, winery tours, large public rallies
We'll Help You Find the Right Coach

You've taken the first critical step to having a successful trip to Winston-Salem—you've decided to travel by charter bus. But it's just as important to take the time to make sure you have the right bus for your group and your trip.
At US Coachways, we'll listen carefully to learn the important details of your outing—how many people are coming, how far you'll be travelling, what you'll need to bring and want to take home, and other special needs of your participants. Then we'll work closely with our extensive network of charter bus vendors across the country to find the ideal coach.
If you're going to Winston-Salem with a small-to-medium-sized group, you'll like the mini-bus, with seating for anywhere from 24 to 35 people. For a larger group, you'll want the full-sized charter bus, with accommodations for up to 57 and a bathroom on-board. Multiple coach rentals are usually an option and ADA-compliant vehicles are typically available.
Most modern charter buses (other than some school buses) come equipped with climate control, high-back bucket seats, a great sound system and plenty of room for personal items. Additional amenities, such as Wifi, charging stations, DVD players and monitors, P.A. systems, hardwood floors and leather seats, may also be an option. Check with your booking agent.
Book with Confidence with US Coachways
When you set up a charter bus excursion with US Coachways, you'll ride easy, knowing that:
Your safety is our first priority—To maximize your safety and well-being, we

Require that all coaches used by our vendors go through a detailed inspection to ensure compliance with our rigorous maintenance standards and earn our Gold Star of Approval
Require that all of our employees complete extensive training in Department of Transportation rules and regulations
Require that all Automotive Techs working on any bus we use have earned the Blue Seal of Excellence from the National Institute for Automotive Safety
Use Carrier411, the nation's leading carrier monitoring service, to ensure compliance with DOT rules and regulations

We have the technology to maximize your customer experience—You'll appreciate

Our fast-connect Trip Management Portal lets you view itineraries, invoices and other information from all your US Coachways trips in one location, and allows you to track reservations, make payments or request changes from a desktop or mobile device
Our Bus Route Analysis tool, which offers real-time data about traffic patterns, accidents and roadblocks, so that we can anticipate roadway problems and find alternate routes to get you to your destination on time
The modern amenities available on most charter buses, including SmartDrive, Wifi, USB ports, high-tech 2-way radios, on-board video monitoring, DVD players and flat screen televisions.

You'll have options—We work with a vast network of charter bus vendors nationwide, ensuring that:

You have access to an unmatched fleet of coaches when you need one
You have consistent access to highly competitive pricing
You have access to charter bus service providers in more than 100 hubs, with over 5,000 available vehicles, so that you can book an entire trip with short notice
Make Your Reservations Today for a Charter Bus Trip to Winston-Salem
When you book your charter bus rental with US Coachways, you'll have the benefit of our 35+ years in the business. To get a free estimate on the cost of an outing to Winston-Salem, use our convenient online Cost Calculator. We'll send a quote within minutes. For more information about the full range of services we provide, or to ask any questions about charter bus rentals, call 1-855-287-2427 and ask to speak with an experienced luxury travel consultant.