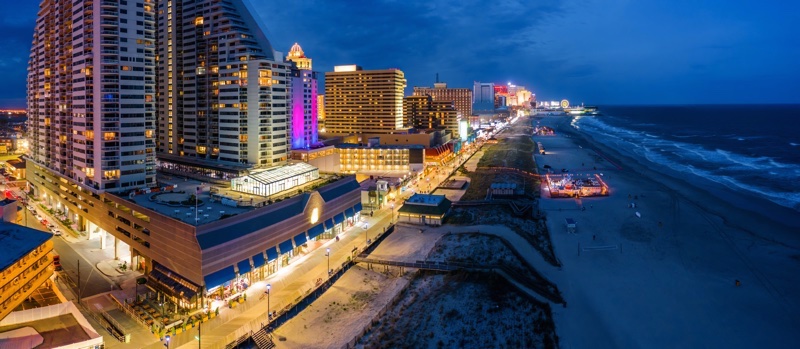 Come to the World's Famous Playground in Luxury and Convenience
You have a group of friends and family and you want to go somewhere and have some fun! There's no better place to go than Atlantic City, where there's endless entertainment 24/7, 365 days a year. It's truly the city that never sleeps or stops.
But things are always hopping in Atlantic City. You don't want to spend most of your time navigating the city's busy streets, trying to find your way around. There's an easy way to make your trip to Atlantic City stress-free—in the comfort, safety and affordability of a charter bus from US Coachways.
You'll Love the Many Features of a Charter Bus
It's easy to have a great time in Atlantic City, but it's more difficult when you have challenges getting there and back. Don't take unnecessary risk!! Book a charter bus rental from US Coachways and travel with confidence:
You'll have dependable transportation

— Unlike other modes of travel, charter buses seldom experience delays or cancellations. Your driver has the resources to identify traffic problems in advance and find alternate routes. In addition, our access to charter bus vendors nationwide makes it easier for us to find a replacement coach, if necessary.

You'll be in control

— With charter bus travel, you don't have to pick from a handful of prepackaged options. You tell us when you want to leave, where you want to stop, how long you want to stay and when you want to leave.

You'll be safe and secure

— Your driver is a skilled and trained professional—that's why charter buses have one of the lowest accident rates. In addition, there's only one way on and off the bus, so you'll find it easy to monitor who comes and goes.

You'll ride in luxury and comfort

— The seats are spacious, with more leg room than any other mode of travel. There's no middle seat, either. The aisles are wide and you won't have to stay buckled in your seat for the entire trip.

You'll get more for your money

— On a charter bus, you share many of the costs of travel with fellow passengers. That makes a charter bus rental one of the most cost-effective ways to take a group anywhere.

You'll travel stress-free

— You won't have to worry about traffic, look for a place to park, check the GPS or keep your eye on the clock. Your driver will handle all those details. You'll be on the same bus for the entire trip and your bags will travel with you—no missed connections or missing luggage. There's no TSA security checkpoint, so you won't have to stand in line, take off your shoes or worry about your toiletries. Your devices won't affect navigational systems, either, so you can stay online at all times.

You'll minimize the risk of getting stuck in traffic

— On a charter bus, you can take advantage of the HOV (high occupancy vehicle) lanes.

You'll have more than just transportation

— Your bus makes an ideal space for a group meeting, or even some breakout sessions. It can also be a quiet respite in the midst of a hectic trip to Atlantic City.

You'll be able to help the planet

— When you travel together on a charter bus, you take a number of personal vehicles off the roads. That can significantly lower carbon emissions.
At US Coachways, we have provided effective ground transportation solutions to groups and group leaders nationwide for more than 30 years. For a free quote on the cost of a trip to Atlantic City, go to our convenient online Cost calculator. To get answers to any questions about charter bus travel, or to learn more about the full scope of our services, call 1-855-287-2427 and talk with a travel consultant.
Casinos…Beaches…the Boardwalk…and So Much More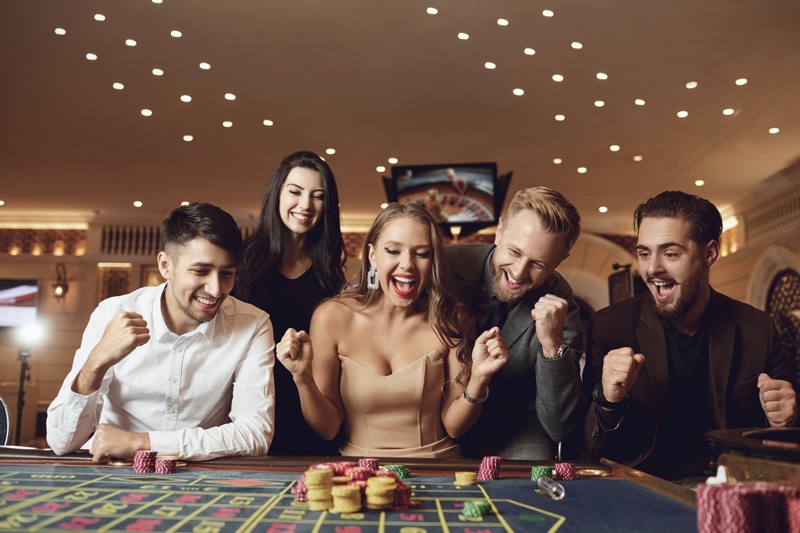 Come to Atlantic City and enjoy:
The casinos

— With nine world class casinos, you can get a seat at the table 24 hours a day, seven days a week. Of course, there's much more than gaming to enjoy at the casinos in Atlantic City. Top name performers—comedians, singers, dancers and others—headline at the casinos year-round. You'll also find outstanding restaurants, top-notch bars, and the hottest dance clubs along the Atlantic Coast. You'll find almost endless shopping options in and around the casinos, as well—the Quarter at Tropicana has dozens of shops, restaurants and nightclubs.

The beaches

— It all began with the beaches in Atlantic City, way back in the 1850s, when city fathers built the first resort hotel to encourage tourists to take advantage of the Atlantic Coast. The beaches in Atlantic City are among the best along New Jersey's 130 miles of waterfront. There are endless opportunities to catch a wave, take a swim or just work on your tan. But there's much more than sand, sun and surf at Atlantic City's beaches, though—check out the ocean-front bars and restaurants, enjoy some thrill rides at an amusement park or get your gambling fix at one of the seaside casinos.

The boardwalk

— It's much more than a way to walk along the beach without getting sand in your shoes…it's Atlantic City's most popular tourist attraction, a four-mile expanse that offers everything from the House of Blues to Ripley's Believe It or Not! Museum. There's shopping along the length of the boardwalk, in boutiques and specialty shops, or at the Playground Pier mall. Don't forget the iconic boardwalk food, either—salt water taffy, white pizza, pork rolls, grilled cheesesteak, crab cake sandwiches and lots of homemade ice cream shops.

The golf

— Atlantic City has long been a linkster's paradise, consistently named in various publications as one of the top golf destinations in America. Shore Gate is a local favorite and Ballamor offers breathtaking views along a 350 acre tract with no homes close by. The Atlantic City Country Club, established in 1897, has been the site of six USGA championships. For a challenge, try Twisted Dune, with more than 90 bunkers amidst sculpted dunes along the ocean.

The good life

— If you're just looking to be pampered, Atlantic City is the right place, with dozens of day spas offering up an endless array of massages, skin care treatments, body work and therapeutic baths. Jacuzzis, steam rooms, cold water plunge…some of the city's spas even have gourmet menus.
We'll Help You Find the Right Bus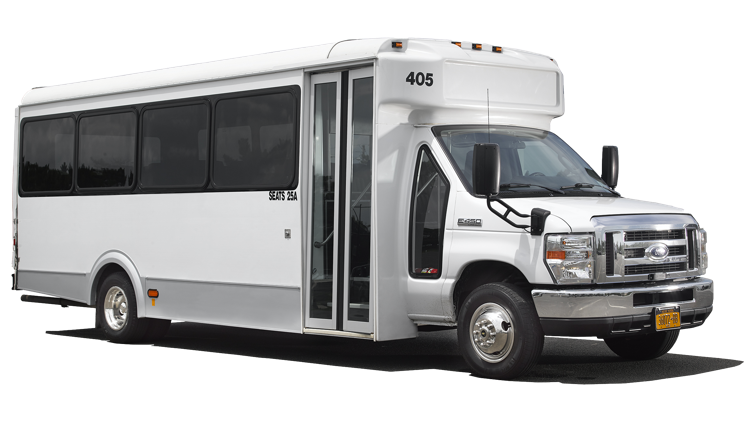 You'll be glad you chose a charter bus to take you to and from Atlantic City—but it's important to take the time to make certain you have the best coach for your group and your trip.
At US Coachways, we'll take the time to learn the details of your outing—the number of participants, how long you'll be on the road, what you'll need to bring or want to take home, and any other special needs of your attendees. Then we'll reach out to our extensive network of charter bus vendors to find the coach that best meets your needs.
If you're taking a small-to-midsized group to Atlantic City, we recommend the mini-bus, which can accommodate anywhere from 24 to 35 passengers comfortably. For larger groups, the full-sized bus is ideal, with seating for up to 57 and an on-board bathroom. Bring as many people as you want, though, as multiple bus rentals are always an option. We can also secure an ADA-accessible bus, if necessary.
With the exception of some school buses, all charter coaches come with high-back bucket seats, climate control, a great sound system and plenty of storage space. Wifi, electrical outlets, DVD players and monitors, public address systems, leather seats and hardwood floors may also be available for an extra charge. Check with your booking agent.
The US Coachways Commitment
At US Coachways, we've been leaders in the charter bus industry for more than three decades, continually working to provide the best customer experience in the business. When you book a charter bus trip with us, you can expect:
Highly competitive pricing—We book, on average, more than $55 million in charter bus outings every year. That gives us the vendor loyalty and local market savvy to consistently help you get more travel for your money.
A high degree of flexibility—Because of our strong relationships with charter bus service providers across the country, we can usually make last-minute or real-time modifications to your travel plans without a problem, or even book an entire trip with short notice.
Comprehensive dispatch services, 24 hours a day, seven days a week, with the capability to manage multiple locations simultaneously.
Unparalleled logistical support, for the selection of the ideal bus for your group to the determination of optimal locations and times for drop-offs and pickups. We'll watch road conditions, as well, looking for accidents, construction or other issues that might affect your travel.
Your own, dedicated project management team, with a single point of contact, prepared to quickly and effectively address your concerns at all times.
Access to our online Trip Management Portal , where you can peruse invoices, itineraries and other information from all your US Coachways bookings in a single location.
We are also approved by the General Services Administration (GSA) to provide charter bus services to the federal government and its agencies, including the U.S. military.
Choose a Charter Bus for Any Outing to Atlantic City

The many great reasons to travel by charter bus—flexibility, comfort, dependability, safety, affordability and convenience—make it an ideal solution for any type of travel:
Family gatherings

—Reunions, graduations, retirement parties, weddings, rehearsal dinners, engagement parties, bar and bat mitzvahs, birthday and anniversary parties, holiday celebrations and even family vacations

Business and company events

—Sales and business meetings, conventions and conferences, workshops and seminars, training and team-building sessions, employee volunteer projects, golf outings, picnics and holiday parties

Retiree and senior citizen outings

—Casino adventures, museums and historical sites, symphony and pops concerts, theatrical productions, shopping trips, and fall foliage tours

School travel

—Club and class trips, band and orchestra festivals and concerts, cultural events, athlete and fan transportation, sorority and fraternity excursions, student volunteer efforts, graduation and prom after-parties

Church ministries

—Mission trips, local volunteer work, retreats, church camp sessions, faith-based conventions and conferences, adult and youth fellowship opportunities, choir tours

Special events

—Bowl games and championships, stadium and arena concerts, large scale theatrical productions, motor car races, professional and college sports, food and cultural festivals, public rallies
Make Your Reservations for Atlantic City Today!
Get ready to have some fun!! It's virtually impossible not to in the "World's Famous Playground." To get a free estimate on the cost of a charter bus rental to Atlantic City, go to our easy-to-use online Cost Calculator. For answers to any questions you have about charter bus travel, or to learn more about the ways we can help you with all your ground transportation needs, call 1-855-287-2427 and ask to speak with an experienced travel consultant.