Come to the "Hub City" in Style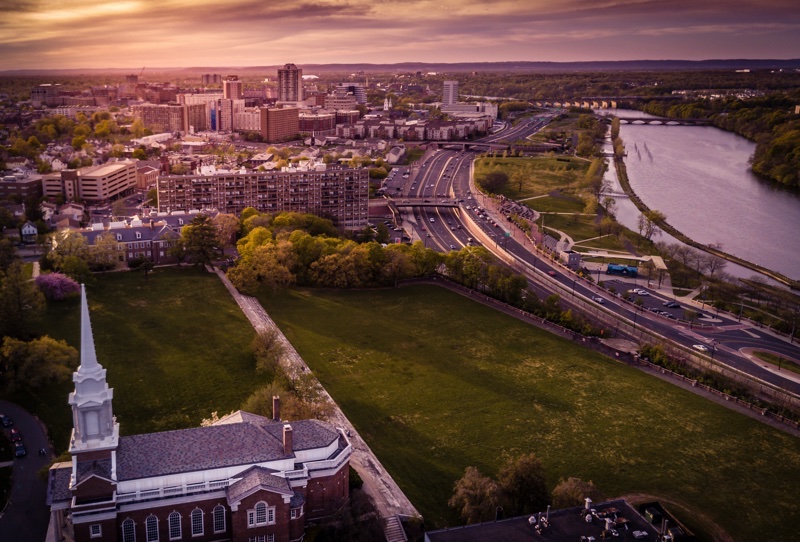 New Brunswick, New Jersey
If you're planning a group event and you want a small-town ambience with big city resources, consider New Brunswick, New Jersey. It's known as the "Hub City" for good reason—it boasts two outstanding conference centers and hotels, offers major performing and visual arts venues and has some of the most highly-regarded restaurants in the state. Home to Rutgers University, New Brunswick was also served as an important hub on the underground railroad.
It's easy to have a great time in New Brunswick, but you don't want to drive there on your own. It's less than an hour from New York City, so you can expect big city traffic. There's an easy way to enjoy New Brunswick and all it has to offer—in the luxury, comfort and convenience of a charter bus from US Coachways.
The Many Benefits of Charter Bus Travel
Looking for a surefire way to make a group trip more successful? Book a charter bus to get you there and back. With a charter bus rental from US Coachways, you'll have:
Flexibility

— Your trip will always be one of a kind with a charter bus. You decide where and when you'll leave, when you'll stop, how long you'll stay and when you'll come home. You won't find that much control of flexibility with any other mode of travel.

Comfort

— The seats are bigger and there's more leg room than with any other form of transportation. In addition, there's no middle seat! The aisles are spacious and you can walk about at your leisure.

Dependability

— Delays and cancellations are virtually nonexistent with a charter bus. Your driver has the tools and technology to learn of potential traffic problems in advance and find alternate routes to get you there on time. In addition, because of our relationships with charter bus vendors nationwide, we can usually find a replacement coach without much difficulty.

Safety and security

— Because there's a skilled and trained professional driving the bus, there's virtually no risk of an accident. In addition, with the limited access to your coach, it's easy to keep an eye on who comes and goes—you and your personal items will be safe and secure.

Affordability

— On a charter bus, you'll share most of the costs of travel with your fellow passengers. That consistently makes charter bus travel one of the most cost-effective options for group travel.

Convenience

— You won't have to get behind the wheel, fight traffic, look for parking, check the time or consult your GPS. Your driver will handle all those details. There's no TSA security checkpoint, so you won't have to stand in line, take off your shoes or toss your shampoo. You'll ride there and back on the same bus and your bags will travel with you—no missed connections or lost luggage. You won't have to put your phone on "bus mode," either, as your devices won't interfere with navigational systems.

The ability to go green

— When you travel with others on a charter bus, you take as many as 20 private vehicles off the roads. That can significantly reduce carbon emissions.

Less risk of getting stuck in a traffic jam

— You'll be able to take advantage of the high occupancy vehicle (HOV) lanes

More than just a way to get there and back

— Your bus is the perfect place for a group meeting. Prep employees for a conference, warm up the choir before a concert or talk strategy before the big game. You can also use your coach as a quiet respite in the middle of a busy trip.
At US Coachways, we have been leaders in the charter bus rental industry for more than 30 years. For a free quote on the cost of an excursion to New Brunswick, go to our user-friendly online Cost Calculator. To learn more about the full range of services we offer or to ask any questions about charter bus rentals, call 1-855-287-2427 and speak with a travel consultant.
Have Fun in New Brunswick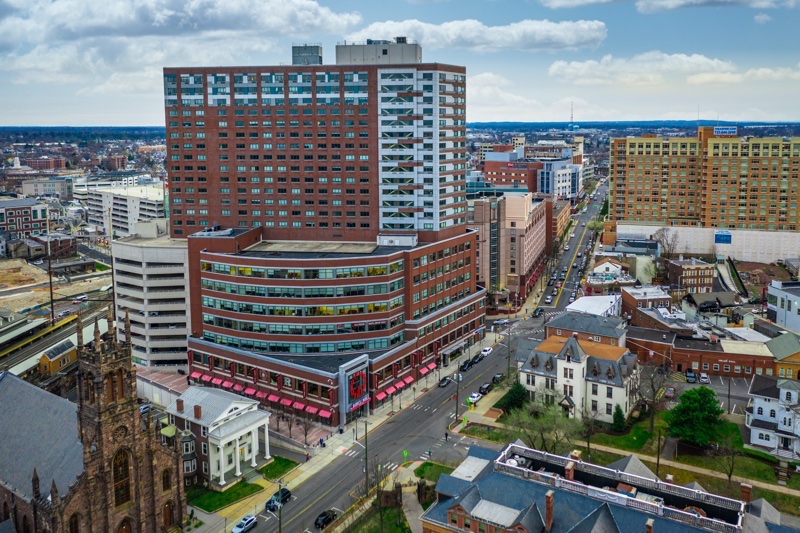 Rutgers University, New Jersey
With Rutgers University (and its 35,000+ undergraduate enrollment) located here, it's no surprise that New Brunswick has a college-town vibe, with a wide array of cultural, culinary and other offerings:
Arts and culture

— Not surprisingly, the live music venues here are legendary, leading NJ.com to call New Brunswick the "unadulterated, pounding heart" of the state's music scene. The city has spawned such mega-stars as Bon Jovi and the Smithereens. The State Theatre hosts performances from symphonies and orchestras from around the globe, including the New Jersey Symphony Orchestra. Patrons of the visual arts will want to visit the Zimmerli Art Museum on the campus of Rutgers University. The Zimmerli has more than 60,000 works of art, including an extensive collection of Russian and Soviet nonconformist art, as well as 19th century French art. Keep your eyes peeled for the public murals on George Street and New Street, the work of Albus Cavus, an international artists collective that originated in New Brunswick. The city also has a thriving live theatre and dance community, including the Crossroads Theatre, the George Street Playhouse and the State Theatre (built in the early 1920s as a vaudeville house).

The food and libations

— Known as "the most Hungarian city" in the United States, New Brunswick offers a number of places to get a classic goulash, stuffed cabbage or chicken Paprikash. There's a diversity to the cuisine here, though—you'll find everything from American to Afghani, Malaysian to Mongolian, Pakistani, Peruvian, Ukrainian, Russian, Tibetan and, of course, Italian. When you get thirsty, head to one of the city's many craft beer emporiums, from the Hub City Brewhouse or Harvest Moon Brewery to the George Street Ale House.

Historical attractions

— New Brunswick has a rich historical legacy, dating back before the American Revolution. Visit the Buccleuch Mansion, built in 1739 for the daughter of the colonial New Jersey governor. The city also has a number of historic sites that recognize the storied history of African-Americans here, from the days when New Brunswick was a hub for the slave trade to the creation of the African Association in 1817 and the African School in 1822. The local Museum of the American Hungarian Association has artifacts and exhibits chronicling the immigration and life of Hungarian Americans across the country.

The shopping

— There's plenty of opportunities for some retail medicine in the New Brunswick area. Visit the Shoppes at North Brunswick or the Menlo Park Mall for the mall experience. You'll also find a number of vintage stores and boutiques off George Street or in the neighborhoods around the Rutgers campus.
The US Coachways Advantage
At US Coachways, we built our business and our reputation by providing the highest levels of customer service and satisfaction in the charter bus industry. When you book a trip to New Brunswick with us, you'll get the benefits of:
Our world

- class logistical support—We'll take care of all the details, from the selection of the ideal bus for your group to the determination of optimal times and locations for pickup and drop-off. We'll also monitor the roadways for construction, crashes or other conditions that may interfere with your travel.

Our comprehensive dispatch services

, available 24 hours a day, seven days a week. We have the capability of managing multiple sites simultaneously.

Your own dedicated project management team

, with a single point of contact, ready and able to promptly and effectively respond to any situation.

The use of our online Trip Management Portal

, a powerful tool that lets you view invoices, itineraries and other information from all your US Coachways bookings in a single location.

Our unmatched flexibility

— Because of our long-term relationships with charter bus vendors across the country, we can usually make last-minute or real-time changes to your travel schedule. In many situations, we can book an entire trip with short notice.

Our purchasing power

— We set up, on average, more than $55 million in annual charter bus outings. That gives us the local market presence and the vendor loyalty to regularly get highly competitive pricing.
We are also approved by the General Services Administration (GSA) to provide charter bus services to the federal government and its agencies, including the military.
Take a Charter Bus for Any Group Outing
The features you appreciate in a charter bus—convenience, comfort, affordability, safety, flexibility and dependability—make it a great decision for any type of travel:
Business and corporate events

— Conventions, conferences, workshops, seminars, sales and business meetings, training sessions, team-building exercises, employee volunteer projects, golf outings, company picnics and holiday parties

Family celebrations

— Reunions, graduations, weddings, rehearsal dinners, engagement parties, bar and bat mitzvahs, anniversaries, birthdays, retirement parties and even family vacations

School travel

— Athletic competition (for fans and players), band and orchestra festivals and concerts, student volunteer work, club and class trips, cultural events, fraternity and sorority outings, graduation and prom after-parties

Church outreach

— Mission trips, retreats, church camp meetings or sessions, faith-based conferences and conventions, choir tours, local volunteer efforts, evangelism events, youth and adult fellowship opportunities

Senior citizen and elder adult travel

— Shopping excursions, casino outings, museums and historical attractions, touring theatrical productions, classical and pop music concerts, fall color tours

Once-in-a-lifetime events

— Bowl games and championships, college and professional sports, stadium and arena concerts, Broadway shows, motor car races, winery and brewery tours, food and cultural festivals, public rallies and demonstrations
Make Sure You Have the Right Bus for Your Trip to New Brunswick

A charter bus rental is just the first step toward a great trip…it's also essential that you take the time to find the ideal coach for your group and your event.
When you book with US Coachways, we'll take the time to learn the specific details of your outing—how many people are planning to go, how long you'll be on the road, what you'll need to bring or want to take home, and any other special needs of your attendees. Then we'll work closely with our national network of charter bus service providers, so that we can find the coach that best meets all your needs.
If you're visiting New Brunswick with a small-to-mid-sized group, you'll like the mini-bus, with a number of size options that can seat anywhere from 24 to 35 passengers. For larger gatherings, consider the full-sized bus, with accommodations for up to 57 and an on-board bathroom. Multiple bus rentals are always an option, and ADA-accessible coaches are usually available.
Most charter buses, with the exception of some of our school buses, come with plush, high-back bucket seats, climate control, a great sound system and plenty of storage space. Other modern amenities, such as Wifi, DVD players and monitors, electrical outlets, public address systems, leather seats and hardwood floors, can often be procured for an additional fee. Check with your booking agent.
Make Your Reservations for a Charter Bus Trip to New Brunswick, New Jersey
At US Coachways, we have provided effective ground transportation solutions to individuals, businesses, groups and group leaders across the nation for more than three decades. To get a free estimate on the cost of a charter bus outing to New Brunswick, go to our convenient online Cost Calculator. For answers to any questions about charter bus rentals, or to learn more about the ways that we can assist you with your ground transportation needs, call 1-855-287-2427 to speak with an experienced travel consultant.