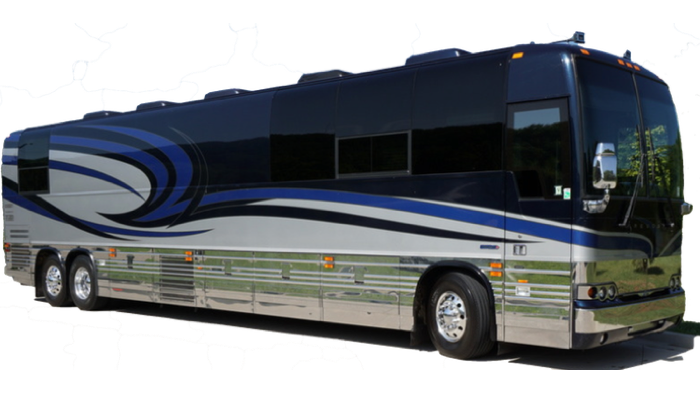 Executive Bus
Entertainer Bus
Crew Bus
Ride in Comfort in a Star Coach or Crew Bus
When you're taking a show on the road, there's no better way to go than on a sleeper bus from US Coachways. For dependability, flexibility, comfort, relaxation, safety and affordability, there's no other mode of transportation that can compete. You can enjoy all the conveniences of home, without the hassle of having to check into a different hotel every night. With the on-board kitchen, you won't have any worries about any special dietary needs. A sleeper bus is a great option for a touring artist, for crew members, or for mobile entertainment.
But it's also a great option for a family vacation. At US Coachways, we have provided effective ground transportation solutions to clients nationwide for more than 30 years. For a free quote on the cost of an executive bus rental, visit our online Cost Calculator. To learn more about the full scope of our services, including any details about the executive buses, call 1-855-287-2427 to speak to an experienced travel consultant.
Frequently Asked Questions about Sleeper Buses
How does the sleeper bus differ from other charter buses?

The sleeper buses don't have the standard high-back bucket seating in rows, as the mini buses and coach buses do. Instead, the sleeper buses have been customized to function more like a mobile living space or mobile entertainment space, with bathrooms, showers and kitchens as standard features.

What are the different types of sleeper buses?

At US Coachways, we have access to two different styles of sleeper buses:

The star coach

—The star coach offers unmatched luxury when you're on the road. It comes with a queen-sized bedroom, complete with its own full-sized bath and shower. There's a full galley kitchen on-board, so you'll have complete control over dietary concerns. Enjoy the comfort of leather seating, tile floors and marble counters, as well as mobile satellite television (where available), DVD players, Wifi and a great sound system. It's perfect for an individual, or a couple!

The crew bus

—The crew bus is designed primarily for support staff for touring artists and productions, but also works well for a family vacation. You'll find a dozen sleeping bunks, shower facilities and an on-board bathroom. There's also a fully-equipped galley kitchen. There's perimeter leather seating at the front and rear of the crew bus, with room for up to 12 passengers. Other amenities include in-motion satellite television (where available), Wifi, a surround sound system, LCD or plasma TV monitors, marble countertops and a tile or wood floor.

How much does it cost for a sleeper bus?

The total price to rent a sleeper bus will depend on a number of factors:

What is the alcohol consumption policy on a US Coachways executive bus?

You may bring and consume alcohol on a US Coachways charter bus, only by advance written permission of US Coachways. You must comply with all local laws and regulations governing the possession and use of alcohol. In addition, your driver will always have the discretion and authority to suspend or terminate such privileges for any reason.

Are there limits with respect to the amount of time we can be on the road between stops?

Yes. State and federal motor carrier regulations limit the number of consecutive hours a driver may be on the road, and also set a limit on the number of hours a driver can be behind the wheel during any given time period. If you need to be on the road more than regulations allow to get from one venue to the next, you will need to pay for an extra driver to travel with you.
The US Coachways Advantage
We know that, when you're looking to rent a charter bus, you have options. We are committed to setting ourselves apart from the competition by providing a level of personal attention and customer service you won't find anywhere else. When you rent a charter bus from US Coachways, you'll get:
A dedicated service team with a single point of contact, so that all your concerns will be handled in a timely and effective manner.
Full dispatch services 24 hours a day, seven days a week.
Access to prior invoices, itineraries and other information on all your US Coachways charter bus rentals in one location on our user-friendly online Trip Management Portal.
Unmatched flexibility in your travel—Our extensive national network of charter bus service vendors makes it easier for us to make last-minute or even real-time modifications to your itinerary. We can often arrange an entire trip with short notice.
Highly competitive pricing—We book more than $55 million in charter bus rentals every year. That gives us the local market exposure and the purchasing power to get some of the best deals for our clients.
We are also GSA (General Services Administration) approved, so we can provide a wide range of charter bus rental services to the United States government and its agencies.
Book Your Executive Bus Today!
At US Coachways, we have the right bus to help you take your act on the road. We've provided a wide range of ground transportation services to individuals, groups and group leaders for more than 30 years. To learn more about our executive buses, call 1-855-287-2427 to speak to an experienced travel consultant. To get a free estimate on the cost of an executive bus rental, go to our easy-to-use online Cost Calculator.