Click to view bus types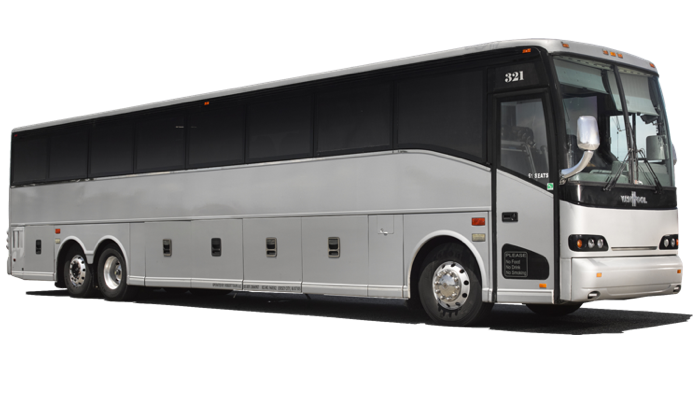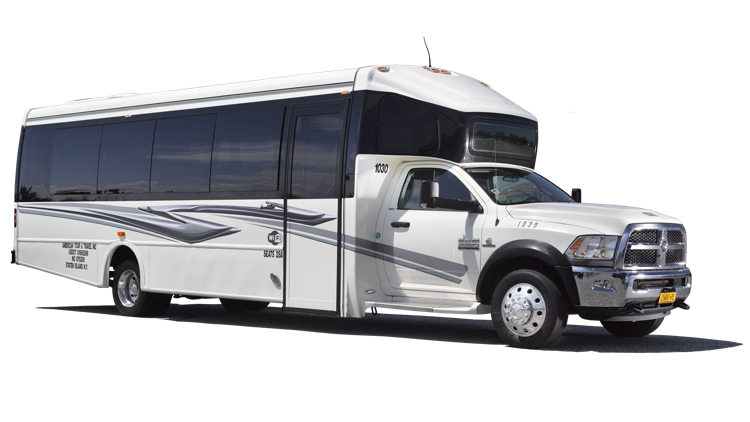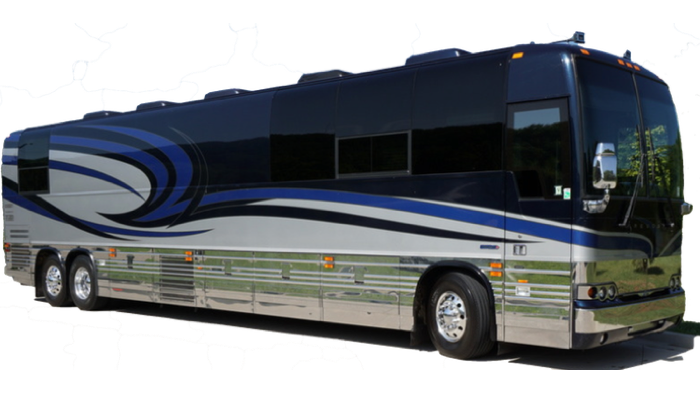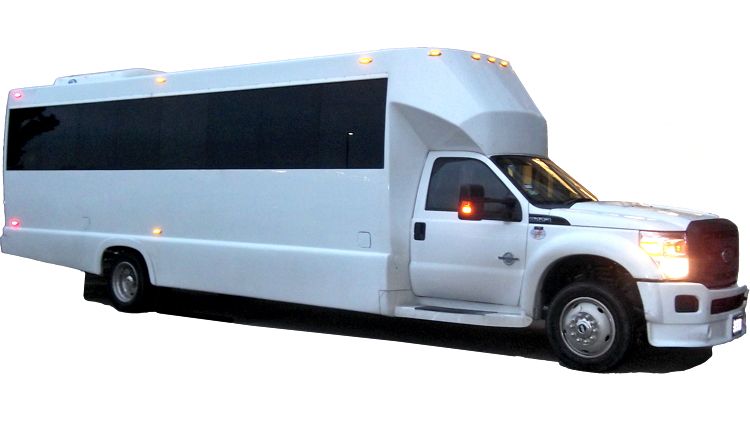 Nationwide Access to a Wide Range of Coaches
Whether you're looking to take the family on a hassle-free vacation, planning a concert tour, or organizing a group trip, there's no better way to get there and back than in the comfort, luxury, convenience and safety of a charter bus from US Coachways. The flexibility that's a trademark of our business also extends to the variety of coaches we can offer you. With access to a vast fleet of charter buses across the country, we can find the perfect vehicle to meet your needs.
Frequently Asked Questions about the Fleet of Vehicles You Can Rent
What are our options with respect to the types of coaches available?

At US Coachways, we have access to an extensive network of vendors nationwide, with a wide array of charter buses, including:

Mini buses—Ideal for small to mid-sized groups, the mini-buses include:
49-57 Passenger buses—The largest coach buses we provide, these coaches have underneath and sometimes overhead storage, high-back reclining bucket seats, climate control and an on-board bathroom, along with other standard amenities.
ADA-Accessible buses—These 49 to 57 passenger buses can accommodate up to two wheelchairs (with up to four seats removed for each wheelchair). Your driver is also trained to operate all special equipment.
Limo buses—The limo buses are custom-designed for a celebration on wheels, accommodating anywhere from 24 to 40 guests. Some have tables, have perimeter leather seating with a surround sound system, DVD player & LCD monitors.
Sleeper buses—The sleeper buses are specifically designed to be more of a hotel on wheels for individuals or small groups, including families, and include the Star Coach, and the Crew Bus.

How much does a charter bus rental cost?

The cost varies with each trip, based on a number of criteria:

How many people will be traveling?

How long will your charter take?

From where your pick-up is & where you intend to travel to?

The day of the week & time of year?

Any special features you need on your bus?

Fees incurred along the way? (if applicable)— tolls, parking fees, permits, & airport fees, are just an example of possible added fees

For an estimate of the cost of a charter bus rental anywhere in the United States, visit our online Cost Calculator.

Are there different payment options?

Yes. You can pay for your trip with cash, check, credit card, wire transfer or purchase order.

Can we make multiple stops on our trip?

Definitely. That's one of the key advantages of a charter bus. You decide when and where we stop (within DOT law of course!)

How much luggage can we bring on a charter bus?

That varies, based on the type and size of the bus, so it's always a good idea to verify how much room you'll have with your booking agent. The mini buses typically have storage in the rear of the bus. The 49 to 57 passenger buses have underneath storage bays for plenty of luggage space.

Can we consume alcoholic beverages on the bus?

You may bring and consume alcohol on a US Coachways charter bus, only by advance written permission of US Coachways. You must comply with all local laws and regulations governing the possession and use of alcohol. In addition, your driver will always have the discretion and authority to suspend or terminate such privileges for any reason.

The Many Benefits of a Charter Bus Rental
When you compare a charter bus rental to other modes of travel, there's simply no comparison. With a charter bus, you'll get:
Unparalleled reliability

—Your driver has the resources to anticipate traffic challenges and identify alternate routes to get you there on time. In addition, because of the extensive network of charter bus vendors nationwide, it's usually easy to find a replacement coach pretty quickly.

Unequaled flexibility

—There's no other mode of transportation that lets you decide when you'll leave, where you'll go, what you'll see, how long you'll stay and when you'll come back. You can usually make last-minute or real-time changes to your itinerary.

Safety and security

—Your driver is a highly trained professional, so you'll be safe on the road. In addition, there's limited access to your bus, so you won't have any unwelcome guests.

Comfort

—The seats are spacious with more leg room than any other mode of travel. On select coaches, you may have perimeter seating, sleeping berths, a galley kitchen or even a private bedroom and bath.

You avoid a lot of the hassle associated with other types of travel

—There's no TSA line. You won't have to worry about missed connections or lost luggage, as you'll travel on the same bus for your entire trip and your bags will go with you. Your phone and other devices won't interfere with navigational systems, so you can stay connected at all times.

You can ride in the high occupancy vehicle lane

—That's potentially less time stuck in traffic.

Your bus has multiple uses

—Have a meeting or entertain a group while you're on the road. Escape to the bus for a little quiet time during a hectic trip.

It's easy on your wallet

—A charter bus is consistently one of the most cost-effective ways to travel.

You'll be helping the planet

—When you ride with others on a charter bus, it reduces the number of private vehicles on the roads. That reduces carbon emissions.
The US Coachways Commitment
At US Coachways, we are dedicated to providing levels of customer service and satisfaction that are unmatched in the industry. When you book any type of charter bus with us, you'll get:
Professional, comprehensive dispatch services at all times, 24 hours a day, seven days a week
Access to our online Trip Management Portal, a handy tool that lets you view itineraries, invoices and other information about all your US Coachways rentals in a single, convenient location
A select service team that will respond to your needs promptly and effectively. You'll also enjoy a single point of contact at all times.
Unrivaled flexibility in your travel—Because of our strong relationships with charter bus service vendors nationwide, we can often make last-minute and real-time modifications to your travel schedule without difficulty. We can even book an entire trip with short notice.
Highly competitive pricing—We arrange, on average, more than $55 million in charter bus trips every calendar year. We have strong vendor loyalty and local market knowledge that give us access to many of the best deals for our clients.
US Coachways has also been approved by the General Services Administration (GSA) to offer charter bus rental services to the federal government and its various agencies and organizations.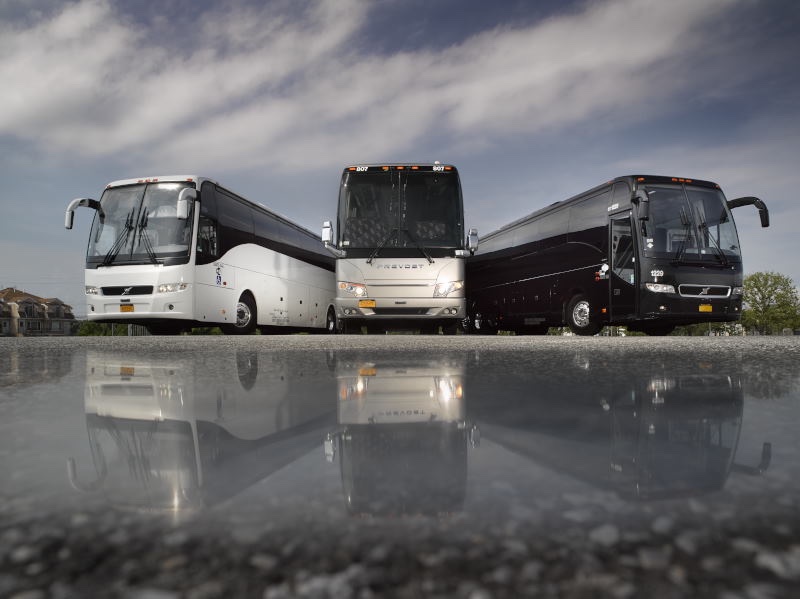 A Charter Bus Rental—The Optimal Choice for Any Type of Travel
The features that make charter bus rentals so attractive—the flexibility, dependability, affordability, safety and comfort—make it ideal for any type of excursion:
Family celebrations — Anniversaries, retirement parties, weddings, graduations, rehearsal dinners, birthdays, bar and bat mitzvahs, reunions or engagement parties.
School travel — Prom and graduation parties, after parties, class trips, fan and athlete travel for sporting events.
Business and corporate events — Company outings, conventions, conferences, seminars, business meetings, team-building efforts, golf outings or company parties.
Church groups — Choir tours, youth group outings, mission trips and community volunteer work.
Special events — Touring Broadway productions, stadium or arena concerts, professional or amateur athletic competition, auto races, festivals or public rallies.
Senior citizen and retiree outings — Shopping adventures, casino trips, fall foliage tours, concerts and plays, and historic landmarks or attractions.
Make Your Charter Bus Reservation Today!
At US Coachways, we have set the standard in the charter bus industry for more than three decades, consistently providing effective ground transportation solutions to individuals, groups and group leaders across the country. We offer a free estimate on the cost of any charter bus rental—visit our convenient and user-friendly online Cost Calculator to learn more. For questions about the different charter buses available through US Coachways, or to find out more about the full range of services we offer, call 1-855-287-2427 to speak with an experienced travel consultant.