Visit the Hoosier State on a Charter Bus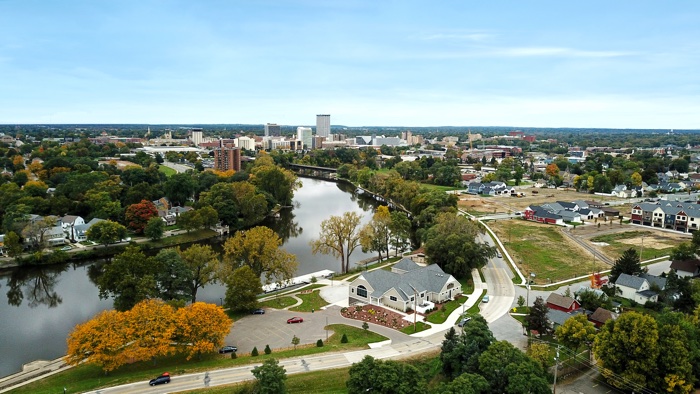 South Bend, Indiana
Come to Indiana and experience the American heartland…great food festivals, unique shopping opportunities, historic attractions and unique museums. You'll find plenty to fascinate you here, but make it easy on everyone. Take a charter bus from US Coachways and relax while we handle all the details.
About US Coachways
The premier provider of charter bus rentals in the United States, US Coachways has brought individuals and events together for more than three and a half decades, always giving priority to safety and reliability. We are known and respected within the industry for our special expertise in short-notice bookings and trips with complex logistics. Over the past 35+ years, we have developed and nurtured an extensive national network of hand-chosen charter bus vendors, offering our customers on-demand access to a wide array of vehicles in hundreds of cities nationwide. Our high-speed, intuitive online reservation system helps us efficiently and effectively book more than 25,000 charter bus trips every year.
To get a free quote on the cost of a charter bus trip to Indiana, go to our convenient online Cost Calculator. To learn more about our services, or to get answers to any questions about charter bus rentals, call us at 1-855-287-2427 or live chat with an experienced luxury travel consultant.
You'll Love the Many Great Features of Charter Bus Travel
There are many reasons that experienced group travelers prefer charter bus rentals:
You'll get where you want to go when you want to be there

— Did you know that 40% of air travelers arrive late somewhere every day? That doesn't happen with a charter bus.

You won't have to choose from a handful of prepackaged trips

— You decide when you want to leave and where you want to be picked up. You tell us when you want to stop, how long you want to stay and when you want to return. There's no other mode of travel that gives you that much flexibility and control.

You'll be safe

— Your driver is a highly skilled and trained professional. In addition, because there's only one way on and off the bus, you won't have to worry about uninvited guests. You and your personal items will be safe and secure.

You'll travel in maximum comfort

— The seats are huge, with more leg room than any other mode of travel. There's no middle seat, either. The aisles are wide, and you won't have to stay in your seat.

It's consistently the most affordable way to take a group anywhere

— On a charter bus, you'll share most of the costs of travel.

It's a mostly stress-free way to travel

— You won't have to check the GPS, look at your watch, jockey through traffic or try to find a place to park—your driver will handle all those tasks. There's no TSA security checkpoint and you won't have to put your devices on "bus mode." You'll ride on the same coach throughout your trip and have your luggage with you—no missed connections or lost bags.

You'll minimize the risk of traffic slowdowns

— On a charter bus, you can travel in the high occupancy vehicle (HOV) lanes.

You can use the bus as a meeting space or for some quiet time during a busy trip

A charter bus lets you help the planet

— When you ride with others on the same bus, you'll take a number of private vehicles off the roads.
Indiana—A Great Destination for Your Group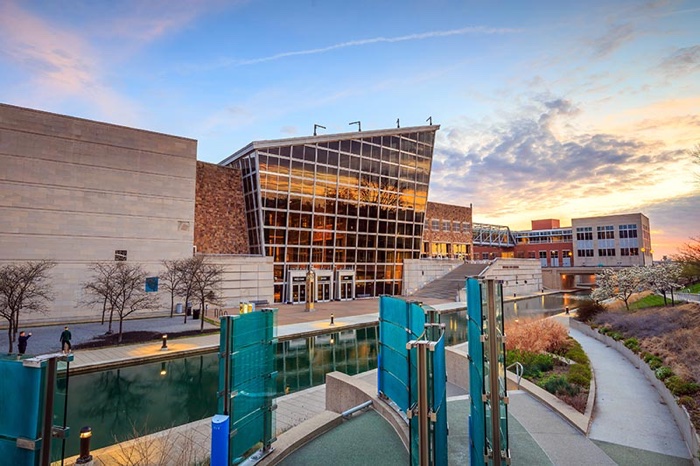 Indiana State Museum
Here are a few of the fun and interesting things to do in Indiana:
The museums

— The Hoosier State has a wide array of museums, from world class art and natural history museums to some truly unique institutions. This is Indiana, so it's no surprise that hoops are well represented in the state's lore and legacy. There's the Indiana Basketball Hall of Fame and Museum in New Castle, the NCAA Hall of Champions in Indianapolis, and even a permanent basketball exhibit at the Children's Museum of Indianapolis. Motorheads will enjoy the Indianapolis Motor Speedway Museum, at the site of the Indy 500 and Brickyard 400 auto races. Old car enthusiasts will want to stop at the Duesenberg Automobile Museum in Auburn or the Studebaker Museum, in South Bend.

The Eiteljorg Museum of American Indians and Western Art, in Indianapolis, boasts one of the most extensive collections of Native American contemporary art in the world. The Eskanazi Museum of Art, in Bloomington, and the Evansville Museum, have impressive collections and the Haan Mansion Museum, in Lafayette, specializes in Indiana art. Stop by the Joseph Moore Museum, on the campus of Earlham College in Richmond, to see a mastodon, an allosaurus and other natural history artifacts.

The historical sites

— Benjamin Harrison, the 23rd President of the United States, was an Indiana native. You can visit his home, a 16 room Italianate-style mansion in the Old Northside Historic District in Indianapolis. Indiana was also the boyhood home of Abraham Lincoln. Tours are available at the Lincoln Boyhood National Memorial in Lincoln City. Check out the Tippecanoe Battlefield Park and Museum, near Lafayette, where future President William Henry Harrison defeated the Shawnees, led by legendary chief Tecumseh. Visit the Crown Point County Jail, where famed criminal John Dillinger escaped in 1934, or the home of famed labor leader and presidential candidate Eugene V. Debs, in Terre Haute.

The food fairs and festivals

— In Indiana, eating is more than just a means of sustenance, it's a social activity. That's why you'll find seemingly endless food fairs and festivals across the state. It's the heartland and farming is a big part of the economy, so there are many harvest festivals in communities across the state—Valparaiso, Portage, Madison, New Albany, North Manchester—the list goes on. Of course, food is a huge component of the Indiana State Fair, but there are also a number of food festivals to enjoy—the Blueberry Festival (Marshall County), the Maple Syrup Festival (Park County), the Pork Festival (Tipton County) and the Popcorn Festival (Valparaiso) are among the most popular.

The shopping

— For a truly unique experience, head to Shipshewana, home to the 3rd largest Amish community in the United States. The flea market there is the largest in the Midwest, with more than 900 vendors offering everything from crafts and furniture to clothing, tools, books and beauty supplies. For more quaint, small-town shopping experiences, travel to Roanoke or Winona Lake, both a short drive from Fort Wayne. Of course, Indianapolis offers every retail experience you'd expect from a world-class city, from boutiques and vintage to malls.
Perfect for Any Trip to Indiana
A mini-bus or full-sized charter bus will make any trip better! Relax with friends, family and others on:
Business and corporate excursions

— Annual meetings, seminars, workshops, conventions, conferences, team-building exercises, training sessions, business and sales meetings, community volunteer projects, golf outings, picnics and holiday parties

Family gatherings

— Reunions, graduations, birthday parties, anniversaries, retirement celebrations, weddings, engagement parties, rehearsal dinners and family vacations

School events

- Athletic competition, prom and graduation after-parties, student volunteer efforts, sorority and fraternity excursions, band and orchestra festivals, club and class trips, cultural opportunities

Church outreach

— Mission trips, retreats, church camp travel, praise meetings and gatherings, faith-based conventions and conferences, local ministries, choir tours, adult and youth fellowship opportunities

Senior citizen and retiree events

— Shopping excursions, symphony concerts, live theatrical productions, museum visits, historical attractions and fall foliage tours

Once-in-a-lifetime occasions

— Bowl games and championships, professional and college sports, touring Broadway shows, stadium and pavilion concerts, food and cultural festivals, motor car races, winery tours and public rallies
We'll Find the Right Bus for Your Trip to Indiana

Renting a charter bus is an important first step toward a successful group outing, but you want to go one step further and take the time to find the best coach for your group and your trip. At US Coachways, we'll carefully gather information about your outing—how many people you expect to attend, how long you'll be on the road, the things you'll want to bring or take home, and any other special needs or concerns of your participants. Then we'll work closely with our hand-selected network of charter bus vendors nationwide to find the bus that best fits your needs.
For a small group outing to Indiana, we recommend the mini-bus, with seating for 24 to 35 passengers. Larger groups will want a full-sized charter bus, which offers accommodations for up to 57 and an on-board restroom. Multiple bus rentals are typically an option and ADA-accessible coaches are usually available.
With most charter buses (other than some school buses), you can expect climate control, high-back bucket seats, ample storage space and a great sound system as standard features. Other amenities may be available for an additional charge, including Wifi, USB ports and electrical outlets, DVD players and monitors, P.A. systems, hardwood floors and leather seats. Check with your booking agent.
Your Rights as a US Coachways Charter Bus Customer
At US Coachways, our customers are our first priority. We've put together a "customer bill of rights" to ensure that your needs are met and that we meet or exceed your expectations. You have the right to:
Know all anticipated costs at the time of sale

— We will notify you of any potential costs up front, and will make certain all projected costs are documented in your contract. We know from experience, though, that pricing can change, based on supply and demand. If the total price for your charter increases after you sign your contract, we will notify you immediately and will give you the opportunity to cancel without incurring a cancellation fee, provided the cost increase did not arise because of changes you made to the charter.

Protection in the event of cancellation of a charter bus trip

— We will notify you in advance of our cancellation policy, and will give you the opportunity, at the time of sale, to obtain "charter cancellation protection" to minimize costs.

Have a professional driver

— All drivers employed by our affiliate companies must comply with state and federal safety and driving regulations. In addition, your driver must exercise professional courtesy at all times, and must have a thorough knowledge of your itinerary. If your driver does not meet these requirements, we ask that you notify us immediately, so that we can conduct a thorough investigation. If our investigation confirms your allegations, we will refund you 5% of the total cost of your charter bus trip, up to a maximum of $500.

Amenities that work

— If any amenity on your charter bus does not function properly (such as climate control, bathrooms, sound systems, DVD players or Wifi), we will either fix the problem or replace your coach, if possible. We will also refund you 5% of the total cost of your charter for each day the amenity malfunctions, up to a maximum of 20% of the total cost of your charter.

Protection in the event of "state of emergency" or weather-related closings

— If a venue on your trip is closed because of a "state of emergency," all cancellation fees resulting from that closure shall be capped at $500, provided the closure was beyond your control. For any weather-related cancellations or closures, you will be able to use any cancellation fees as a discount to offset the cost of future travel with US Coachways.

To be picked up on time

— We have a 30 minute grace period for your initial pickup. If we are more than 30 minutes late, we will refund 5% of the total cost of your charter. For any additional 30 minute late arrival, we will refund an additional 5% of the total cost of your charter, up to a ceiling of 20% of the cost of your charter.
Make Your Charter Bus Reservation to Indiana Today!
At US Coachways, we have more than 35 years of experience providing effective ground transportation solutions to business, groups and group leaders nationwide. To get a free estimate on the cost of a charter bus trip to the Hoosier state, visit our cutting-edge online Cost Calculator. We will follow up with an e-mail within minutes. To get answers to your questions about charter bus rentals or to learn more about the ways we can help you with group travel, call or live chat with us to speak with an experienced luxury travel consultant.