Travel to the "Sixth Borough" on a Charter Bus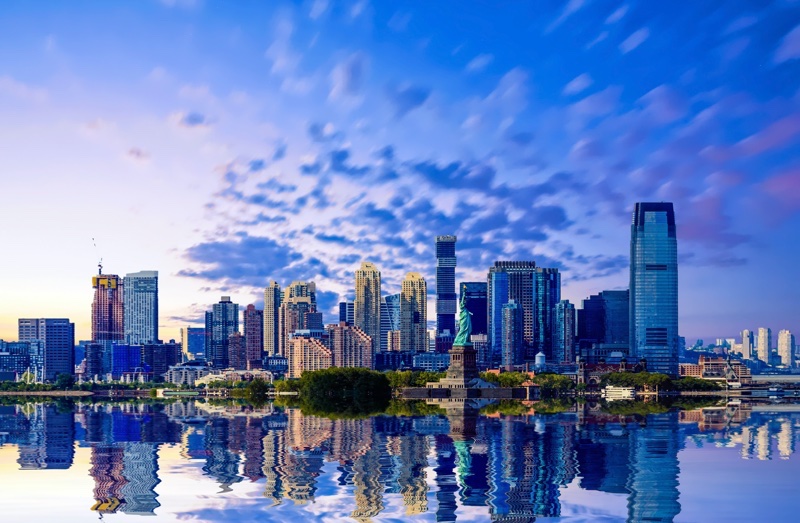 Jersey City Skyline
Just across the Hudson River from Lower Manhattan, Jersey City is referred to by many in the greater New York City metropolitan area as the "sixth borough." One of NYC's most cherished icons, the Statue of Liberty, stands tall in what appear to be New Jersey waters just off the Jersey City shoreline (the National Park Service says that, even though Lady Liberty is closer to New Jersey, she's considered a resident of New York). The Empty Sky Memorial here pays tribute to those who lost their lives on September 11, 2001. The Ellis Island Immigration Museum is also here, with exhibits and artifacts from its storied history as the entry point for more than 12 million European immigrants into the United States.
Jersey City may not be in the Big Apple, but it's clearly a part of America's biggest city. You don't want to try to navigate your own way around this exciting and energetic destination. There's a better way to take in all Jersey City has to offer— with a charter bus rental from US Coachways.
Make It Easy on Everyone—Visit Jersey City on a Charter Bus!
Planning and pulling off a group outing can be a lot of work—one of the smartest things you can do to both simplify the process and ensure a positive experience—travel on a charter bus from US Coachways. With a charter bus, you'll have:
A reliable means of travel

— Delays and cancellations are virtually nonexistent with charter buses. Your driver has the resources to identify potential roadway problems in advance and find alternate routes. In addition, because of our vast network of charter bus service providers nationwide, it's usually not a problem to find a replacement coach.

More flexibility than other modes of travel

— You tell us when you want to leave, where you want us to pick you up, how often (and where) you want to stop, how long you want to stay, and when you want to come home.

The most comfortable way to get to and from Jersey City

— The seats are wide, with more leg room than any other type of travel. There's no middle seat, either. The aisles are spacious, too, and you can move about at any time.

More travel for your money

— Because you share many of the costs of travel with fellow passengers, you can usually expect your outing to be highly cost-effective.

Safety and security

— With highly trained professionals at the wheel, charter buses have extremely low accident rates. In addition, you won't have to worry about your personal items—there's limited access to the bus, so it's easy to monitor who comes and goes.

Unparalleled convenience

— You won't have to fight traffic, check the GPS, worry about the time or try to find a place to park. Your driver will handle all those details. You'll be on the same charter bus for your whole trip and your luggage will ride with you—no worries about missed connections or lost bags. There's no TSA security checkpoint and your phone won't interfere with navigational systems. You won't have to wait in line, take off your shoes, or put your devices on "bus mode."

Less risk of getting stuck in traffic

— Your coach makes a great meeting place, whether you're prepping employees, talking strategy before a game, or giving last minute instructions to travelers. It's also a great place for a little quiet time.

A positive impact on the environment

— A charter bus helps you go green by reducing the number of private vehicles on the roads (and the carbon emissions they would produce).
At US Coachways, we bring more than 35 years of experience to groups and group leaders across the country. Go to our online Cost Calculator to get a free quote on the cost of a trip to Jersey City. Call us at 1-855-287-2427 for more information or to ask any questions about charter bus rentals.
US Coachways—The Standard Bearer for Customer Service and Satisfaction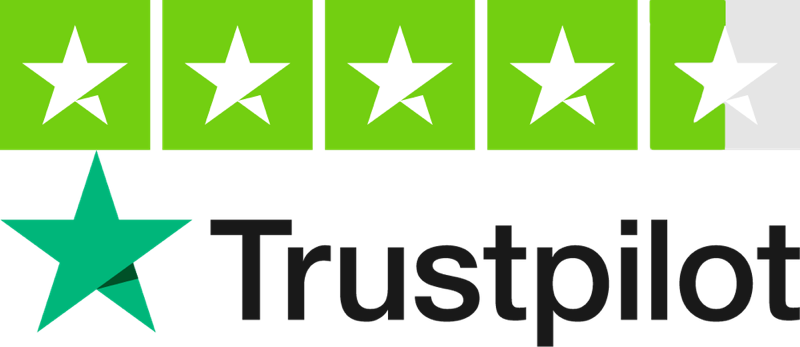 At US Coachways, we are always looking for new and better ways to improve your charter bus rental experience. When you book a trip to Jersey City with us, you can expect:
The best logistical support in the business

—At US Coachways, we understand that it's all about the details. We'll be there throughout the trip, from the selection of the right bus to the determination of optimal sites for picking up and dropping off passengers. We'll keep an eye on road conditions, too, looking for accidents, construction or other contingencies that might interfere with your plans.

Comprehensive dispatch services at all times,

with the resources and capability to manage multiple locations simultaneously

Your own assigned project management team,

with a single point of contact, available and ready to assist you 24 hours a day, seven days a week

The use of our online Trip Management Portal,

an extremely useful tool that lets you view invoices, itineraries and other information from all your US Coachways bookings in the same place

Unmatched flexibility

—You want to stay an extra day in Jersey City? With our strong relationships with charter bus vendors nationwide, we can usually make it happen.

We book, on average, more than $55 million in charter bus trips every year!

That gives us the vendor loyalty and local market savvy to consistently help you get more travel for your money.
We are GSA (General Services Administration) approved to provide charter bus services to the United States government and its agencies, including the armed forces.
Jersey City—Have Fun in the Big Apple's Sixth Borough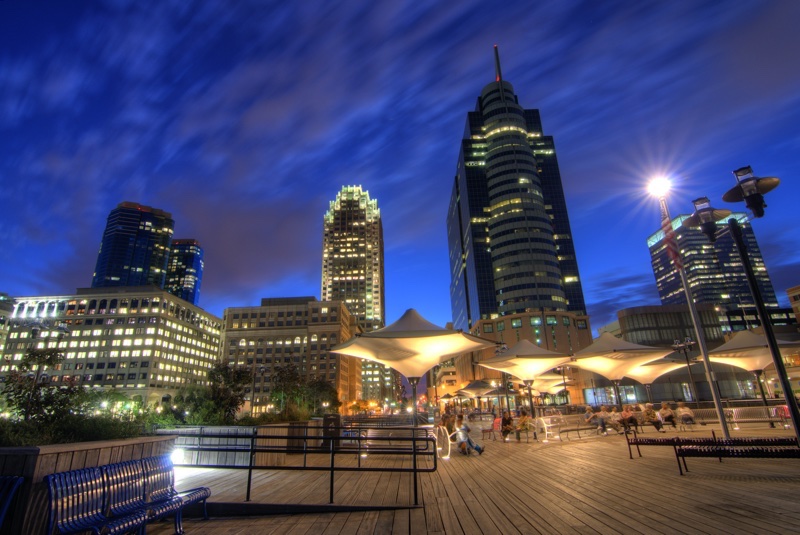 Exchange Place, Jersey City
Get ready for a great time in Jersey City:
Of course, there may be no better place to get a great view of the Manhattan skyline than across the Hudson from the shores of Jersey City.
Get the Right Bus with US Coachways!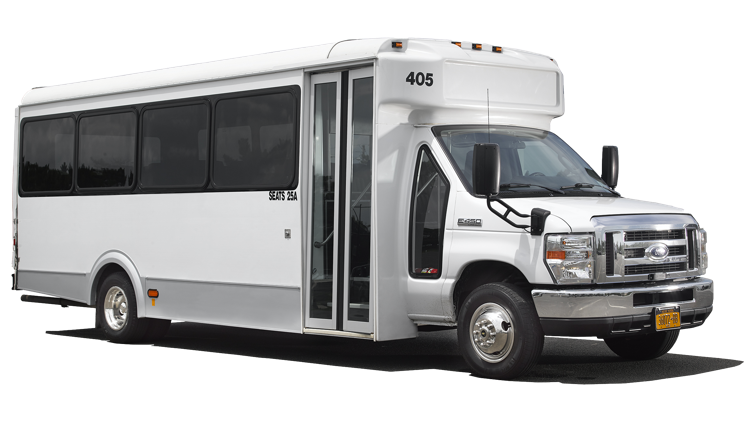 Your first step toward a successful group trip—book a charter bus from US Coachways! But just as important—you want to take the time to make certain you have the right coach for your group and your trip.
When we set up your charter bus outing, we'll take the time to learn the details of your trip—how many people will be attending, how long you'll be on the road, what you'll need to take with you or bring home, and any other special needs of your participants. Then we'll work closely with charter bus service providers across the country to find the ideal coach for your excursion.
If you're visiting Jersey City with a large group, you'll definitely want the full-sized bus, with accommodations for up to 57 and an on-board bathroom. Small-to-mid-sized groups find the mini-bus to be a great fit, with a number of options that seat anywhere from 24 to 35. All charter buses (except for a few school buses) have plush high-back bucket seats, climate control, a great sound system and ample room for storage of personal items. Additional amenities, such as Wifi, electrical outlets, DVD players and monitors, public address systems, leather seats and hardwood floors, may be available for an extra charge. Check with your booking agent.
A Charter Bus Rental—Great for Any Trip to Jersey City
The many attractive features of a charter bus—flexibility, comfort, affordability, safety, reliability and convenience—make it a smart choice for any travel to Jersey City:
Family celebrations

— Weddings, rehearsal dinners, engagement parties, reunions, graduations, bar and bat mitzvahs, birthdays, anniversaries, retirement parties and even family vacations

Business and corporate travel

— Conventions, conferences, training, workshops, team-building exercises, seminars, business and sales meetings, employee volunteer projects, golf outings, company picnics and parties

Senior citizen and retiree outings

— Shopping trips, museums and historical attractions, plays and concerts, casino nights, fall foliage tours

School transportation needs

— Athlete and fan travel, band and orchestra festivals, club and class trips, cultural events, sorority and fraternity outings, graduation and prom after-parties, student volunteer efforts

Church outreach

— Mission trips, retreats, church camp sessions, faith-based conferences and conventions, local volunteer work, adult and youth fellowship opportunities, choir tours

Once-in-a-lifetime events

— Stadium and arena concerts, touring theatrical productions, bowl games and championships, professional and college sports, motor car races, food and cultural festivals, large public rallies
Book Your Outing to Jersey City Today
When you charter a bus through US Coachways, you'll have the benefit of our more than 35 years as leaders in the industry, providing effective ground transportation solutions to individuals, businesses, groups and group leaders nationwide. For a free estimate on the cost of a charter bus trip to Jersey City, go to our user-friendly online Cost Calculator. To learn more about the wide range of services we offer, or to ask any questions about charter bus rentals, call 1-855-287-2427 and speak with an experienced travel consultant.