Travel to the Heart of America in Comfort and Luxury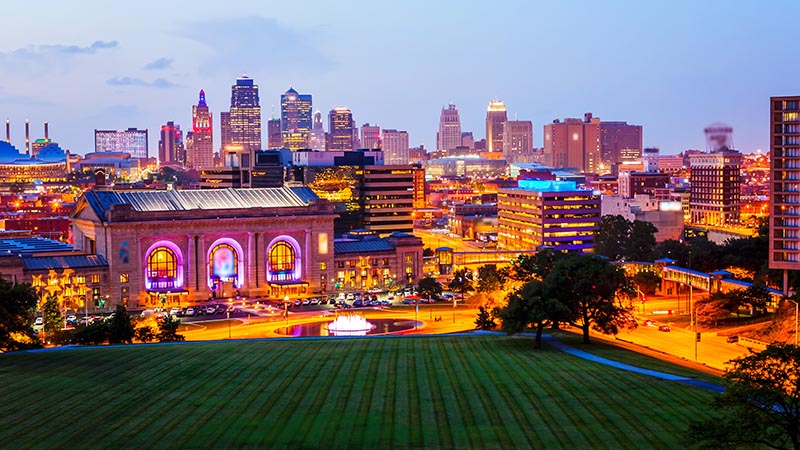 Kansas City Skyline
Looking for a great place to take a group in the heartland? With Kansas City, you'll get two for the price of one. These great cities along the Kansas-Missouri border offer amazing historical museums, arts and culture, delectable dining options and virtually unlimited shopping opportunities. Make your trip to the Kansas City metropolitan areas easy with a charter bus rental from US Coachways.
Make the Smart Decision—Ride with US Coachways
At US Coachways, we are the largest charter bus rental provider in the United States, booking more than 25,000 trips every year. We've been at the forefront of the charter bus industry for nearly 40 years, and have earned a widespread reputation for our expertise with short-notice bookings and trips involving complex logistics. We give top priority to safety and reliability, using the unmatched national network of charter bus vendors we've developed to ensure that you have access to top-tier services. Our sophisticated online reservation system makes the process painless.
To get a free estimate on the cost of a charter bus outing to Kansas City, visit our user-friendly online Cost Calculator. For additional information, or to ask any questions, live chat us or call 1-855-287-2427 for an experienced luxury travel consultant.
The US Coachways Difference
When you travel by charter bus, you have many options. Here's why you want to book your trip with US Coachways:
We place a premium on your safety

Every bus that's used on one of the charters we book goes through a comprehensive maintenance inspection, with a system of checks and balances designed to ensure compliance with our safety standards and earn our "Gold Seal of Approval"
All mechanics and automotive techs who work on the buses we use are required to have received the Blue Seal of Excellence from the National Institute for Automobile Safety
All of our employees are required to stay current with all Department of Transportation (DOT) rules and requirements, as well as any safety training
All buses we use are equipped with Carrier411, the premier carrier monitoring service for safety and compliance with DOT regulations

We use cutting edge technology to improve your customer experience

Our high-speed, intuitive online Trip Management Portal lets you use a mobile device or a desktop to obtain a quote, make a reservation, request a trip change, pay for a charter bus or track a reservation
We use the Bus Route Analysis system to monitor roadways in real-time, so that we can identify traffic patterns, roadblocks, construction or accidents that may potentially interfere with your travel, and find alternate routes to get you there on time
We offer SmartDrive technology, USB ports, Wifi, flat screen televisions, high-tech two-way radios and on-board video monitoring for your convenience and peace of mind

We provide virtually unlimited choices

We have the largest national network of on-demand, hand-selected premium charter bus vendors in the country
Our vast network of charter bus service providers helps ensure consistently competitive pricing
Our access to more than 5,000 charter buses in over 100 hubs across the country allows us to make last-minute changes or book entire trips with short notice
The Great Attractions in KCMO and KCK
Kansas City Barbeque
These two great cities at the confluence of the Missouri and Kansas Rivers offer plenty to engage and entertain:
Museums and historical sites

—There's much to pique the interests of history buffs here. On the Missouri side, you can visit the National WWI Museum and Memorial, with the most extensive collection of "Great War" artifacts in the world. The Negro Leagues Baseball Museum is here, sharing a facility with the American Jazz Museum. For a truly unique experience, spend time at the Arabia Steamboat Museum—the Arabia was a side-wheeler that sank back in 1856 and was rediscovered in 1988. Thousands of artifacts from the ship can be viewed at the Arabia Steamboat Museum.

There are also fascinating museums and historical sites in Kansas City, Kansas. The Strawberry Hill Museum, an 1880s Queen Anne Style mansion that served as an orphanage for nearly 70 years, now houses exhibits and artifacts chronicling the Slavic heritage in the KCK area. Grinter Place, a living representation of life on the frontier in the 1820s, has a wide array of artifacts from the 19th century, including family bibles, quilt blocks, family photos and a Union cavalry sword. Shawnee Town, on the west end of Kansas City, Kansas gives you a taste of daily life in a 1920s farm community.

Arts and culture

— The Nelson-Atkins Museum of Art, in KCMO, is renowned throughout the country for its comprehensive collection of art from around the world, particularly its vast Asian art offerings. The Kemper Museum of Contemporary Art houses works by Jackson Pollock, Jasper Johns, Georgia O'Keeffe, Andrew Wyeth, Robert Mapplethorpe and other celebrated modern artists.

Kansas City is considered one of the birthplaces of much traditional American music, including jazz and the blues. Not surprisingly, both cities offer a wide array of musical genres at venues large and small, from the Arvest Bank Theatre to the Kansas City Juke House. The Kansas City Symphony performs at the Kaufman Center for the Performing Arts, in KCMO. Enjoy productions by the Lyric Opera of Kansas City at the Richard J. Stern Opera Center, on the Missouri side.

Great food in the heartland

— KC has its own unique style of barbeque, with a ketchup and molasses based sauce that makes it richer than other versions. The best way to have your barbeque? Try a local favorite called "burnt ends," where they cut the meat into small pieces and let it get a little blackened on the cooker. You'll also find some of the country's best steakhouses here, as well as places to get pork just about any way you can imagine—ribs, chops, pulled, or chopped. But there's a culinary diversity in the Kansas Cities that may surprise you. Make certain you try some bierocks while you're here—they're tasty pockets of dough filled with cabbage and hamburger, a testament to the German tradition in KC. The German influence also appears with grebble, deep-fried balls of dough made with sour cream, buttermilk and eggs. The vibrant foodie scene here also includes Armenian, African, Pakistani, Caribbean, Costa Rican, Guatemalan, Polynesian and Turkish cuisine.

Retail therapy

— The first outdoor shopping mall in America was built in KCMO. The cities have long been a mecca for shoppers, offering boutiques, malls, outlet stores, antique emporiums and funky little shopping districts. For the mega-mall experience, head over to Oak Park (nearly 200 stores) or the Country Club Plaza (about 175 retailers). The Zona Rosa, billed as a "shopping district," has dozens of high-end retailers, as well as many of your favorite eateries. One Nineteen also offers upscale shopping and dining at world-class venues. Outlet shoppers will want to make a beeline for Legends. Shoppers seeking that "one-of-a-kind" experience will find it in Brookside, a neighborhood of fashionable homes and specialty stores. Antique hounds will want to visit West Bottoms or head out to the antique malls in nearby Parkville or Lawrence.
Make Your Trip Better with the Right Bus
You won't find a better way to take a group somewhere than in the comfort, luxury and convenience of a charter bus. It's important, though, to take the time to find the ideal coach for your group and your trip.
At US Coachways, we'll take the time to learn the details of your event—how many will be attending, how far you'll be traveling, what you'll want to bring or take home, and any other special needs of your participants. Then we'll go to our unmatched national network of charter bus vendors to find the coach that works best for you.
If you're on your way to Kansas City with a small-to-medium-sized group, consider the mini-bus. It comes in a number of models, seating anywhere from 24 to 35. For larger groups, the full-sized charter bus is the ticket, with accommodations for up to 57 and a bathroom on the bus. Multiple bus rentals are typically an option, and ADA-accessible coaches are available.
High-back bucket seats, climate control, a great sound system and plenty of storage space are standard features on most charter buses. Other modern conveniences, such as Wifi, DVD players and monitors, electrical outlets and USB ports, public address systems, hardwood floors and leather seats, may also be available for an extra charge. Check with your booking agent.
Take a Charter Bus for Any Group Outing to Kansas City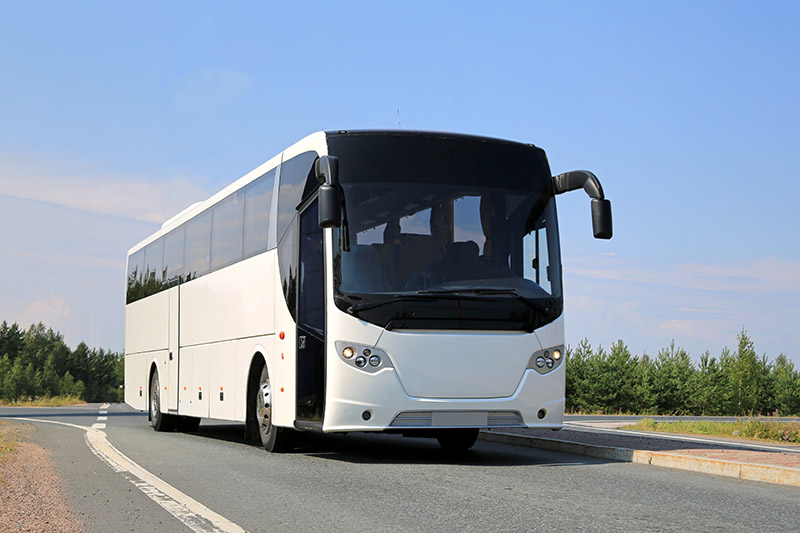 A charter bus offers everything you want for group ground transportation—affordability, safety, comfort, reliability, flexibility and convenience. That's why it's a great choice for any travel to KC:
Our Commitment at US Coachways
For more than three decades, we've continually worked to find new and better ways to improve your charter bus rental experience. When you set up an event with US Coachways, you'll enjoy:
World class logistical support

— We are known in the business for our special expertise with trips involving complex logistics. We'll pay close attention to every detail, from the careful selection of the ideal bus for your group to the determination of optimal locations and times for drop-offs and pick-ups. We also monitor highway conditions for accidents, construction or other roadblocks or slowdowns, so we can find alternate routes, if necessary, to get you there on time.

Comprehensive dispatch services 24 hours a day, seven days a week

, with the experience and resources to effectively manage multiple sites at the same time

Access to our online Trip Management Portal

, which allows you to see invoices, itineraries and other information from all your US Coachways bookings in one location. You can also book a trip, request a change in your itinerary, make a payment, get a quote or track a reservation.

A dedicated project management team

, with a single contact person, ready and able to assist at all times

The flexibility to make last

— minute or real-time modifications to your travel plans, or to book an entire outing with short notice

Highly competitive pricing

— Because we set up, on average, more than $55 million in charter bus excursions every year, we have the vendor allegiances and the understanding of local markets to consistently help our customers get more travel for their money
We are certified by the General Services Administration (GSA) to provide charter bus rentals to the federal government and its agencies, including the armed forces.
Schedule Your Charter Bus Trip to Kansas City Today!
At US Coachways, we've been leaders in the charter bus rental business for more than 35 years, consistently providing effective ground transportation solutions to individuals, businesses, group and group leaders nationwide. To find out the cost of an outing to Kansas City, go to our convenient online Cost Calculator. We will send you a free quote within minutes. To get answers to any questions about charter bus travel, or to learn about the other ways we can help you, live chat us or call 1-855-287-2427 to speak with an experienced luxury travel consultant.