Your Guide to a Memorable Trip to the Magic City
If you're looking for pure fun, there's no better destination than Miami. Whether it's relaxing along Miami Beach, enjoying the tastes and sounds of little Havana, dancing the meringue at one of the many clubs, or playing some of the world's finest golf courses, it's always fun in the sun in Miami. It's the 6th largest metropolitan area in the United States, with more than 5.5 million residents. You won't want to try to navigate its busy streets on your own. There's a better way to revel in all Miami has to offer—in the luxury, comfort and convenience of a charter bus from US Coachways.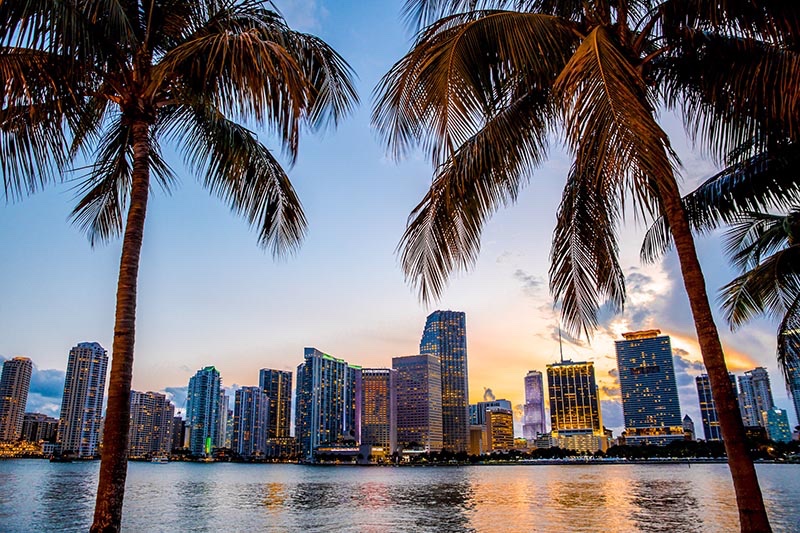 The Right Choice for Your Trip to Miami?—A Charter Bus Rental
When you're taking a group to a city like Miami, you have a number of options when it comes to travel. Here are some of the many reasons to choose a charter bus:
Safety and security

— Year in, year out, charter buses are one of the safest ways to travel with a group. You'll have a highly trained professional at the wheel at all times. In addition, because of the controlled access to your bus, you won't have to worry about uninvited guests. You and your personal items will be safe and secure.

A charter bus rental offers truly stress

- free travel—One of the challenges of most group trips—somebody has to be in charge, making certain you get to your destination and that you get there at the right time. With a charter bus rental, everyone gets to be on vacation. We'll check the maps and watch the time, so that you can relax with family and friends. You won't have to worry about lost luggage or missed connections. You'll be on the same coach at all times and your bags will travel with you. There's no TSA screen point for a charter bus, either, and you'll never have to put your phone on "bus mode."

You can tailor your trip to your needs

— There's a lot to do in Miami. You don't want to be limited to a prepackaged itinerary, seeing the same things everyone else does. With a charter bus, you can customize your excursion. Tell us when and where you want to go and how long you want to be there. We'll handle all the details.

A charter bus can often take advantage of the HOV (high occupancy vehicle) lanes

— That's a real bonus in a city like Miami.

You'll be able to move around in comfort

— Charter buses have more leg room than any mode of transportation, and the seats are plush and wide. There's also plenty of room in the aisles, and you can move about at your leisure.

You'll get more travel for less money

— Studies consistently show that charter buses are one of the most cost-effective ways to travel with a group.

You'll be helping the environment on a charter bus

— A single charter bus can take more than a dozen cars off the roads. That leads to fewer emissions and that can create a positive impact on the environment.
At US Coachways, we have provided comprehensive assistance with charter bus rentals to groups and group leaders for more than three decades. For a free quote for a charter bus trip to Boston or to learn more about the full scope of our services, visit our online Cost Calculator or call us at 1-855-287-2427.
Miami—The Gateway to Latin America
It's impossible to think of Miami without reflecting on its rich Latin heritage. The city is a min-melting pot for émigrés from throughout Latin America and the Caribbean. That blend of cultures has a broad influence on life in Miami, from the music to the food to its history. The best way to take in the Latin flavor in Miami is in the distinct neighborhoods: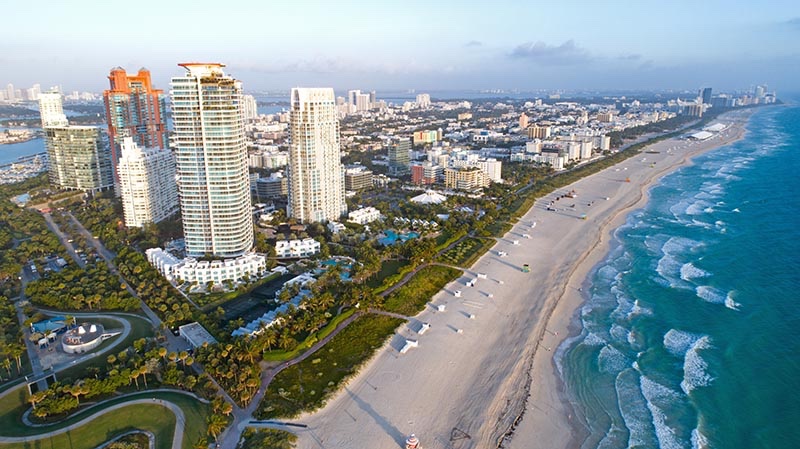 South Beach

— Look for great fusion cooking along Ocean Drive. There's no telling what you'll find inside a taco, whether it's from one of the many food trucks or one of the little bodegas. Enjoy Cuban and Nuevo Latino fare or check out one of the many tequila bars. But keep your eyes and ears open, too. South Beach has a nightlife unlike any other—salsa, rumba, calypso, conga, samba, soca, meringue and steel pan are all part of the culture here. Some of the clubs even offer dancing lessons.

Little Havana

— Located just west of downtown Miami, Little Havana is home to the famous Calle Ocho strip, where many Cubans came when they fled to America. Reminiscent of some of the neighborhoods in Havana, Cuba, with Mediterranean coral rock and stucco homes, it has its own Walk of Fame, with pink marble stars honoring such famous Cubans as Gloria Estefan and Sammy Sosa. Stop by Maximo Gomez Park to relax, have some coffee or play dominoes with the locals. Visit the Bay of Pigs Museum, which pays tribute to the soldiers of the 2506th Brigade, with pictures, documents and other artifacts of that ill-fated venture. Check out El Credito, where you'll find skilled workers rolling Cuban cigars by hand. For the best eats in Little Havana, visit Versailles, where you can get a Café Cubano with your Vaca Frita, Arroz con pollo, pulpeta or tamal en cazuela.

Wynwood

— The heart of Miami's arts district, Wynwood is renowned for its famous "Wynwood Walls," as well as more than many galleries and museums. Conceived in 2009, the Wynwood Walls are giant murals painted on the sides of the warehouse buildings in the district. There are now murals on dozens of buildings in the district.
Miami Offers Much More
While the Latin influence is a dominant part of the Miami experience, there's a lot more to do and see here:
The Right Coach—One of the Keys to a Great Experience
When you're taking a group to Miami, your choice of transportation can make or break the success of the trip. Unfortunately, if there are significant problems getting to and from the city, participants may forget everything else that went well.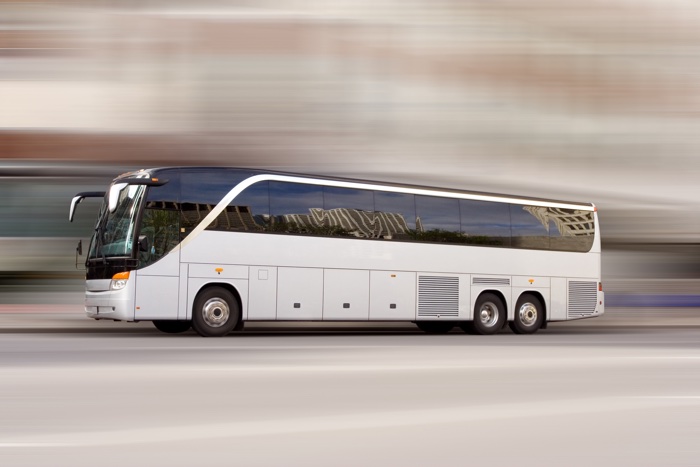 At US Coachways, because of our extensive relationships with charter bus service providers across the country, we have access to an unparalleled selection of charter buses. We can help you find the one that's ideal for your group. We'll help you secure a coach that's big enough for everyone to have room to move, but not so big that there's a lot of wasted space. We'll also help you find the bus that has the amenities you need.
A mini-bus — Perfect for mid-sized groups, this vehicle seats 24 to 35 passengers comfortably. There's also plenty of room for everything you take and bring home from Miami.
A full-sized bus — With seating capacity for up to 57, this coach meets the needs of larger groups. Multiple bus rentals are always an option, so don't worry about how many people are coming.
You'll find many modern conveniences as standard features on most buses. That includes Wifi, charging ports for phones and tablets, DVD players and PA systems. State-of-the-art sound systems are available and some buses even offer on-board restroom facilities. The options vary from coach to coach, so ask your booking agent about availability.
A Charter Bus Rental—Ideal for Any Trip to Miami
The many advantages of a charter bus make it well-suited for any excursion to South Florida:
Reserve a Charter Bus for Your Trip to Miami
At US Coachways, we have been an industry leader in the charter bus rental business for more than 30 years, booking more than 20,000 trips every year. For a free quote for a charter bus excursion to Miami or to learn how we can help you with a group trip, go to our online Cost Calculator or call 1-855-287-2427 to speak to an experienced customer service representative.