Make Memories in Music City
When you think of Nashville, you think of music—it's long been one of the music capitals of the world. But Tennessee's capital and largest city offers much more—world-class Broadway productions, tours of historic plantations, great dining and shopping experiences, and opportunities to taste some of Tennessee's finest whiskey.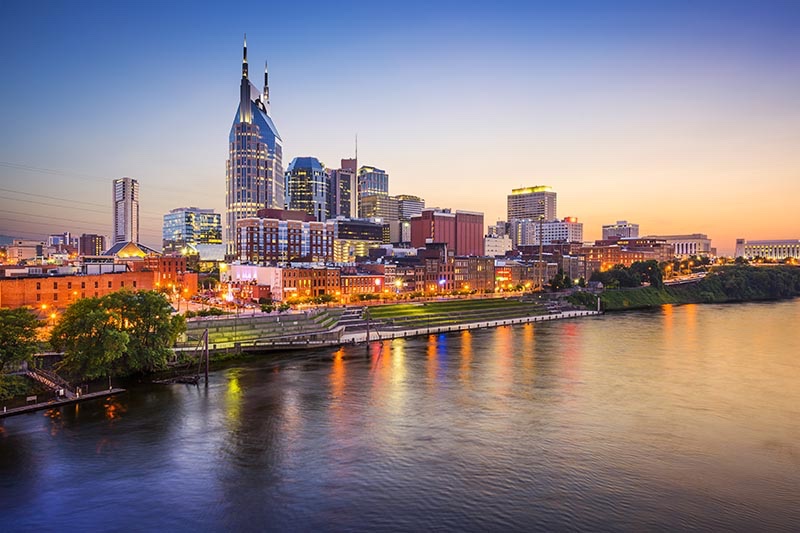 But Nashville's a big and sprawling urban area, with nearly three quarters of a million residents spread out over more than 500 square miles. You don't want to spend your time there navigating its winding streets, looking for a place to park, battling traffic. With a charter bus rental from US Coachways, you can do what you're supposed to do in Nashville—have a great time while someone else handles all the details.
A Charter Bus Rental—Ideal for Any Occasion
The many features and benefits of charter buses make them an outstanding option for any trip to Nashville, including:
At US Coachways, we have been industry leaders in the charter bus rental business for more than three decades. Use our convenient online cost calculator to get a free estimate on the cost of a charter bus trip to Nashville, or call us at 1-855-287-2427 to learn how we can assist you with group travel.
A Charter Bus—The Smart Way to Travel to and from Nashville
When you're taking a bunch of folks to Music City, you have options for getting there and back. When you consider the features and benefits of a charter bus rental, though, it's an easy decision: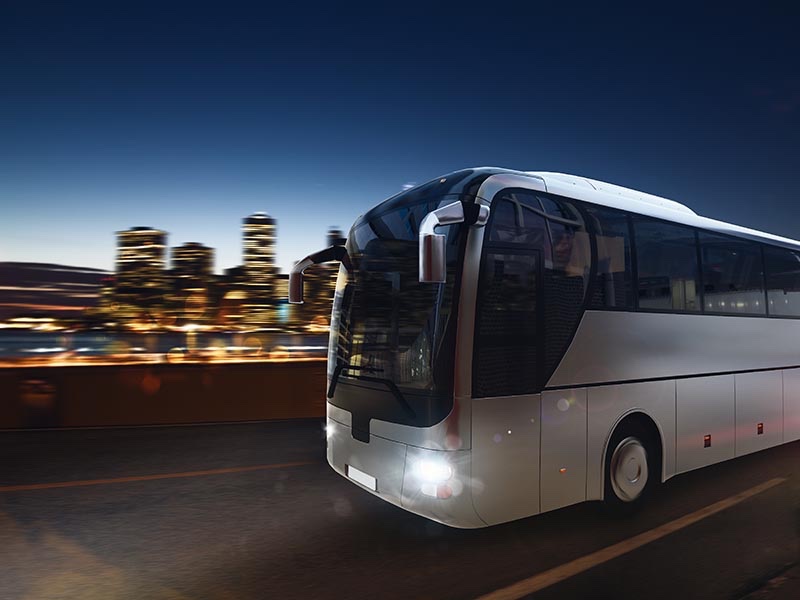 Charter buses offer unmatched flexibility

— There's no other mode of transportation that compares. You won't have to choose from a limited number of itineraries or travel on someone else's schedule. With a charter bus, you decide where you want to go, when you want to go there and how long you want to stay. In addition, you can often make changes to your itinerary on the fly.

Charter buses are more reliable than other modes of transportation

— Ever had a flight that canceled or arrived late? You're not alone. One study found that nearly a million air travelers experience delays every single day! With a charter bus rental, because of the extensive network of service providers, it's much easier to get a replacement vehicle if there are mechanical problems. Furthermore, your bus driver has the technology and resources to proactively determine potential traffic problems and find alternate routes that get you to Nashville on time.

Charter buses let everyone enjoy the trip

— With a charter bus rental, you won't have to take charge, watching the clock or checking the map/GPS. You can relax with friends and family while your driver handles all the details. You won't have concerns about missing a connection or losing your luggage—you'll be on the same coach for the entire trip and your bags will always travel with you. There's no TSA line, so you won't have to take off your shoes or empty your pockets, and you can bring your own shampoo or a favorite beverage. There's no "bus mode" setting on any of your devices, either, so you can stay connected at all times.

Charter buses offer safety and security

— You'll have a trained professional operating the bus at all times. In addition, because there's only one way on and off the bus, you won't have unwanted guests. You and your personal items will be safe and secure.

Charter buses are highly cost

- effective—On a charter bus, you'll share many of the costs of travel with your fellow passengers. That typically makes charter a more affordable mode of travel. With the money you save, you can bring back some terrific mementos from Nashville.

Charter buses offer unparalleled comfort

— The seats are larger than you'll find with any type of travel and there's no middle seat! Charter buses offer more leg room than any other mode of transportation. The aisles are wide and you can get up and move about at any time.

Charter buses let you use the HOV (high occupancy vehicle) lanes

— If you've ever been to Nashville, you know what a difference that can make.

Charter buses let you go green

— In a charter bus, you'll share the ride, so you'll take a number of vehicles off the roads. That's good for the planet. Just take a look at the positive impact US Coachways had on the environment in 2018.
Nashville — The Music
Let's face it—it's pretty hard to go to Nashville and not experience the amazing music scene. It may be the beating heart of country music, but it's also a mecca for musicians from many other genres. Don't be misled by names—you won't find a lot of music on Music Row—that's home to the business side of the Nashville music industry. Head downtown instead and take a stroll down Broadway. You'll find everything from honky-tonks and lounges to the Bridgestone Arena, with seating for up to 20,000. You can't make the pilgrimage to Nashville, though, without catching the Grand Ole Opry or taking in a show at the Ryman. The Ryman's downtown, but the Grand Ole Opry is located in Opryland, on the north side of town.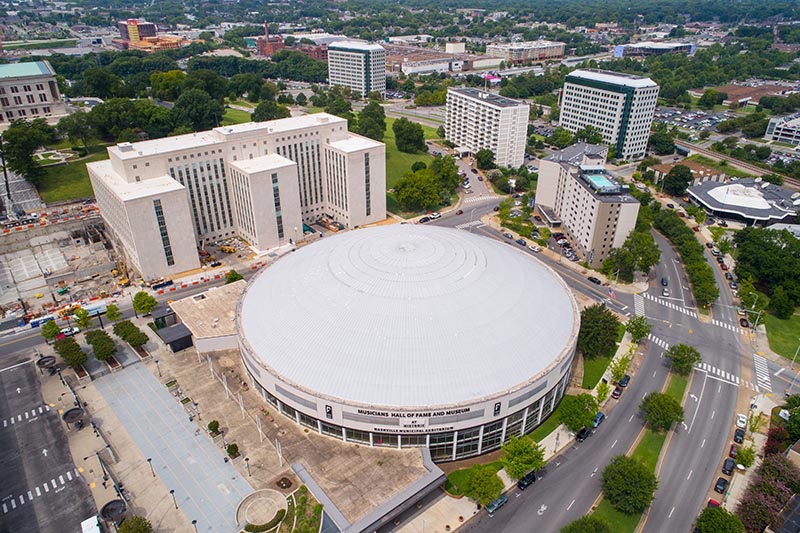 Of course, you can also experience a lot of the history of music in Nashville. Among the top attractions are:
The Country Music Hall of Fame and Museum

— Located a couple blocks from Broadway, this museum traces the origins of a uniquely American style of music, but also pays homage to the many great musicians of the last 100 years. Its collection exceeds 2.5 million artifacts.

The Musicians Hall of Fame and Museum

— Housed in the historic Nashville Municipal Auditorium, the MHFM pays tribute to musicians of all genres, featuring instruments played by Hendrix, as well as tributes to some of the all-time great studio musicians.

The Johnny Cash Museum and Café

— This attraction features the largest collection of artifacts in the world associated with the "Man in Black."

RCA Studio B

— Here's where some of the most iconic music in the world was recorded. Elvis, Dolly, Willie and Roy Orbison all recorded here. It's under the auspices of the Country Music Hall of Fame now and tours are available.
…And So Much More
While music runs through just about everything in Nashville, there's plenty more to see and do:
Nashville is also a popular destination for shoppers, whether you're looking for antiques, artwork, western wear or high-end merchandise. You'll find just about anything along Lower Broadway, from boutiques to used guitar shops. Other local favorites include SoBro, Marathon Village, the Gulch and Opry Mills.
Let Us Help You Find the Right Coach for Your Group
The first step toward a great group outing to Nashville? Choose a charter bus rental for all your travel needs. But you have options as far as your coach is concerned—you want the right bus, one with enough room to ensure that your people are comfortable, but without too much empty space. You also want the confidence that your coach has all the amenities your group needs.
At US Coachways, we have access to a vast network of charter bus service providers. We'll carefully consider all the important aspects of your trip—how many people are going, how long you'll be on the road, how long you'll be gone, and what you're bringing or taking home. Then we'll work with our partners in the charter bus industry to find the coach that best fits your needs.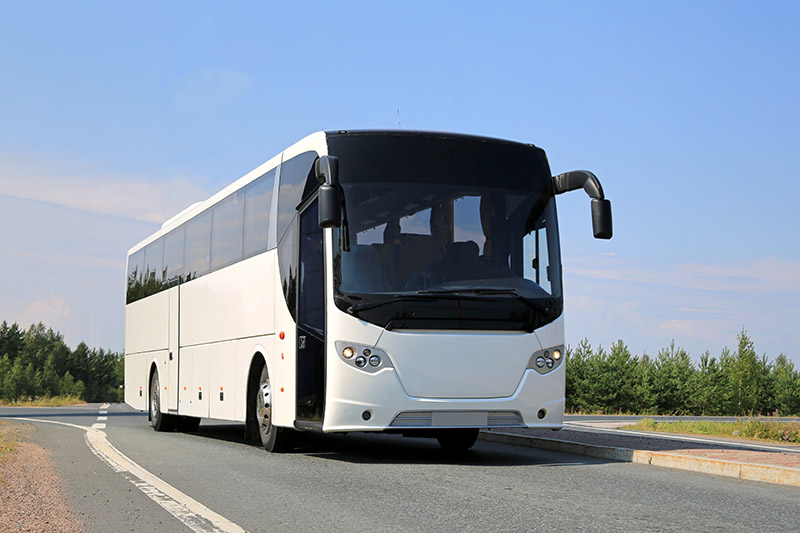 If you're traveling with a mid-sized group, the mini-bus is ideal, with room for 24 to 35 passengers and ample space for luggage and souvenirs. For larger groups, the full-sized bus is a great choice, accommodating up to 57 participants. Multiple bus rentals are always an option.
Most charter buses offer certain modern conveniences as standard items, including Wifi, charging ports for your devices, DVD players and PA/stereo systems. Other features, such as on-board bathrooms, may also be available. Check with your booking agent to make certain your coach has the features you need.
Book Your Charter Bus Excursion to Nashville Today
Make your reservation with US Coachways, an industry leader in the charter bus rental business for more than 30 years. For a free quote on a charter bus trip to Music City, go to our easy-to-use, online Cost Calculator. To learn about the many ways we can help you with group travel, call us at 1-855-287-2427 to talk with an experienced customer service agent.