For authentic cultural diversity, there's no other community in the United States that compares to San Francisco. From the art to the food, from the music to the museums, San Francisco offers experiences you simply won't find anywhere else, making it an amazing destination for a group trip.
San Francisco can be a tricky city to navigate, though, with twists, turns and winding roads. If you try to find your own way around this great city, you'll spend way more time working than enjoying your visit. When you travel on a charter bus from US Coachways, you won't have to check the GPS, look at your watch or try to find a place to park. We'll handle all the details while you enjoy all the city has to offer.
What Do You Need to Know about Charter Bus Rentals?
Never been on a charter bus before? Get ready for an amazing experience. Here's what you need to know:
Who is US Coachways?
US Coachways has been an industry leader and innovator for more than three decades, working with groups, group leaders, businesses and business owners across the country, helping them find effective ground transportation solutions for virtually any type of event or outing.
How do we set up a charter bus rental to San Francisco with US Coachways?
Booking your trip is easy. You can start the process by going to our cutting-edge online cost calculator, where you can explore your options and request a free quote. You can also book directly through our website or by calling 1-855-287-2427 and asking for an experienced travel consultant.
How much lead time do we need to arrange a charter bus trip to San Francisco?
The earlier you start the process, the more options will typically be available. Don't worry, though. Because of our experience, our knowledge of local markets and our unmatched network of charter bus service providers nationwide, we can usually put together an entire event with little notice.
How much will we pay to take a charter bus rental to San Francisco
That depends…charter bus costs vary, based on a number of factors. How many people will be traveling with you? What type of coach do you need? When will you be traveling? How long will you be gone? Will you require any special amenities? For a good estimate of the costs of a trip to San Francisco, use our online cost calculator.
Will we have to travel far to get on and off the bus?
No. We have long-term relationships with charter bus vendors in rural and urban areas throughout the country, and can arrange to pick you up and drop you off at a convenient location for you and your group.
What choices do we have for our bus?
YAt US Coachways, we know that the right coach plays a key role in the success of a group, so we'll make certain you have options. If you're going to San Francisco with a small-to-midsized group, consider a minibus, where you'll have seating for 24 to 35 people with plenty of room for your personal items. If you're taking a bigger group to the City by the Bay, book a full-sized charter bus, with accommodations for up to 57 people. See our fleet page to see the choices available.
What features are standard/optional on a charter bus to San Francisco?
Most of the coaches we provide (other than some school buses) are equipped with high-back bucket seats, climate control, a great sound system and ample storage space. Other features, such as Wifi, DVD players, charging ports for your devices, P.A. systems, hardwood floors and leather seats may be purchased separately. We can also provide ADA-compliant buses. Check availability with your booking agent.
Is alcohol allowed on the charter bus trip to San Francisco?
Yes, but you must request and obtain permission from US Coachways before your trip begins. You must obey all local alcohol laws in any city or state where you travel. Your driver will also have the discretion to suspend or terminate alcohol consumption at any time for any reason.
How old do I have to be to book a charter bus from US Coachways?
You must be at least 21 years of age to sign into a charter bus rental agreement. You can book a trip for your high school or college group, but must have a legal adult sign the contract.
Things You Can Only Do in San Francisco
Enjoy the comfort, luxury and convenience of a charter bus as you visit these unique San Francisco attractions:
Alcatraz Island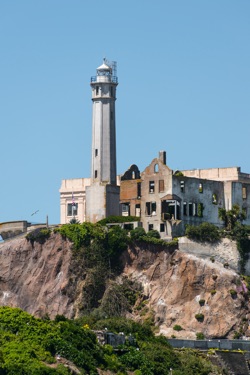 More than a mile offshore, this former federal prison, which once held such famous criminals as Al Capone, George "Machine Gun" Kelly, Mickey Cohen and Alvin "Creepy" Karpis, offers visitors a chance to learn about life on "the Rock."
The Golden Gate Bridge and Park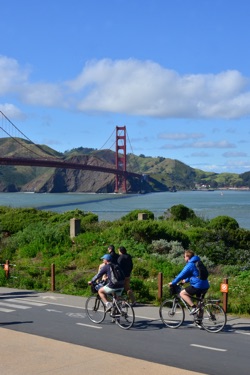 The Golden Gate Park covers more than a thousand acres, with plenty of green space, as well as museums and other attractions. There's also the famed Golden Gate Bridge, spanning 4,200 feet long and nearly 750 above the water.
San Francisco Museum of Modern Art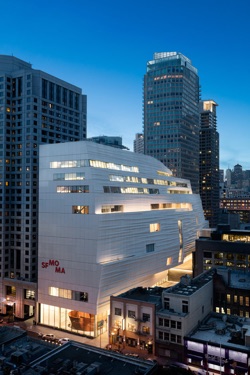 See works by Jackson Pollock, Ansel Adams, Dorothea Lange, Andy Warhol, Paul Klee and Henri Matisse and other modern masters in one of the largest art museums in the world, with more than 170,000 square feet of space.
Lombard Street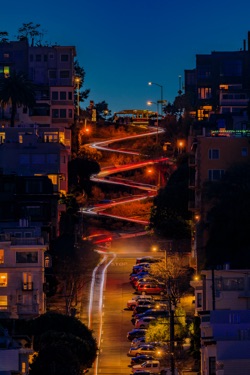 Known as "the crookedest street in the world," this one-block section of Highway 101 alongside the Embarcadero plunges more than 65 feet through eight hairpin curves over the distance of a single block .
Pier 39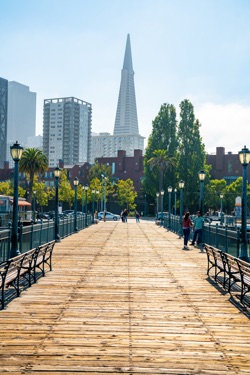 Come to Pier 39, part of the city's famed Fisherman's Wharf, where you'll enjoy many popular restaurants and shops, as well as an aquarium and a video arcade. The pier is also a popular sun-bathing spot for the local sea lions.
Walt Disney Family Museum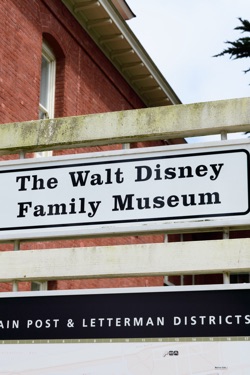 Entertainment mogul Walt Disney is honored in this museum, found in the Golden Gate National Recreational Area. The exhibits include early drawings and animation, as well as nearly 250 awards that Disney received in his lifetime.
de Young Museum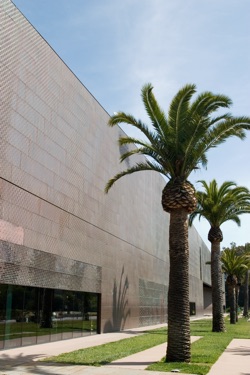 With extensive collections of American and African art, including paintings and sculpture from the California Gold Rush days, as well as works from the Spanish Colonial period and modern art, the de Young is a local favorite .
Muir Woods National Monument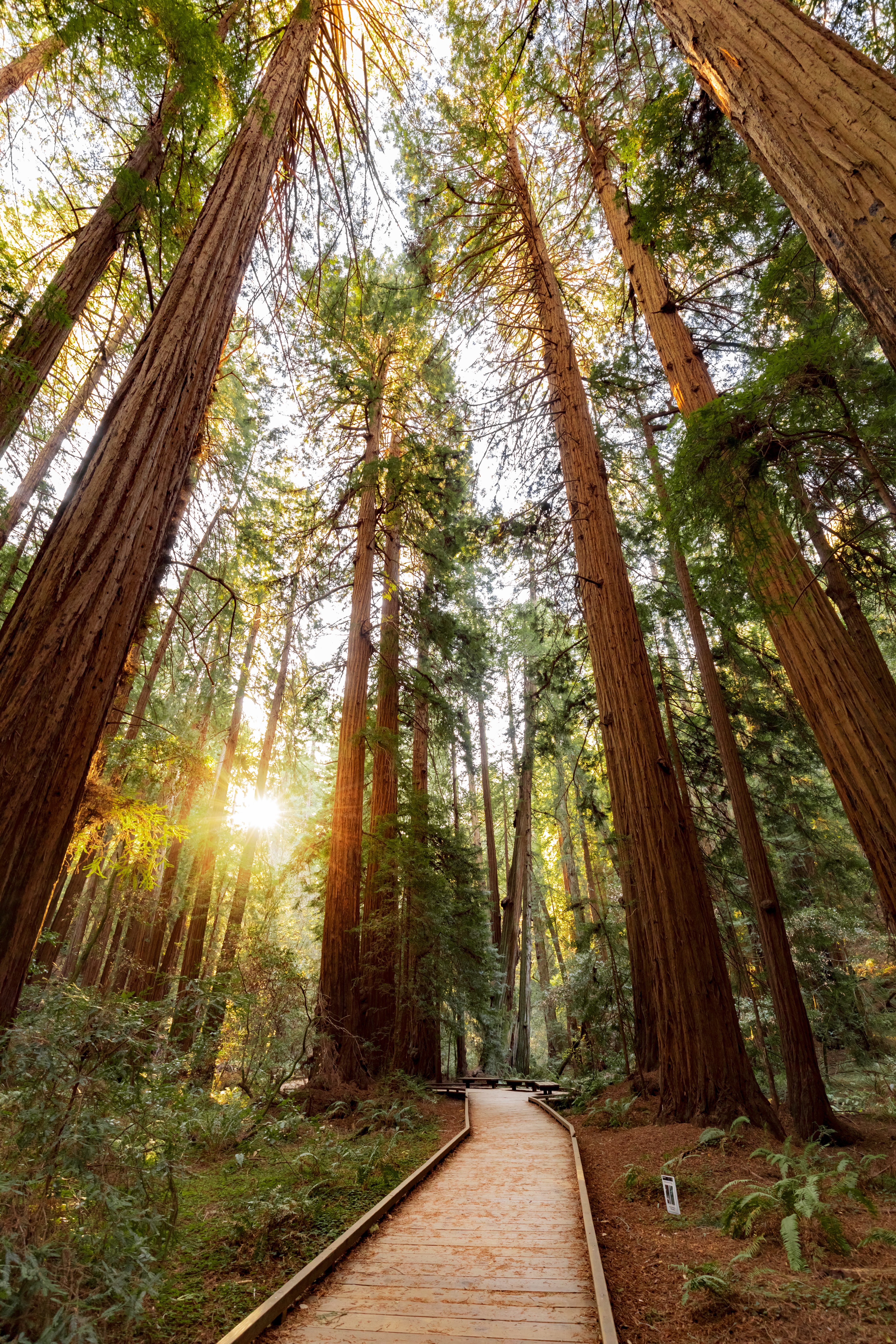 This 500+ acre preserve, part of the Golden Gate National Recreation Area, is home to more than 240 acres of old growth redwoods, many towering more than 250 feet above the ground. It's a 12-mile drive north of the city.
The Benefits of Booking Your Charter Bus with US Coachways
With US Coachways, you can always book in complete confidence, knowing that:
Special Offers for Groups
We offer discounts to special travelers—We reward healthcare workers, military personnel, non-profit organizations and seniors with additional discounts on charter bus rentals. To learn more, check out our specials page.
We offer unmatched flexibility in your travel
Because we work with thousands of charter bus vendors nationwide, we can typically make last-minute or real-time changes to your itinerary without any problem, or even book an entire outing with little notice.
You'll get world-class customer service
You'll a dedicated project management team, full logistical support, comprehensive dispatch 24/7, and the use of our online Trip Management Portal at all times. Is it any surprise that we have more than 2,000 positive online reviews?
We place a premium on your safety
We carefully review vendor safety records and won't use service providers who have current major safety violations. Our vendors must also maintain accurate and up-to-date driving and maintenance logs for all drivers and coaches.
A US Coachways Charter Bus—the Right Choice for Any Excursion
The many benefits of a charter bus make it optimal for any outing to San Francisco:
Will a charter bus make group business travel better?
Yes. A charter bus lets you multi-task, holding meetings or breakout sessions while you're on the road. You can also schedule events more reliably, as you'll all be traveling together.
Is a charter bus a good fit for a school event?
Yes…a charter bus gives you the two things you want most when traveling with a group of students—increased safety and better accountability. You'll know where your students are at all times, and you'll keep young drivers off the roads.
Should I book a charter bus to take a group of fans to a game?
Absolutely! These types of events are meant to be shared. On a charter bus, you'll get to travel with fellow fans, and the party will start the minute you get on the bus. You'll also have your own designated driver.
Why should I rent a charter bus to take a group to a public event?
When you travel on a charter bus, you won't have to park halfway across town and try to find your way to the event. In addition, you'll get to ride with like-minded people, and might make some new friends.
Enjoy the Diverse Neighborhoods in the City by the Bay
Experience the true cultural diversity that is San Francisco—visit these communities on a charter bus:
Chinatown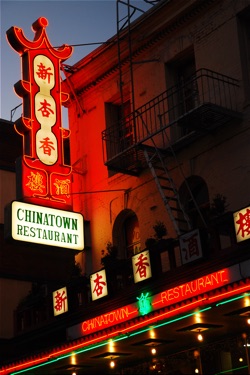 The most vibrant Chinese-American community in the United States, Chinatown is cherished for its authenticity. You won't find any chain stores or restaurants here, but you'll likely see specialty items found nowhere else in the country.
North Beach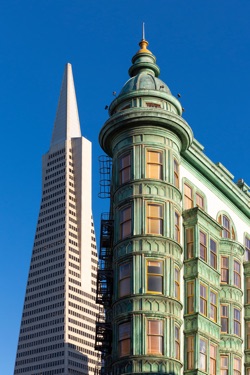 Just down the street from Chinatown, you'll find gelato, pasta and cannoli in San Francisco's "little Italy." Enjoy a picnic in Washington Square or take a ride up the elevator in Coit Tower for a panoramic view of the city.
Hayes Valley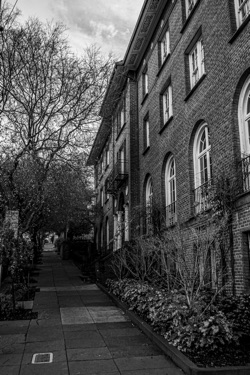 This recently gentrified community, home to Alamo Square and the famed "Painted Ladies," Hayes Valley boasts a wide range of culinary options, from cozy cafes to 5-star restaurants, as well as some world-class boutiques.
Russian Hill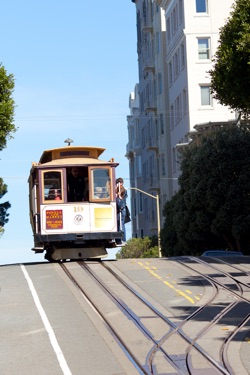 Home to Lombard Street, with access to cable cars that offer a great view of the Golden Gate Bridge and Alcatraz Island, Russian Hill also offers some of the city's most popular late night spots, as well at favorite breakfast joints and diners .
Plan Your Trip around One of These Fun Annual Events
Why not arrange to visit San Francisco when one of these popular events is going on?
The Chinese New Year's Parade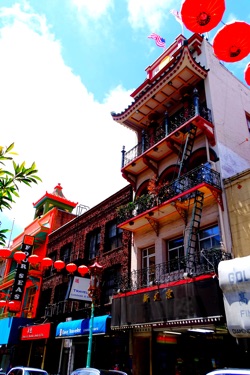 Come to Chinatown in February for one of the nation's largest parades, part of a larger celebration of the Chinese New Year. There's a flower market, a street fair and many food booths, as well as a Miss Chinatown pageant.
The Cherry Blossom Festival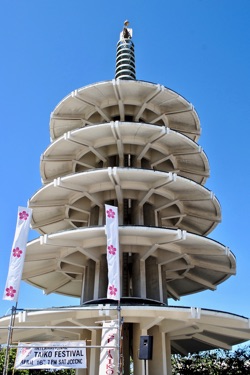 Celebrate the Japanese community and culture in San Francisco at this mid-April event. There's a parade, live music and other cultural performances, martial arts demonstrations, and dozens of booths with great Japanese food.
New Year's Fireworks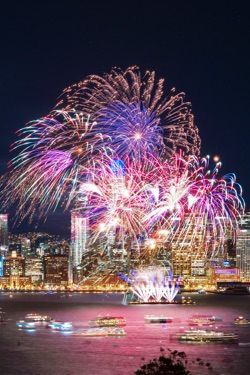 Take a fireworks cruise and catch the stunning 15-minute fireworks extravaganza, complete with synced surround-sound music. It's the culmination of a day-long party along the Bay, extending from the Embarcadero to Folsom.
The St. Patrick's Day Festival and Parade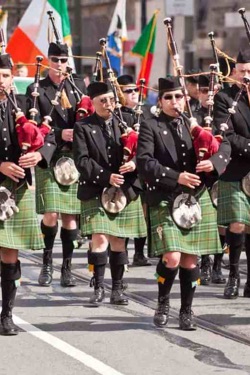 Come to San Francisco in March for one of the country's largest celebrations of Irish culture. Expect plenty of jigs, reels and Irish music, along with Irish cuisine, beer and a raucous parade.
The Pride Parade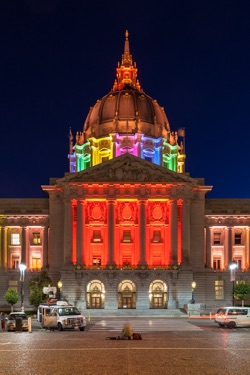 This 11-day festival emphasizes diversity, with a focus on LGBTQ films, social impact movies and Native American cinema. There are also lectures, movie discussions and other fun cinematic events.
The Outside Lands Music Festival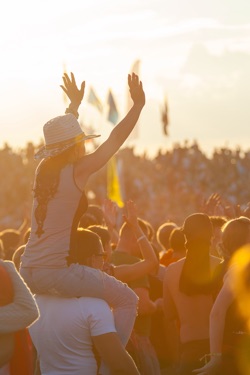 The International Council of Air Shows dubs Miramar as the world's best military air show. It regularly draws nearly 750,000 fans every year, with aerial performances, displays of new and classic aircraft, and prototypes of new planes.
Oktoberfest by the Bay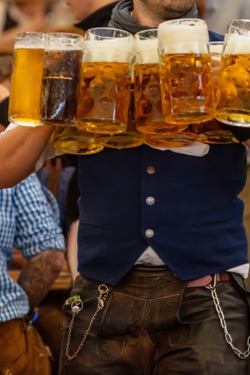 More than just a jazz festival, this weekend event in July also brings in well-known soul, blues and R&B musicians. There are wine and beer tents, as well as many of the city's best food trucks.
Book Your Charter Bus Trip to San Francisco Today
San Francisco can be the trip of a lifetime—don't turn it into a lot of work. Rent a charter bus from US Coachways and join the revelry while we handle all the details.
At US Coachways, we bring more than three decades of experience in the charter bus industry to businesses, business owners, groups and group leaders across the country. To get a free estimate on the cost of a charter bus trip to San Francisco, go to our easy-to-use online Cost Calculator. We'll send you a quote in minutes. To learn more about the many different ways we can help you, or for answers to any questions about charter bus rentals, call 1-855-287-2427 and speak with one of our travel consultants.
We Book More than 20,000 Charter Bus Trips Every Year!