The Preferred Way to See the City by the Bay
You're planning a group trip and you want a vibrant and captivating city with something to offer all your participants. On the West Coast, there's no place like San Francisco, with its rich history, unique museums, diverse arts and cultural offerings, signature cuisine and eclectic shopping opportunities.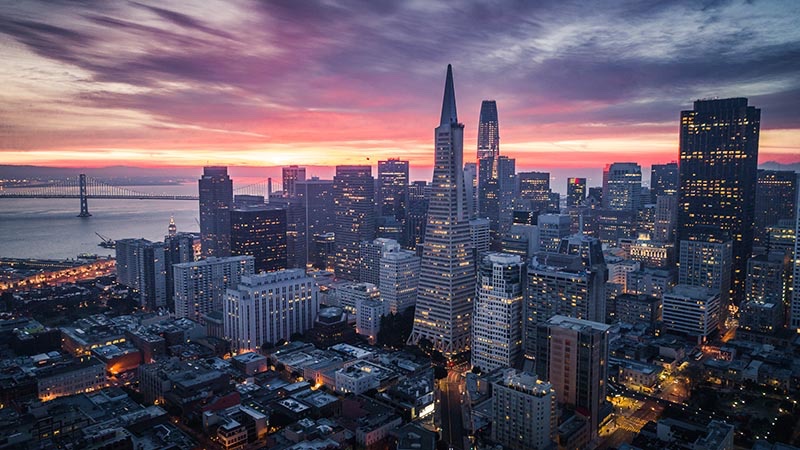 It's hard not to have a good time in the Bay City, but you don't want to turn your trip into work. San Francisco is a big and geographically challenging city. Trying to navigate its streets on your own can be a nightmare. With a charter bus rental from US Coachways, though, you can relax with friends and family while someone else takes care of everything.
The Many Reasons to Choose a Charter Bus for Your Group Travel
When you compare your different transportation options for a group of any size, there's no other mode of travel that offers the features and benefits of a charter bus rental.
You'll feel safe and secure

— On a charter bus, there's a trained and skilled professional behind the wheel. That's one of the reasons why charter bus travel is consistently found to be one of the safest ways to travel. In addition, it's easy to control access to your bus—there's only one way on and off. You won't have to worry about unwanted guests. You and your personal items will be safe and secure.

You can count on a charter bus

— Here's a sobering statistic—about 40% of air travelers will experience delays every day—that's almost a million people daily. While delays are unavoidable, there are factors that minimize the likelihood and consequences with a charter bus. Because of the vast network of charter bus service providers, it's easier to find a replacement vehicle in the event of a mechanical issue. In addition, the drivers have access to information and resources that allow them to quickly identify alternative routes to get you where you're going when you need to be there.

On a charter bus, everybody gets to relax

— With other types of group travel, someone has to be in charge, to ensure that everyone knows where they're going and that they get there on time. That can put a real damper on your trip. With a charter bus, you don't have to check a map or GPS, keep your eye on the time or look for a parking space. That's all handled for you.

There's no TSA checkpoint before you board your charter bus. You won't have to empty your pockets or take off your shoes, and you can bring all your personal toiletries. No one's ever going to ask you to turn your device off, either. There's no "bus mode," so you can stay in touch with friends and family at all times.

You'll have virtually unlimited choices

— With a charter bus, you won't have to select from a handful of set itineraries. You decide where you want to go, when you want to be there and how long you want to stay. We'll make it happen.

Charter buses let you stretch your legs

— There's no middle seat on a charter bus. In addition, there's more leg room than on any other mode of transportation. The aisles are wide and you can get up and move about at your leisure.

Charter buses let you take advantage of the HOV (high occupancy vehicle) lanes

— In a city like San Francisco, that can save you a lot of time and headache.

Charter buses are cost-effective

— Because you'll share many of the costs of transportation, you'll usually save money when you take a group to San Francisco on a charter bus. With that extra money in your pocket, you can bring home some great souvenirs of your trip.

You'll be helping the planet

— Taking a group on a charter bus can mean a dozen or more cars that won't be on the road. That means reduced emissions and can have a positive impact on the environment.
At US Coachways, we bring more than 30 years of experience in the charter bus rental business to groups and group leaders across the United States. To get an estimate of the cost of a charter bus trip to San Francisco, visit our online Cost Calculator for a free quote. You can also call us at 1-855-287-2427 to learn more about the services we offer.
San Francisco—A Truly Cosmopolitan City
It's been dubbed the "Paris of the West," and for good reason. The arts and culture, the museums, the amazing food—the Champs Elysee has nothing on Lombard Street, Fisherman's Wharf or Nob Hill. Here are some of the unique attractions in San Francisco: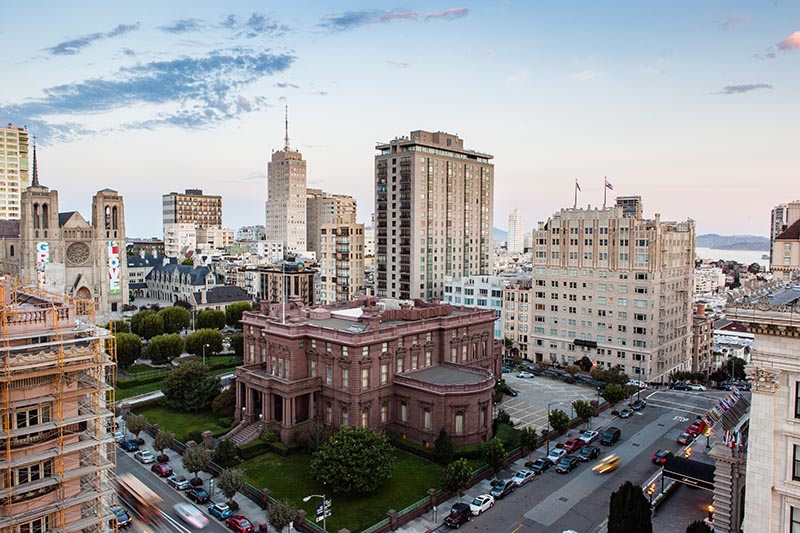 There's a Coach That's Just Right for Your Group
You've made the smart decision to choose a charter bus rental to get your group to and from San Francisco. That's just the first step in the process, though. You want to make certain you get the right coach for your group. Let us help.
At US Coachways, because we've worked with a large network of charter bus service providers for more than 30 years, we have access to a vast fleet of buses. We'll look at all the factors involved in your trip—where you're going, how many people are coming, how long you'll be on the road—and help you find a bus that offers plenty of room, so your attendees will be comfortable. We'll also help you find a coach that accommodates any special needs you have.
For most groups, we recommend one of the following:
The mini-bus — If you're traveling with 24 to 35 people, this vehicle is ideal. The seats and aisles are spacious and there's plenty of storage space.
The full-sized bus—For larger groups, this 57 passenger coach fits the bill. Don't worry if you have a larger group—multiple bus rentals are always an option.
Most charter buses have a range of modern conveniences as standard features. That typically includes Wifi, charging stations, DVD players and stereo/PA systems. Some also offer on-board restrooms. The options vary from bus to bus, so inquire with your booking agent to learn what's available.
A Charter Bus—The Right Choice for Any Excursion to San Francisco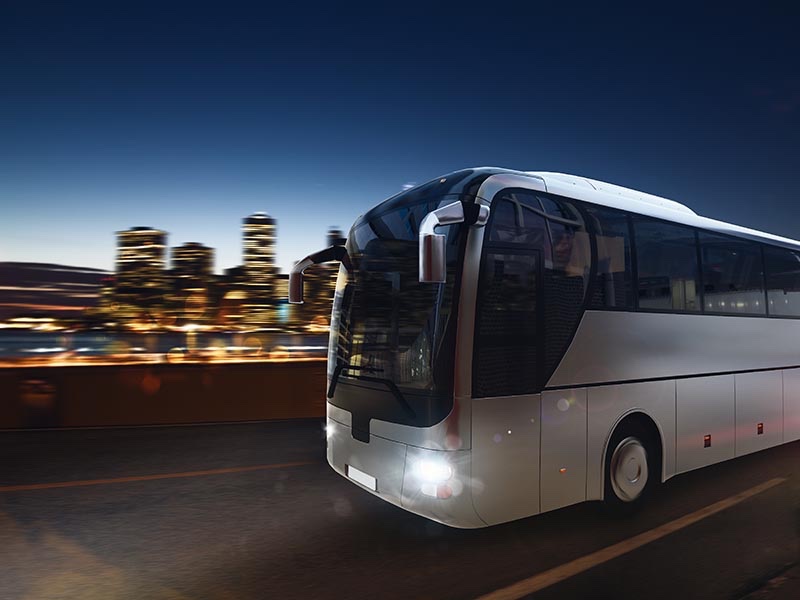 If you've done your homework, you know there's no better option for group travel than the safety, comfort and convenience of a charter bus. It's ideal for any type of travel:
Book Your Charter Bus Trip to San Francisco Today
At US Coachways, we have more than three decades of experience meeting the charter bus rental needs of groups and group leaders nationwide. For a complimentary quote for a charter bus trip to San Francisco, use our convenient online Cost Calculator. For additional assistance or to get answers to your charter bus travel questions, call us at 1-855-287-2427 to speak to one of our experienced customer service representatives.