See the Heart of New York in Comfort, Luxury and Convenience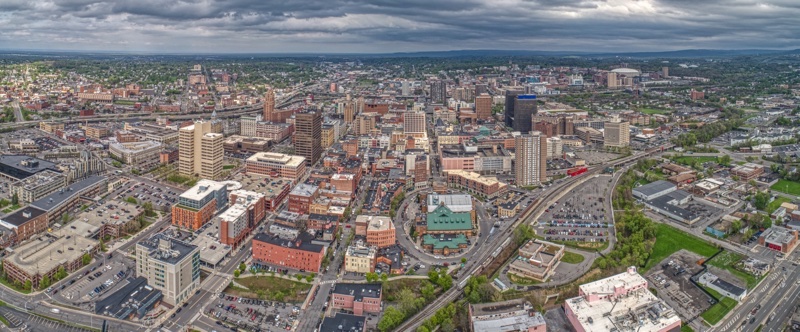 Syracuse, New York
Syracuse, New York—the state's 5th largest city—offers something for just about everyone, from the history buff to the foodie, from jazz fans to hardcore shoppers. The city takes its motto—"Do Your Thing"—seriously, providing a wide range of attractions that let you have a truly unique experience.
It's easy to have a great time in the 'Cuse, but it's a lot harder when you have to handle all the details yourself. There's a better way—relax with friends and family in the comfort and luxury of a charter bus from US Coachways.
Consider All the Benefits of Taking a Charter Bus to Syracuse
Keeping everyone content on any type of group trip can be a big responsibility and a thankless task, but there's one decision that will go a long way toward ensuring a great trip—choosing a charter bus for your ground transportation. With a charter bus, you'll have:
Dependable transportation

— With most other forms of travel, delays and cancellations are an everyday occurrence. Not with a charter bus! Your driver has the tools and resources to identify potential problems in advance and find alternate routes to get you where you need to go when you need to be there. In addition, because of our access to charter bus vendors nationwide, we can usually find a replacement coach without much difficulty.

Virtually unlimited flexibility

— You set the time you want to leave. You tell us where and when you want to stop and how long you want to stay. You tell us when you're ready to leave. Want to stay in Syracuse a little while longer or take a side trip? In most instances, we can make it happen. You won't find that kind of control with any other type of travel.

Safety

— You'll have a skilled and trained professional at the wheel. In addition, the access to your coach is highly controlled, so you won't have to worry about strangers poking around in your personal belongings. You'll be safe and secure.

More travel for your money

— On a charter bus, you share most of the costs of travel. That makes it consistently one of the most cost-effective ways to take a group anywhere.

Comfort

— You'll have plush, high-back bucket seats and more leg room than on any other form of travel. There's no middle seat, either. The aisles are spacious and you won't have to have your seatbelt on for the entire trip.

Convenience

— You won't have to keep your eyes on the road, check the GPS, look at your watch or try to find parking—your driver will take care of all those details. There's no TSA security checkpoint, so you can keep your shoes on and bring your favorite shampoo. You'll be on the same coach for your entire trip and your luggage will travel with you—no concerns about missed connections or lost bags. Your devices won't interfere with navigational systems—you can stay wired at all times.

Access to the HOV (high occupancy vehicle) lanes

— That means fewer worries about getting stuck in traffic

The many uses of the bus

— It's an ideal place for a group meeting, as well as a good spot for some quiet time in the middle of a hectic trip to Syracuse

The opportunity to have a positive impact on the environment

— When you travel by charter bus, you take as many as 20 private vehicles off the roads. That can significantly lower carbon emissions.
At US Coachways, we bring decades of experience in the charter bus rental business to individuals, businesses, groups and group leaders throughout the country. To get a free estimate on the cost of a charter bus rental to Syracuse, go to our online Cost Calculator. For more information about the services we provide or to ask any questions about charter bus travel, call 1-855-287-2427 and ask for a travel consultant.
Make Some Memories in Syracuse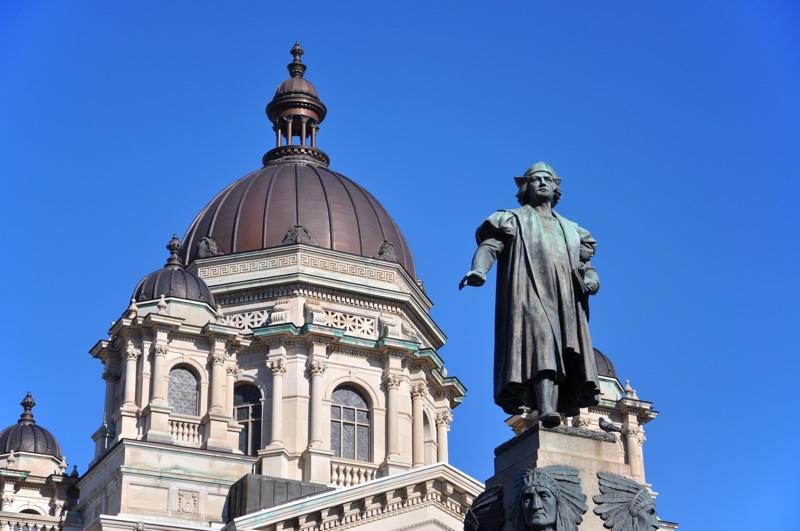 Onondaga Supreme and County Courts House in Syracuse, New York State
You'll find plenty to do in the "Cuse:
Historical attractions

—Founded in the 1820s and named for its similarities to the famed Italian city, Syracuse has long been a crossroads, from its days as an integral part of the Underground Railroad to its pivotal role in the growth and development of the Erie Canal. Visit the Onondaga County Historical Association to see a vivid portrayal of the path to freedom for many Southern slaves before the American Civil War. The Erie Canal Museum, housed in the Syracuse Weighlock, a canal lock specifically designed to weigh barges so that tolls could be assessed. Among the more than 1,400 artifacts, there's also a full-sized replica of the Frank Buchanan Thomson, a line boat actually used on the canal. The Salt Museum provides the history of the city's role in the salt industry—Syracuse once provided the entire country with salt.

Arts and culture

—There's a vibrant arts scene in Syracuse, whether you're a patron of the visual arts or enjoy the performing arts. The Everson Museum of Art, designed by legendary architect I.M. Pei, has more than 11,000 works in its permanent collection, as well as one of the largest collections of pottery in the country. It also houses the largest video collection in the world, as well as many pieces of furniture from Gustav Stickley and the Arts and Crafts movement. For live theatre, there's the Syracuse Shakespeare Festival , as well as Syracuse Stage, which has produced a number of shows that ended up on Broadway. There's much to appeal to fans of classical music—the Syracuse Symphoria, the Syracuse Opera Company and the Syracuse Friends of Chamber Music are all renowned throughout the region. The 'Cuse is also known for two annual outdoor music festivals—the Polish Festival and the Syracuse Jazz Festival.

Shopping and dining

—No visit to Syracuse is complete without a stop at Destiny USA, the state's largest shopping, dining and entertainment center. With 19 anchor stores and nearly 2.5 million square feet of retail, it offers almost anything you can imagine among its nearly 250 stores and restaurants. There's also a 200+ room Embassy Suites at Destiny USA. For a more intimate retail experience, head over to the downtown area, where you'll find antique emporiums, vintage stores and one-of-a-kind boutiques, or visit the open-air plazas at Township 5 or Armory Square. When it comes to food, it probably won't surprise you that Syracuse offers some of the best Italian cuisine and pizza in the Northeast. But there's an international flair here, as evidenced by the presence of Afghani, Jamaican, Brazilian, Puerto Rican, Burmese and Szechuan eateries. If you're a craft beer aficionado, head downtown, where you'll find more than a dozen breweries or brewpubs pouring a wide array of suds.
The US Coachways Commitment
At US Coachways, we continually strive to find new and better ways to serve you. When you book your Syracuse trip with us, you'll appreciate:
The flexibility we offer—Because of our longstanding relationships with charter bus vendors nationwide, we can usually make last-minute and real-time changes to your itinerary without difficulty, or even book an entire outing with short notice.
Our purchasing power—We book, on average, more than $55 million in charter bus trips every year. That gives us the local market knowledge and the vendor loyalty to consistently get highly competitive pricing for our customers.
The use of our online Trip Management Portal , a powerful tool that lets you review invoices, itineraries and other information from all your US Coachways trips in a single location
Our world-class logistical support, from the careful selection of the ideal bus for your group and your trip to the selection and management of optimal pickup and drop-off times and locations. We will also monitor roadways for construction or other factors that might impede your travel.
Comprehensive dispatch services, 24 hours a day, seven days a week, including the capability to manage multiple locations simultaneously
Your own dedicated project management team, with a single point of contact, ready and able to respond to all your needs in a timely manner
We are also approved by the General Services Administration (GSA) to provide charter bus service to the federal government and its agencies, including the armed forces.
Choose a Charter Bus for Any Trip to Syracuse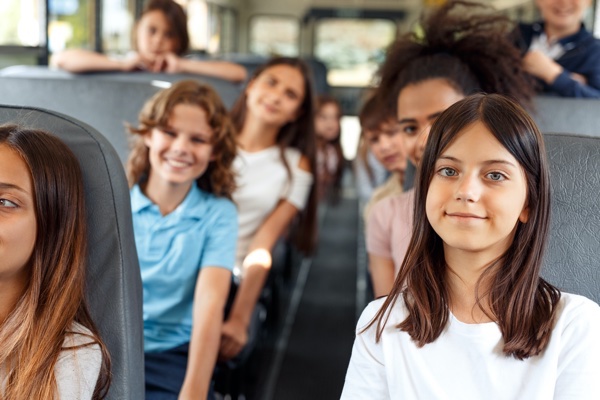 The many great features of a charter bus—affordability, safety, reliability, comfort, flexibility, convenience—make it a smart decision for any type of travel:
Family celebrations

— Weddings, rehearsal dinners, engagement parties, reunions, bar and bat mitzvahs, graduations, birthday and anniversary parties, retirement dinners and even family vacations

School travel

— Athlete and fan transportation, band and orchestra festivals, club and class trips, cultural events, graduation and prom after-parties, student volunteer projects, sorority and fraternity outings

Corporate and business events

— Training sessions, seminars, workshops, sales and business meetings, conventions, conferences, employee volunteer projects, team-building exercises, golf outings, company picnics and holiday parties

Church matters

— Mission trips, retreats, choir tours, faith-based conferences and conventions, local volunteer efforts, adult and youth fellowship opportunities, church camp sessions, revival meetings

Senior citizen and retiree outings

— Shopping trips, casino excursions, concerts and plays, museums, historical attractions, fall color tours

Special events

— Bowl games and championships, college/amateur and professional sports, motor car races, public rallies, food and cultural festivals, touring theatrical productions, stadium, arena and pavilion concerts
We'll Help You Find the Ideal Coach
There's no mode of transportation that offers all the benefits you'll get with a charter bus, but you need to take the time to make certain you get the coach that's best suited for your group and your trip. At US Coachways, we'll listen carefully to learn the details of your outing—how many participants you'll have, how far you'll be traveling, what you'll need to bring or want to take home, and any other special needs of your attendees. Then we'll reach out to our vast network of charter bus providers nationwide, so that we can secure the optimal bus for you.
If you're visiting Syracuse with a small-to-mid-sized group, we recommend the mini-bus, with accommodations for anywhere from 24 to 35 passengers. If you're traveling with a larger group, you'll want to book a full-sized bus, with seating for up to 57 and an on-board bathroom. You can bring as many folks as you wish—multiple bus rentals are always an option. We can also get an ADA-compliant coach, if necessary.
All charter buses, except for some of the school buses, come equipped with plush, high-back bucket seats, climate control, ample storage space and a great sound system. Additional features, including Wifi, DVD players and monitors, electrical outlets, public address systems, hardwood floors and leather seats, are usually available for an extra charge. Check with your booking agent.
Make Your Reservations for Syracuse Today!
At US Coachways, we have set the standard in the charter bus rental industry for more than 30 years, providing effective ground transportation solutions to individuals, businesses, groups and group leaders across the country. To get a free estimate on the cost of a trip to the 'Cuse, use our convenient online Cost Calculator. For answers to any questions about charter bus rentals or to learn more about the full scope of services we provide, call 1-855-287-2427 and speak with an experienced travel consultant.