Travel to T-Town in Luxury and Comfort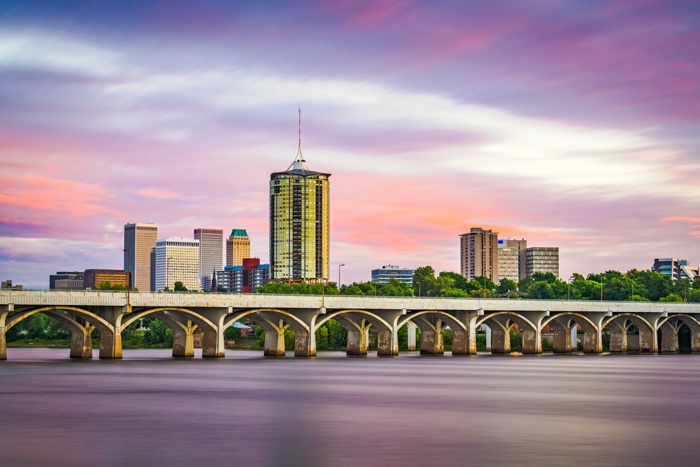 Tulsa, Oklahoma
The Woody Guthrie Center…two world-renowned art museums…the birthplace of Route 66…iconic foods and ample opportunities for retail therapy. That's just a taste of what you'll find in Tulsa. It's a great place to bring a group, but make it easy on everyone when you come to the "Oil Capital of the World"—travel in the comfort, convenience and safety of a charter bus from US Coachways.
The US Coachways Advantage
At US Coachways, we are the largest charter bus rental company in the nation, booking more than 25,000 outings every year. For more than 35 years, we've successfully brought people and events together, always emphasizing safety and reliability. Over the past four decades, we built and nurtured an extensive nationwide network of premier charter bus vendors, so that our customers have an unparalleled selection of vehicles in hundreds of cities across the country. We are known and respected by customers and competitors for our particular expertise with short-notice bookings and trips involving complicated logistics.
To get a free estimate on the cost of a charter bus trip to Tulsa, go to our convenient and intuitive online Cost Calculator. For answers to any questions about charter bus travel, or to learn more about the scope of our services, live chat us or call 1-855-287-2427 to connect with an experienced luxury travel consultant.
The Many Benefits of a Charter Bus Rental
When you're taking a group anywhere, there are lots of details to handle, but none may be more important than deciding how you'll get there and back. If you have glitches in your transportation, it can put a damper on everything. With a charter bus rental from US Coachways, you'll have:
A dependable ride

— Unlike other types of travel, charter buses rarely have delays or cancellations. Your driver has the tools and resources to anticipate potential roadway challenges and find alternate routes, and replacement coaches are typically not hard to find.

An affordable mode of travel

— On a charter bus, you'll share many of the costs of travel with fellow passengers

Safety and security

— You'll have a highly skilled and trained professional driving the bus, minimizing the risk of an accident. In addition, because of the limited access to your coach, you'll be able to keep close tabs on who comes and goes—you and your personal items will be safe and secure.

Unmatched flexibility

— There's no other type of travel that affords you the control and flexibility you get with a charter bus. You tell us when and where you want us to pick you up, when you want to stop, how long you want to stay and when you want to leave. In most instances, you can make last-minute or real-time changes to your itinerary without a problem. We can also book an entire trip with short notice.

Maximum comfort

— The seats are big and there's lots of leg room. There's no middle seat, either! The aisles are wide and you can get up and stretch your legs at any time.

Less stress

— You won't have to check the GPS or your watch. No battling traffic or trying to find a parking space. Your driver will handle all those details. You'll ride on the same bus throughout your trip and your luggage will always be with you—no missed connections or lost bags. There's no TSA security checkpoint, either, and your devices won't interfere with navigational systems. You can stay online at all times.

Less risk of getting stuck in traffic

— On a charter bus, you'll have access to the HOV (high occupancy vehicle) lanes

More than just a way to get there

— Use your bus for a group meeting, whether it's prepping employees, warming up the choir or talking strategy before a big game. Your bus is also a great place to get a little down time in the middle of a fun-filled trip to Tulsa.

A positive impact on the environment

— When you travel together on a charter bus, you reduce the number of private vehicles on the roads, lowering carbon emissions
Have a Terrific Trip to Tulsa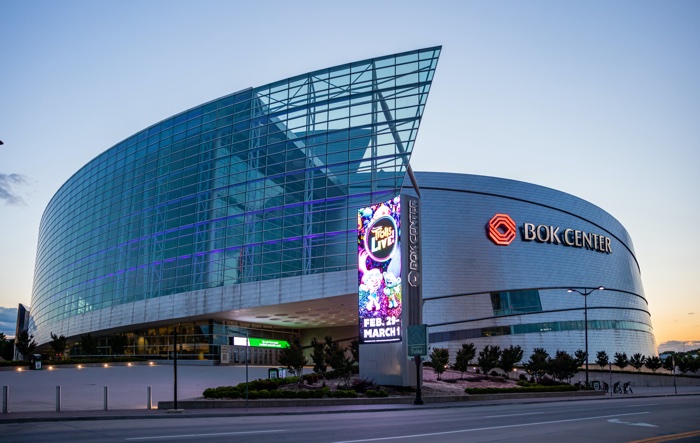 Bank of Oklahoma Center Tulsa, Oklahoma,
Built on the rich oil fields in eastern Oklahoma, Tulsa has long enjoyed a rich cultural heritage. Nowadays, it's a vibrant city with a burgeoning arts community, lots of live music venues, great locally owned restaurants and a number of unique attractions:
Our Commitment at US Coachways
When you book with US Coachways, you'll appreciate:
Our promise to put your safety first

All our employees must stay current with Department of Transportation (DOT) rules and regulations governing safety, and must promptly participate in all DOT trainings
All buses provided by our affiliate vendors must undergo an exhaustive inspection, with checks and balances to ensure compliance and earn the US Coachways Gold Seal of Approval
All mechanics and automotive techs who work on any buses we use must have received the Blue Seal of Excellence from the National Institute for Automobile Safety
All buses we use must be equipped with Carrier 411, the leading carrier monitoring service, to assure compliance with safety guidelines

Our unparalleled selection of vehicles nationwide

We have a vast network of handpicked charter bus service providers throughout the country, ensuring you on-demand access to the nation's largest fleet of charter buses
Our affiliations with charter bus vendors nationwide helps us consistently obtain competitive rates
With vendors in more than 100 hubs and access to over 5,000 vehicles, we can usually book an entire trip with short notice

How we use technology to improve your customer experience

Our fast-connect online Trip Management Portal lets you check invoices, itineraries and other information from all your trips in one convenient location, and lets you obtain quotes, book trips, request changes, make payments or track reservations
Our use of the Bus Route Analysis system lets us use real-time data to evaluate potential traffic patterns, including accidents and other roadblocks, and make proactive decisions to minimize delays
We offer SmartDrive technology, Wifi, USB ports, sophisticated two-way radios, flat screen television and on-board video monitoring to improve your customer experience
Get the Right Bus with US Coachways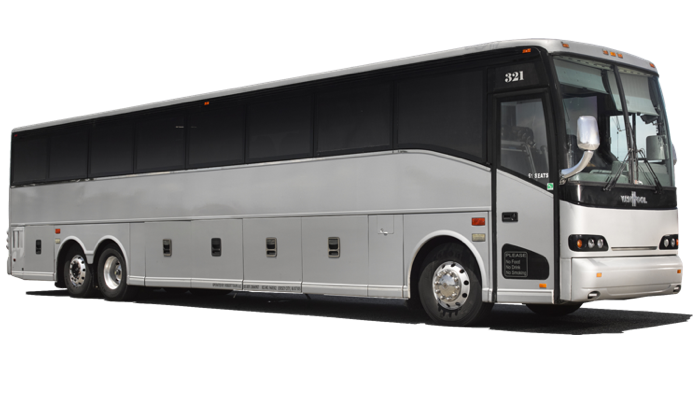 When you rent a charter bus, you'll earn the immediate gratitude of all your participants. But you want to take the extra step of making certain you have the right coach for your trip and your people. At US Coachways, we'll take the time to learn the details of your event—how many people are going, where you're traveling from and where you want to stop, what you'll need to bring or take home, and any other special needs of your group. Then we'll go to our wealth of top-tier charter bus service providers nationwide to find the coach that's best for your group and your trip.
If you're visiting Tulsa with a smaller group, the mini-bus is excellent, with a number of options that will accommodate anywhere from 24 to 35 passengers. For larger events, you'll want the full-sized charter bus, which seats up to 57 and offers an on-board bathroom. Bring as many people as you want, though—multiple bus rentals are always an option. We can also find ADA compliant coaches, if necessary.
Most charter buses (other than some school buses) have high-back bucket seats, climate control, a great sound system and ample storage space. Other amenities may be available for an extra charge, including Wifi, USB ports and electrical outlets, DVD players and monitors, public address systems, leather seats and hardwood floors. Check with your booking agent.
Take a Charter Bus for Any Occasion
The safety, reliability, comfort, affordability, convenience and flexibility a charter bus offers make it a great choice for any outing to Tulsa:
Family events

— Weddings, engagement parties, rehearsal dinners, graduations, reunions, bar and bat mitzvahs, birthday and anniversary celebrations, retirement parties and even family vacations

Business and corporate travel

— Conferences, conventions, annual meetings, workshops, seminars, training sessions, sales meetings, team-building exercises, employee volunteer projects, golf outings, picnics and company parties

Senior citizen and retiree excursions

— Shopping trips, casino outings, museums and historical attractions, plays and concerts, fall color tours

School trips

— Club and class outings, athlete and fan travel, band and orchestra festivals and concerts, fraternity and sorority events, graduation and prom after-parties, student volunteer work, cultural events

Church outreach

— Mission trips, praise meetings and gatherings, retreats, church camp travel, youth and adult fellowship opportunities, local ministries, choir tours, faith-based conventions and conferences

Special events

— Touring Broadway shows, stadium and arena concerts, food and cultural festivals, bowl games and championships, professional and college sports, motor car races, parades and marches, winery tours, public rallies
Make Your Charter Bus Reservations for Tulsa Today!
At US Coachways, we bring nearly four decades of experience in the charter bus rental business to businesses, groups and group leaders across the nation. To learn the cost of a charter bus excursion to the "Oil Capital of the World," go to our easy-to-use online Cost Calculator. We'll send you a follow-up e-mail within minutes. To learn more about the ways we can assist you with group travel or to ask any questions about charter bus rentals, live chat us or call 1-855-287-2427 to speak with an experienced luxury travel consultant.