Ensure that Your Support Staff Travels in Comfort, Convenience and Affordability
The success of any tour depends just as much on the people behind the scenes as on the featured performers. When you're out on the road for days, weeks or months at a time, it's important to have a reliable, comfortable, flexible, safe and affordable way to move the support staff from venue to venue.
With a sleeper bus, you can avoid the hassles of booking rooms, finding places to eat, and packing and unpacking day after day. The sleeper buses serve as a mobile hotel, with 1 bed (Star bus) or a Crew bus with up to 12 bunks, an on-board bathroom with shower, and a full galley kitchen. There's also plenty to entertain you while you're on the road.
At US Coachways, we bring more than 30 years of experience in the charter bus industry to individuals and groups throughout the United States. For a free estimate on the cost of either a Star or Crew bus rental, use our online Cost Calculator. To get answers to any questions about the crew bus, or about charter bus rentals, call 1-855-287-2427 to speak to one of our travel consultants.
Frequently Asked Questions about both the Star & Crew Buses
What features can we expect?

We have long distances and short turnaround times between some of our scheduled stops. Are there restrictions on how much time we can spend on the road?

Yes. Under state and federal regulations, your driver has restrictions on the number of consecutive driving hours without a break, as well as the total number of hours on the road over a certain number of days. If you need to be traveling more than that allows, you may want to pay the cost of bringing along a second driver.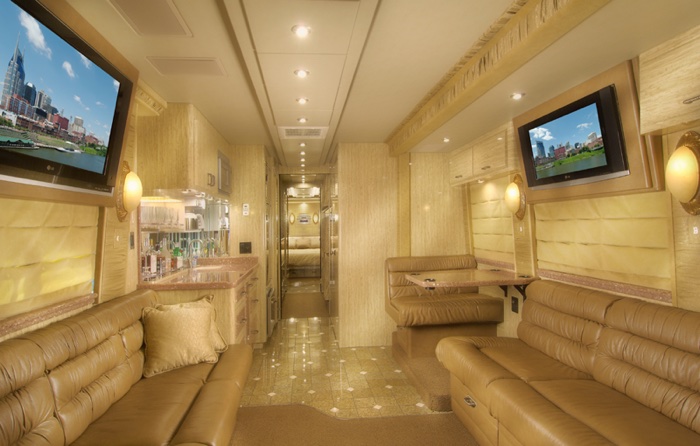 What will it cost to rent a Star or Crew bus?

There are a number of factors that go into determining the total price for a star or crew bus rental such as length of trip, and total miles traveled.

How long you'll be on the road

—If you're looking at renting either a star or crew bus, it's highly likely you'll be traveling for days, weeks or even months.

The features that you need on the bus

—Though most star or crew buses come with similar amenities, there may have some options. If so, they may cost a bit more.

For a free quote on the cost of a crew bus rental, visit our user-friendly online

Cost Calculator

What is the US Coachways policy with respect to alcohol consumption on a star or crew bus?

You may bring and consume alcohol on a US Coachways charter bus, only by advance written permission of US Coachways. You must comply with all local laws and regulations governing the possession and use of alcohol. In addition, your driver will always have the discretion and authority to suspend or terminate such privileges for any reason.
Our Promise to You
At US Coachways, we place a premium on customer service and attention. When you book either a star or crew bus through US Coachways, you'll receive:
Comprehensive dispatch services at all times, 24 hours a day, seven days a week.
Access to the US Coachways Trip Management Portal, an online resource that lets you view invoices, itineraries and other information from all of your US Coachways bookings on a single website
Your own dedicated service team, with a single point of contact throughout your relationship, and timely response to all your needs.
The flexibility that comes from our network of nationwide charter bus service providers. Last-minute and real-time modifications to your itinerary are usually easy to accommodate, and entire trips can often be booked with little notice.
The benefit of our purchasing power—We book, on average, more than $55 million in charter bus rentals on an annual basis. As a result, we have unmatched vendor loyalty and a strong knowledge of local markets, helping us get the most competitive pricing for our clients.
We are also GSA (General Services Administration) approved to provide charter bus rental services to the federal government and its agencies.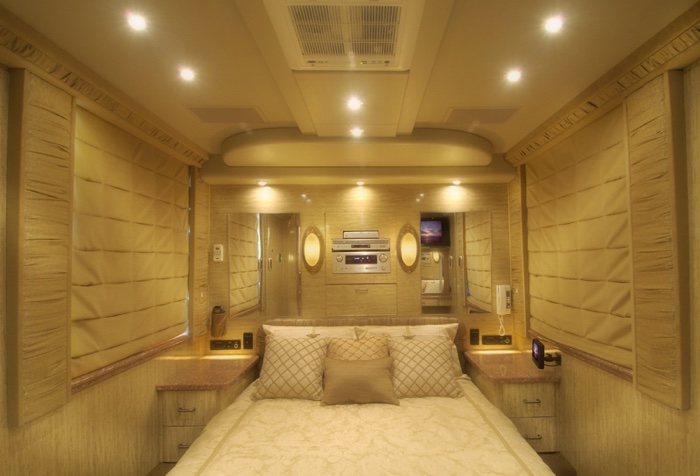 Book Your Star or Crew Bus from US Coachways Today!
With any successful road show, the star and or crew travel in complete luxury. Don't take unnecessary risks. With either a star or crew bus rental from US Coachways, you'll have the experience that comes from more than 30 years in the charter bus rental business. For a free quote on the cost of either a star or crew bus rental anywhere in the nation, use our convenient online Cost Calculator. To learn more about the full range of services we offer or to ask any questions about charter bus rentals, call 1-855-287-2427 to speak with an experienced travel consultant.