If you love live music—of just about any kind—you'll love Austin, the self-proclaimed "live music capital of the world" and the home of South-By-Southwest (SXSW in local parlance). But Austin is about more than the music—it's one of the great cultural centers in the country, named the #1 place in the United States to live by U.S. News and World Report in 2017 and 2018.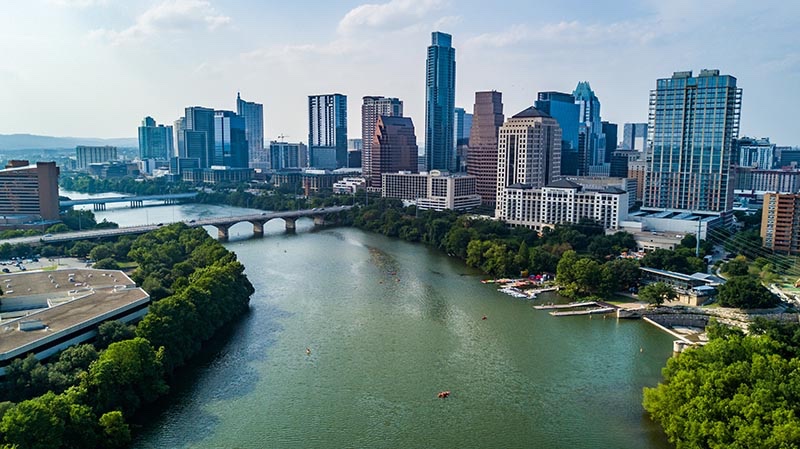 But Austin is also a sprawling, teeming metropolis, with more than two million residents in the metro area and a steady stream of traffic on the many highways, tollways and streets around town. You don't want to add to the congestion. If you're traveling to the Texas capital with a group, make it easy on yourself and everyone else—travel in the safety, comfort and luxury of a charter bus rental from US Coachways.
A Charter Bus—A Great Choice for Any Trip to Austin
There are lots of great reasons to visit Austin. If you're traveling with a group, you'll appreciate all the benefits of a charter bus from US Coachways. It's the ideal choice of transportation for:
Austin—A True Cornucopia of Culture
There's a vibe in Austin that you simply won't find anywhere else, from the city's passion for arts and culture to its diverse culinary offerings to its many museums.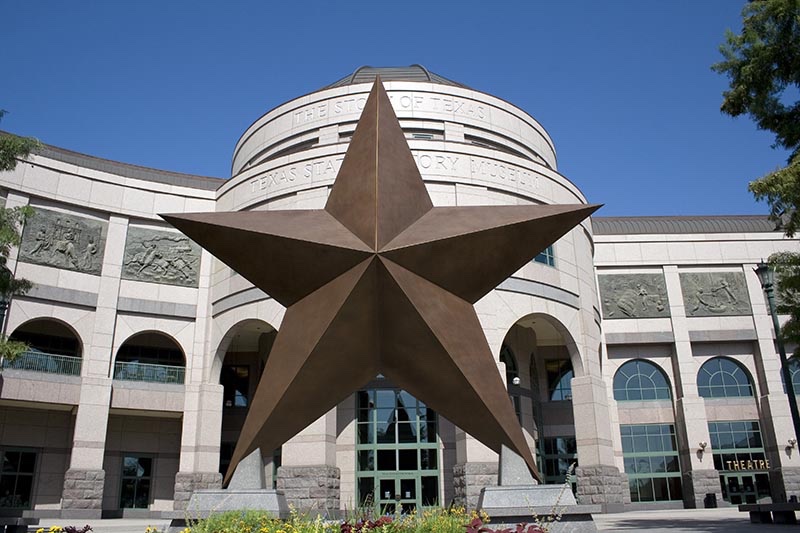 Music in Austin

— Of course, it's the home of Austin City Limits, the longest running concert music show in the history of American television. There's music around just about every corner in Austin—it's home to more music venues per capita than any other city in the country. The legendary South by Southwest, with more than 2,000 musical acts, is the largest festival of its kind on the planet. There are also a number of other popular music festivals, including the Urban Music Festival, the Old Settler's Music Festival, and Chaos in Tejas. Austin also boasts a world class symphony orchestra and an active lyric opera.

Live theater in Austin

— With dozens of live theater troupes in the area, Austin offers a wide array of stage productions, from touring Broadway shows to experimental and improvisational theater. The city's ballet company is the 4th-largest in America.

Film/cinema in Austin

— Austin has long been a location for filming, as well as a home for film festivals, including the SXSW Film Festival, the Fantastic Fest and the namesake Austin Film Festival. You can also tour the Austin Studios, converted airplane hangars that replicate the studios in California.

A taste of Texas

— The rich diversity found in the population and the culture also informs what you'll find to eat and drink in Austin. There's a heavy Tex-Mex influence, with breakfast tacos and queso on menus across town. It's Texas, so there's plenty of barbecue. Austin also boasts more than 1,200 food trucks, offering just about any type of cuisine imaginable, including Asian, Mediterranean, Italian, vegan, Cajun and even lobster rolls. The city was named the "top beer destination in the world," for 2019, according to VinePair.

The museums in Austin

— There are a number of great art and historical museums in Austin. Local favorites include the South Austin Museum of Popular Culture and the Blanton Museum of Art. Visit the Lyndon Baines Johnson Library and Museum or stop by the George Washington Carver Museum and Cultural Center.
Why You Want to Travel to Austin by Charter Bus
When you're taking a group to the capital of Texas, one of your top priorities needs to be how you'll get there and back and how you'll get around while you're there. When you carefully consider your options, you'll quickly discover that there's no mode of transportation that offers all the features and benefits of a charter bus rental from US Coachways.
Flexibility

— There's no other form of travel that allows you to decide where you want to go, when you want to be there and how long you want to stay. With charter bus travel, you won't have to choose from a handful of prepackaged itineraries. Your trip will truly be one of a kind. In addition, last minute and real-time changes can often be accommodated.

Safety and security

— On a charter bus, you'll have a seasoned and skilled professional at the wheel at all times. That's one of the reasons that charter buses are consistently considered one of the safest ways to travel. In addition, there's limited access to your bus, so you won't have to worry about unwanted guests. You and your personal items will be safe and secure.

Reliability

— On any given day, nearly a million air travelers will arrive late at their destination. That doesn't happen with a charter bus. Because of our access to a vast fleet of coaches, we can usually secure a replacement vehicle in a short period of time, should you experience mechanical problems. In addition, your driver will customarily have the resources to find alternative routes to get you to your destination on time.

Charter is the most stress

- free way to travel—Why is that, when you return from a trip, you feel like you need another vacation? Probably because you had to spend a lot of your time navigating traffic, checking the map or watching the clock. With charter bus travel, you can relax with friends and family while someone else handles all those details. You won't have to worry about missed connections or lost personal items—you'll be on the same coach at all times and your luggage will travel with you. You won't wait in security lines and you won't have to take off your shoes or empty your pockets. There's no need to turn your phone off, either. You can stay connected at all times.

It's the most comfortable way to travel

— There's more leg room on a charter bus than on any other mode of travel. There's no middle seat, either. You'll have plenty of room to relax. The aisles as wide, too, and you can get up and move about at any time.

Charter buses can typically take advantage of HOV (high occupancy vehicle) lanes

— That can be a real timesaver in a city like Austin.

Charter buses are one of the most affordable options for group travel

— When you travel together on a charter bus, you'll share many of the costs of transportation. With the money you don't have to spend on travel, you can have more fun in Austin.

Charter buses are good for the environment

— When you travel by charter bus, that's fewer personal vehicles on the road, and fewer emissions. That helps the planet.
At US Coachways, we have been at the forefront of the charter bus rental business for more than 30 years. To get a free quote on the cost of a charter bus rental to Austin, use our online Cost Calculator or call us at 1-855-287-2427 to learn more about how we can help you with group transportation.
We'll Help You Find the Right Bus for Your Group
So you've made the smart choice—you've decided to rent a charter bus to the live music capital of the world. That's an important first step, but you still need to make certain you have a coach that meets the unique needs of your group. It needs to be the right size, so that your people will be comfortable, but you won't have wasted space. You also want to know that you'll have all the amenities you need.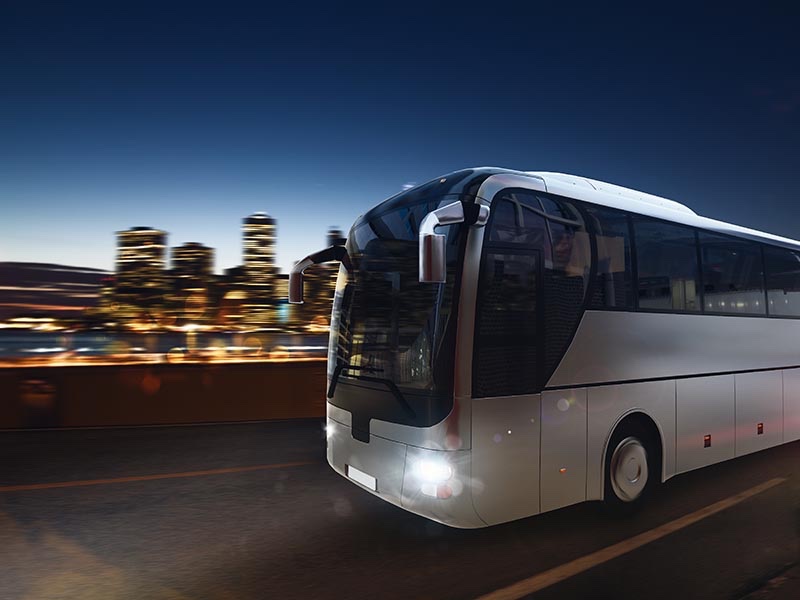 If you're traveling with a group of 24 to 35 people, the mini-bus is an outstanding choice. There's lots of storage space, so you can bring the things you need and take home some souvenirs. If your group is larger, consider the full-sized bus, which seats up to 57 comfortably. Multiple bus rentals are always an option, so bring as many people as you want.
Many of the charter buses have certain modern conveniences as standard features, including Wifi, charging stations, DVD players and stereo and PA systems. Some coaches have additional features, such as on-board bathroom facilities. The amenities vary, so check with your booking agent to determine what's available.
Book Your Adventure to Austin Today
At US Coachways, we are leaders in the charter bus rental business, setting up more than 20,000 trips every year. For a complimentary quote on a trip to Austin, check out our online Cost Calculator. To learn how we can help with your group travel needs, call us at 1-855-287-2427.