It's the gambling capital of the world. Many consider it the entertainment capital of the world. Some have even called it the marriage capital of the world. No question about it—a trip to Las Vegas is a capital idea! But this city that never sleeps is a sprawling beehive of activity. You don't want to spend your time there trying to navigate its busy streets. There's a better way to visit Vegas for all you're worth—in the comfort and luxury of a charter bus from US Coachways.
Step One — Choose a Charter Bus for Your Travel
When you're planning a group trip to a city like Las Vegas, there are many things to consider. None, however, may be as important as your mode of transportation to, around and home from the Entertainment Capital of the World. You can see some great shows and have a lot of fun at the casinos, but if your travel there and back is a hassle, that's what people will remember. That's why you want to visit Vegas on a charter bus: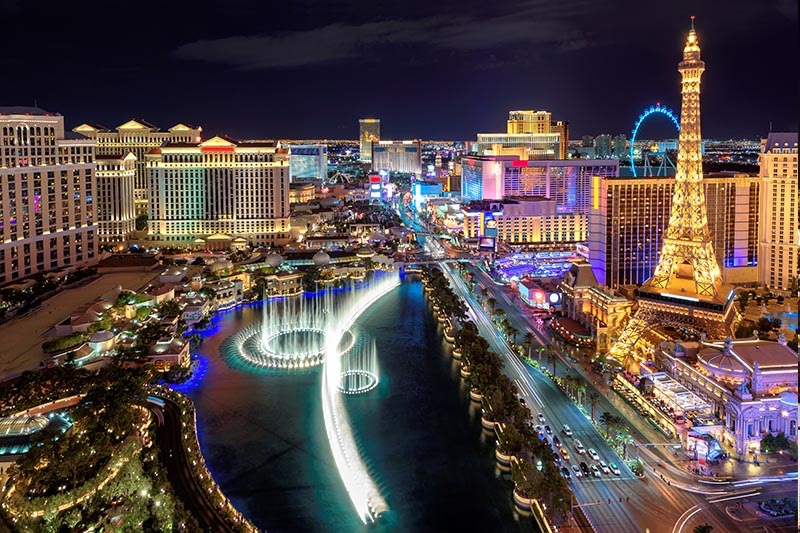 You'll get to see the city your way

— There is no other mode of transportation that offers the flexibility you get with a charter bus. You decide when you want to go, how long you want to stay there, and what you want to see. In many instances, you can make last-minute or even real-time changes to your itinerary. You can even book a complete trip with relatively little notice.

You know that you'll get there and back

— There's no more reliable way for a group to travel than on a charter bus. With other modes of transportation, delays and cancellations are fairly frequent. With air travel, for example, about four of every ten passengers arrive late at a destination every day! With a charter bus, your driver has access to the tools and technology to anticipate traffic problems and find alternate routes to get you there on time. In addition, because of the vast fleet of coaches available to us, it's relatively easy to find a replacement, should you experience mechanical difficulties.

It's the most stress-free way to go to Las Vegas

— With other forms of group travel, someone has to be in charge. Someone has to navigate and keep an eye on the clock. On a charter bus, everyone can join in the fun while your driver handles all those details. You won't need to worry about missed connections or lost personal items. You'll be on the same coach for your entire trip and your bags will always be with you. There's no TSA security checkpoint for a charter bus, so you won't have to empty your pockets or remove your shoes. Your phone won't interfere with navigational equipment, either, so you can stay connected at all times.

You'll ride in comfort

— The seats are wide, with more leg room than you'll find on any form of transportation. There are no middle seats, either. The aisles are spacious and you'll be able to walk about at your leisure.

Charter buses offer safety and security

— Travel in confidence, knowing that you have a skilled and trained professional behind the wheel. In addition, there's only one way on and off the bus, so it's easy to monitor comings and goings. You and your personal items will be safe and secure.

You can take advantage of the HOV (high occupancy vehicle) lanes

— This can be a real bonus in a city like Las Vegas.

Charter buses are cost-effective

— You can share some of the travel costs with your fellow passengers. That leaves more money to have a great time in Vegas.

You'll help the environment

— When you ride on a charter bus, you reduce the number of private vehicles on the road. That lowers emissions.
At US Coachways, we have set the standard in the charter bus rental business for more than three decades. To get a free estimate on the cost of a charter bus trip to Las Vegas, go to our online Cost Calculator. For more information about the full scope of our services, call 1-855-287-2427 to speak with a customer service representative.
Step Two—Make Certain You Get the Right Coach
You've made the smart decision—you're heading to Las Vegas on a charter bus. There's one more critical matter, though, to ensure that your travel there and back will go smoothly. Make certain you have the ideal bus for your group, one with enough room to let everyone relax comfortably. You also want to know that you'll have all the amenities you and your participants need.
At US Coachways, we have longstanding relationships with an extensive nationwide network of charter bus service providers. We'll look at the unique aspects of your trip—how many people are going, how long you'll be on the road, what you'll need to bring or take home. Then we'll work closely with our vendors to find the coach that's best-suited for your group.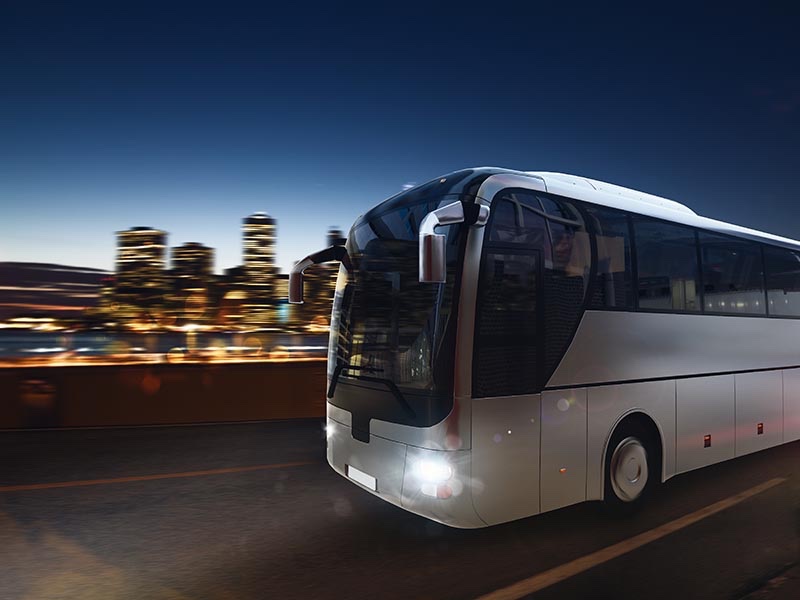 If you're visiting Vegas with a mid-sized group, you'll like the mini-bus. It seats 24 to 35 comfortably and has ample room for all your personal items. For larger groups, the full-sized bus fits the bill, with accommodations for up to 57. Multiple bus rentals are always an option.
You'll appreciate the modern conveniences that are standard on most charter buses. That typically includes Wifi, charging stations for your devices, DVD players and stereo/PA systems. Some coaches also offer additional features, such as on-board restroom facilities. The amenities vary from bus to bus, so check with your booking agent for availability.
Step Three—Have Fun
Las Vegas was built out of the desert for one reason—as the ultimate adult playground. It's almost always sunny here, and the temperatures are warm enough that you can comfortably be outdoors in the dead of winter. It's a 24-hour town, so make certain you bring a high level of energy.
A Mecca for Gambling and Entertainment
There are two distinct destinations for gambling in Las Vegas—downtown and the legendary "Las Vegas Strip." The downtown casinos are the older, historic showcases, some that have been in operation for more than 100 years. Many have been extensively renovated and modernized in the last decade. Many of the largest and most famous casinos in the world are on the "Strip," a section of South Las Vegas Boulevard outside the city limits. More than four miles long, the Strip offers something for everyone, from top-tier golf courses to amusement parks and rides to high-end, boutique shopping.
While many of the casinos have entertainment and music venues, there are also countless independent nightclubs, lounges, theaters and showrooms along the Strip. Many of the world's foremost entertainers regularly appear in Las Vegas, and a number of the casinos have signature Cirque du Soleil shows—popular ones include Mystere at Treasure Island, O at Bellagio and Michael Jackson: One at Mandalay Bay.
Unique Museums
Las Vegas is a city like no other, so it's no surprise that you'll find one-of-a-kind museums here, too. The Neon Museum pays homage to the vintage neon signs, many originally associated with casinos, that have become pop culture icons. The Mob Museum (also known as the National Museum of Organized Crime and Law Enforcement) offers interactive exhibits that help you understand the role organized crime played, not only in the development of Las Vegas, but across the country. Visit the courtroom where the Kefauver Committee hearings took place in the early 1950s or see the brick wall that served as the backdrop to the St. Valentine's Day massacre.
Visit the Hoover Dam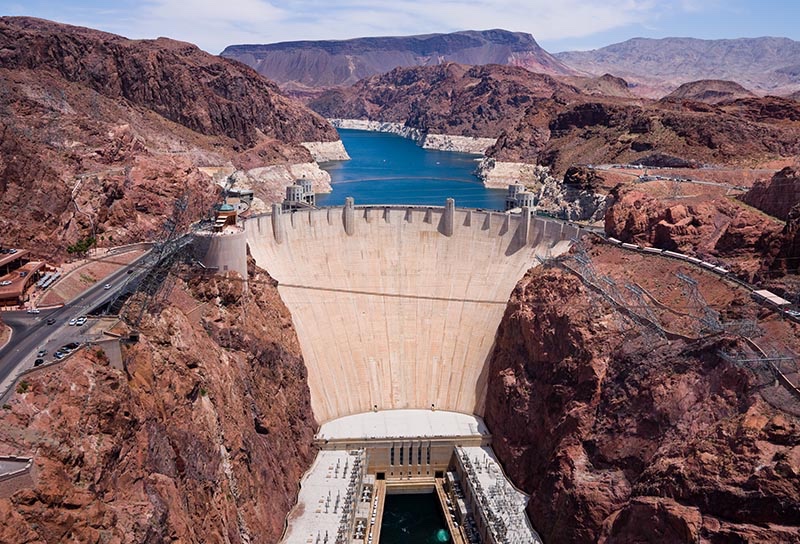 It's a short jaunt (a little less than 40 miles from the city) to the Hoover Dam, but it's well worth the trip. Built during the Great Depression, it's still the second-tallest dam in the United States and the third-tallest in the world. Lake Mead, the reservoir created by the dam, is the largest of its kind in the country. It's a major tourist attraction, with about a million visitors annually.
A Charter Bus—An Excellent Choice for Any Trip to Vegas
The many benefits a charter bus offers makes it the ideal mode of transportation for any type of trip:
Book Your Charter Bus Adventure to Las Vegas Today!!
Las Vegas is calling—don't wait another day! To get a free quote on the cost of a charter bus trip to the "Capital" city, use our convenient online Cost Calculator. To learn more about the ways we can help you with your group transportation needs, call 1-855-287-2427 and talk with one of our experienced customer service agents. Let us put our 30 years of experience in the charter bus rental business to work for you.