Positioned along Puget Sound and the Pacific Ocean, with the Olympic Mountains nearby, Seattle is famous for its rain. But the rain creates a lush environment that has led locals and visitors to dub it the "Emerald City." The temperatures are pretty consistent year-round, making it a great place to enjoy the outdoors. The city boasts more than 100 annual festivals and offers easy access to its pristine forests. You can stroll along the Pike Place Market and often catch world-famous musicians busking on the corners. Oh, and there's lots to do inside, too!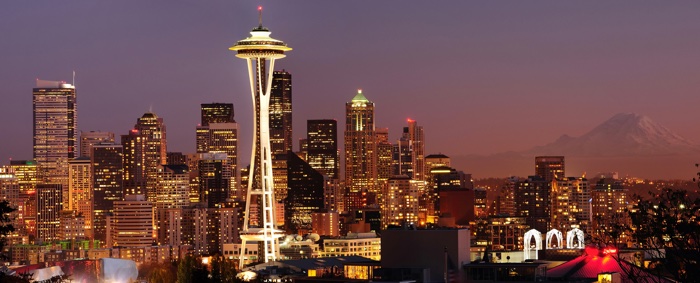 Seattle's an exciting and vibrant city, but driving there can be dicey. The best way to experience this great Pacific Northwest jewel—in the comfort, luxury and safety of a charter bus from US Coachways.
Why a Charter Bus Rental is the Best Way to Get to and From Seattle
What's the most important decision you have to make when planning a group outing? Without a doubt, it's your transportation. Everything else can go well, but if you have challenges getting there and back, that's what everyone will remember. Here are some of the reasons that a charter bus rental is an excellent choice.
It's the most stress

- free way to travel—With other forms of group travel, someone will need to be in charge, checking the map or watching the clock. On a charter bus, everyone gets to relax while the driver handles all the details. There's no TSA security checkpoint, so you won't have to wait in a long line, take off your shoes, empty your pockets or throw away your shampoo. You'll be on the same bus throughout your trip and your luggage will travel with you, so no worries about missed connections or lost bags. Your phone won't interfere with navigational systems, so you won't have to put it on "bus mode." You can stay connected at all times.

Your trip will be truly unique

— With a charter bus, you won't have to choose from a limited number of prepackaged itineraries. You'll decide when to travel, where you'll go, what you'll see and how long you'll stay there. You can even make last-minute or real-time changes to your travel plans. No other mode of transportation offers that type of flexibility.

You can depend on a charter bus

— With other methods of transportation, cancellations and delays are fairly common. In fact, more than 800,000 air travelers experience delays every single day! On a charter bus, that rarely happens. Your driver has the tools and technology to anticipate potential slowdowns and find alternate routes to get you there on time. Furthermore, because of the extensive network of service providers nationwide, it's easier to find a replacement coach in the event of mechanical problems.

You'll ride in comfort and luxury

— The seats on a charter bus are wide, with more leg room than you'll find on any other mode of transportation. There's no middle seat, either. The aisles are spacious, too, and you can move about at your leisure.

You'll feel safe and secure

— There's only one way on and off your bus, so it's easy to keep an eye on who comes and goes. You and your personal items will be safe and secure. You'll also have a skilled and experienced professional behind the wheel.

You can enjoy the benefits of the high occupancy vehicle (HOV) lanes

— You'll have less worry about getting stuck in traffic.

You'll help the environment

— When you share the ride on a charter bus, you'll reduce the number of private vehicles on the roads, reducing emissions. US Coachways is proud of the positive impact it had on the planet.
At US Coachways, we have helped groups and group leaders find effective solutions to transportation challenges for more than three decades. For a free estimate on the cost of a charter bus trip to Seattle, visit our online Cost Calculator. To learn more about the ways we can help you, call us at 1-855-287-2427 and speak with an experienced booking agent.
You Just Might Be Sleepless in Seattle
There's so much to experience here that you may find it difficult to ever call it a day: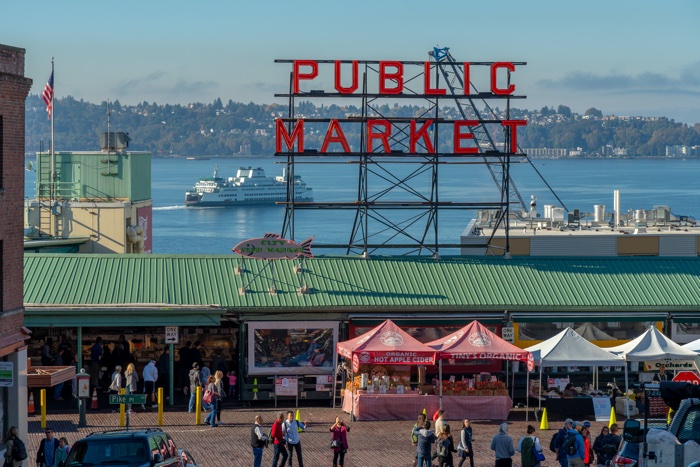 We'll Help You Find the Right Coach
A charter bus offers advantages you won't find with other types of transportation. But just as important as choosing charter to get you to Seattle and back is making certain you have the right coach for your group. You want plenty of room for everyone to be comfortable, but you don't want the expense of wasted space.
At US Coachways, we have access to a vast network of charter bus vendors across the country. We'll look at the details of your trip—how many people are going, how long you'll be on the road, what you want to bring or take home. Then we'll contact our service providers to find the bus that best meets your needs.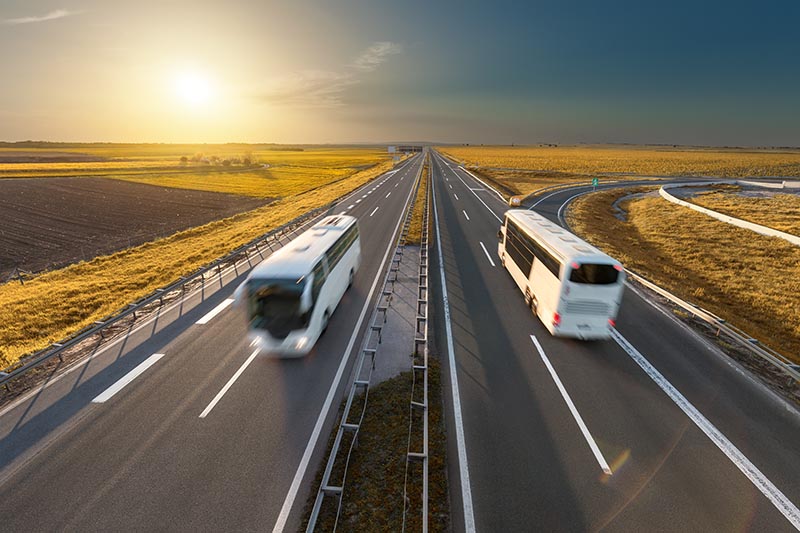 If you're traveling with a mid-sized group, you'll want to ride on a mini-bus. It seats 24 to 35 comfortably and offers plenty of storage space for luggage and other personal items. If your group is larger, you'll prefer the full-sized bus, with accommodations for up to 57 passengers. You can always book more than one bus.
Most charter buses have a number of modern conveniences as standard features. You can expect Wifi, DVD players, stereo/PA systems and charging stations for your devices. Additional amenities, such as on-board bathrooms, are available on some coaches. Check with your booking agent to learn your options.
A Charter Bus Rental—An Excellent Choice for Any Trip to Seattle
Flexibility…reliability…safety…comfort…affordability…convenience. All the things that make a charter bus the preferred method of group travel make it an outstanding option for any type of travel:
Make Your Charter Bus Reservation to Seattle Today!
At US Coachways, we have more than 30 years of experience in the charter bus rental business. To book a trip to Seattle or to learn more about the ways we can help you with group transportation, call 1-855-287-2427 and speak to one of our travel consultants. For a free quote on the cost of a charter bus outing to the Emerald City, visit our easy-to-use online Cost Calculator.