Make Memories in the Magic City
Take all those stereotypes you have about Birmingham, Alabama and throw them out the window. In the 21st century, Birmingham is a vibrant, diverse and revitalized city, with a burgeoning music scene, nationally renowned culinary offerings, an explosion of craft breweries and some of the country's most unique and interesting museums.
The city sits at the southern tip of the Appalachians, carved out of the hills, so getting around Birmingham can be a challenge, particularly if you're traveling with a group. There's a better way to experience Birmingham—in the comfort and luxury of a charter bus from US Coachways.
A Charter Bus to Birmingham—An Easy Choice
When you're planning a group outing, you face a number of decisions. None, however, may be more important than your choice of transportation. If your participants encounter problems getting there and back, that's the first thing they'll remember. The many positive features of a charter bus make it an outstanding decision for a trip to Birmingham:
Charter buses offer safety and security

— You'll relax with a skilled and experienced professional driving the bus. In addition, there's only one way on and off the coach. There won't be any worries about uninvited guests and you and your personal items will be safe and secure.

Charter buses are dependable

— With most other modes of transportation, delays and cancellations are fairly commonplace. With air travel, for example, about 40% of all passengers will arrive lateat a destination on any given day! That simply doesn't happen with a charter bus. Because of our access to a nationwide fleet of vehicles, it's relatively easy for us to find a replacement coach, should you experience mechanical problems. Furthermore, your driver has access to the tools and technology to proactively monitor and anticipate traffic issues, and to find alternate routes to get you there on time.

A charter bus lets everyone enjoy the trip

— With most forms of group travel, someone has to take charge. Someone has to check the map/GPS and someone has to monitor the clock, so that you get to your destination on time. On a charter bus, all those details are handled for you, so everyone gets to be a participant. You won't have to sprint to make a connection or wait to see if your luggage arrived. You'll be on the same bus for the entire trip and your bags will always be with you. There's no TSA security checkpoint, so you won't have to wait in line, take off your shoes or throw away your shampoo. Your devices won't interfere with the navigational system on the bus, so you can stay online at all times.

Charter buses offer unmatched flexibility

— When you travel by charter bus, you decide where you're going, when you'll be leaving, how long you'll be staying and what you'll be seeing. In many instances, you can make last-minute or even real-time changes in your itinerary. What other form of transportation lets you do that?

Charter buses have the "ahhhhh" factor

— You won't be crammed into a little seat and you won't have to tuck your elbows in. There's no middle seat on a charter bus and more leg room than you'll find with any mode of transportation. The aisles are roomy, too, and you always have the freedom to move about the cabin.

A charter bus is cost-effective

— When you travel on a charter bus, you share costs with fellow passengers. That makes charter generally more affordable than other types of travel and leaves more money to enjoy your visit to Birmingham.

Charter buses are environmentally friendly

— When you travel together on the same coach, you reduce the number of vehicles on the roads, lowering carbon emissions.
At US Coachways, we have more than three decades of experience helping groups and group leaders meet their transportation needs. To get a free estimate on a charter bus excursion to Birmingham, use our convenient online Cost Calculator. To learn more about our services, call 1-855-287-2427 to speak with an experienced customer service representative.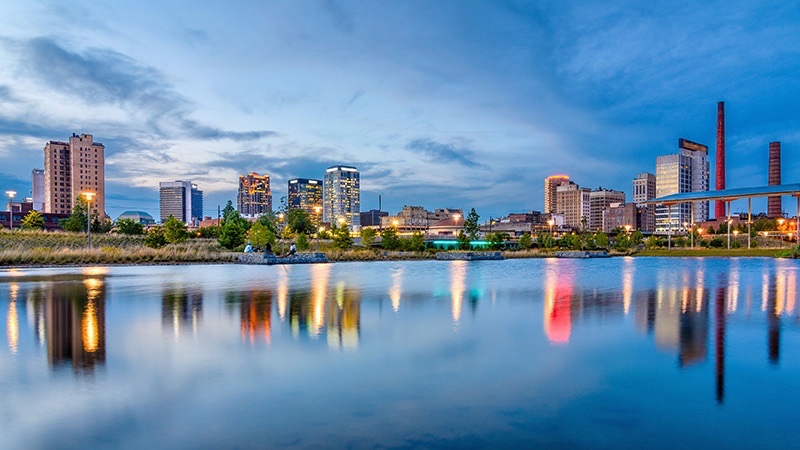 There's Much to See and Do in Birmingham
Though Birmingham has moved beyond its legacy as a civil rights battleground, it hasn't forgotten its past, either. The Birmingham Civil Rights District, in the downtown area, is listed on the National Register of Historic Places. Among the landmarks in the district are:
The 16th Street Baptist church, site of a 1963 bombing that claimed the lives of four young black girls.
The Carver Theatre, once a blacks-only movie theatre and now home to the Alabama Jazz Hall of Fame.
Kelly Ingram Park, where police officers famously used fire hoses and police dogs against protesters.
The Birmingham Civil Rights Institute, with an astonishing array of artifacts chronicling the role the city played in the national civil rights movement.
Born as a steel town just after the Civil War (its nickname used to be "the Pittsburgh of the South"), Birmingham now claims medicine as its principal industry. That shift has brought a diversity to the city that's reflected everywhere:
The museums

— Whether it's bombers or baseball, motorcycles or masterpieces, you'll experience it in Birmingham. Motor vehicle enthusiasts won't want to miss the Barber Vintage Motorsports Museum, with the world's largest collection of contemporary and vintage motor bikes. Learn about the Tuskegee Airmen and other pioneers of the air at the Southern Museum of Flight. Enjoy more than 24,000 works of art at the Birmingham Museum of Art or discover the world's largest assemblage of Negro League artifacts at the Negro Southern League Museum.

The music

— Birmingham has long been a hotbed for musical talent across a wide array of genres—Emmy Lou Harris, Erskine Hawkins, Sun Ra and St. Paul and the Broken Bones all hail from the Magic City. The current musical scene is just as vibrant, from the historic Alabama Theater and its neighbor, the Lyric, to many smaller venues. Birmingham is just a couple hours from Atlanta, Nashville and Memphis, so it's a regular stopping point for national tours coming through the south.

The food

— Regardless of what folks say in North Carolina, Alabama is barbeque! The best places are the little one-offs tucked in neighborhoods throughout the city. Make sure you ask for white sauce on your pork or chicken—it's a specialty here! There's more, though, to the culinary scene in Birmingham. Legendary chef Frank Stitt has a couple of restaurants here. In addition, the influx of medical talent from other countries has led to an explosion of great ethnic restaurants, including Indian, Thai, Ethiopian, African, Peruvian and Japanese. You're close to Cajun country, so you'll find plenty of places for gumbo, po' boys, jambalaya and Etouffee. And then there's that distinctly Southern dining experience known colloquially as the "meat and three."

The beer

— Alabama and Birmingham came late to the craft beer revival, but the city has made up for lost time, now boasting about a dozen local beer houses. You don't find brewpubs in Alabama, though. Instead, the breweries typically either provide space for a flotilla of food trucks or offer services where you can order food from local restaurants and have it delivered to the brewery. There's typically live music at most breweries on the weekends.
The Right Coach—Key to a Successful Outing
You already know that there's no better way to get a group to and from Birmingham than on a charter bus. But just as important as choosing charter is making certain you book the bus that best meets your needs and the needs of your participants.
At US Coachways, we have access to an extensive network of charter bus service providers, so we can help you find the coach that's right for you, with enough room for everyone to be comfortable and all the amenities you need. We'll look at the details of your trip—how many folks are coming, how long you'll be on the road, and any special items you'll be carrying. Then we'll work closely with our vendors to help you find the ideal vehicle.
If you're visiting Birmingham with a mid-sized group, you'll like the mini-bus. It has room for 24 to 35 passengers and plenty of space for your personal items. With a larger group, you'll want the full-sized bus, which accommodates up to 57 comfortably.
Most charter buses come with certain basic modern conveniences as standard features. You can usually expect Wifi, DVD players, stereo/PA systems and charging ports for your devices. Other options, including on-board restrooms, are available on some buses. The amenities vary from coach to coach, so check with your booking agent to determine the possibilities.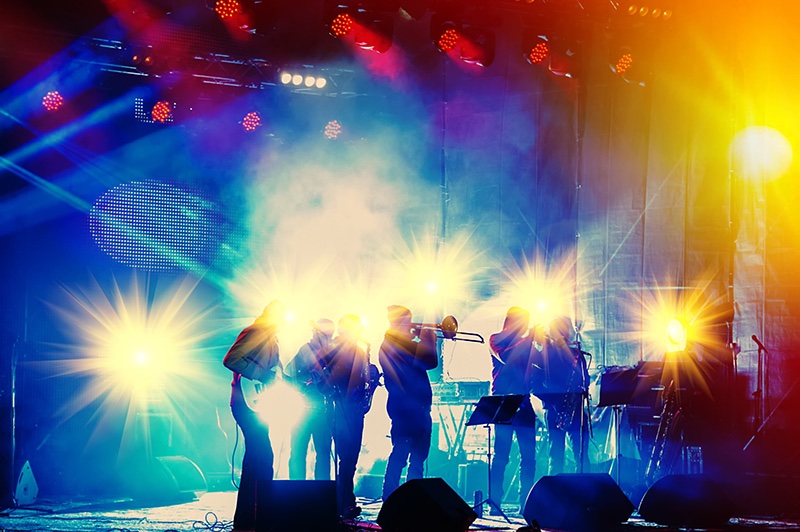 A Charter Bus—The Right Choice for Any Excursion
Flexibility…reliability…comfort…convenience…cost-effectiveness…the many benefits of a charter bus make it an excellent option for any excursion to Birmingham:
Book Your Birmingham Charter Bus Rental Today!
At US Coachways, we have been industry leaders in the charter bus rental business for more than 30 years. To get a free quote on the cost of a trip to this great Southern city, check out our easy-to-use online Cost Calculator. To set up a trip to Birmingham or for more information about the ways we can assist you with your group transportation needs, call 1-855-287-2427 to speak to an experienced customer service agent.