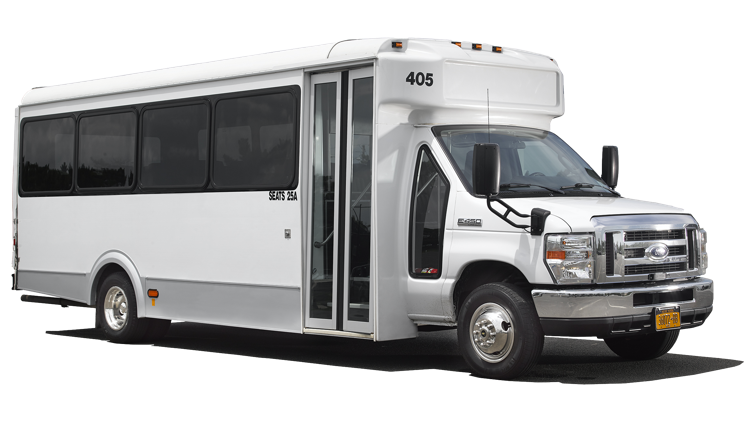 24-35 Passenger Mini Bus
Travel in Luxury, Comfort and Convenience on a US Coachways Mini Bus
When you're taking a mid-sized group anywhere, the US Coachways mini bus is ideal. Whether you're celebrating a family event, taking a group of employees on a trip or involved in church mission work, a mini bus will let you enjoy the entire trip, while someone else handles all the details.
What You Can Expect on a Mini Bus from US Coachways
We have a number of options from which you can choose—our nationwide network of charter bus vendors offers mini buses seating 24, 28, 30 and 35 passengers comfortably. All mini buses have
high back reclining bucket seats
climate control
Ample room for personal items
CD sound system
Optional features (by request, and may incur additional fees) include hardwood floors, leather seats, tables, overhead luggage storage, Wifi, DVD Monitors, electrical outlets and/or charging ports for your devices, and even on-board bathroom facilities.
To learn more about the benefits of a mini bus from US Coachways, call 1-855-287-2427 to speak to an experienced travel consultant. For a free estimate on the cost of a mini bus rental, visit our user-friendly online Cost Calculator.
Why a Charter Bus is the Preferred Mode for Group Travel
When you're traveling with a group, there are lots of details that demand your attention, but few more important than your choice of transportation. When you have problems on the road, it can put a damper on the entire trip. Make it easy on yourself with a charter bus rental:
You'll be able to customize the trip to your needs and wishes

—With a charter bus, you tell us where you want to go, when you want to leave, what you want to see and how long you want to stay. We'll make it happen. In most situations, you can even amend your itinerary at the last minute or even book a whole trip with next-to-no notice.

You can depend on a mini bus

—Delays and cancellations are virtually unheard of with a charter bus rental. Your driver has the tools and technology to foresee potential roadway problems and find alternate routes to get you there on time. In addition, because of our access to a large fleet of vehicles nationwide, it's easier for us to find a replacement if there are mechanical problems.

You'll be safe and secure

—Because there's a highly skilled and trained professional behind the wheel, a charter bus is one of the most accident-free ways to travel. You won't have to worry about unwanted guests, either—there's only one way on and off the bus.

You'll ride in comfort

—Stretch your legs, because there's more room in front of you than on any other mode of travel. The seats are big and plush and there are only two on each side of the row. The aisles are also spacious and you can move about at your convenience. In addition, climate control is generally a standard feature on all charter buses.

Everyone can relax

—On most group trips, someone has to be in charge, checking the GPS or the clock, battling traffic, or looking for parking. With a charter bus, everyone can enjoy the ride while your driver handles all those details. You won't have to worry about missed connections or lost luggage—you'll travel on the same vehicle throughout the trip and your bags will be with you. No worries about a TSA security checkpoint, either. Bring your favorite shampoo and keep your shoes on. Your devices won't interfere with on-board navigation, so you can stay in touch at all times.

Your bus offers multiple functions

—Of course, it's your way to get there and back, and to get around while you're at your destination. But it's also a great place for a team meeting, to give out last minute instructions, or to have a party. It can also be a quiet place for a little down time during a busy trip.

You can take advantage of the high occupancy vehicle (HOV) lanes

—You won't spend a lot of time stuck in traffic.

Charter buses are cost effective

—Because you share many of the costs of travel, charter bus rentals are one of the most affordable ways to take a group anywhere.

Charter buses are eco-friendly

—You'll lower the overall carbon impact when you ride with others on a charter bus.
FAQs about Charter Bus Travel
How will I know if a mini bus is the right vehicle for my group?
We'll carefully assess the details of your trip—how many people are going, what you'll be bringing or taking home, how long you'll be on the road, and any special needs of your participants. Then we'll work with our extensive network of vendors to find the coach that's just right for you.
Are there different types of mini buses?
Yes. We have access to mini buses that seat 24, 28, 30 or 35 passengers, offering traditional bus row type seating. We can also get you an executive mini bus, which comes set up with tables that seat four, so that you can meet in small groups or play games.
How much will a mini bus cost?
The price of a mini bus rental varies, based on a number of factors:

When and where you'll be renting the bus

—The cost of a charter bus rental depends, to some degree, on supply and demand. For that reason, in places like Florida, where the demand for charter buses is greater in the winter than the summer, the cost of a mini bus rental in January will typically be more than in July. The opposite tends to be true in Northern regions of the country.

The day of the week

—Charter buses are generally more expensive to rent on Friday, Saturday and Sunday.

How long you'll be gone

—If you're going and coming back in a day, you can expect to be charged either by the mile or by the hour, with a minimum fee. If you're staying overnight anywhere, you'll customarily pay by the day. When you lodge anywhere for the night, you'll be expected to pay the cost of your driver's accommodations.

Where you rent the bus and where you return it

—Expect to pay more for a mini bus in a metropolitan area than the suburbs or in a small town. In addition, it usually costs more if you want to return the bus to somewhere other than where you boarded it.

Any special amenities you'll need

-With a mini bus, reclining bucket seats, climate control and AM/FM stereo are standard. Other modern conveniences, such as Wifi, tables, charging stations, DVD players, PA systems and on-board bathrooms may be available for an additional fee.

Any tolls, permits or other fees incurred, including parking expenses

—You will be responsible for all similar types of expenses.

For a free estimate on the cost of a mini bus rental, visit our online Cost Calculator.
How much luggage can I bring on a mini bus?
That varies, based on the size and available amenities. Most coaches have storage underneath and some offer overhead bins as well. Check with your booking agent for specific information.
What is the alcohol consumption policy on a US Coachways charter bus rental?
The consumption of beer, wine and liquor is permitted on your charter bus, provided you request permission to do so in advance. Your driver will always have the discretion to suspend or terminate alcohol privileges. In addition, all passengers on the bus must be of legal drinking age in the state where the bus is traveling.
The US Coachways Advantage
When you ride on a mini bus provided by US Coachways, you'll have:
A dedicated service team to meet all your needs, so that you have a single point of contact.
Full dispatch services 24 hours a day, seven days a week.
Access to the US Coachways Trip management portal, where you can view information about all your trips in a single place, including invoices, itineraries and other data.
The opportunity to choose from more than 2,000 charter buses nationwide.
Highly competitive pricing—We book an average of more than $55 million in charter bus excursions every year. That gives us the vendor loyalty, local market knowledge and purchasing power to get competitive prices.
GSA approval—We are certified by the General Service Administration to provide charter bus rentals to the federal government and its agencies.
A Mini bus—A Great Choice for Any Travel
The convenience, comfort, flexibility and amenities on a mini bus make it well-suited for any type of outing, including:
Senior excursions
Special events, such as concerts, sporting events, motor car races, Broadway shows, festivals and rallies
Book Your Mini Bus Today!
At US Coachways, we bring decades of experience to groups and group leaders seeking affordable, flexible and dependable ground transportation. To get a free quote on the cost of a mini bus excursion anywhere in the United States, go to our online Cost Calculator. If you have questions about charter bus travel, or want to learn the full scope of our services, call 1-855-287-2427 and speak with an experienced travel consultant.