Visit the Twin Cities in Luxury, Comfort and Style
Minneapolis and St. Paul—two neighboring communities separated by the mighty Mississippi—both with a burgeoning arts and cultural scene, but each a bit different. Minneapolis feels like the new kid on the block, with glittering new buildings and a fast-paced style. St. Paul, on the other hand, takes itself a little less seriously, offering an old-town ambience.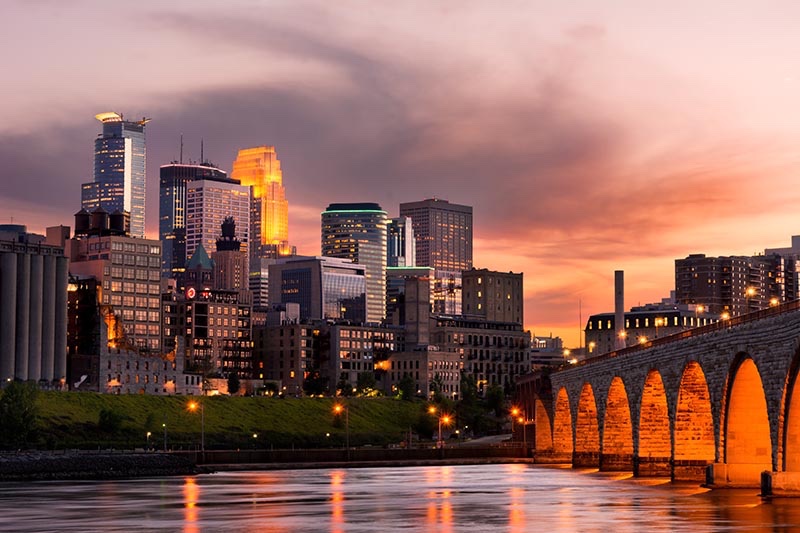 You'll have a great time in this incredibly diverse metropolis, but you won't want to travel there on your own. With more than 3 million residents sprawling out over more than 1,000 square miles, the Twin Cities can have you on the road most of the time. There's a better way to enjoy these two popular American cities—in the comfort and luxury of a charter bus from US Coachways.
A Charter Bus — The Optimal Way to Travel to Minneapolis-St. Paul
When you're taking a group to the Twin Cities, there are many factors to consider, but probably few as important as your choice of transportation. Let's face it—if there are problems getting there and back, that's probably what people will remember most. That's why you want to choose a charter bus rental:
Charter buses are reliable

— Did you know that almost a million air travelers will arrive late somewhere today? Delays and cancellations are virtually unheard of with a charter bus. Because of the extensive network of service providers, it's typically easy to find a replacement coach. In addition, your driver has the tools to identify potential traffic issues and find alternate routes to get you there on time.

Charter buses give you virtually unlimited options

— On a charter bus, you won't have to travel according to someone else's schedule, and you won't have to go where someone else is going. You tell us when you want to travel, where you want to travel, what you'd like to see and how long you want to stay. We'll handle all the details.

Charter buses take the work out of travel

— With other forms of group travel, somebody has to be in charge. Someone has to watch the map, check the time, battle traffic and look for parking. On a charter bus, everyone can relax while your driver handles everything. You won't have to worry about a missed connection or lost luggage, either. You'll ride on the same bus for the entire trip and your bags will be with you. There's no TSA security checkpoint, so you won't have to wait in a long line, take off your shoes or empty your pockets. Your phone won't interfere with on-board navigational systems, so you can stay connected.

Charter buses are safe and secure

— There's only one way on and off your coach, so you won't have to worry about unwelcome guests. You and your personal items will be secure. In addition, you'll have a highly trained professional behind the wheel at all times, so you can ride in safety.

Charter buses offer unmatched comfort

— There's more leg room on a charter bus than on any mode of transportation. The seats are big and there are only two per side—you won't get stuck in the middle, bumping elbows the whole time. The aisles are roomy and you can get up and move about at your leisure.

Charter buses are cost-effective

— Because you share many of the costs of travel with your fellow passengers, charter buses are generally more affordable than other modes of travel. With the money you save, you can bring back some great mementoes of your trip.

Charter buses let you take advantage of the HOV (high occupancy vehicle) lanes

— In a metropolitan area with more than 3 million residents, that makes a difference.

Charter buses help you go green

— A charter bus lets you do your part to help the planet—when you all travel together, that's fewer private vehicles on the roads and a smaller carbon impact.
At US Coachways, we have been industry leaders in the charter bus business for more than 30 years. To get a free quote on a charter bus trip to Minneapolis-St. Paul, visit our easy-to-use online Cost Calculator. To learn more about how we can help you with group travel, call 1-855-287-2427 to speak to one of our customer service agents.
Enjoy the Diversity of MSP
The Twin Cities are one of the most culturally diverse communities in the country, with many strong immigrant populations, including large Somali, Hmong, Asian and Latino influences. That makes for a culinary scene unlike any you'll find anywhere—enjoy Cambodian, Ecuadorian, Malaysian, Afghani, Czech, Dutch, Korean, Turkish, Tibetan and Ukrainian, among many other ethnic cuisines.
That diversity also shows up in the music and arts in the Twin Cities. Minneapolis-St.Paul is considered by many to be the "Music City" of the Midwest. It's a breeding ground for musicians of all genres, from Dylan to Prince, but it's also one of the top destinations in the country for touring musicians. With dozens of mid-to-large sized venues and just as many small clubs, the cities offer musical entertainment to fit any taste. Among the cities' legendary venues are First Avenue (known to locals as "First Ave"), the Dakota Jazz Club, the Orpheum, the State Theater, the Cedar Cultural Center (for world music), the Fitz (where Prairie Home Companion was produced for most of its existence) and the Xcel Energy Center, home to stadium concerts.
There's also much in the Twin Cities for patrons of the visual arts, from the Minneapolis Institute of Art and the Weisman Art Museum to the Walker Art Center, with its famous outdoor sculpture garden. The Guthrie Theatre in downtown Minneapolis has long been a beacon on the American theatre scene and the Ordway in St. Paul hosts touring Broadway show.
Of course, the Mall of America (formerly the home of the Minnesota Twins) is here, located in the southern suburbs of the cities. With more than 500 stores over four stories, it also houses dozens of restaurants, and has hosted concerts and even a hockey game. There's no sales tax on clothing in Minnesota, so bring an extra suitcase!
For a real one-of-a-kind experience, come to the Twin Cities in the summer, when the Minnesota State Fair is on. One of the country's largest state fairs, with its own dedicated fairgrounds, it offers everything from live concerts to cooking competitions to some of the most unusual food you'll ever eat—ever tried deep fried cheese curds or alligator on a stick? There are amusement park rides, as well as a life-sized sculpture of the Minnesota State Fair Queen, carved out of butter!
Choose the Right Bus for Your Trip to the Twin Cities
There's no question about it—a charter bus is the smart way to travel to Minneapolis-St. Paul. But one of the benefits of charter is the options you have—it's important to take the time to make certain you have the right coach for your group.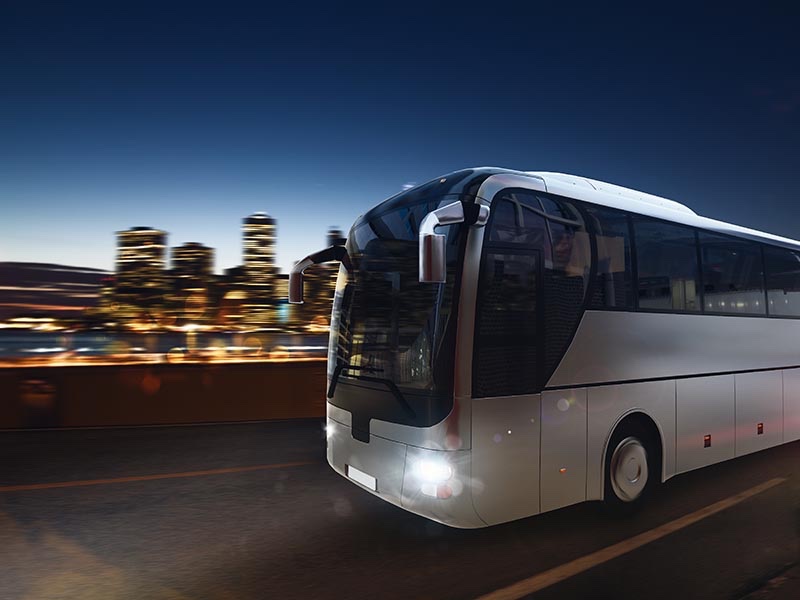 At US Coachways, we have access to the largest fleet of charter buses in the nation. We'll work closely with you to find the ideal coach for your group, looking at all the details of your trip. We'll help you reserve a bus that has plenty of room for all your participants, but doesn't have any wasted space. We'll also consider any special needs of your group.
If you're traveling with a mid-sized group, we'll probably recommend the mini-bus. It has seating for 24 to 35 and plenty of room for your personal items. Larger groups find the full-sized bus to be optimal, with accommodations for up to 57. Multiple bus rentals are an option.
Most charter buses come with standard amenities, such as Wifi, stereo/PA systems, DVD players and charging stations for your devices. Additional features, including on-board bathrooms, are available on a limited basis. Check with your booking agent to determine what's available.
A Charter Bus—The Smart Choice for Any Trip to MSP
All the great features that make a charter bus an outstanding option for group travel make it well-suited for any type of outing, including:
Book Your Charter Bus Rental to the Twin Cities Todays
At US Coachways, we bring more than three decades of transportation experience to groups and group leaders. To get a complimentary quote on a charter bus rental to Minneapolis-St. Paul, visit our user-friendly online Cost Calculator. To learn more about the range of services we offer, call 1-855-287-2427 to speak with one of our experienced customer service agents.