Explore the Garden State in Luxury, Comfort and Convenience
You're looking to get away for a few days, get a group of friends and just let your hair down—maybe it's time to head to the beach, hit a casino or let it all hang out at an amusement park. Maybe you want to catch some great music or you've got a hankering for some great eats or need to get your shopping fix. There's a place that has it all—New Jersey. From the pristine beaches and boardwalks along the Jersey Shore to the world's largest theme park, from the legendary music venues in Asbury Park to Atlantic City, from some of the famous sites of the American Revolutionary War to one-of-a-kind diners, drive-ins and five-star restaurants, the Garden State offers something for just about everyone.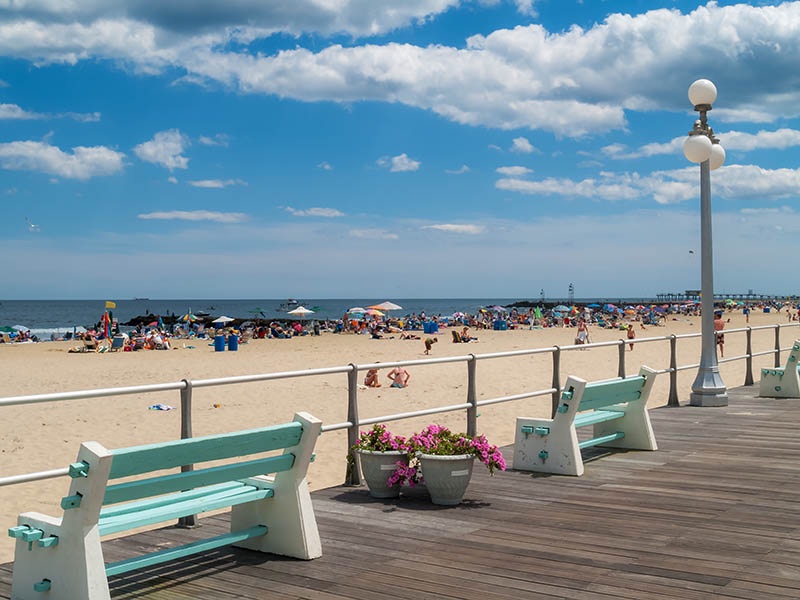 But you don't want to spend your time in Jersey buried in a map or looking at your GPS. You don't want to have to worry about finding a place to park. You don't want to have to battle traffic. There's a better way to experience all Jersey has to offer—in a spacious and luxurious charter bus rental from US Coachways.
A Charter Bus Rental—The Way the Pros Travel to New Jersey
For group travel, there's no mode of travel that offers more benefits that a charter bus: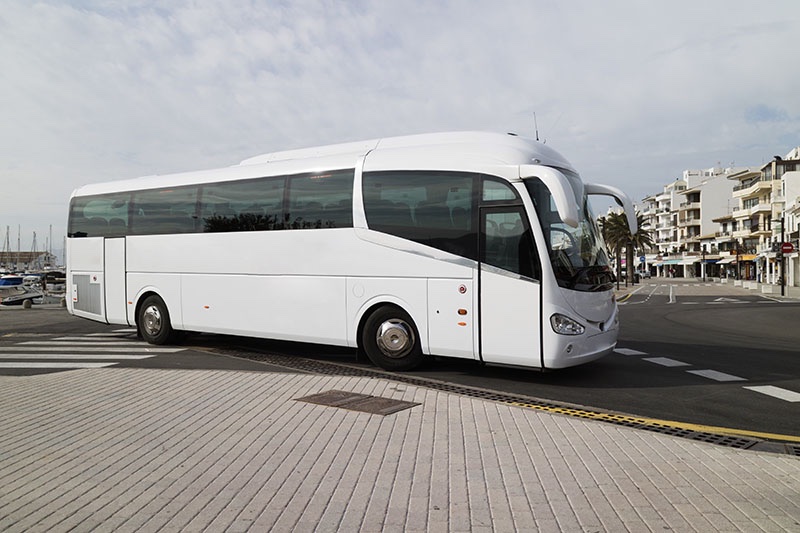 You'll have almost unlimited flexibility

— Simply tell us where you want to go, when you want to be there and how long you plan to stay—we'll make it happen.

You get to be on vacation

— With a charter bus, you can relax. You won't have to check your watch or look at a map. No worries about finding a theater, restaurant, museum, mall or other venue. We'll drop you off at the door. You'll travel on the same coach throughout your trip, so you won't have to worry about making connections. Your personal items, including luggage, will always be with you and will always be safe and secure.

You'll feel safe

— Your driver will be a highly trained professional. In addition, there's only one way on and off your bus, so you won't have to worry about security.

Buses can use the HOV lane

- When available, so you can often save time.

Charter is cost effective

- Charter bus rentals are one of the most affordable ways to take a group anywhere.

Charter buses are environmentally friendly

— With all of you traveling on the same coach, you'll reduce the emissions and carbon footprint. That's good for the planet.
At US Coachways, we have been industry leaders in the charter bus rental business for more than 30 years. To get a free quote for a trip to New Jersey or to learn about how we can help you, visit our online Cost Calculator or call us at 1-855-287-2427.
The Jersey Shore—Beaches, Boardwalks and Big Fun
There's more than 130 miles of Atlantic Ocean coastline in New Jersey, from Cape May to Long Beach Island, Wildwood, Avalon, Spring Lake, Ocean City and Seaside Heights. There are beaches for just about everyone, running alongside posh resort towns and sleepy seaside villages. All offer lots of sun, sand and surf.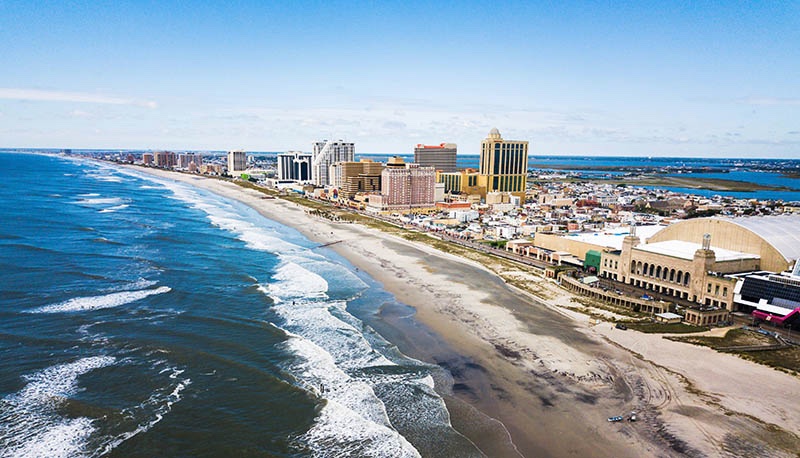 You can saunter along the world's first boardwalk in Atlantic City, stretching for miles past hotels, arcades, restaurants, shops and casinos. While you're there, enjoy some of the iconic boardwalk eats, including salt-water taffy, funnel cakes, soft pretzels, corn dogs and hot dogs.
The Jersey Shore also offers many options for fans of amusement parks or gaming. There are water parks and theme parks up and down the coast, and Atlantic City alone offers more than ten casinos.
Experience History in New Jersey
With its many famous sites from the American Revolutionary War, New Jersey has often been dubbed "the Crossroads of the Revolution." You can visit the Johnson Ferry House at Washington Crossing State Park, in Titusville, where General George Washington crossed the Delaware River on Christmas night in 1776 to defeat the Hessians. There are more than 600 historic sites from the Revolutionary War in New Jersey, including the sites of the Battle of Monmouth and the Battle of Springfield, as well as the headquarters in Kingston where General Washington learned of the surrender of the British.
New Jersey also offers many other historic landmarks:
The home in Caldwell where Grover Cleveland, the 22nd president of the United States, was born in 1837
Fort Mott, part of a coastal defense system built during the Spanish-American War in the late 1800s
The Cape May Lighthouse, a 157 foot high structure built in 1859
The Walt Whitman House, in Camden, where America's famous poet spent his final years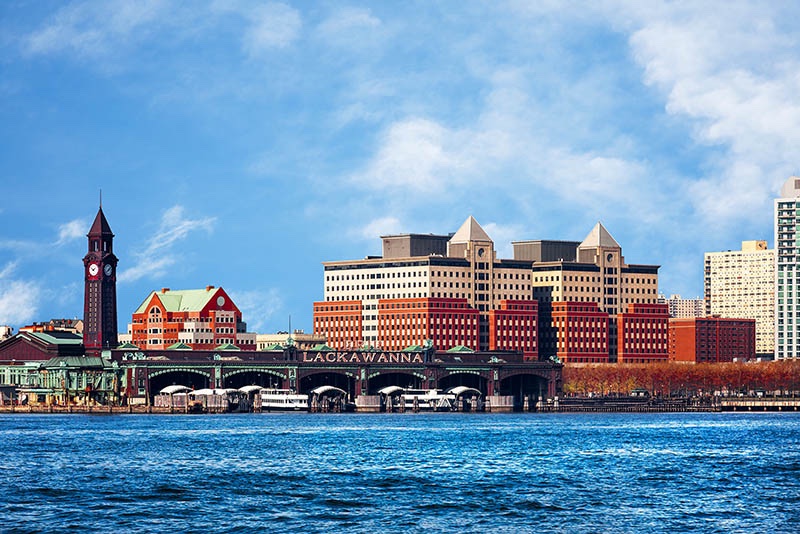 Of course, for music fans, New Jersey carries a rich legacy, from Frank Sinatra to Bruce Springsteen to Bon Jovi and Southside Johnny and the Asbury Jukes. In Asbury Park, along the Jersey Shore, you can stop by the Stone Pony, where Springsteen went from a local legend to the Boss in the mid-70s. Head on over to Hoboken and take the Sinatra walking tour, where you can see his birthplace, the church where he supposedly gave his first public performance and the high school he was thrown out of after just 47 days.
New Jersey—A Haven for Foodies
New Jersey has long been known for its unique foods, from the wide variety of carnival and boardwalk treats to its great Italian eateries to world class pizza and ocean-fresh seafood. With more diners per person than any state in the country, it's also been tabbed as the "diner capital of the world." You're never more than a few miles from a great cheeseburger, corned beef hash, pancakes, grilled cheese or fries. Other dishes you have to experience in New Jersey include:
Insert picture of NJ Diner or Pork Roll/Taylor Ham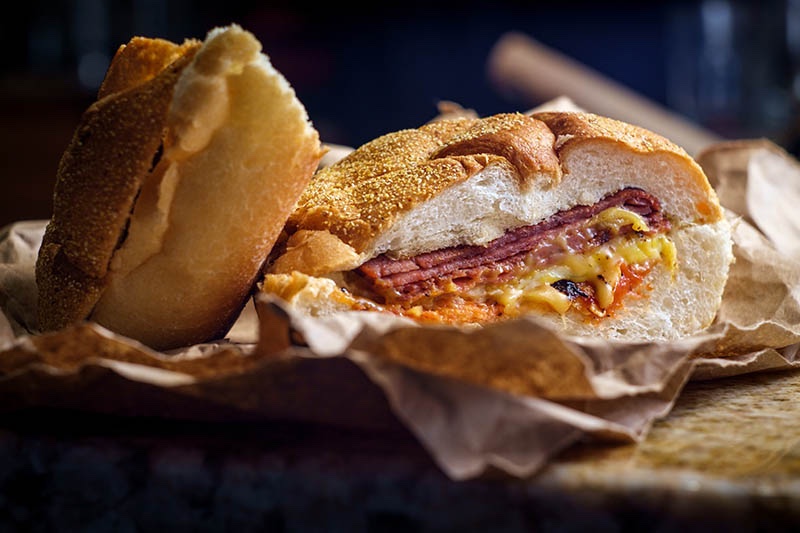 Clams—Often referred to as "the Clam State," New Jersey offers these delicacies from the ocean, as well as the Delaware Bay.
The pork roll, also known as Taylor Ham, a spam-like meat typically eaten with eggs and cheese for breakfast.
The Jersey Sloppy Joe, a double-decker sandwich with pastrami or corned beef on rye with coleslaw, Swiss cheese and Russian dressing
The Trenton tomato pie (really a pizza)—With this unique twist, the toppings go on first and then are covered with tomatoes
Jersey style hot dogs—Every region has its own take on the classic American fare. New Jersey has a bunch. There's the "ripper," a deep-fried delicacy or the Italian, with buns made from pizza dough. You can get a "pushcart" dog, comparable to what you'd expect from a New York City street vendor. The "Texas Weiner" can be griddled or deep fried and then is slathered with a Greek style chili.
Beefsteak—We're not talking t-bone or rib eye here. This unique Jersey cuisine consists of slices of beef tenderloin sopping in gravy, meant to be eaten with your hands and washed down with plenty of beer. It's a tradition that's been carried over from the communal dining practices of 19th century factory workers.
We'll Help You Find the Right Coach for Your Trip to New Jersey
When you're traveling in a group, there's little that's more important than your choice of transportation. People can quickly forget the fun they had at their destination if there was too much hassle getting there and back. One of the keys—getting the right sized coach for your group
At US Coachways, because of our longstanding relationships with a large network of charter bus providers across the country, we can help you secure the perfect bus for your group and your trip. If you're traveling with just a few friends or family members, consider a mini bus , with room for up to 35 passengers and plenty of space for luggage and other personal items. If your group is somewhat larger, a charter bus may be ideal, with accommodations for anywhere from 49 to 57 people. Don't worry about the size of your group, though—we can set you up with multiple buses if needed.
A charter bus rental is ideal for many kinds of travel, including:
Schedule Your Charter Bus Rental to New Jersey Today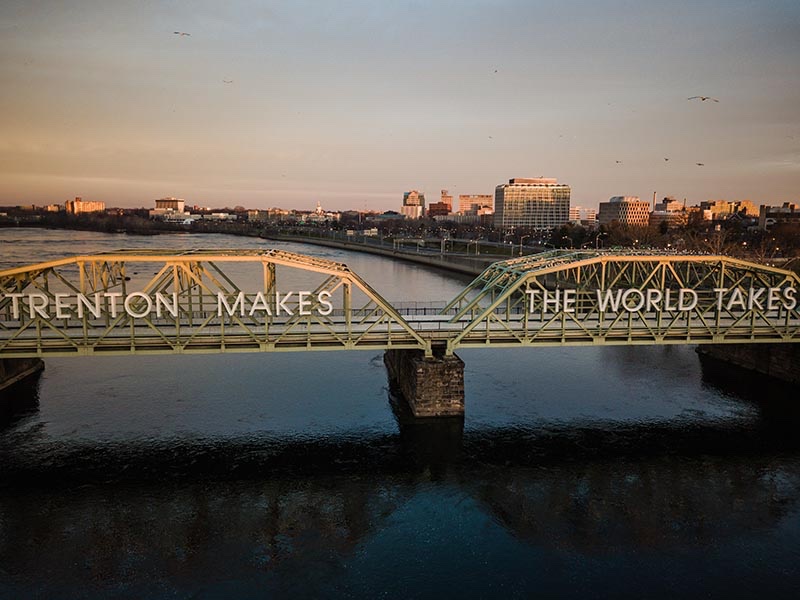 US Coachways has been a leader in the charter bus rental business for more than three decades, helping people successfully travel on more than 20,000 trips every year. To learn more about the full range of services we offer, or to get a free quote, visit our online Cost Calculator or call one of our experienced agents at 1-855-287-2427.