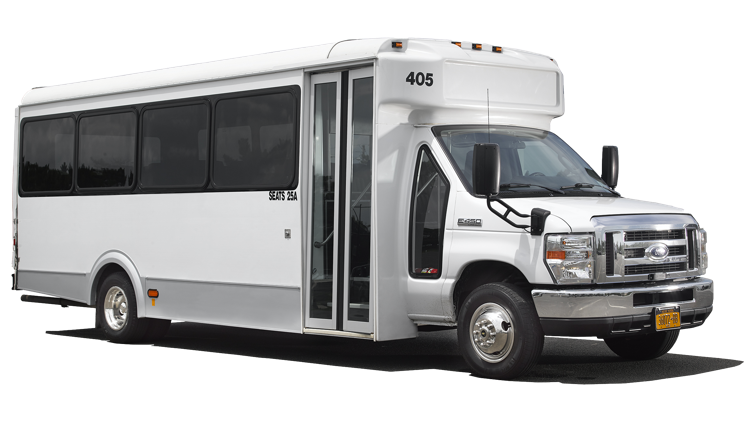 Luxury Travel for Mid-Sized Groups from US Coachways
If you're heading to any type of event with a small to mid-sized group, US Coachways can help ensure that your travel goes without a hitch. We offer a wide range of mini buses, with seating capacities for 24, 27, 28, 30 and 35 passengers. With a mini bus, you can relax with everyone else while your driver handles the navigation and gets you to your destination on time.
The Many Great Features of a Mini bus Charter
The 24, 27, 28, 30 and 35 passenger mini buses all offer:

Climate control—you'll stay cool in the summer and toasty in the winter.
High-back reclining bucket seats with lots of leg room.
Spacious aisles—There's room to move about.
CD sound system.
Ample space for your luggage and other personal items.

Of course, there are also many additional options that come on select mini buses, including Wi-fi, hardwood floors, DVD players, tables, electrical outlets, USB ports, overhead luggage bins, leather seats and even on-board bathroom facilities. Check with your booking agent for availability.

At US Coachways, we have set the standard in the charter bus industry for more than 30 years. To obtain a free quote on the cost of a 24, 27, 28, 30 or 35 passenger mini bus charter, visit our user-friendly online Cost Calculator. For more information about US Coachways or to get answers to your questions about charter bus rentals, call 1-855-287-2427 to speak to a knowledgeable and experienced travel consultant.
Frequently Asked Questions about the 24, 27, 28, 30 and 35 Passenger Mini buses
How will I know which mini bus is best for my group?

Don't worry—when you book a mini bus with US Coachways, we'll take the time to learn all the details of your excursion—how long you'll be on the road, how many folks will be going, what you'll be bringing or taking home, and any unique or special needs of any of your attendees. Based on our decades of experience, we'll recommend a specific bus and work with our nationwide network of charter bus service providers to find the coach that best meets your needs.

The 24, 27, 28, 30 and 35 passenger mini buses all come with traditional row-type seating. An executive mini bus may also be available, for an additional fee.

What is the cost for mini buses?

The cost varies, based on the following factors:

The size of the mini bus — As a general rule, the larger the mini bus, the more it will cost.
When you'll be renting the mini bus — The time of year and the day of the week typically affect the cost of a mini bus rental. Because there's greater demand for charter buses in Florida in the winter than the summer, you can expect to pay more for a mini bus in January or February. The opposite tends to be true in northern climates—you'll typically find a charter bus more expensive in July or August in New York City or Chicago.

There's also more demand for mini buses on weekends, so Monday-Thursday rentals are usually less expensive.

The length of your trip — If you're scheduling a day trip, you can expect to be charged either by the hour or by the mile, with a minimum charge (typically five hours). If you're riding or staying overnight anywhere, you'll usually be billed by the day. If you stop for the night, you can expect to pay the costs for lodging for your driver, too.
Where you get on the bus and where you return — It's typically a bit more expensive to rent a mini bus in a large metropolitan area than in the suburbs or a rural setting. In addition, you may pay an additional fee if you want to return the bus at some location other than your initial point of departure.
Any special features or options you'll want — The 24, 27, 28, 30 and 35 passenger mini buses all come with certain conveniences as standard features, as noted above. Additional amenities typically include an extra charge.
Permits, parking fees, and other costs of travel — You will be responsible for all such expenses.

We offer a free estimate on the cost of renting a mini bus from US Coachways. To learn more, visit our online Cost Calculator.

How much luggage can I bring?

The storage capacity varies, based on the size of the bus and the amenities available. On average, a mini bus will accommodate 20 average sized bags. It's a good idea, though, to check with your booking agent to get more specific details.

Does US Coachways allow consumption of alcohol on the mini buses?

Alcohol consumption is permitted, but only with prior approval by US Coachways. Your driver will always have the discretion and authority to suspend those privileges. In addition, you must comply with all local laws and regulations. For more information, ask your travel consultant.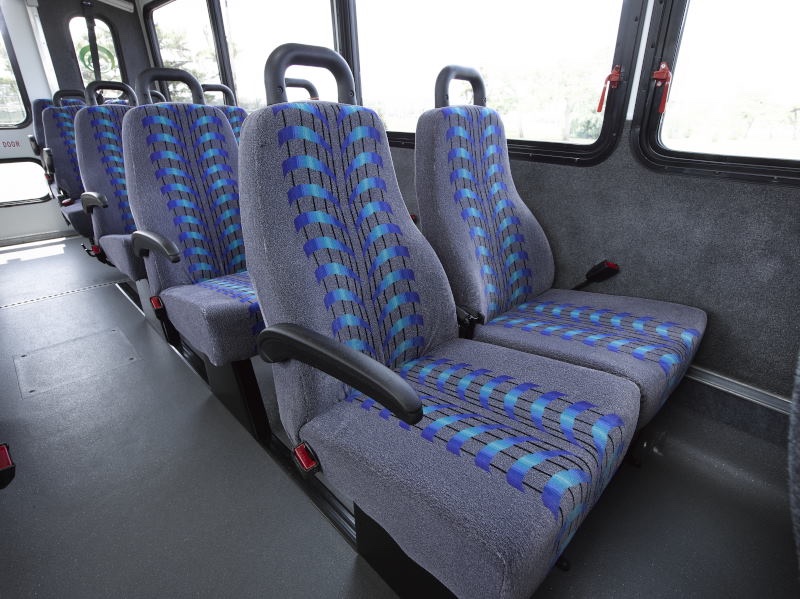 The US Coachways Commitment
At US Coachways, we believe in providing every group with the highest levels of customer service and attention. When you book a mini bus with us, you'll get:
Full dispatch services at all times, 24 hours a day, seven days a week.
Your own dedicated service team, individually handling all your needs and offering a single point of contact at all times.
The benefits of the US Coachways Trip Management Portal, giving you access to invoices, itineraries and other information on all your trips on a single website.
Great pricing—Because we book an average of more than $55 million in charter bus business every year, we have the vendor relationships, local market knowledge and purchasing power to get you highly competitive pricing.
A GSA certified vendor—We are approved by the General Services Administration to provide charter bus services to the United States government and its agencies.
Take a 24, 27, 28, 30 or 35 Passenger Mini bus on Any Type of Trip
The many features that make the different mini buses so attractive make them a great option for any type of travel:
Family outing — Reunions, weddings, engagement parties, rehearsal dinners, birthdays, graduations, anniversaries, retirement parties, bar and bat mitzvahs.
Business travel — Conventions, seminars, conferences, workshops, training, team-building exercises, golf outings and company celebrations.
Senior and retiree excursions—Shopping trips, visits to museums and historical attractions, casino adventures, Broadway shows and concerts, fall foliage tours.
School travel — Athletic competition, prom and graduation after-parties, club and class trips, cultural offerings.
Special events — College and professional sports, motor car races, stadium concerts, touring Broadway productions, festivals and rallies.
Church outreach — Mission trips, community volunteer projects, choir tours and youth group events.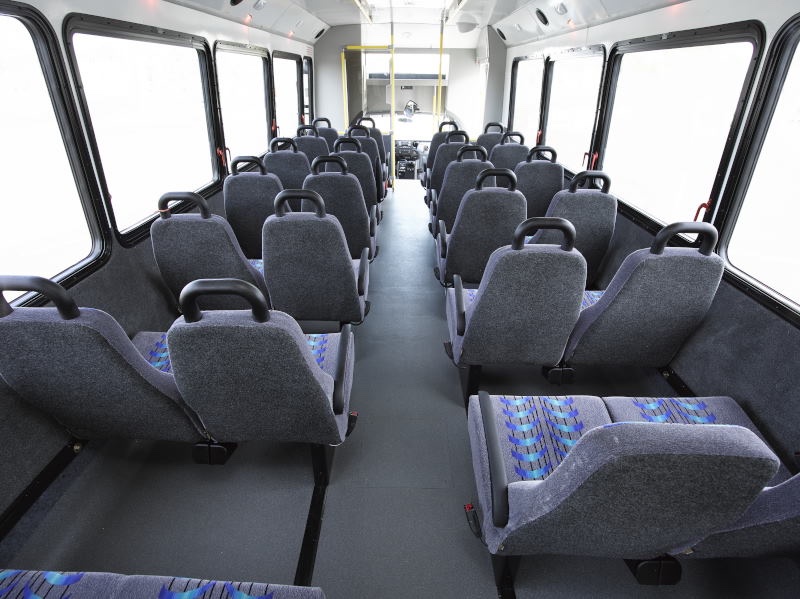 Make Your Mini Bus Reservation Today!
Travel with confidence in a 24, 27, 28, 30 or 35 passenger mini bus chartered with US Coachways, leaders in the charter bus industry for more than 30 years. To find out the cost to take a mini bus anywhere in the United States, visit our state-of-the-art online Cost Calculator. For answers to your questions about charter bus travel, or to learn more about the full range of services we offer, call 1-855-287-2427 to speak with an experienced travel consultant.