Your Guide to the Cigar City on a Charter Bus
The crown jewel along the western shoreline of the Florida peninsula, the four cities that make up the Tampa Bay area—Tampa, Clearwater, Brandon and St. Petersburg—offer unlimited attractions to visitors. Of course, there's plenty to do in the great outdoors, where the daily highs rarely dip below 70 in the winter or above 90 in the summer. But the region offers museums, world class shopping, fabulous food and a variety of festivals throughout the year.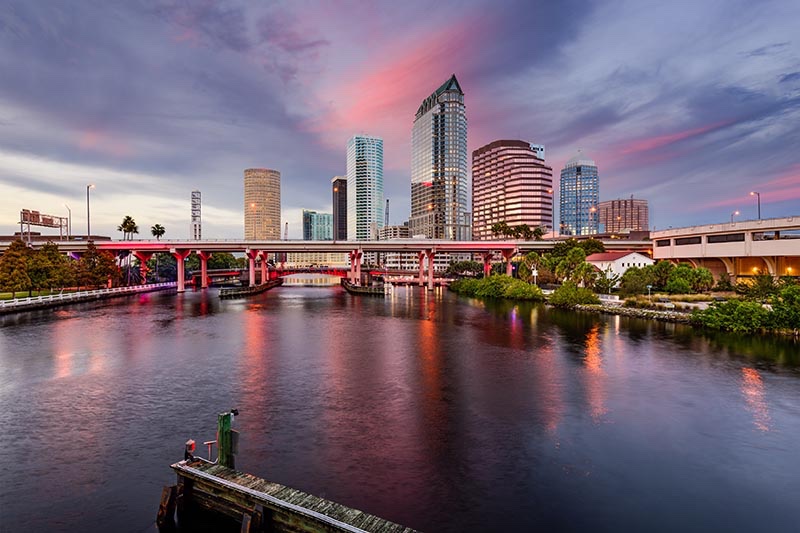 The greater Tampa Bay area is a teeming metropolis, though, with nearly 2.5 million people over more than 400 square miles. Don't spend your time here fighting traffic or buried in a map. With a charter bus rental from US Coachways, you can relax with everyone else while we handle all the details.
Your Best Option for Group Travel to Tampa—A Charter Bus Rental
If you've been put in charge of organizing a group outing to Tampa, you have a lot of important decisions to make. None, though, may be more important than your choice of transportation. If your people have a bad experience getting there and back, they may forget about most of the fun they had in the Cigar City. Here are some of the compelling reasons to choose charter:
It's a reliable way to travel

— Did you know that about 40% of all air travelers will arrive late somewhere on any given day? Delays and cancellations are fairly common with most other modes of travel, but not with charter buses. Because of the extensive fleet of coaches nationwide, it's easier to find a replacement, should you experience mechanical problems. Furthermore, your driver has the tools and technology to anticipate traffic problems and find alternate routes to get you to your destination on time.

Charter bus travel offers unmatched flexibility

— Unless you're heading to Tampa in your own personal vehicle, you won't find any other mode of travel that lets you decide when you'll travel, where you'll go and how long you'll stay there. With a charter bus, you can often make adjustments at the last minute or even during the trip.

Charter buses offer safety and security

— There's a lot of traffic on the road—it's comforting to know that you have a highly trained professional driver behind the wheel. In addition, because of the limited entry and exit to and from your bus, you won't have unwanted guests. You and your personal items will be safe and secure.

A charter bus lets everyone enjoy the trip

— With other modes of travel, there's a whole host of responsibilities that one of the participants has to assume. Someone has to navigate the roads and get you where you're going. Someone has to keep an eye on the clock to make certain you get to your destination on time. With a charter bus, you can relax while someone else handles all the details. You won't have to sprint to make a connection or worry about lost luggage. You'll be on the same bus for the entire trip and your personal items will always travel with you. There's no TSA security checkpoint, so you won't have to empty your pockets, take off your belt or put your shampoo in those little bottles. Even better, your phone won't interfere with the navigational systems, so you can stay connected at all times.

You'll ride in comfort on a charter bus

— The seats are wide, with more leg room than on any mode of travel. There's no middle seat, either, so you won't be banging elbows for the entire trip. The aisles are roomy and you can walk about at your leisure.

A charter bus lets you benefit from the HOV (high occupancy vehicle) lanes

— That can reduce the time you spend in traffic.

Charter buses are cost-effective

— You'll share some of the costs of travel with your fellow passengers. With the money you save, you can have a bit more fun in Tampa.

Charter buses help the environment

— When you're all on the same bus, that's significantly fewer private vehicles on the roads. That reduces emissions. Here's a look at the positive impact US Coachways had on the environment in 2018.
At US Coachways, we have been industry leaders in the charter bus rental business for decades. Get a free estimate of the cost of a charter bus trip to Tampa with our online Cost Calculator. Call 1-855-287-2427 to learn about the ways we can assist you with group travel.
The Many Attractions in Tampa
When you're taking a group somewhere, it's always great to have choices, and that's what Tampa offers: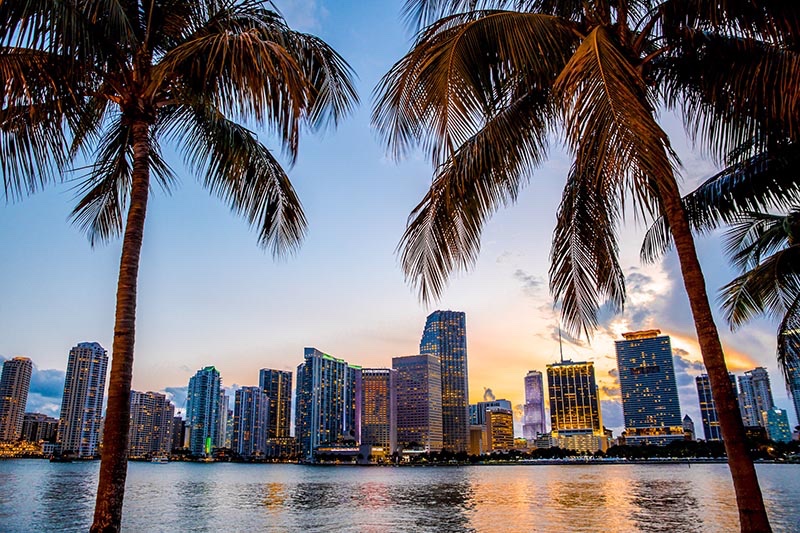 Beaches

— With miles of pure white sand beaches along the Gulf of Mexico, the Tampa Bay shoreline is considered by many to boast the best swimming, sunbathing and water sports spots anywhere in Florida. The ambience varies, too. Some beaches give you the privacy of a deserted island and others offer restaurants, bars and a vibrant beach party atmosphere.

Museums

— At the Museum of Science and Industry (MOSI), the largest science center in the southeastern part of the country, you can step through an airlock and experience what it's like to live on the moon. Dinosaur World offers more than 150 life-sized creatures, as well as the opportunity to unearth your own fossils. Tampa's Museum of Art offers works by Renoir, Degas, Picasso, Cassatt and others.

The history

— Visit Ybor City and learn why Tampa was once known s the "Cigar Capital of the World." Amazingly, the city once had more than 200 cigar factories and produced more than 500 millions hand-rolled cigars every year. Take one of the daily walking tours and step back in time.

The festivals

— With the temperate climate here, it's a perfect place for an outdoor festival. Come to Tampa just about any time of the year and you'll find the locals celebrating something. The Florida State Fair is held here every February. Other popular community celebrations include the Tampa Bay Margarita and Music Festival, the Seafood and Music Festival, the Caribbean Carnival and the Gasparilla Piratefest, Tampa's own version of Mardi Gras.

The shopping

— Tampa has long been a mecca for shoppers, with upscale stores near the airport and in the heart of downtown, as well as boutique and collectible shops along many of the beaches. Check out the Boardwalk, with more than a hundred proprietors selling everything from antiques and crafts to art, clothing and furniture.

The food

— There's unquestionably a strong Cuban influence in the Tampa Bay cuisine. You can't visit the city without tasting the classic Cuban sandwich. But the abundance of seafood from the bay and the ocean also factors into the culinary offerings—think shrimp and grits, conch fritters, clam chowder, oysters, mussels and the all-inclusive "fresh catch of the day." As an appetizer, consider a real delicacy—gator tail!
We'll Help You Find the Ideal Coach for Your Trip
So you're sold—it's clear that there's no other mode of transportation that offers as much as a charter bus. But there's one more important step—you need to book the right bus for your group, one that has plenty of room to allow everyone to be comfortable, but that doesn't have a lot of unused space.
At US Coachways, we have access to a huge network of charter bus service providers nationwide, with an extensive fleet of vehicles. We'll look at the details of your trip—how many people are going, how long you'll be on the road, and what you'll need to bring or take home. We'll then work closely with our vendors to find the coach that best fits all your needs.
If you're heading to Tampa with a mid-sized group, you'll enjoy the mini-bus. It accommodates 24 to 35 comfortably and has plenty of room for personal items. Larger groups are best-suited for the full-sized bus, which seats up to 57 passengers. Multiple bus rentals are always an option.
Most charter buses offer certain standard modern amenities, including Wifi, DVD players, stereo/PA systems and charging stations for your devices. Optional features, such as on-board bathrooms, are available on some buses. The options vary from coach to coach, so check with your booking agent.
A Charter Bus Rental—The Smart Choice for Any Type of Travel
The many features and benefits of a charter bus rental—the flexibility, reliability, comfort, safety and affordability—make it an outstanding option for any type of outing to Tampa: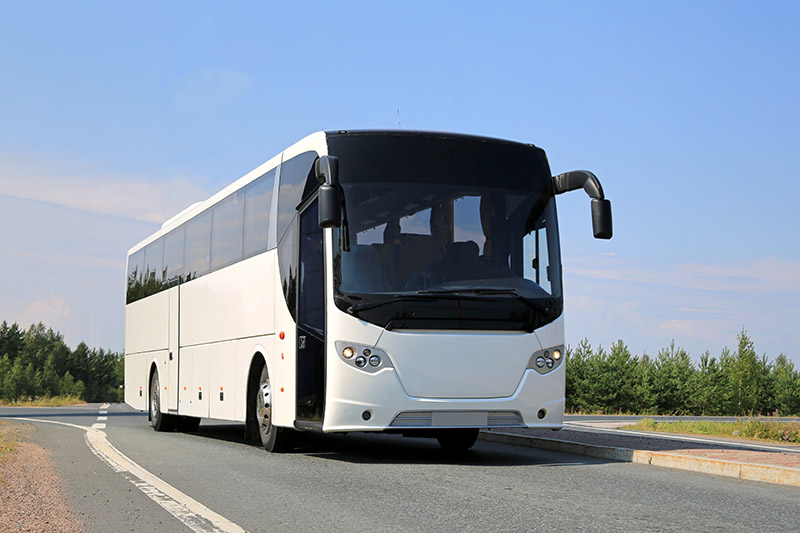 Make Your Reservation for a Charter Bus Trip to Tampa Today!
At US Coachways, we are proud to have met the needs of groups and group travel leaders for more than 30 years. To get a free quote on the cost of a charter bus excursion to Tampa, Florida, complete our user-friendly online Cost Calculator. To learn more about the ways we can assist you with a group outing, call 1-855-287-2427 to speak to one of our experienced customer service agents.