Your Guide to a Charter Bus Rental to Virginia Beach
There's nothing quite like a trip to the ocean—the smells, the sounds, the sights, the slower pace of life. If you're looking to take a group to an idyllic spot along the Atlantic, look no further than Virginia Beach. It's not just a summer place, though. This bustling town along the Eastern shore of Virginia draws visitors year-round, with a wide range of seafaring attractions.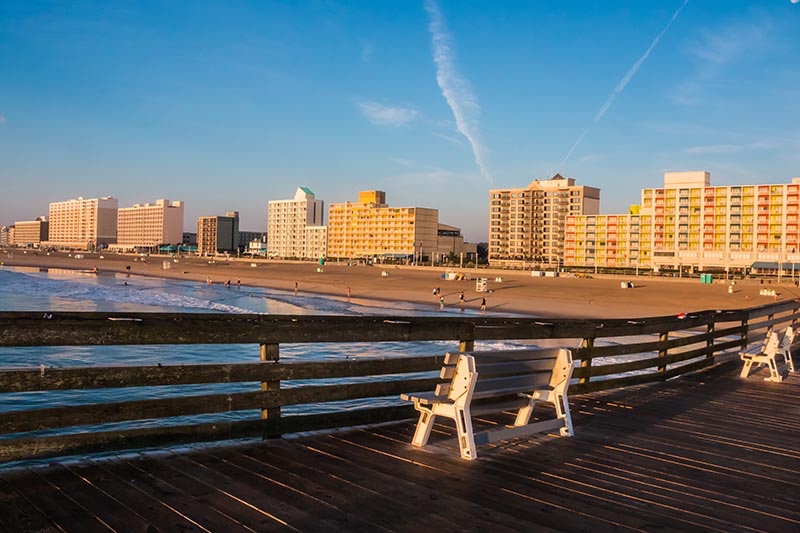 But a trip to the beach should never be work! You don't want to worry about directions, a place to park or getting in the car after a long day in the sun. There's a better way to enjoy all that Virginia Beach has to offer—in the comfort, convenience and luxury of a charter bus rental from US Coachways.
A Charter Bus—The Smart Choice for Group Travel
One of the keys to success when you're taking a group somewhere—getting them there and back smoothly. If there are challenges with your transportation, attendees can quickly forget how much fun they had in Virginia Beach. Here are some of the reasons to choose a charter bus:
Flexibility

— There's no other mode of travel that lets you tailor your trip like a charter bus rental. You won't have to travel according to anyone else's schedule—tell us where you want to go, when you want to go there, what you want to see and how long you want to stay. We'll make it happen.

Safety and security

— On a charter bus, there's a trained professional at the helm at all times. In addition, because there's just one way on and off the bus, you won't have to worry about unwanted guests, and you and your personal items will be safe and secure.

Total relaxation

— With a charter bus, you won't have to worry about all those factors that make travel stressful. You won't have to worry battling traffic, checking a map/GPS or looking for a place to park. You'll travel on the same coach throughout the trip, and your bags will be with you, so you won't have concerns about missed connections or lost luggage. There's no TSA checkpoint, so keep your shoes on and bring a whole bottle of shampoo. You won't have to put your phone on "bus mode," either—you can stay connected the whole trip.

Reliability

— With air and train travel, it's relatively common to have delays or even cancellations. In fact, close to a million air travelers arrive late somewhere every day! With a charter bus, that's a rarity. Your driver has the technology and resources to find alternate routes to get you there on time. Furthermore, because of the vast network of charter bus service providers, it's often easy to find a replacement coach, should you experience mechanical problems.

Comfort

— There's no other mode of transportation that offers as much leg room as a charter bus. There's no middle seat, either, so you'll have plenty of elbow room. The aisles are wide, and you can move about at any time.

Affordability

— On a charter bus, you'll share many of the expenses of travel with other passengers, making it a very cost-effective way to go. With the money you save, you can have more fun in Virginia Beach.

Access to HOV lanes

— Ride in the high occupancy vehicle lanes and avoid the traffic snarls.
Less impact on the environment — When you travel by charter bus, that means fewer vehicles on the road, and fewer carbon emissions. That's good for the planet. Consider the positive impact US Coachways had on the environment.
At US Coachways, we have helped groups and group leaders find effective travel solutions for more than 30 years. To get a complimentary quote on a charter bus rental to Virginia Beach, go to our user-friendly online Cost Calculator. For more information about the ways we can help you with group travel, call 1-855-287-2427 and talk to one of our customer service representatives.
Enjoy the Shoreline in Virginia Beach
Not surprisingly, many of the main attractions in Virginia Beach involve the ocean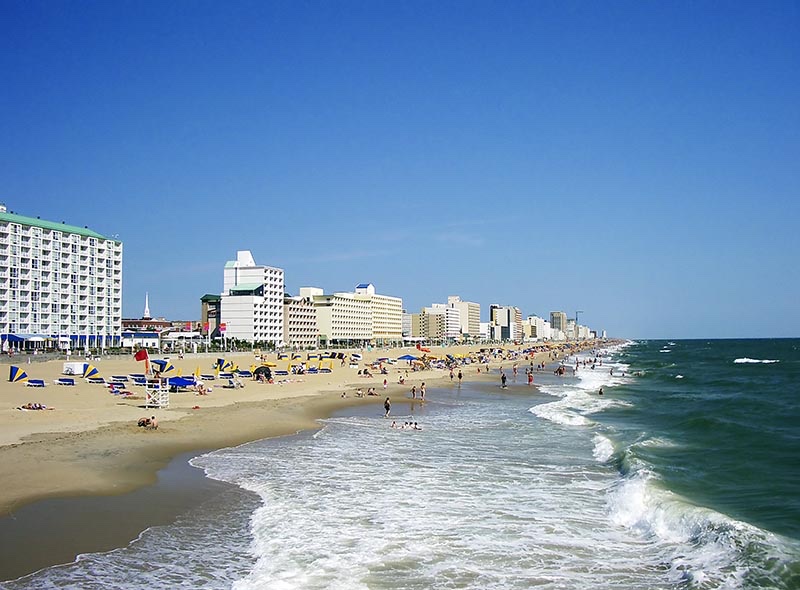 The beaches

— Whether you're looking for solitude or fun in the sun, you'll find a beach for just about everyone here. For a place that's a bit off the beaten path, check our Croatan or the North End. If you're looking for a high-energy place to hang out and do some serious people-watching, head over to the Boardwalk.

Water sports

— You'll find plenty to do in the water. Take a surfing lesson at one of the local surf camps and hit the waves at the Virginia Beach Fishing Pier. The camps are open to anyone, from beginners to pros. While you're at the pier, check out the fishing. There are nearly endless opportunities to put a pole in the water, whether it's from the bow of a charter boat or off the pier, from deep-sea fishing and sport fishing to surf fishing. Head up to Sandbridge Beach and take a kayak tour among the turtles, dolphins and other marine animals.

The seafood

— With the Atlantic and the Chesapeake Bay just a stone's throw away, Virginia Beach has some of the best seafood places along the East Coast, from crab shacks to fine-dining establishments. Though you can get just about anything—fresh shrimp, lobster, crab, scallops, sea bass and many other types of fish, Virginia Beach is known for its oysters. Oyster lovers need to try a plate of Lynnhavens, found only in the waters along Virginia Beach. You can also take an oyster farm boat tour.
Other Attractions in VA Beach
Check out the ViBe District

— A potpourri of artists, antique shops, artisans, live music venues and unique eateries, the ViBe (short for Virginia Beach) District offers museums, small art galleries, community art projects and even a farmer's market.

Enjoy craft beer

— Virginia Beach has long been at the forefront of the craft beer movement, with homegrown breweries such as Back Bay and Young Veteran. In recent years, craft brewers from as far away as San Diego have set up operations here.

Learn about enlightenment

— The Association for Research and Enlightenment, founded nearly 90 years ago by famed psychic Edgar Cayce, is here. You can take a tour, have a psychic reading done, meditate in the garden or relax with a treatment at the spa.

Visit the Military Aviation Museum

— Come for one of the museum's demonstrations or festivals or take a tour of the museum, which houses one of the largest collections of restored military planes in the world.
The Right Coach Can Make All the Difference
You've made the smart decision and decided to visit Virginia Beach by charter bus. For the best experience, it's important to take the time to select the best coach for your group. You want a bus that lets everyone be comfortable, that has the amenities you need, but that doesn't have too many empty seats.
At US Coachways, with our access to charter buses all over the country, we can help you find the perfect coach for your trip. We'll look at where you're going, how long you'll be on the road, how long you'll be gone, and what you need to take or bring back. We also consider any special needs of your passengers. Then we'll consult our network of service providers and find the bus that best fits your needs.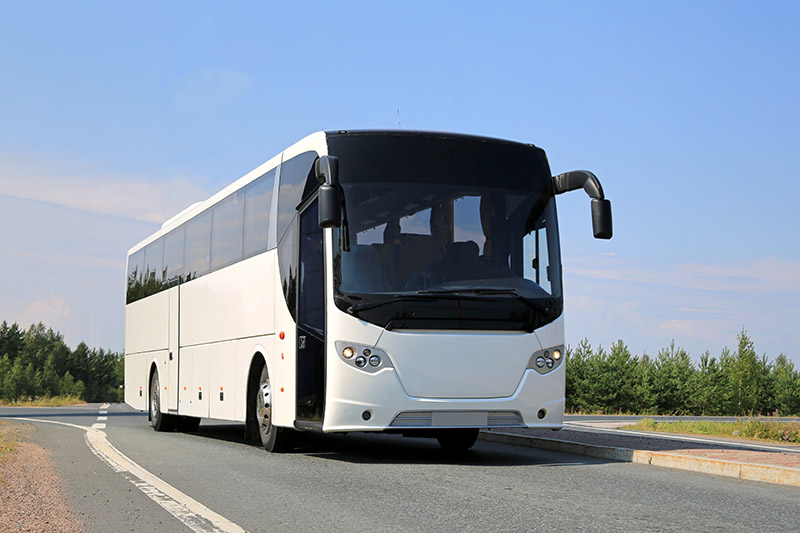 For midsized groups, the mini-bus is customarily a good fit, with seating for 24 to 35 passengers and ample space for luggage and personal items. The full-sized bus, with capacity for up to 57, is your best choice for larger groups. Don't worry that you have too many attendees, though. Multiple bus rentals are always an option.
The options vary from bus to bus, though certain features are standard, such as Wifi, DVD players, PA/stereo systems and charging stations. Some coaches offer on-board restroom facilities. Check with your booking agent to learn what's available.
Book a Charter Bus for Any Outing
The many features discussed above make a charter bus ideal for any occasion, including:
Reserve Your Charter Bus for Virginia Beach Today
When you book charter bus from US Coachways, you'll enjoy the benefits of working with an industry leader for the last 30 years. To get a quote on the estimated cost of a charter bus outing to Virginia Beach, take advantage of our easy-to-use online contact us. For answers to your other questions about our services, call 1-855-287-2427 and talk to one of our experienced customer service representatives.