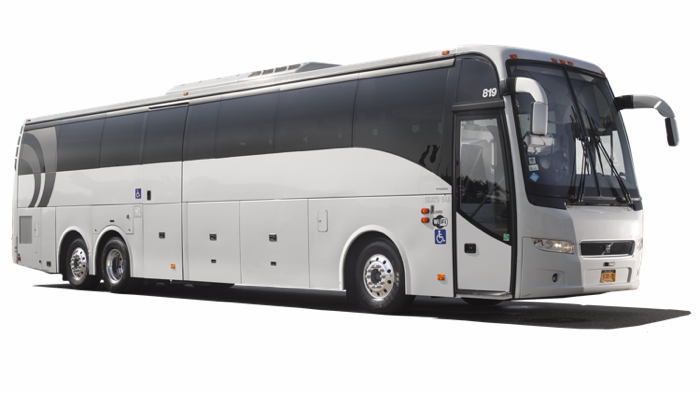 Coach Buses Offer Comfort and Luxury to Travelers with Disabilities
When you're planning a big trip, you want everyone to have the opportunity to go, regardless of their physical challenges. With an ADA-accessible charter bus that's never a problem. We have been strong advocates for the rights of Americans with disabilities since the Americans With Disabilities Act was enacted in 1990. We worked in partnership with the Federal Transit Administration to ensure that we have charter bus options that cater to the needs of people with physical challenges. Our ADA-accessible buses have ample space for up to two wheelchairs, (each wheelchair takes the place of up to 4 seats) wide aisles and modern lifts, and our drivers have the skill and training to assist anyone with disabilities.
At US Coachways, we have been an industry leader in the charter bus rental business for more than three decades. For a free estimate on the cost to rent an ADA-accessible coach bus for your trip, use our convenient online Cost Calculator. To learn more about the full range of services we offer or to get answers to any questions about ADA-accessible or other charter bus rentals, call 1-855-287-2427 to speak to a seasoned travel consultant.
Frequently Asked Questions about ADA-Accessible Buses
Are there different sizes of ADA-accessible charter buses?

All ADA-accessible buses are coach buses, with seating for 49 to 57 passengers (without the ADA accessibility). Each coach can accommodate up to two wheelchairs. For each wheelchair accommodated, the total number of seats is reduced by up to 4.

What features and services can I expect with an ADA-accessible charter bus?

Space designed to meet the needs of people with disabilities—The ADA-accessible buses are large, with plenty of aisle space, as well as plush seats with plenty of leg room.
Personnel specifically trained to operate any lifts or other special devices to help persons with disabilities get on and off the bus.
Handicapped-accessible bathrooms.

Will it cost additional to rent an ADA-accessible bus?

Get a free quote on the estimated cost of an ADA-accessible charter bus—Go to our convenient online Cost Calculator.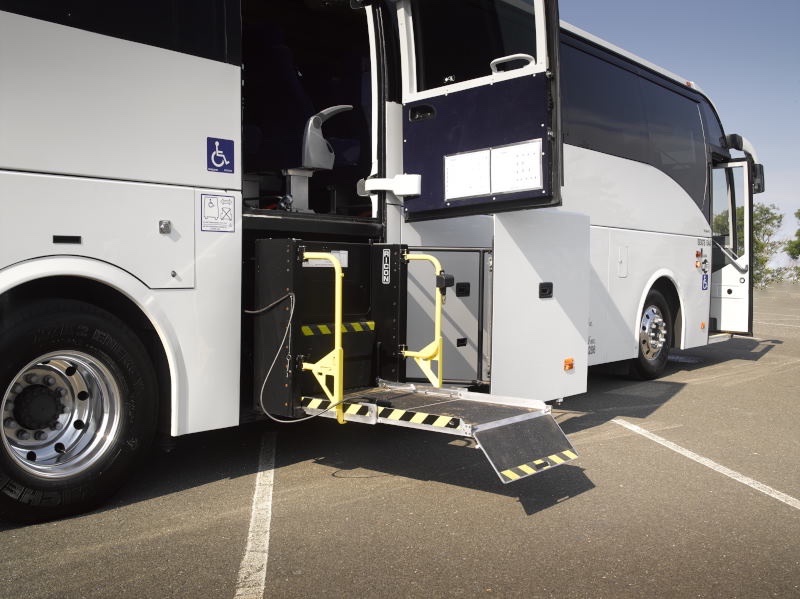 The US Coachways ADA-Accessible Bus—Available for Any Type of Trip
With an ADA-accessible coach from US Coachways, anyone with disabilities can join in on the fun. It's a great way to get your group to a:
Family celebrations — Travel in safety and comfort to a wedding, reunion, birthday party, bar or bat mitzvah, graduation, engagement party, retirement celebration or rehearsal dinner.
Senior citizen or retiree outing—A charter bus can help keep seniors actively engaged in the world, visiting museums and historical attractions, going to shows or concerts, hitting the casinos, doing a little shopping or taking in the fall colors.
Business or corporate event — Make things easy by taking a charter bus to a convention, conference, business meeting, workshop, seminar, training session, golf outing or company party.
School trips—An ADA-accessible bus lets all your students go to the game, participate in the class or club outing, enjoy the graduation or prom after-party, or safely travel to and from a cultural offering.
Church outreach — With a charter bus, you can focus on fellowship instead of your GPS, whether you're on a choir tour, a mission trip, a youth group event or doing local volunteer work.
Special events — A charter bus let's you share the thrill of college or professional sports, a stadium or arena concert, a touring Broadway show, a motor car race, a festival or a public rally.
The US Coachways Advantage
At US Coachways, customer service is more than just a way of doing business—it's a way of life. We've built our reputation within the industry and with clients through a consistent commitment to ensure that all your concerns are effectively addressed in a timely manner. When you set up an ADA-accessible charter bus rental with us, you have the benefit of:
Our professional dispatch services, 24 hours a day, seven days a week.
The US Coachways online Trip Management Portal, where you can view invoices, itineraries and other information about all your charter bus rentals in one convenient location.
Your own dedicated service team, so that you'll have a single point of contact at all times, always working to ensure your needs are met.
Our flexibility to make last-minute or real-time modifications to your itinerary—Because of our vast network of service providers, we can typically respond to any contingencies in your travel plans. In many instances, we can set up an entire trip with relatively short notice.
Our purchasing power—Because we book, on average, more than $55 million in annual charter bus rentals, we have the local market knowledge and vendor relationships to get highly competitive pricing for our clients.
US Coachways is also a GSA (General Services Administration) approved vendor. We are happy to provide ADA-accessible and other charter bus rental services to the U.S. federal government and its agencies.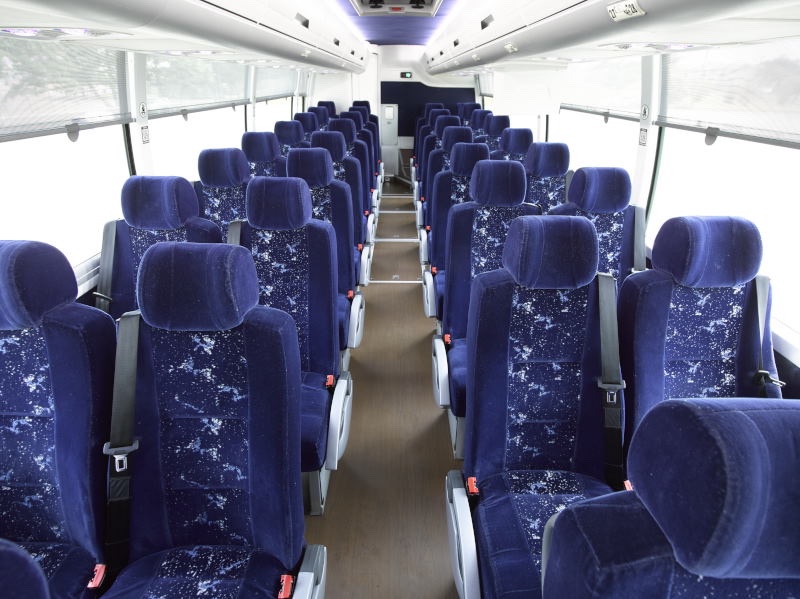 Reserve Your ADA-Accessible Charter Bus Today!
At US Coachways, we have provided comprehensive charter bus rental services to groups and group leaders throughout the country for more than 30 years. To get a free quote on the cost of an ADA-accessible charter bus trip anywhere in the country, go to our convenient and user-friendly friendly online Cost Calculator. To learn more about the ways we can assist you with group travel, or to ask us any questions about charter bus rentals, call 1-855-287-2427 to speak with an experienced travel consultant.