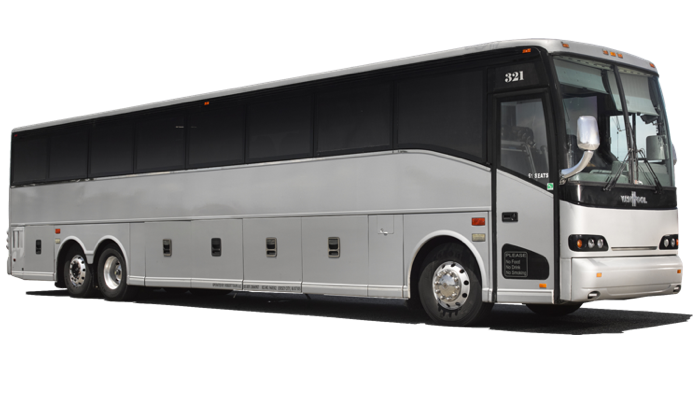 Travel in Luxury and Comfort with a Large Group
Have a fun outing or a great trip planned and you want to invite everyone you know? —no problem!! With 49 to 57 passenger charter buses, you can enjoy the entire trip, hanging out with everyone else while we handle all the details. You'll have the flexibility to determine when and where you travel and how long you'll be there. You'll have the confidence that your trip won't be hampered by delays or cancellations (virtually non-existent with charter buses). You'll know that you're enjoying one of the safest forms of travel. You'll enjoy the spacious seats, wide aisles and ample leg room found only on a coach bus.
At US Coachways, we have provided effective transportation solutions to groups nationwide for more than 30 years. To learn the estimated cost of a charter bus trip anywhere in the country, check out our easy-to-use online Cost Calculator. For answers to any of your questions about charter bus rentals, or to learn about the many ways we can assist you, call 1-855-287-2427 to talk with one of our knowledgeable travel consultants.
Interior 360 view of a 49 Passenger Coach Bus
* Click and scroll to view
Frequently Asked Questions about the 49 to 57 Passenger Coach Buses
How will I know which of the large buses is right for my group?

At US Coachways, we have access to four different sizes of coach buses, with seating capacity for 49, 55, 56 or 57 passengers. When you book a coach bus with us, we'll take the time to gather all essential information about your group and your trip—how many people will be going, how long you'll be on the road, and any special needs or concerns of your passengers. Then we'll go to our vast network of coach bus service providers to find the one that best meets all your needs.

What amenities can I expect on a 49 to 57 passenger coach bus?

All coach buses come with conveniences as standard features, including plush high-back reclining bucket seats, an on-board restroom, climate control, AM/FM stereo, luggage space underneath the bus, storage bins above the seats, DVD players and monitors, and a P.A. system. You may also be able to add (upon request) some of the following amenities for an additional fee: Wifi, electrical outlets, hardwood floors, leather seats and even tables!

How much will it cost my group to charter a 49 to 57 passenger coach bus?

The total price for any coach bus rental varies, based on a number of factors:

How many people will be traveling?
How long will your charter take?
From where your pick-up is & where you intend to travel to?
The day of the week & time of year?
Any special features you need on your bus?
Fees incurred along the way? (if applicable) — tolls, parking fees, permits, & airport fees, are just an example of possible added fees.

To get an approximation of the cost of a charter bus trip anywhere in the nation, check our user-friendly online Cost Calculator.

How much luggage can we bring?

The 49 to 57 passenger charter buses have a lot of storage space, with large luggage compartments under the bus and possibly even overhead storage above the seats.

Does US Coachways allow consumption of alcoholic beverages on the 49 to 57 passenger buses?

You may bring and consume alcohol on a US Coachways charter bus, only by advance written permission of US Coachways. You must comply with all local laws and regulations governing the possession and use of alcohol. In addition, your driver will always have the discretion and authority to suspend or terminate such privileges for any reason.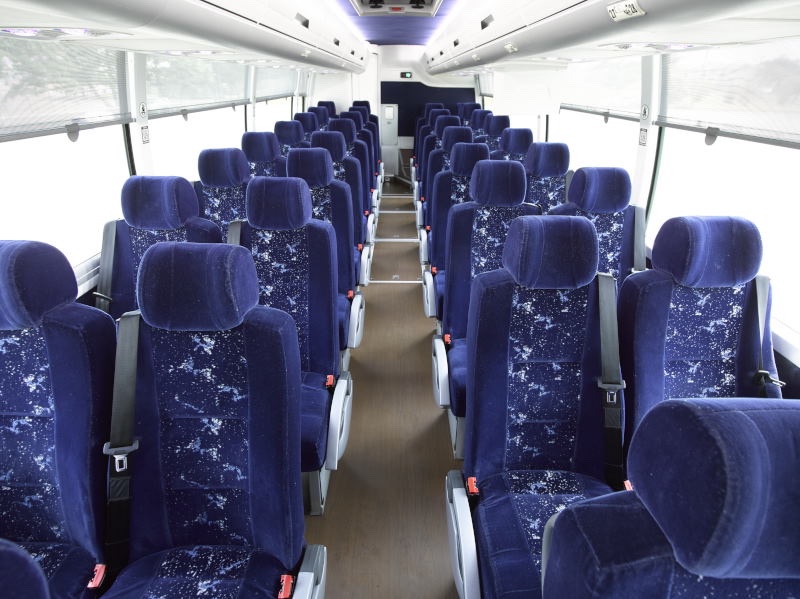 49 to 57 Passenger Coach Buses—Take them on any Trip!
With a coach bus, you'll appreciate the comfort, safety, dependability, reliability and lack of stress that makes a coach bus an ideal solution for any type of excursion:
Family celebrations—Anniversaries, retirement parties, weddings, graduations, rehearsal dinners, birthdays, bar and bat mitzvahs, reunions or engagement parties.
School travel—Prom and graduation parties, after parties, class trips, fan and athlete travel for sporting events.
Business and corporate events—Company outings, conventions, conferences, seminars, business meetings, team-building efforts, golf outings or company parties.
Church groups—Choir tours, youth group outings, mission trips and community volunteer work.
Special events—Touring Broadway productions, stadium or arena concerts, professional or amateur athletic competition, auto races, festivals or public rallies.
Senior citizen and retiree outings—Shopping adventures, casino trips, fall foliage tours, concerts and plays, and historic landmarks or attractions.
The US Coachways Promise
We built our reputation and success on a commitment to provide customer service and attention unmatched in the business. When you book a 49 to 57 passenger coach bus from US Coachways, you'll have:
The singular flexibility that comes from 30 years of building and maintaining strong vendor relationships. In most instances, we can make last-minute or real-time adjustments to your itinerary without difficulty (within DOT law), and can even set up an entire trip with short notice.
Great value for your travel dollar—Because we book an average of more than $55 million in charter bus rentals every year, we have strong vendor loyalty and comprehensive local market savvy, providing the most competitive rates for our clients!
Access to the US Coachways online Trip Management Portal—This user-friendly digital tool lets you view invoices, itineraries and other information from all your rentals in one location.
A highly accessible and responsive service team assigned specifically for you.
Full-service dispatch team, 24 hours a day, seven days a week!
A Charter Bus—An Excellent Choice for Any Occasion
The dependability, convenience, affordability, comfort, flexibility and safety that make charter bus travel second-to-none make it an ideal option for any type of travel:
Special events - Stadium and arena concerts, touring theatrical productions, professional and college games, food and cultural festivals, motor car races, public rallies.
Family celebrations - Weddings, engagement parties, rehearsal dinners, birthdays, anniversaries, reunions, graduation parties, bar and bat mitzvahs, retirement dinners.
Business and corporate events - Conventions, conferences, workshops, training sessions, seminars, sales and business meetings, team-building exercises, golf outings, picnics and other company parties.
Senior citizen and retiree outings — Shopping trips, visits to museums or historical sites, attendance at plays and concerts, an excursion to a casino, or a color tour when fall comes to New England.
Church groups - Youth and other fellowship outings, mission trips, retreats and church camp sessions, local volunteer projects, choir tours, faith-based conventions and conferences.
School travel - Class and club trips, fan and athlete transportation to games and matches, prom and graduation after-parties, cultural offerings, student volunteer work, fraternity and sorority events.
Attention federal government agencies and entities!! US Coachways is General Services Administration (GSA) approved to provide charter bus rentals to all agencies and organizations.
Make Your 49 to 57 Passenger Coach Bus Reservation Today
Travel with confidence on a coach bus charter from US Coachways, the industry professionals for more than 30 years. To get a free estimate on the cost of a full-sized coach bus charter anywhere in the country, go to our state-of-the-art online Cost Calculator. To ask any questions about charter bus rentals, or to learn more about the full range of services we provide groups and group leaders, call 1-855-287-2427 and speak with an experienced travel consultant.